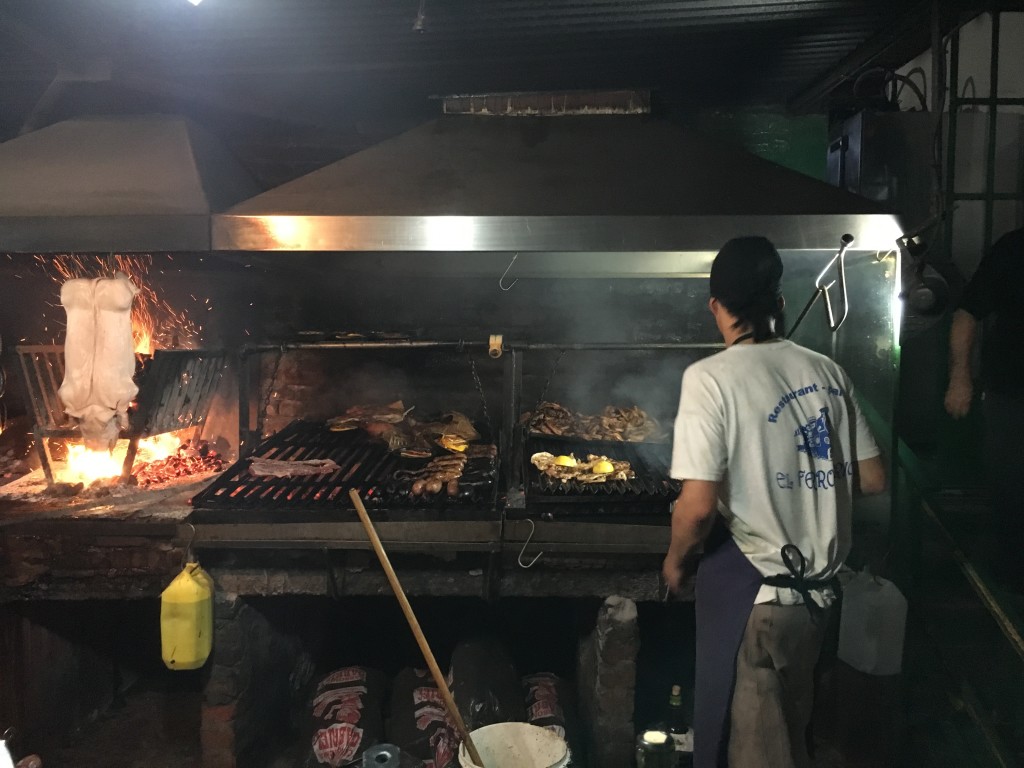 UPDATE 2016: Check out this update map to the best steaks in Buenos Aires.
Slap another steak on the parrilla, because it's time to get down with some Argentine meat. Known as the land of beef, Argentina is a leader in the carnivorous world with one of the highest beef consumption rates on the planet (local porteños scarf down a yearly average of more than 140 pounds of cow parts galore). But in recent years due to soaring inflated prices and lower quality domestic cuts, it's become too common to fall victim to an overpriced dry piece of chewy, burnt meat. So just where do we go for the meat of our lives? Here are my top picks for Buenos Aires' best parrillas /steakhouses, with a little bonus lesson of Steak 101 for you Argie steak virgins.
So what are the best steak restaurants in Buenos Aires? To properly find out what all the Argentine beef fuss is all about, it's time break out in meat sweats at one of these great Argentine parrillas.
Parrilla Peña (Rodriguez Peña 682, Recoleta/Congreso)
Far from Palermo's overly trendy restaurants, Parrilla Peña remains one of the last standing authentic bodegones in Buenos Aires. It's not a place to be seen, nor should you go if you are looking for a chic atmosphere. It's a steakhouse for meat lovers who want to be transported back to the good ole days with waiters decking themselves out in their classic crisp white shirts and dapper bow ties.  When you arrive you'll be served an empanada that dreams are made of — flavored beef stuffed inside a perfectly fried dough. Then, keep the night going with a bife de lomo (tenderloin), ojo de bife (rib eye), thick steak fries, Malbec wine and homemade tiramisu. If you are all about substance over style, Parrilla Peña is your spot.
Don Julio (Guatemala 4691, Palermo Soho)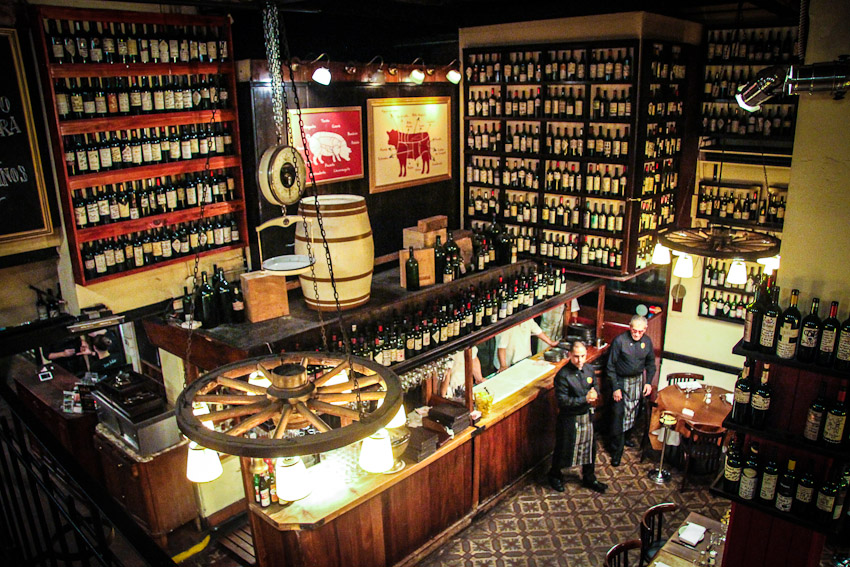 My go-to spot when I have guests in town, Don Julio has great service, top notch meat, a notable wine list and it's centrally located in Palermo. While food writers who describe food as "melting in your mouth" should be sent home, I'm going to break the rule since their bife de chorizo is like a damn M&M of meat cuts.  Other must order items: mollejas (sweetbreads), provoleta, grilled mushrooms, and entraña (skirt steak). This place gets ridiculously busy so don't go at peak hours, or expect a long wait. 

Gran Parrilla del Plata (Chile 594, San Telmo)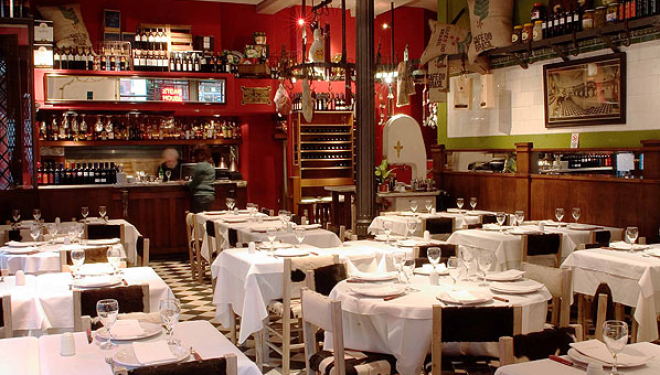 A favorite San Telmo spot. Gran Parrilla del Plata has been around for quite sometime serving parrilla and bodegón fair to hungry locals. It's one of the best restaurants in San Telmo. (Photo: Parrilla del Plata)
La Brigada (Estados Unidos 465, San Telmo)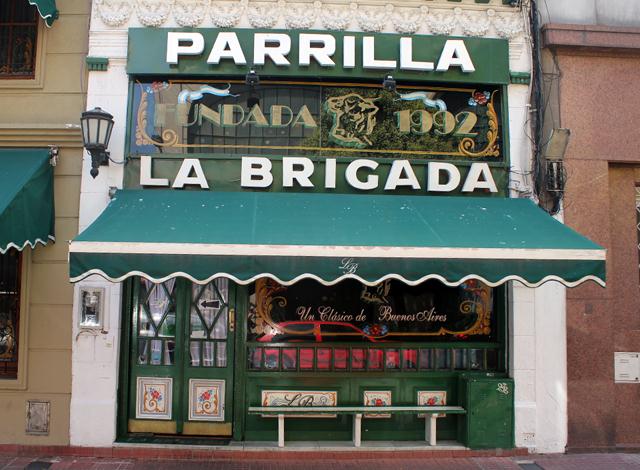 If you are visiting BA for a short time and find yourself in San Telmo, La Brigada is a quality parrilla that rarely fails. Maybe the waiters gimmickily cut the beef with spoons, and perhaps it's a bit annoying when you are crammed into the tourist section, but there are something about La Brigada's steaks that just aim to please. The sweetbreads and provoleta make for a powerful entrada duo, while really any cut of steak will satisfy.
La Carniceria (Thames 2319, Palermo Soho)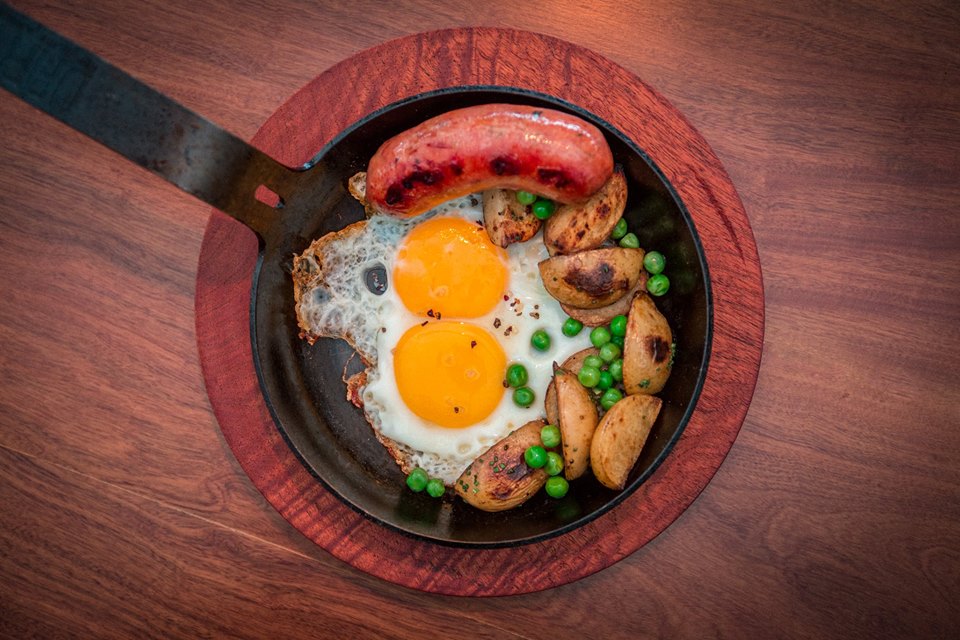 FINALLLLLLLYYYYYYY an awesome modern parrilla in Buenos Aires. A small space with a cool young vibe, it's a meat den grilling crazy good dishes that have a contemporary spin. All of the asado favorites are on the menu, but given a total elevated chef touch with chorizo, sweetbreads, provoleta, smoked meats, and first class steaks prepared with a lot of onda.
El Pobre Luis (Arribeños 2393, Belgrano near Barrio Chino)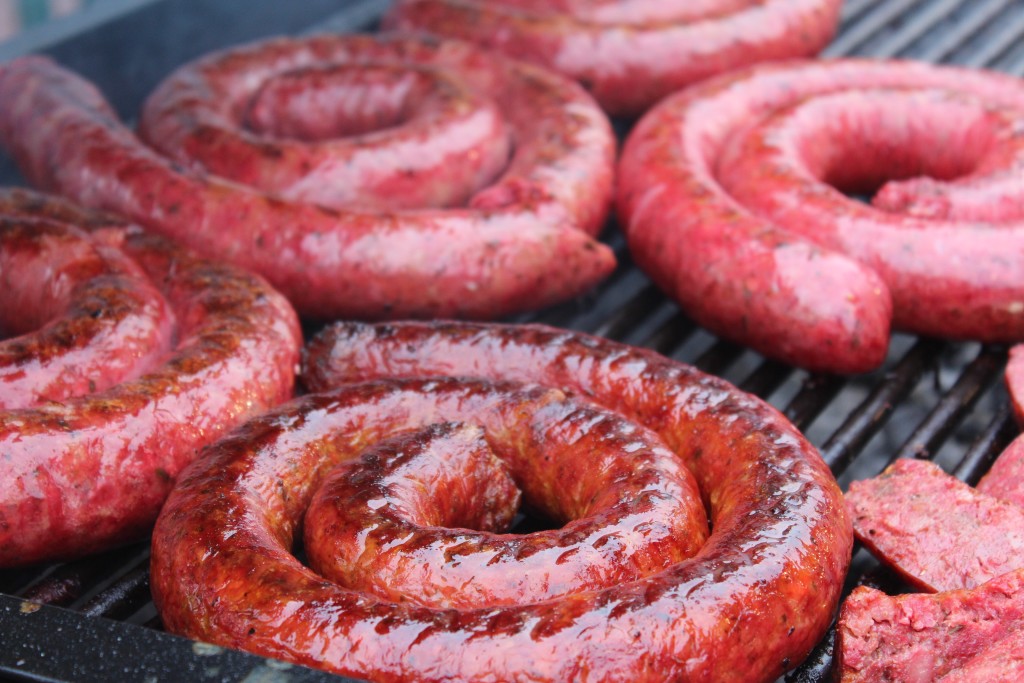 A Buenos Aires famous establishment on the outskirts of Chinatown, some people say the meat quality has gone down, but I say stick a Pobre Luis meat IV in my arm because this parrilla is the tops.  Fun, lively, family environment, be expected to wait as this steakhouse gets extremely packed (with locals) and are known for their wonderful steaks and appetizer provoleta and achuras platters. Luis made (RIP Luis) some of the best mollejas (sweetbreads), pamplonas and salchichas parrilleras in the city.
La Cabrera & La Cabrera Norte (Cabrera 5099 & Cabrera 5127, Palermo Soho)
La Cabrera gets so much hype that I'm reluctant to add it to the list, but I must pay my respect where credit is due. There's a reason that La Cabrera is always busy (and you will rarely hear a table speaking in Spanish because everyone there is a tourist): the meat is pretty damn good and the impressive selection of sides is like an overwhelming feast for the eyes.  You can easily order one dish to share, that comes with about 8 of the small dish sides, an order of provoleta, a bottle of wine and (maybe) dessert – that's all you need. Since it's ALWAYS busy, get there early, or late in the night, or else expect to wait a while for a table.  LA CABRERA SECRET: every night from 7pm – 8pm they offer a "Happy Hour" menu where everything is 40% off. YES, EVERYTHING.
El Ferroviario (Av. Reservistas Argentinos 219, Liniers)

The family meat sanctuary all the way in Liniers dishes out every part of the cow imaginable. Waiters, constantly swarmed with orders, never seem to stop bringing food and drinks to hundreds of tables. Tip: Reservations are a must, especially on the weekends.
Don Carlos (Brandsen 699, La Boca) – A traditional no frills bodegón across from the Boca Jr stadium. You eat what Don Carlitos tells you.
Doble AA (Palestina 866, Almagro) – My favorite neighborhood parrilla. It's a hole in the wall with plastic tables and chairs and no menu, just whatever is fresh that day.
Río Alba (Cerviño 4499, Palermo) – The crowd may be on the older side, but I've never had a bad meal at Río Alba: great cuts of beef and an even better wine selection.
Don Niceto (Niceto Vega 5255, Palermo) – In the modern culinary age where Palermo abounds in trendy restaurants and girly cafés, the rustic, gritty grill holes are few and far between. A place for good old fashioned Argentine asado.
Los Talas del Entrerriano (Brigadier Juan Manuel de Rosas, Av. 1391, Provincia) – If you ever wanted to know what it's like to go to a meat circus, it would probably something like Los Talas: a massive meat tent grilling insane amounts of beef.
Tito's Secret Parrilla (Dorrego 2720 & Luis Marias Campos, Las Cañitas) – Once the pride and joy to only those in the know, this Palermo Hollywood/Las Cañitas secret parrilla might no longer be a secret, but they still serve some of the best matambrito de cerdo in the city. Despite what it looks like from the outside, all are welcome to enter the nondescript door into a wonderful parrilla world (head to the terrace if it's a nice day).
Los Platitos (Av. Rafael Obligado S/N Puesto 57, Costanera) – A classic parrilla on the Costanera, head directly to the bar and order bife de chorizo, provoleta and waffle fries.
La Lechuza (Uriarte 1980, Palermo Soho) – It's the kinda cheap, casual place you always look for in a parrilla – with good service and decent quality meat. It's probably one of the only non touristy parrillas that is still quite good, with a fun, local atmosphere.
Le Grill (Alicia Moreau de Justo 876, Puerto Madero) – Modern, high end parrilla that dry ages its beef – perfect for sleek Puerto Madero views, great wine, and wonderful beef.
El Obrero (Caffarena 64, La Boca) – Technically more of a bodegón, it would still be rude to leave this Argentine wonderland off this list. I'd give my imaginary child up for their butterflied bife de chorizo and the atmosphere is oh-so Argie (in a good way).
La Choza (Gascón 1701, Palermo) – I love those restaurants you can just go to and always bet you're going to have a good time. La Choza is one of those spots with great service and solid parrilla fare. Order provoleta (ask for it bien cocido), entraña (skirt steak) or lomo (tenderloin) and of course some Malbec.
Miranda Parrilla (Fitz Roy y Costa Rica, Palermo Hollywood) – Perhaps more of a place to be seen with a modern vibe, Miranda is in the heart of overly trendy Palermo Hollywood but does whip up incredible meat, impressive salads and a winning lunch specials.
Esquina de Sucre y Miñones, Belgrano – Pretty much my favorite place for a choripán and steak sandwich, this corner meat hole has masses lining up for tastes of their meatiful wonders. Only open during the day.
La Escondida (Costa Rica 4464, Palermo) – You probably didn't get to Buenos Aires to eat at a salad bar, but this is a great option for meat lovers accompanied by their vegetarian friends.
El Litoral (Moreno 2201, Balvanera)
A dirty corner dive where taxi drivers and barrio folk make regular pit stops for a juicy meat sandwich or casual sit down steak dinners.
Las Cabras (Fitz Roy 1795, Palermo Hollywood) – Okay, this certainly isn't the best place for steak in Buenos Aires, service can be horrendous and it takes longer to get a table than to eat your entire meal and the quality of the meat is mediocre at best, so why does it make this list? Lively atmosphere, good provoleta, empanadas and massive meat platter, cheap food and cheaper wine. You won't have your best meal, but if you are with a group you'll have a fun time. Tip: go early or late, never wait longer than 20 minutes for a table or if it is a long wait, go across the street to Negroni for a drink.
Lo de Freddy / Nuestra Parrilla  (Carlos Calvo 471, San Telmo) – My favorite choripan in the city. Sit at the meat counter and scarf down Argentina's favorite sausage sandwich.
Mi Sueño (Av. Hernan M. Giralt (y Macacha Guemes), Costanera Sur)
The Costanera Sur is home to the city's only street food hub. It's lined with carritos, barbecue vendors on carts slinging cheap pork and meat sandwiches.
The Argentine Experience (Palermo Hollywood) – Not quite a restaurant or a puerta cerrada, The Argentine Experience is a fun and interactive eating activity (ideal for tourists, travelers, and newbies) to teach the basics of what food in Buenos Aires is all about. Perhaps might not be the most authentic experience, but still a good time + food. Think fun empanada baking contests, mate lesson, unlimited wine, and an impressive massive beefy steak cooked to perfection.
Argentine beefy meat glossary:
Bife de chorizo – Sirloin Strip Steak
Bife de lomo – Tenderloin
Chinchulín – Intestine
Chorizo – Sausage
Entraña – Skirt Steak
Molleja – Sweetbread
Morcilla – Blood Sausage
Ojo de bife – Rib Eye
Riñones – Kidneys
Tira de asado – Short Ribs
Vacío – Flank Steak
Provoleta – Grilled cheese (meatless but an integral part of the parrilla experience)
Empanadas – Most parrillas offer them baked or fried, order them fried. Always fried.
Other important condiments: Salsa criolla and chimichurri are essential to enjoying your entire meat experience.  Salsa criolla is a vinegar based sauce made with tomatoes, onions and peppers. Chimichurri has several variations, but most often is very herby made from parsley, garlic, olive oil, oregano, red pepper flakes and vinegar.
Parrilla/Asado 101
Parrilla means grill, but also means a steakhouse, you'll have to use your reading and listening comprehension skills to decipher which one people are talking about:
Steakhouse: Ex: "Let's go to a parrilla tonight and induce ourselves into a meat filled food coma!"
Grill: Ex: "Tonight I'm going to throw some blood sausage, sweetbreads and chorizo onto the parrilla for dinner."
Asado means Barbecue/BBQ, but used just as English people use the double meaning word. To confuse you even more, it also refers to a cut of beef. And the asador means the dude who grills it.
Ex #1 "We call him wine lips because every Sunday he always gets shitfaced on cheap wine at his family asado."
Ex #2: "Why does your face look like you got run over by a bus, it's so puffy." "I ate asado last night and the asador (grill master) added too much salt to the meat."
Now let's use it all in a sentence: You should go to that San Telmo parrilla tonight just to see how that mullet haired asador cooks asado on this makeshift parrilla. Make friends with him so he invites you over for an epic Sunday asado.*
*For the real Argentina experience, get yourself a hot ticket invite to a friend/family asado.
Some useful Argentine meat links:
I know you are going to tell me anyway, but I'll still ask: what's missing from this parrilla list? Where do you go for the best steak in Buenos Aires? Guide us to your favorite Buenos Aires parrilla for beefy enlightenment.
Comments