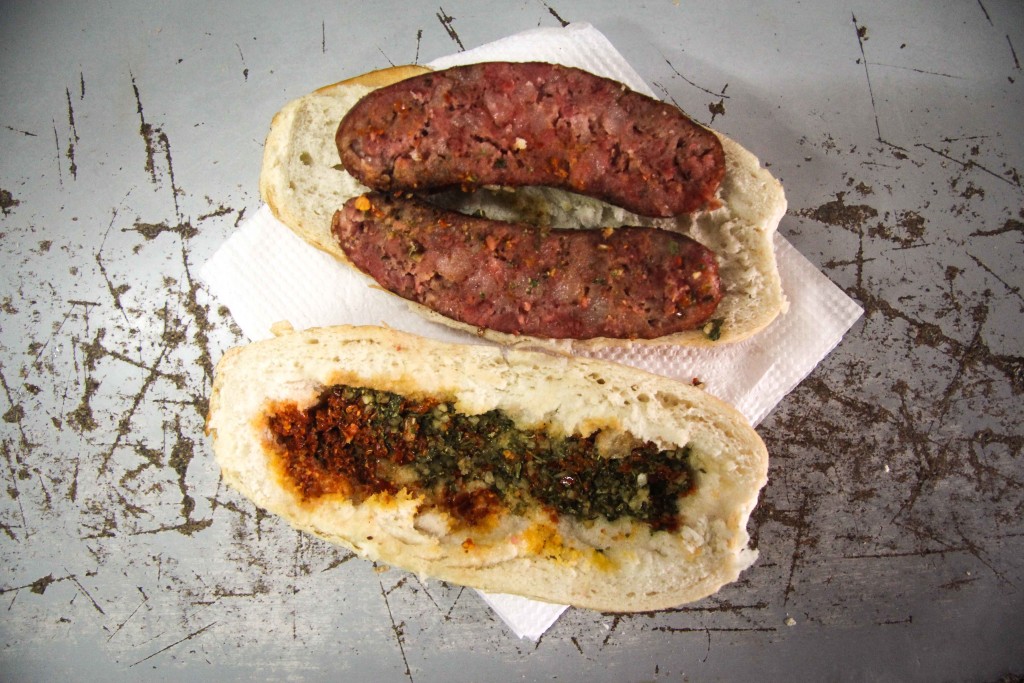 Outside a hole-in-the-wall on the cobblestone streets of the San Telmo barrio in Buenos Aires, envious line-waiters patiently endure the grill smoke while watching eaters sit curbside and shovel beefy sandwiches into their faces. I had walked by this spot a number of times without realizing the wonders inside. But the time finally came, on one special day in 2006, where I'd bite into the country's favorite sandwich: the choripán.
The tiny space has a grill, a handful of gritty bar stools, an old Zenith knock off television set, La Boca fútbol gear and pop culture memorabilia on the walls, and hundreds of love notes from devoted parrilla followers and fans. The owner, Freddy, who sports one of those common Argie rat-tailed mullets, looks like he just stepped out of a Van Halen concert in 1981.
Nuestra Parrilla, which means 'Our Parrilla' in Spanish, has been a neighborhood staple for 15 years. It's nestled inside a crevice connected to San Telmo's most prized attraction, the Mercado de San Telmo. There's only about 6 items on the menu, which are handwritten above the grill, and covered in a thick coat of grill grease.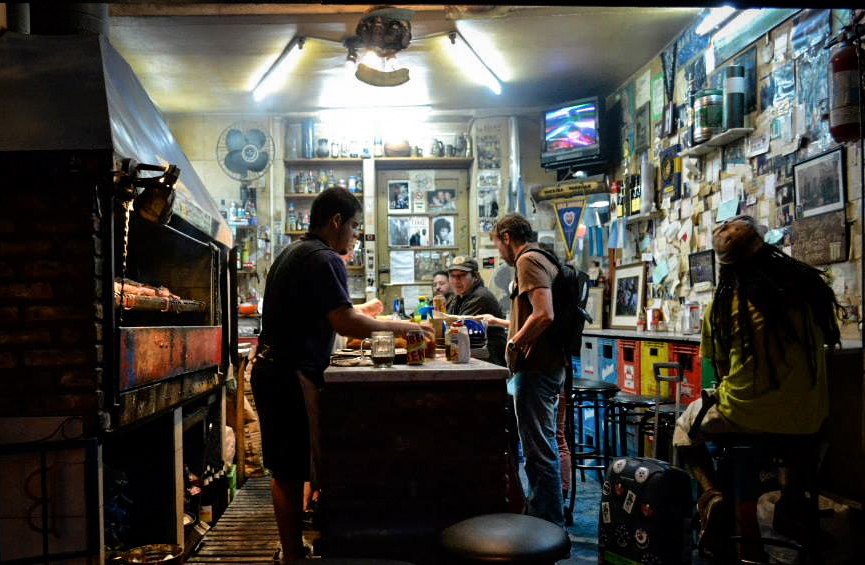 Strict health code abiders might want to sit this one out – while this dingy meat cave probably violates all sorts of sanitation laws, any worry sizzles away with just a few perfect bites of sausage delight.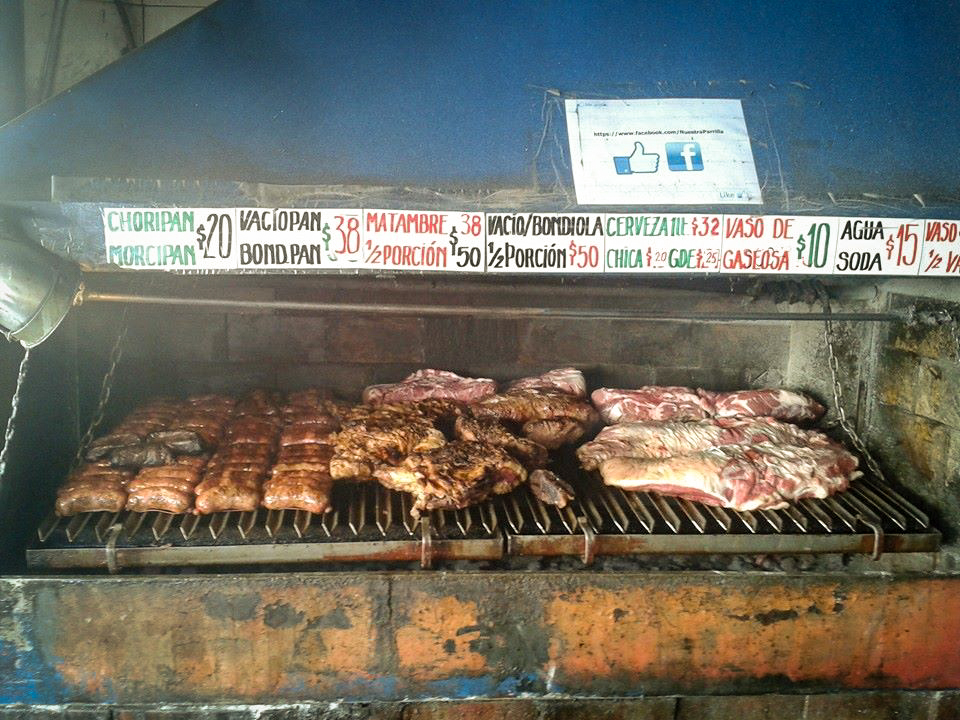 The short list of offerings include Argentine grill all-stars like choripán (chorizo sausage sandwich), morcipan (morcilla, blood sausage sandwich), vacíopan (flank steak sandwich), and bondiola (pork shoulder sandwich). Sometimes they have chicken, other times pork pizza matambrito. But for me, I'll always stay true to my beloved chori.
A thick chorizo sausage is crisped on the outside and bursting with juicy meat on the inside. It's sliced butterflied then slid between a bread roll and smothered in red and green chimichurri — it's essentially Argentina in sandwich form.
The condiments might sit on the bar in murky jars, but don't be afraid — you are encouraged to use a plastic spoon and smother your chori with chimichurri rojo y verde.  The green is similar to provenzal sauce a mixture of parsley, garlic, oil and vinegar, while the red is mostly red pepper flakes and oil, and has a slight kick.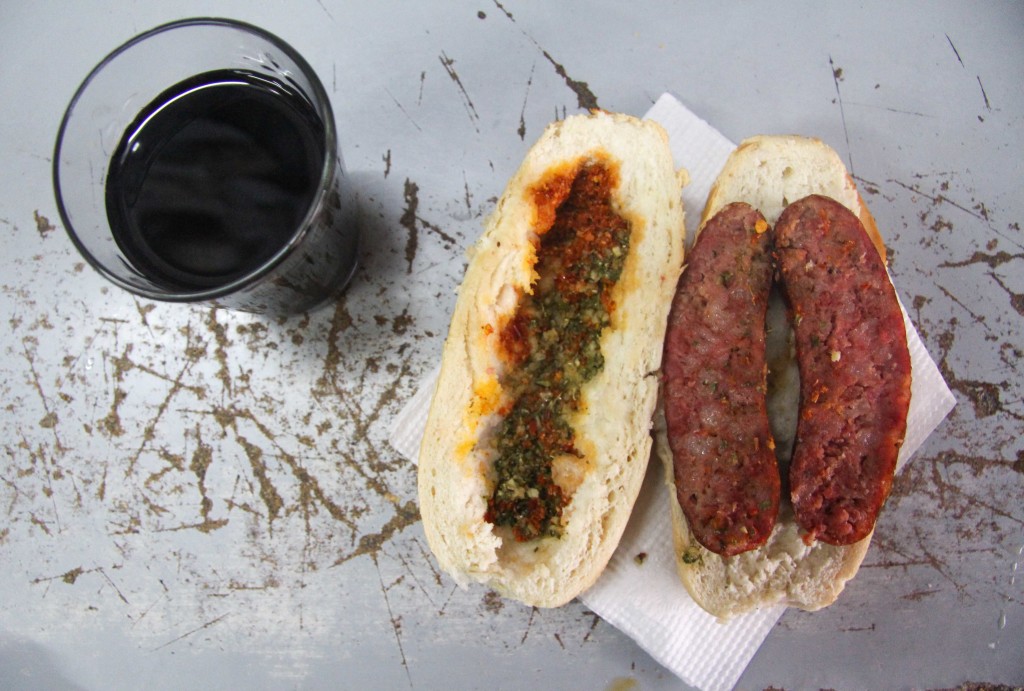 Chorizo + Bread + Chimichurri + Parrilla Grease + Wine from a box, decanted in reusable plastic juice bottle = San Telmo Sundays for champions.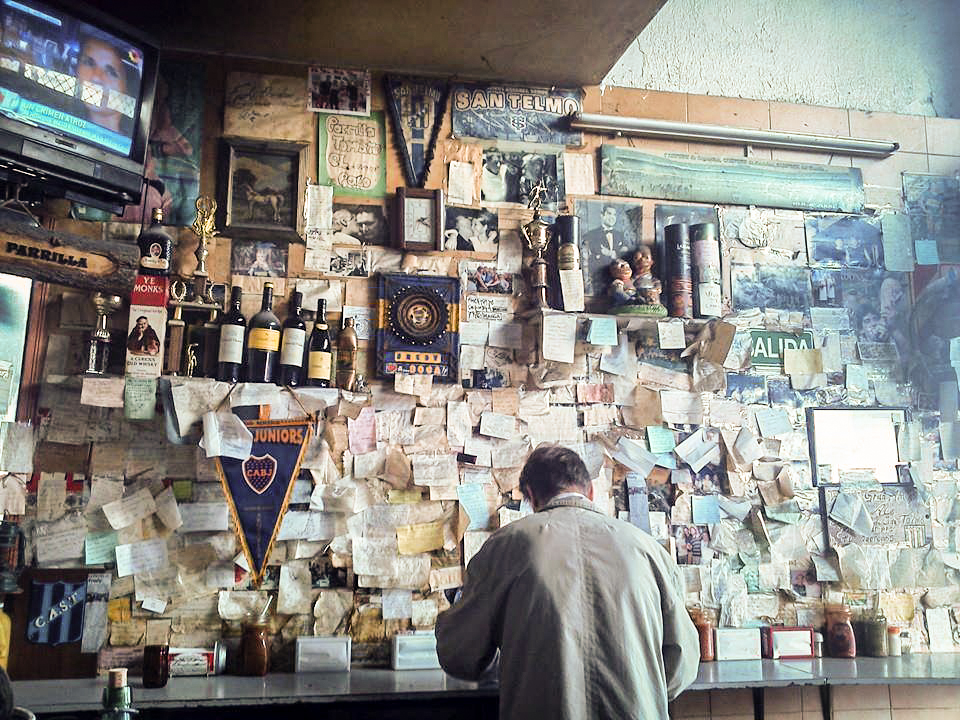 If you're headed to the San Telmo market, this should be an obligatory stop: Eat a chori, hang with barrio folk, and watch the regulars drink countless cervezas while spitting out piropos (cat calls) to any remotely attractive female who walks by.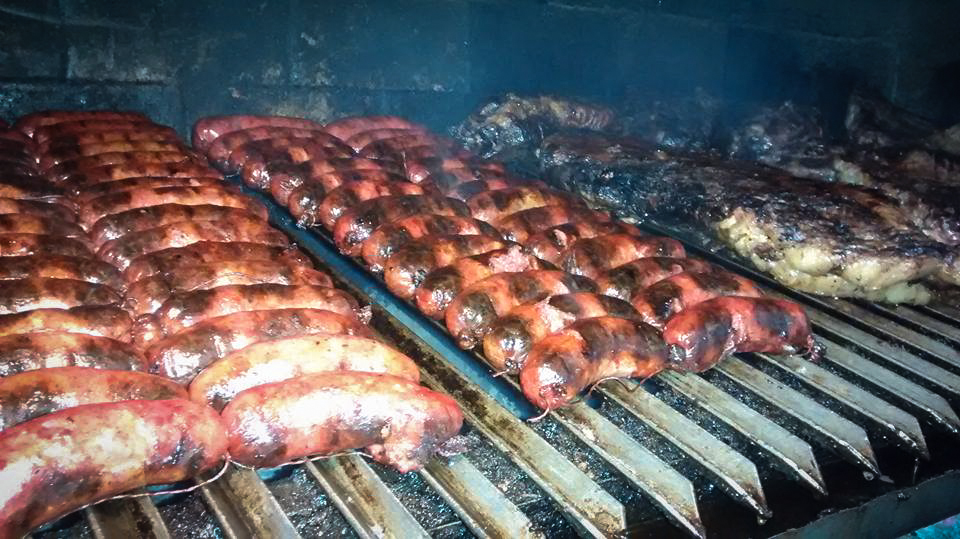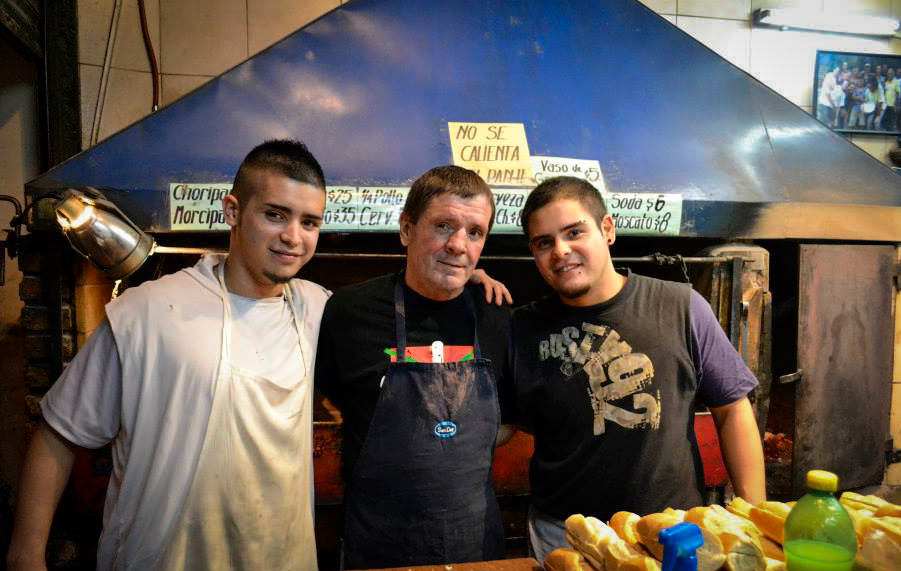 Lo de Freddy aka Nuestra Parrilla
Carlos Calvo 471, San Telmo
Monday – Friday: 12:30pm-5pm & 8pm – close; Sat & Sunday 1pm – close **Ojo: hours randomly change
Average price: AR$50
*Prices don't reflect the older photos. Inflations a bitch.
Last photos are from Lo de Freddy's Facebook page.
Comments