I've kept this place a secret for too long, it's time to share the food love.  So here it goes… One of my favorite finds of the year… A place where I've regained my hope in a Buenos Aires Jewish deli existence. A spot where I've gorged on a hot pastrami sandwich. Gone to town with a pair of knishes. A deli that makes a Jewish penicillin with bosomy matzo ball comfort to cure the nastiest cold. In a city with the largest Jewish population in all of Latin America, La Crespo stands alone as one of the only restaurants that serves Eastern European Jewish deli-style specialties, and instantly became one of my favorite go-to spots in the whole city.
In good deli fashion, La Crespo caters mostly to take-away clients, but there are a few tables with bar stools to eat in house. And it was love at first sight.  Tito, one of the owners, who also shares a striking resemblance to my Great Uncle Leo, greeted me at the door and began to describe the menu: Knishes, boios, strudel, liver paté, gravlax, latkes, and the star of the show, the hot pastrami sandwich. *
I think the Red Sea may have parted when the pastrami hit the table: 170 grams of hot pastrami, served with crunchy sliced pickles, mustard, on pumpernickel-esque bread, with sweet caramelized onions on the side. The sandwich transported me to my favorite hometown deli. Total Jewish sandwich heaven.
Then the bagel came out — which wasn't as chewy with the boiled and baked consistency, but still the best (and only?) bagel I've had in Buenos Aires. It's loaded with homemade gravlax salmon, a light sour creamy cream cheese, and capers. Next time I'd definitely ask for this bagel toasted.
Brownies and cheesecake are probably my favorite desserts, so when put together, the game is over. Many so-called brownies I've tried in BA have a hard, dry chalk like taste to them – this didn't, moist, cooked just right, sweet and delicious.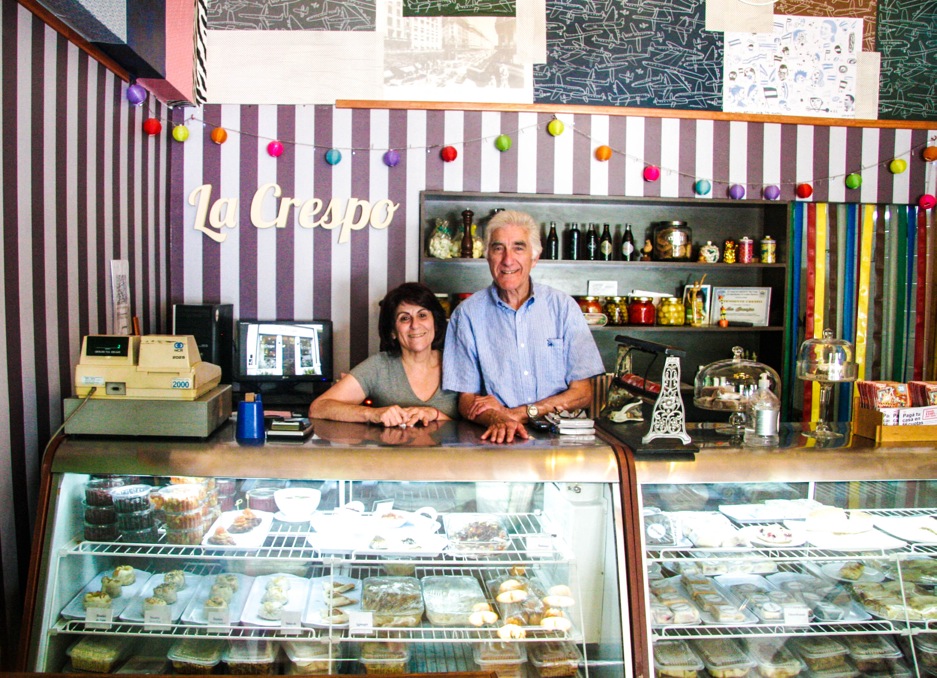 By the end of my incredible food discover, I had to give my compliments to the chef (or the owners in this case). "This food is so similar to my deli back in Chicago," I excitingly proclaimed on a food high. Clarissa, Tito's wife and chef/owner, was not phased by my comments. She responded bluntly:  "It's not similar, it's the same, copied, exactly as you'll find in New York."
Blame it on partial nostalgia, but I was ecstatic to learn a place like this existed in Buenos Aires.  Eating at La Crespo made me a little less food-homesick and kept me happy for days.
Update 2016: La Crespo has expanded and now has a large restaurant space next door on the corner with an expanded menu. They also cater for Jewish holidays.
La Crespo
Thames 612, Villa Crespo
Tel. 4856-9770
Tues – Friday: 11:30 am – 9:00 pm
Sat & Sunday: 12:00 pm -5:00 pm
Comments