Oviedo, Las Pizzaras, Primavera Trujillana.  Spanish/Mediterranean-influenced seafood, inventive Argentine fare and Peruvian culinary wonders.  These restaurants, all extremely different, don't really have much in common except one thing: if you are looking for a great place to eat in Buenos Aires, and want a delicious meal, you can pretty much bet you'll find it at one of these hot spots.  While each restaurant is well deserving of its own blog post, whether you can afford an expensive, midrange, or budget meal, these restaurants will please any wallet size.
Oviedo
Beruti 2602, Recoleta
Treatsy $$$$
Overheard in Buenos Aires food land for quite some time, word on the street was that Oviedo was the best (and pretty much the only) restaurant for fish and seafood in Buenos Aires.  This old school Spanish influenced restaurant is an Argentine classic, and considering all the fame, it truly stands up to the hype.  Those of you who have visited this city and like to eat, you have probably realized by now the seafood ain't so fresh.  If you are sick of the frozen reheated seafood and fish that haunts most restaurants in Buenos Aires, Oviedo can bust that ghost away.
The average age may be hitting 60 years old, with old school waiters serving *mature* patrons, it certainly won't matter once you taste the elegant, perfectly cooked plates of marisco delights.  Recommended dishes: salmon, shrimp (make sure this is the entire dish not just the appetizer that I mistakenly ordered) and really any other seafood speciality.  The meal does not come cheap – it's gunna be a treatsy night, ideal for when parents are in town.  Check out my eating buddy's full review of our meal on Eats Treats and Leaves, especially the last golden motto sentence.
Las Pizarras
Thames 2296, Palermo Soho
$$$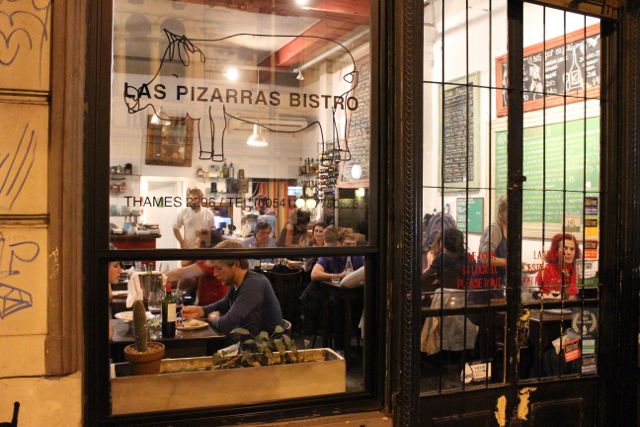 I should start off by saying that Las Pizarras is one of my favorite restaurants (see 'mis elegidos').  If I'm trying to decide where to eat in Buenos Aires, usually Las Pizarras is a solid, go-to option. Owner & talented rockstar chef Rodrigo Castilla always cooks up interesting food and flavor combinations, with an ever changing menu that alternates depending on what's in season, and what Rodrigo feels like cooking.  There is always something new to try, whether it be a main dish or an appetizer, and the hand picked wine list may be limited, but it's obvious each wine has been chosen with a careful eye. It has a warm, inviting ambiance, casual decor without being dingy, not pretentious, not too expensive and a friendly staff. OK, am I gushing too much?  It's just a great Buenos Aires find for those in the need for a great plate of food.
You can expect scrumptious dishes like quail, snapper, clams, duck confit, homemade pastas, rabbit and many more delights that you normally wouldn't see on Buenos Aires menus.  One of my all-time favorites, is the slow cooked Osso Bucco Cannelloni (made in-house), served with provolone cheese, tomatoes and topped with an herbed butter. The each starter is more appealing than the previous, and it's hard to pass up a lechón that has been slowly cooked for a ridiculous amount of time under low heat. Although you can skip the bife de chorizo and risotto, I've found the LP has been the most consistently good restaurant in the city. When asked by tourists for the best places to eat in Buenos Aires, Las Pizarras gets my vote.
If I played one of those annoying hypothetical situation games, the kind where you can

only choose ONE cuisine that you'd eat for the rest of your life, I'd probably pick Thai or Japanese food. BUT, coming in a very close third, Peruvian ranks supreme as one of my panza's favorites.  As for the Argentina short list, Primavera Trujillana is highly noted in the top three best Peruvian restaurants in Buenos Aires (along with Solo Pescados and Chan Chan).  The atmosphere might not be anything special: extremely casual, odd decor, tables way too close together, mullet-sporting patrons (see photo below), but it still has that special comfortable, neighborhoody element.
I've tried a number of dishes at Primavera Trujillana and always left satisfied with not even a smidgen of disappointment. True, if you look at each individual dish and compare it with the same offerings at other Peruvian restaurants, it may not stack up in a "vs." battle.  But, overall the food at PT is almost always a solid hit (opposed to a loose miss).
Everyone has their own Peruvian favorites, generally my order goes something like this:
Any type of ceviche*, jalea mixta ají de camarones (above), ají de gallina, filet a lo macho, guiso de quinoa extra cancha for the table (not to be confused with concha, I'm talking the addictive corny maíz poppers).  Ask for the salsa más picante if you like heat, and be sure to wash it down with the frothy maracuyá (passion fruit) pisco sour.  Skip the desserts, unless you are into that sickly sweet suspiro limeño nonsense, and just drink the calories instead with a few extra piscos. They also have a bomb lunch special for under 40 pesos.
Oviedo
Beruti 2602, Recoleta
Tel: 4821-3741/4822-5415
Monday–Saturday: 12pm – 4pm, 8pm – close
Las Pizarras
Thames 2296, Palermo Soho
Tel: 4775-0625
Tuesday – Sunday: 8pm – 12am
Primavera Trujillana
Franklin D. Roosevelt 1627, Belgrano
Tel: 4706-1218
Monday – Saturday: 12pm – 3:30pm, 8pm – 11:30pm
Comments