**FULL CITY COFFEE HOUSE HAS CHANGED LOCATIONS AND IS NOW IN PALERMO SOHO ON THAMES**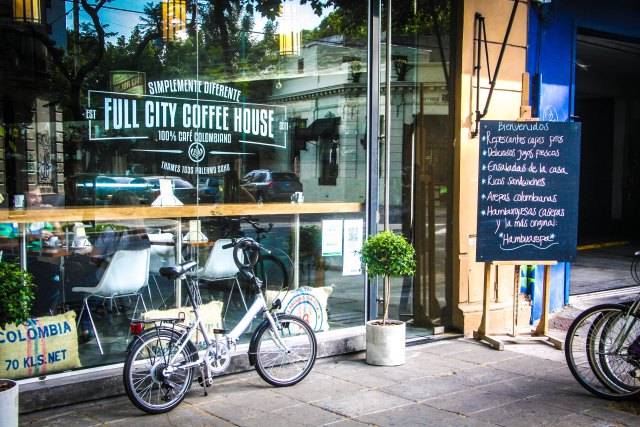 Coffee lovers look no further, your days of disappointed watered-down, milk bathed, sugar roasted cortados are over. Full City Coffee House in Chacarita is the absolute real deal, serving their own brand of high quality Colombian coffee and becoming one of the best spots in Buenos Aires for a cup of the good stuff.
The owners of this independent coffee house know their shit when it comes to coffee. Upon ordering your coffee, you'll be asked "How do you like it?" Not quite sure how to answer, since I didn't know there are many variations of a cortado, I let the barista decide.  The Colombian-UK couple, Victoria Angarita and Allan Dorgan, take the utmost pride in offering this much needed addition to the Buenos Aires café scene, a country that prides itself on their café culture.
Victoria has coffee running through her veins. The daughter of Colombian coffee God, her father Parmenio Angarita is kinda a big deal in the coffee world: coffee educator, an expert roaster with his own brand of coffee, and founding director of EduCafés, a school created for baristas and those who want to specialize in the art of all things coffee.
Named after the type of medium roast that produces a higher level of quality coffee, Full City serves a full menu of breakfast, lunch and merienda items. You'll see treats such as Allan's famous homemade burger, a wide selection of paninis, various salads, and of course, Colombian specialities.  The prices are very affordable, with most items costing under 35 pesos, something that is quite rare in the BA café world.
In addition to coffee, Allan is also a burger freak and worked very hard to perfect his recipe: fresh ground beef with mixed spices inside cumin and paprika, lettuce, tomato, onion, cheese and an egg on top, served with perfectly cooked roasted potato fries. What really kicked the burger up a notch: ask for some extra spice to smother on the bun. Want to pair it with coffee? No problem! Apparently the burger goes really well with the café de Guayata, a coffee named after a town close to Bogotá, where all the coffee is harvested by the local women.
Next, the "Arepa Full City," an arepa with chicken, tomato, cheese and pesto. I'm not versed in arepa knowledge, but the ones I've tried were from Venezuela and quite different, looking similar to a semi-open stuffed pita bread. This one was made with a corn masa, and tasted similar to a corn tortilla. This arepa wasn't my favorite, bad ordering on my behalf as I was looking for an out of character light lunch. The pesto on top of cheese on top of grilled chicken on top of corny-arepa was too much for my stomach to handle.  Probably next time I'd go with a daily special, stick with the burger or try one of the paninis.
Other than the coffee, super friendly staff, quick service, tasty and reasonably priced food, Full City has an inviting atmosphere making it the ideal spot to sit for hours. It's become my new favorite café to bring my laptop and do work; the WiFi is pretty strong and they have ample outlets for computer charging.
Their outdoor patio might be one of the best havens in the city,  despite the loud HipHop music from the dance studio upstairs. There is a covered outdoor "living" area and an open-aired garden section with a couple of tables. I did spot some heat lamps – crucial for winter outdoor seating.
Ditch Cabrales or Bonafide, since they roast and grind the coffee fresh in house, you can pick some up para llevar and shoot up every morning with the good shit.
Full City Coffee House's passion for coffee is evident in every cup. I admit that for my coffee fix I'd frequent Starbucks (Soy Bullshit Latte) or Establicimiento de Café, but this great coffee haven is quite the BA find, quickly converting into my new go-to coffee shop to gorge on paninis and crack out on endless cups of strong, beautifully aroma-ed coffee.
Jorge Newberry 3663 (between Charlone y Roseti), Chacarita Thames 1535
Tel. 4556-1789
Monday – Friday: 9am – 7pm, Saturdays: 10am-3pm, closed Sundays
Comments