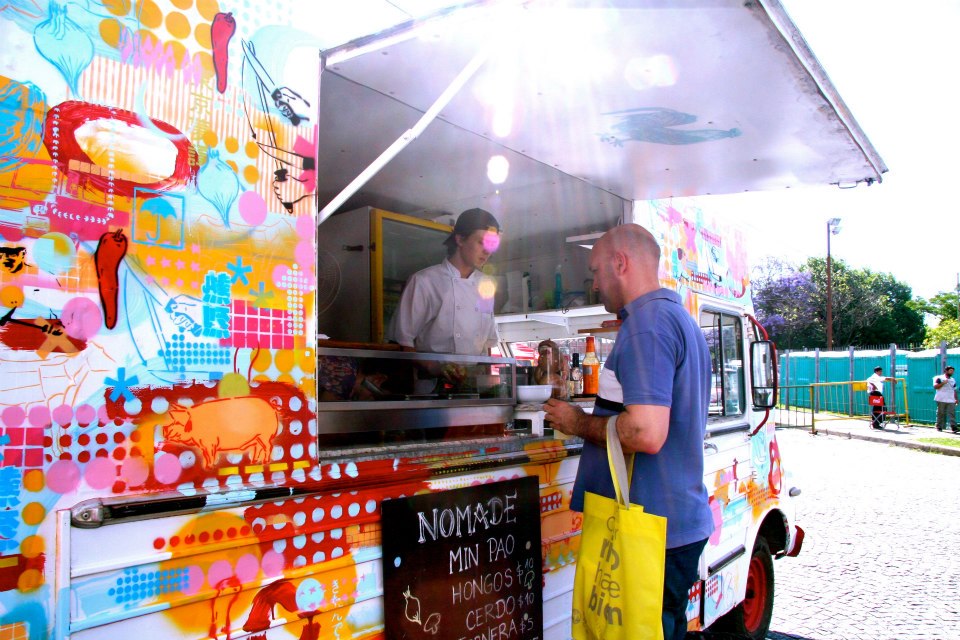 It was only a matter of time the gourmet food truck trend that ravished the United States in 2011 make its fashionable trucker debut in Buenos Aires. Many thought it wouldn't happen. Restrictions, regulations, habilitaciones municipales, there were just too many laws in place that strictly forbid any type of mobile kitchen (unless it served choripán and bondiola). But just like the closed-door restaurant-supper club craze and the pop-up hybrid rave took over the city, food trucks will be the next big BA thing.
Unveiling at Masticar, the Nomade food truck was a giant hit with their brightly colored stencil-covered fast food on wheels. They sold 'Min Pao' aka Momofuku-style buns filled with pork, pulled beef and mushrooms. Even though on Friday they were selling these for AR$5, $8 & $10 and by Sunday they were up to AR$15 & $20 (inflation at its finest), these bad ass two-bite wonders were the real deal. Especially the pork.
Obnoxiously and shamefully way too excited for this breakthrough in BA food, I tried to pull all my slick Carmen Sandiego investigative reporting moves to squeeze more information about their project: SHOT DOWN. No business cards, no website, no Facebook page, no Twitter, no Pinterest, no blog-Tumblr-Foodspotting-Instagram… NO NOTHIN'.  They gave me a very cryptic generic 'we're coming soon' response. A 21st century food trend with no online exposure?! So underground.
After a bit of digging, it turns out Nomade is the brainchild of Ernesto Lanusse of Espacio Dolli, the son of the Mother-Lord of Buenos Aires food personalities, Dolli Irigoyen. That's Dolli in the photo sticking her head out of the passenger seat of the food truck. Narda Lepes is also there for the photo-op. And so are the swarms of fans. Apparently chef worshipping is the new black.
*A few days after Masticar, Espacio Dolli's Nomade food truck was spotted quietly and indiscreetly (it's a pretty loud neon truck) parked on Carranza and El Salvador in Palermo Hollywood.
And Espacio Dolli isn't the only one with plans of a food truck. The capo in the kitchen Matias Kyriazis, of Paraje Arevalo and Barraco filled me in on a little secret: he too has plans of egg trucking it with his magnificent huevos. Here is the wonderful huevo apanado with trout and greens that he served at Masticar, that's bound to make an appearance on his future food mobile. La Cabrera also has a food truck that was spotted parked in front of their restaurant in Palermo.
Is there hope that Buenos Aires will let these food carros roam free, offering a creative, delicious, quick, nomadic and *cough*notPalermo priced*cough* new food option? Throw the legal permit out the window, by the power of the mega gastro-moguls, we are just one step closer toward food trend globalization.
**UPDATE – MARCH 13, 2013**
The first real Buenos Aires Food Truck Coffee Van has been spotted (by the girl about town) roaming around Retiro! Coffee Avenue and their "hot drinks on wheels" marks a historical day for food trend lovers, pointing towards a bright Buenos Aires food truck future. To find out exactly where to grab your coffee on the go, follow Coffee Avenue on Twitter and Facebook. (Photo by Coffee Avenue). 

**Update — June 6, 2013**
Two food trend double whammies coming at ya: Popular supermarket soup brand Knorr will be cruising the streets of Buenos Aires in their own… wait for it… SOUP TRUCK. It's only in the last two years that Buenos Aires has become soup-nazi crazy, and now there will be a whole truck, operated Knorr, hopefully not serving their powder packaged soups. The horror, the horror! From the photos of Argieworld celebrities (yes, those two dudes are semi famous), uniformed promotion CHICAS, and to-go coffee cups(?) as soup bowls, I'm a little frightened to see how this trend pans out.
La Salteña brand has also come up with a food truck scheme. These big brands are everything that food trucks are not, so hopefully the concept won't be twisted and whored out to become a marketing stunt.
**Update October 2014**
There has been more press and more food trucks popping up (about 15), all which still operate only on private property for special events. The Asociación Argentina de Food Trucks – an organization which recently formed in the past few years – are working on creating legislation to make it legal for food trucks to prepare and sell food. There is even a Food Truck Company that helps make that food truck dream come to life.
**Update October 2015**
The city government looks like it's getting on board with the food truck game. VAMOOOO MACRI!  
Comments