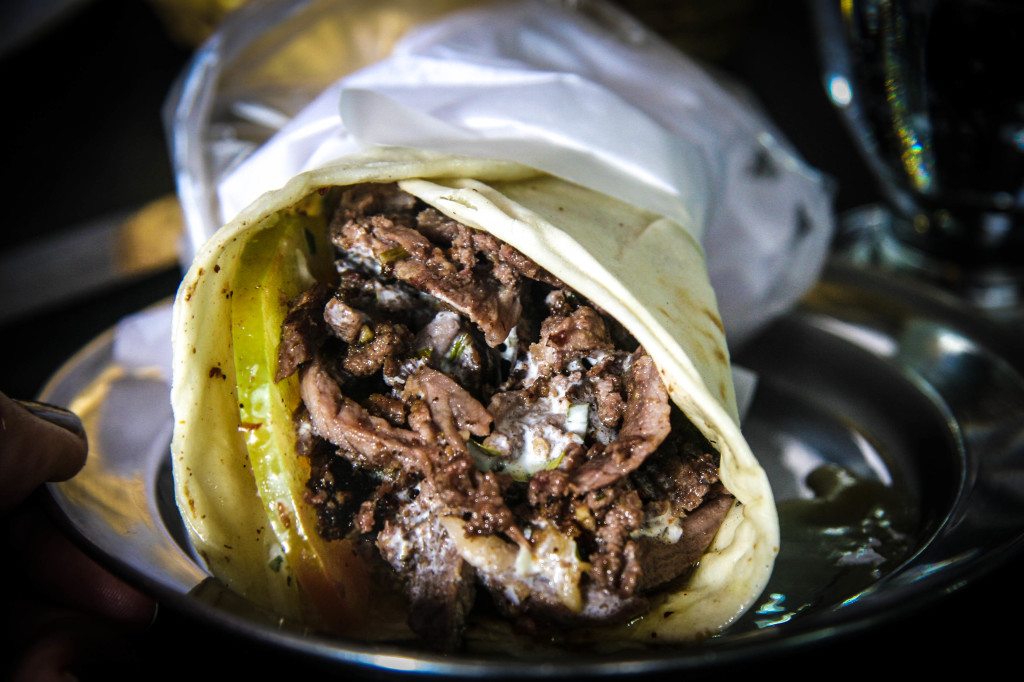 Al Zain is a very special place I hold dear to my stomach. For years it was my solid last minute cheap delivery spot, the neighborhood family owned restaurant was always just one call away when that special 11:45pm falafel-babaganoush-shawarma-chickenkebab craving hit. Because that kind of hummusy hankering comes up quite often. But lately I've been skipping the midnight soggy Middle Eastern nosh, going straight to the Las Cañitas source for some live Al-Zain in action.
One falafel, two falafel, three falafel, eight. Crispy, crunchy, well seasoned and right out of the fryer, maestro Al Z sure ain't garbanzo-beaning around with these nugs of love. A bit different than an Israeli version smothered in tahina or hummus, these balls come with a mild yet tangy (and slightly watery) yogurt garlic sauce that is key for soaking and drenching. (Always ask for extra yogurt sauce.) You can order the falafel al plato (above), or the falafel sandwich, and neither top 40 pesos.
I've never gone loco for Al Zain's hummus, it tastes a bit too peanuty for my liking, but I've also never been failed by the eggplant dishes: the puré de berenjena (eggplant puré) is babaganoush-like, rich in eggplanty flavor, smokey with that olive oil drizzlings (shown above). The babaganoush might just be my favorite thing on the menu, it's more like a mashed eggplant salad, super garlicky (and oily) with tomato, onion and some kind of nut added to the mix. A must order.
Big and satisfying (that's what she said), while this shawarma will never blow your brains out, it's a solid rendition packed with seasoned meat and all the fillings. I should also note that other dishes like fataier and sfija rarely fail, nor does the parrilla dishes like kebabs and kaftas, served with surprisingly good French fries that are fun and crinkled.
If I could be reincarnated for a day, I'd wanna turn into a middle aged bushy eyebrowed Syrian man who hangs out at Middle Eastern restaurants and smokes hookah at 3pm on a Tuesday.
After remodeling the space a few months ago, they have moved the shawarma stand out of the large main dining to a small almacén type spot next door, where they also sell most of their food to go. Tabbouleh, babaganoush, great pita bread, lavash bread (warning: lacks salt), hummus, empanadas arabe, and spicy sauce — head to the counter and grab your faves for semi homemade dinner.  (Photo above: Al Zain)
I like to remix the babaganoush, yogurt sauce and lavash or pita bread, throwing some chicken on the grill, adding a cucumber, tomato, roasted red pepper chop salad and piling it on the thin flat bread. 
Al-Zain (or Al Zein)
Arce 488, Las Cañitas
4775-1402
Tues-Sun 12pm – 12am
Average price: 90
*Al Zain doesn't serve alcohol
Comments