If I was the type to play a pointless hypothetical stranded-on-a-desert-island game, I'd choose to be stuck with some hot bread, sensual cheese, sexy wine, and erect jolty coffee. So imagine the utter rejoice shed when Pain et Vin in Palermo Soho opened its doors for a wine-bread-cheese-coffee-Palermonites dream come true.
A wine lover's paradise serving freshly baked sourdough bread, delicious top quality cheeses, properly made coffee, insanely scrumptious sandwiches, and all with a patio, and wine tastings, and wifi, affordable prices, and buena onda owners who also double as the chef, sommelier, cook, and mozos. It's comfortable, it's boozy, it's delicious, it's a place where you want to hang out for a while and drink without shame.
Pain et Vin began as a passion project between the Argentine ex-physical education teacher turned sommelier, Eleonora Jezzi, and her husband the Israeli chef turned master bread baker, Ohad Weiner. Both wanted to fill a Buenos Aires void: create a relaxed and inviting space to enjoy handpicked top notch wine, and excel at serving three key daily staples that were lacking in this city – bread, wine, and coffee.
After a stint in NYC culinary school and working in top kitchens in Tel Aviv and Buenos Aires, Ohad retired to be his own boss, built his own wood fire oven, and got down and dirty with some badass bread. All kinds of wonderful sourdough masa madre breads with a quality you won't find in many other Buenos Aires bakeries: pan de campo, whole wheat, olive, grains, rye, and herbes de Provence.
The menu is short and oh so sweet: four sandwiches, two salads, two picadas, desserts, croissants, coffee and wine (by bottle and glass).  Really, what more do you need than that? So many spots overcomplicate their lives serving an encyclopedia of dishes, it's refreshing to see a simple concept perfectly and consistently executed.
Okay, enough with the restaurant ideology concept gushing, let's get to the good shit –> SANGUCHES, NENA. SANWICHESSSS.
A take on the BLT, this bacon, lettuce, tomato sandwich is drenched in a homemade aioli-like mayonnaise and served on country style bread. Proof that you really just need a few high quality ingredients to make a killer sandwich. I'd happily eat this every day, and happily suffer the hefty kilo consequences.
I had heard that their grilled eggplant induced serious pleasure jolts, so even though I am notoriously disappointed by many sad grilled vegetable sandwiches in this town, I had to give this berenjena a shot. And oh oh yes yes si si oui oui כןכן: thinly sliced eggplant, goat cheese, sun dried tomatoes, this may be one of my new BA faves. I only wish the insides had a big more cushion for the pushin'.

After two sandwiches down, my eating partner decided to keep going. I suggested a sensible quinoa salad, but I was vetoed by an eye roll and forced to order the prosciutto and arugula sandwich. Fact: Jamón crudo will always win in a fight against salad.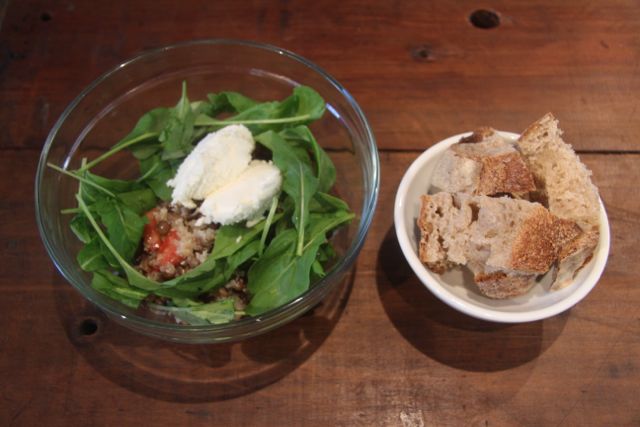 The lentil-quinoa salad is something special. Super simple, fresh, with a generous scoop of goat cheese. And for dessert? Peanut and chocolate chip cookies and/or lime tart.
While Ohad's croissants are pillows of glazed buttery flaky angels, I'd have the happiest fork in the whole entire world if Pain et Vin began serving Israeli breakfast. Just the thought of Israeli salads, shakshouka, and real pita bread in Argentina, I can hardly contain myself. Seriously, Buenos Aires needs some Israeli breakfast and I will start a Change.org campaign to make it happen. Just a pop up once in a while. And maybe some pizzas in that pretty oven. And some new sandwich combinations…
In addition to the café aspect, PyV also is a vinoteca wine store and organizes wine tastings, both open to the public and for private group tastings. Eleonora, who studied the wine biz in Argentina and France, makes for a wonderful host and shares her knowledge about wine eloquently and unpretentiously. This sommelier can relate to both wine beginners and snobby wine douchehats, and the selection of boutique wines is extra special.
Word on the street is that during the next few months Pain et Vin will be offering a School of Wine: 4 meetings to learn the basics of wine. Anyone who wants to learn more about wine, sign up for this class. Or if you don't want to learn about wine and just want to eat bread and excellent quesos, Pain et Vin is still for you.
Pain et Vin 
Gorriti 5132, Palermo Soho
Tel. 4832-5654
Tues – Sat: 9am – 9pm, Sun: 10am – 7pm
Average lunch price, sandwich + wine: AR$180
Check out their Facebook page to find out about wine tastings
Comments