It's time we all toss aside ground beef empanada filled "spring rolls" with fluorescent pink sweet and sour sweet sauce, say chau-chau to chaw fan, put down the fork, pick up some chopsticks, and tuck into a slightly more authentic world of Chinese cuisine. Here are my top picks for the best Chinese food in Buenos Aires.
HONG KONG STYLE – Montañeses 2149, Barrio Chino


Hong Kong Style is my favorite Chinese restaurant in Barrio Chino. Chef Lui Cheuk Hung and his wife Lily preside over the restaurant serving the coveted Dim Sum (one of the only spots in BA) and other Cantonese food favorites. It's important to go big for a complete HKStyle experience: large group, Sunday brunch, sit at a round table and patiently wait for the food to slowly creep out of the kitchen. Service may be slow as all the food is made to order, but you will leave with a happy Chinese-full belly. This spot reminds me of some of my favorite NYC Chinese joints.
Order one of everything off the short Dim Sum menu, like shrimp dumplings served in bamboo steamer, pork with accompanied steamed buns, spare ribs, and pork shumai. The sopa agripicante never fails as a soupy starter, nor does the Kung Pao chicken, roasted pork with pineapple, whole fish in oyster sauce, and Lui's specialty: SALT N PEPPA FRIED SHRIMP. If you see a large table of Chinese men in business suits, order what they are having. Warning: HKS ain't cheap.
SHAN DONG RESTAURANT – Vera 468, Villa Crespo
Why is it awesome?
Some call it Shandong, others Da Dong Fan Dian, a few Chino Roots, but my friends and I call it the Dirty Chino. It's a spot for a select few in the know: for those who don't mind getting a lil bit sucio with a grubby hole in the wall. A restaurant must be somewhat legit when the majority of the tables are occupied by actual Chinese people, so that gives me reason enough I'm making a good restaurant choice. It's not the type of spot to go for the trendy Palermo scene, since it's located in basically a big pink room with round tables, greasy walls, and no music. But, there's something about cheap Chinese food and mean faced mozas that just makes the food taste better.
What should you order?
This chino is all about the bountiful endless pillows of dumplings, pan-fried or steamed, with various flavor options. The fried chicken wings will bring some tang to your life, as will the garlic brotes, handmade noodles with shrimp, sweet and sour and kung pao pork, tofu with pickled cabbage, and extra pickled cabbage on the side. Warning: Some have claimed they reuse their soy sauce and rice, but as a proud member of the five-seconds rule club, I frankly don't see the difference between sharing double dipped sauces and tomar-ing a mate with an unhygienic friend.
DO FU 多福大酒楼 – Angel Gallardo 75, Villa Crespo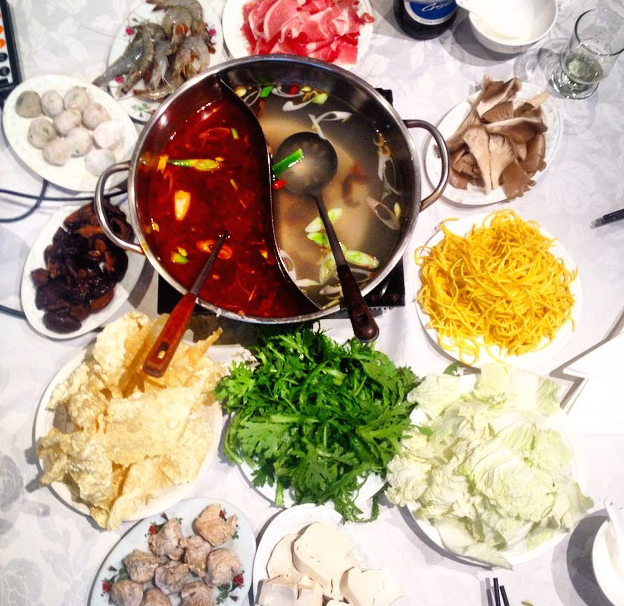 Why is it awesome?
Toothless Chinese gangstas smoking cigs, drinking beer, and singing karaoke in private rooms. My Bagelmaking friend filled me in on the secret when he walked by this Chinese spot in Villa Crespo and witnessed live hot pot action.
What should you order?
HOT POT OR BUST.  That's火锅, huo guo, steamboat or Chinese fondue (without cheese or chocolate involved). Basically it works like this: hot pot on the table filled with hot broth and you toss all sorts of fun bits of vegetables, seafood, meat, and mystery ingredients into the boiling soup to cook. You can choose between regular broth and spicy (made with numbing Sichuan pepper and hot spice), or both and they'll bring out a divider for the hot pot. I like the normal broth because for me the Sichuan pepper was too overpowering. The menu is all in Chinese, so bring a Chinese speaking friend, or have trust in your mozo. Also. STEAMED BUNZZZZZZ with PORK.
BAI FU – Scalabrini Ortiz 152, Villa Crespo


Why is it awesome?
Make sure to skip the Argentinized Spanish menu at this Cantonese hole in the wall and ask for the real deal, even if it's written in Chinese and you don't understand anything. The space won't win any design awards but go for a casual meal or order take away.
What should you order?
Duck.duck.more crispy duck. If you like your chicken spicy, order the Kung Pao chicken. Or your pork crispy and sweet, get the cerdo agridulce.  Steamed buns, fried eggplant, and ma po tofu are also the tops as are the homemade egg noodles sautéed with plump shrimp beauties. Fun fact: Once some friends dined a duck feast, and afterward they walked out onto Scalabrini Ortiz to find 3 duck heads perched on a pole in the street in front of the restaurant. Good luck?
BEIJING RESTAURANTE – El Salvador 5702, Palermo Hollywood
Why is it awesome?
It's the sister restaurant of Shi Yuan, chef Li Xin Ying opened up this upscale version in Palermo Hollywood earlier this year. Walk in and you're greeted with a large fish tank, big round tables banquette tables and grand wooden chairs. A finer dining version (with the prices to match) from your standard Chinese barrio joint, go for lunch and order the executive menu or with a large group and order a special fixed feast menu.
What should you order?
Stand out dishes include green onion pancake, sautéed Chinese vegetables, pork belly in spicy sauce, Peking duck (order in advance), fried eggplant, and HOT POT aka Chinese style fondue. To drink? Green tea with the meal. And of course this wouldn't be a true Chinese food post if I didn't give a mega SHOUT OUT to the one and only Frances Ren Huang aka The Lost Asian of Buenos Aires who may no longer be lost in Argentina, but her food eating, food cooking and food photo taking presence is heavily missed.
UPDATE: My last visit to Beijing (for lunch) was pretty sad.
家常菜 Xiao Long Bao – Anchorena 429, Abasto
Why is it awesome?
Remember the great Chinese gem on Bravard that served the best (and only) soup dumplings in Buenos Aires? Well, after closing down shop for several years they have re-opened in Abasto. Service can be very slow, prices on the high side, and often they ask you to order in advance, but it's still a solid place to go for quality Chinese with dim sum options.
What should you order?
I have a pro food writers tip for you: if the restaurant is named after a certain food, you should most definitely order it AKA xiao long bao (soup dumplings).  It's best to go with a group and order dim sum variety like xiao long bao, shen jian bao, dim sum, guo tie, pollo picante, and mu shu pork.
Wild Card: I've heard positive things about Jing Cheng (Medrano 472, Almagro), a banquet-like hall rumored to be frequented by Chinese mafiosos (?), but have yet to verify the actual deliciousness.
Two other cheap hole in the walls in Barrio Chino: China Work Express (Work not Wok) on Mendoza next to Asia Oriental and almost soup dumplings at Restaurante Mian near the train tracks on Mendoza 1725.

<<<<<<<<——————————————————>>>>>>>>
Before you embark on your Chinese restaurant Buenos Aires food hop, it's crucial to first keep in mind some very important Chinese food tips: 
– If you walk in and only see Argie families with forks, run away. You want authenticity, ie loud Chinese families with their heads buried in a bowl of noodle soup.
– Always ask for the non-Argentine "other" menu. Most restaurants have two menus (even if they claim otherwise), you want the one they don't drop off at the table, even if it's only written in Mandarin and you don't understand a word. Find a token Chinese speaking friend to bring along as a valued dining companion, or make nice with the unfriendly waiter.
– Go with adventurous eaters. The best part about Chinese food dining is ordering a bunch of different plates to plop in the middle of the table, passing and sharing the entire meal. It's no one's fault but your own if you invite a bad sharer or bad eater. You'll always lose inviting a vegetarian along, or a picky I-only-eat-fried-rice eater, or THOSE people who go out to eat together and each order the same dish as the other (WHAT HOLE DID YOU PEOPLE CRAWL OUT OF?!!?!).
– Expand your culinary horizons by being a creepy eater. Keep your eyes awkwardly peeled on the other diners and what's coming out of the kitchen. Order what looks good from plain sight even if you have no damn clue what it is. Nothing you'll find in Chinese restaurants is anymore revolting than morcilla or what your grandmother puts in her puchero.
– Steer clear of dessert. You've never heard anyone rave about a dessert they've eaten at a Chinese restaurant. Why? Chinese restaurant postres rarely satisfy. General rule of thumb: Don't waste your calories. Unless it's a Melona (Korean) or mochi ice cream (Japanese).
– This isn't your American Chinese food in New York, or real Chinese food in China. Compared to international standards, Chinese food in Buenos Aires ain't so hot. If you have high standards, or are accustomed to eating the good stuff, you will probably be terribly underwhelmed.
Comments