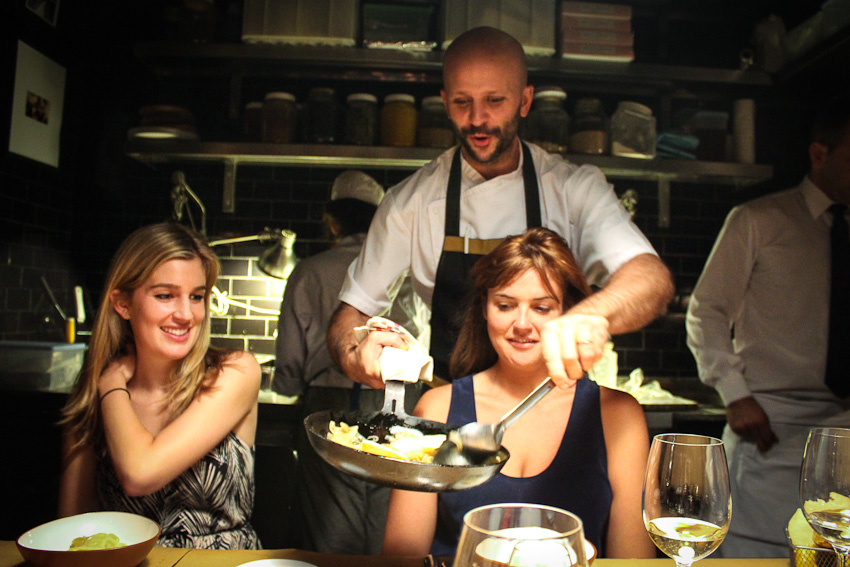 When I first heard about a restaurant classy-ing up Jewish cooking, I didn't like the concept. "Gourmet Jewish Food" seemed like a pretentious oxymoron. I don't want to see the food from my childhood turn into tiny portions, meticulously presented in a trendy Palermo restaurant. Give me my fattyfat Jewish deli sandwiches and my Grandma Pearl's sloppyplate Friday night dinners. But once chef Tomás Kalika served the first course, and I tasted the sous vide gefilte fish, gelled carrots in a horseradish reduction, I quickly realized I was being a hater for no reason. It all made sense. Mishiguene is something quite special.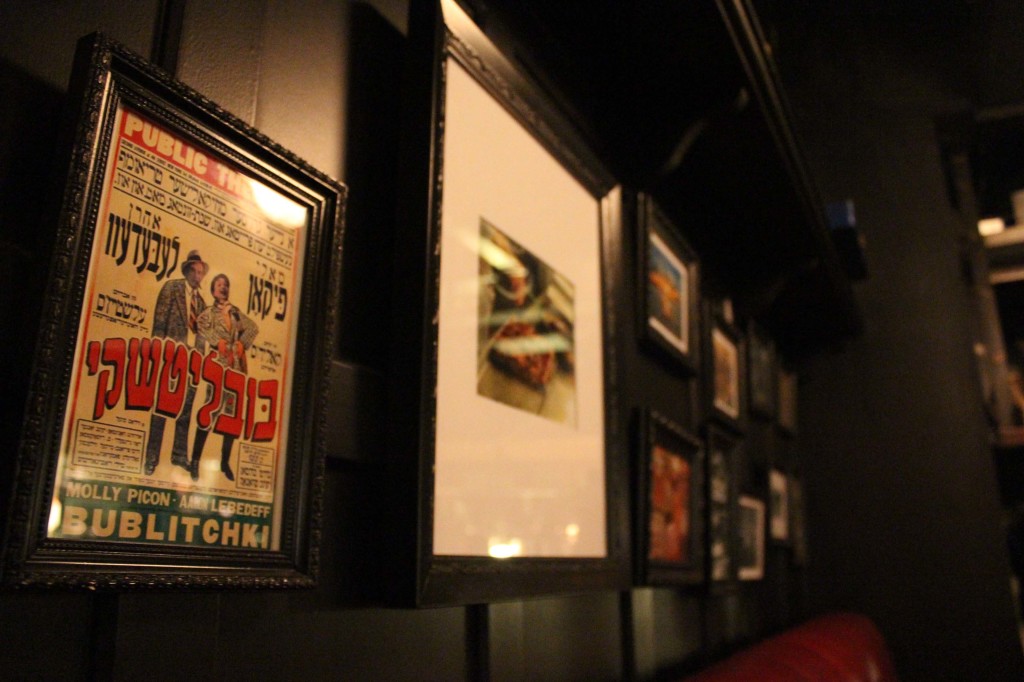 For all you goys and shiksas out there, Mishiguene (or meshuggeneh) is the Yiddish word for someone who is crazy, senseless or foolish. The restaurant was created by chef Tomás Kalika, a meshuggeneh himself, who took his own Jewish background and family recipes, professional culinary training, and years living in the Middle East, to create a Cocina de inmigrantes, or immigrant cuisine, modernizing and honoring old recipes. Kalika reinvents Ashkenazi, Sephardic, Israeli and Middle Eastern cooking — focusing on super fresh ingredients and creative techniques that find a way to invoke both nostalgia and intrigue.
The table is stocked with an alta bread basket, filled with bagels, pita and challah bread. The bagel and pita may not be the bagel-est of the bagels nor the pita-est of the pitas, but DAAAAAMN, that CHALLAH. Hamotzi lechem min haaretz, biyaaaatch — that's the good stuff you bring out on the sabbath.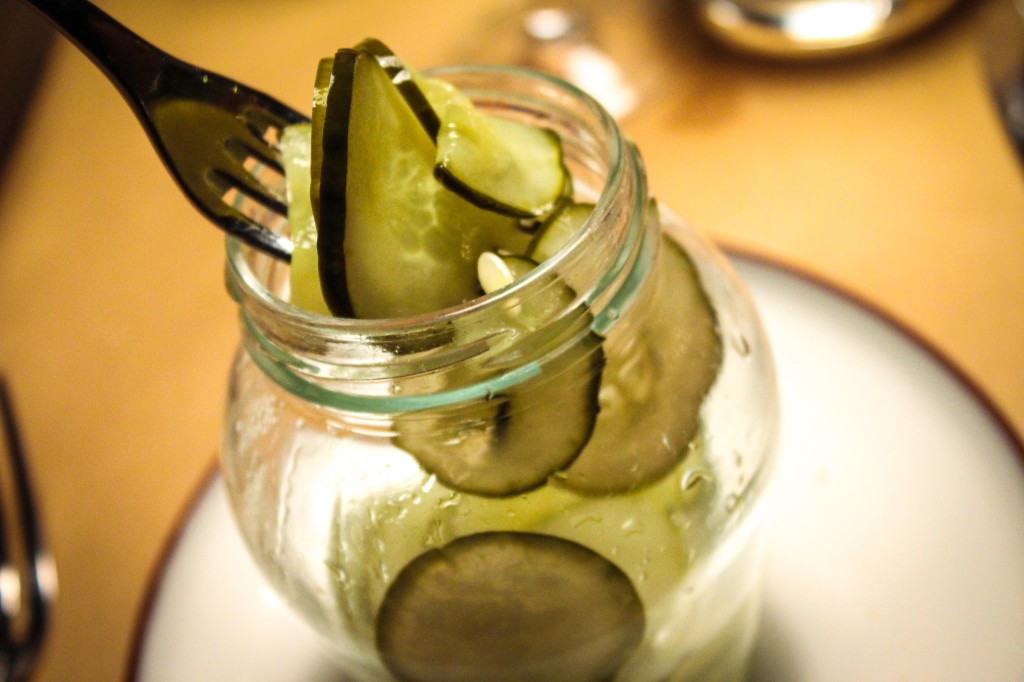 And the jar of pickles on the table makes for an extra nice touch.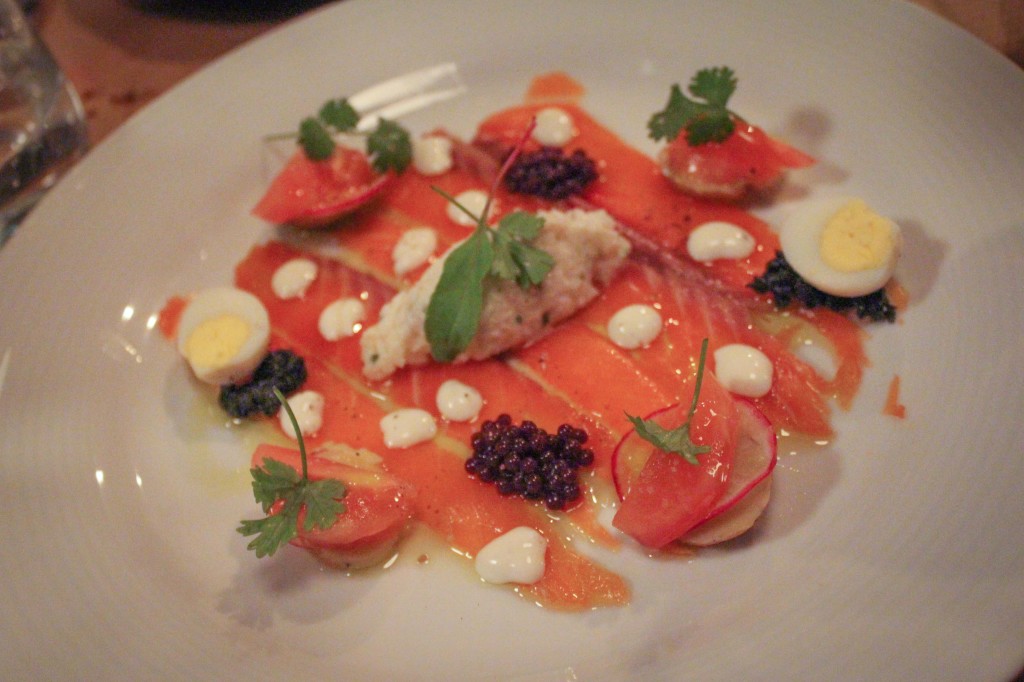 It's not everyday a salad makes you emotional. When I read the description of the ensalada de salmon y arenque, I didn't expect what was served. It looked almost like a refined Japanese dish: thin slices of gravlax salmon spread like sashimi, and topped with arenque tartare (like herring), quail egg, potatoes, radish, tomatoes, black olive tapenade, creamy vinaigrette, and celery leaves. As I started putting each balanced component in my mouth, the flavors induced a deja vu flashback: 8 year old me, jabbing elbows alongside the extended family as we crowded around a deli platter, piling our plates so high the food would actually fall off.
I might name my first born Fattoush. I have dreams about this salad. For real. Imagine a cloud bubble over my head with organic heirloom tomatoes, feta cheese, cucumbers and crispy fried pita croutons all dancing and skipping merrily to the sounds of Hebrew angel harps.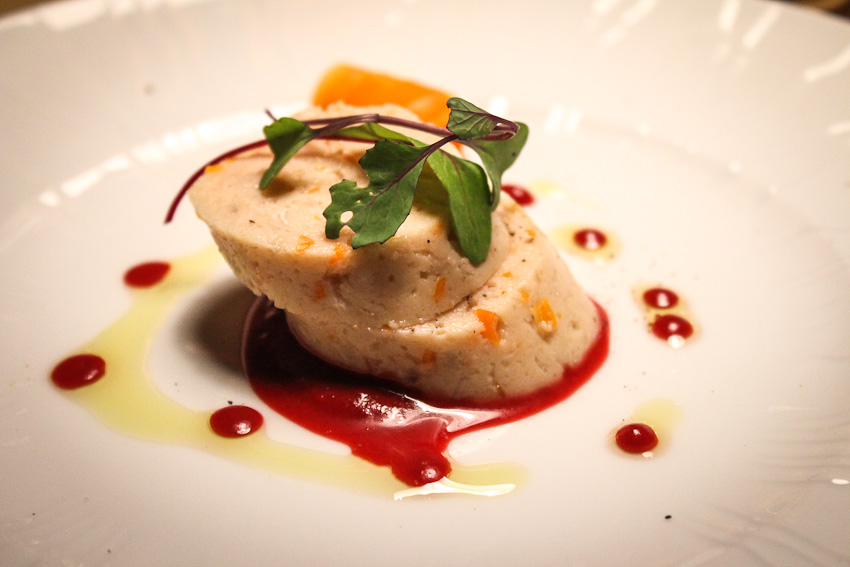 Let's take it back to basics with GEFILTE FISH. For those who have never had gefilte fish, it's like a meatloaf made from ground deboned fish. A European (Ashkenazi) dish, it's typically served cold with a mushy carrot on top and odd congealing goo dribbling down the sides. It's quite pungent and is a Jewish child's Passover nightmare. No one actually likes gefilte fish, but for some reason, we just can't stop eating it. While generally it wins the award for most unsexy dish on the planet, Mishiguene manages pep it up, staying true to the fishy, horseradish flavors in a way that's actually pleasant to eat.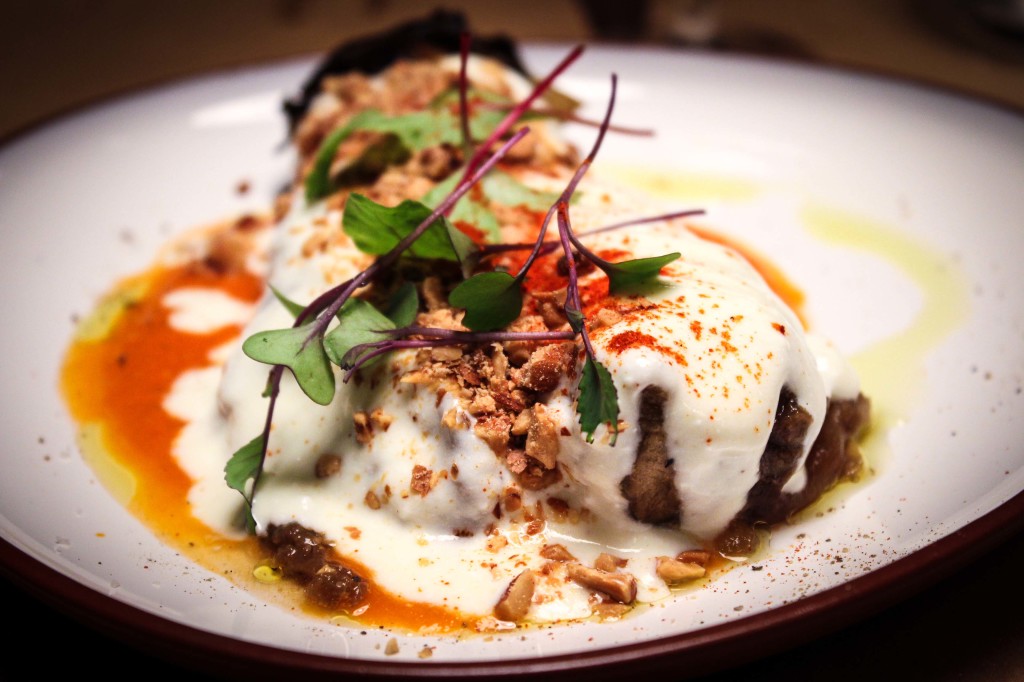 When in Israel, I eggplant everyday. Kalika's Mi Baba Ganoush took me right back to Jerusalem – char roasted eggplant smothered in a yogurt sauce, toasted almonds, tahina, and a few dashes of spicy heat.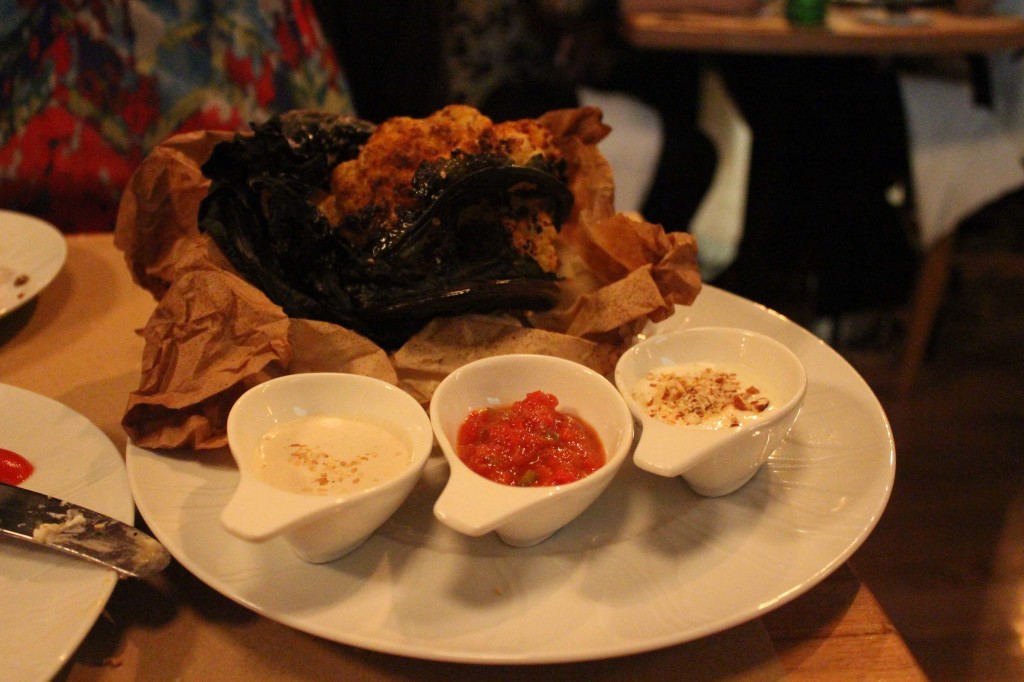 My other go-to Israel restaurant order is cauliflower – with just olive oil, salt, lemon juice and then smothered in tahina. Kalika pays tribute to the crazy Israeli chef Eyal Shani, who is known for preparing the cauliflower whole, and serves his roasted version alongside labaneh (yogurt cheese), matbucha (tomatoes, roasted red pepper, spice), and tahina dips.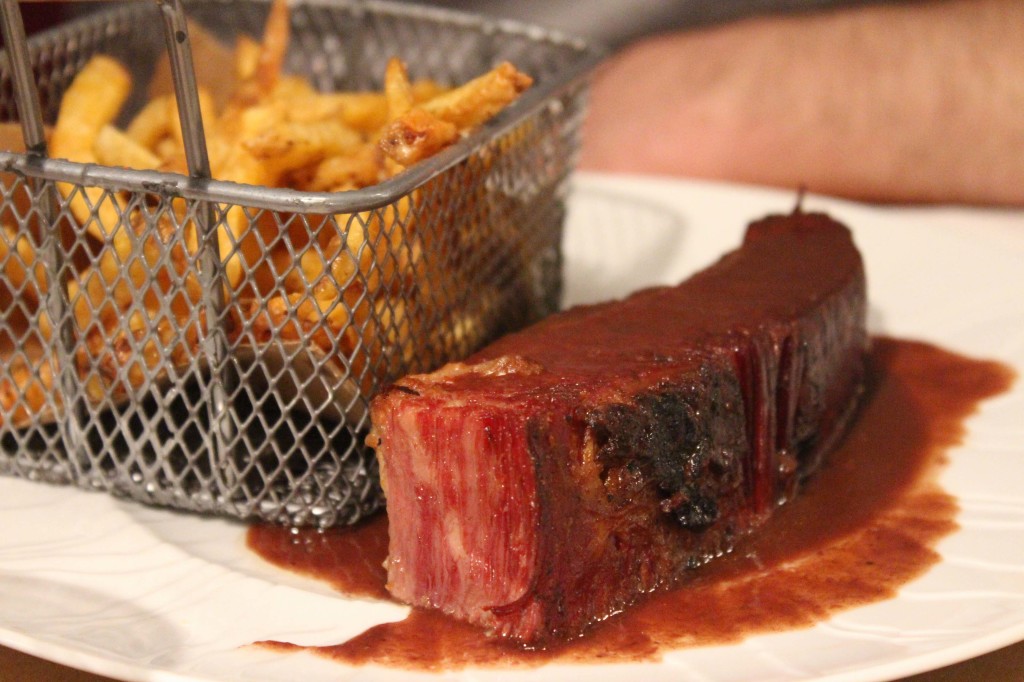 Mad props for this lunchtime hunkity chunk of pastrami, sous vide for 36 hours, and so tender that the meat basically fell apart from the breeze of my fork.
And for dinner, pastrami swimming in its own sensual juices, and prepared with a soul warming farfalaj.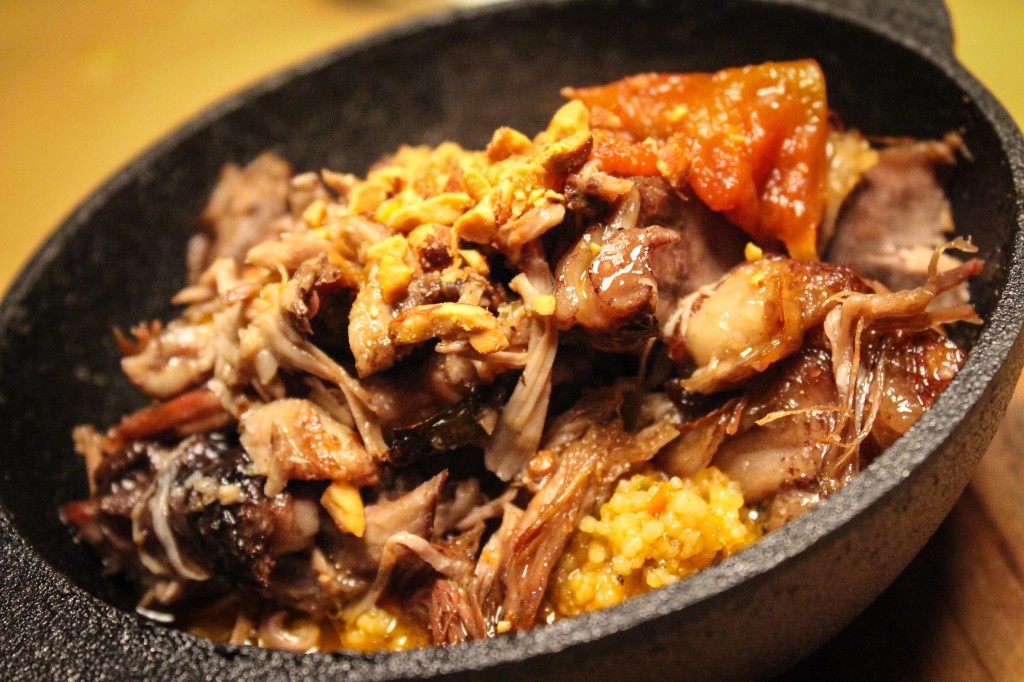 My ideal dish consists of the following: some kind of carb, a braised meat, nutty crunch, sweet fruity tang, fresh vegetable pop, acidic squeeze, and a hint of spice. So when I laid eyes on the Couscous Estilo Abu Gosh, I knew it was party time: couscous served in a heavy stone dish and topped with beautiful slow cooked lamb, spiced with ras el hanut, which is commonly found in North African and Moroccan cooking, and finished with dates, toasted almonds and a hearty vegetable broth.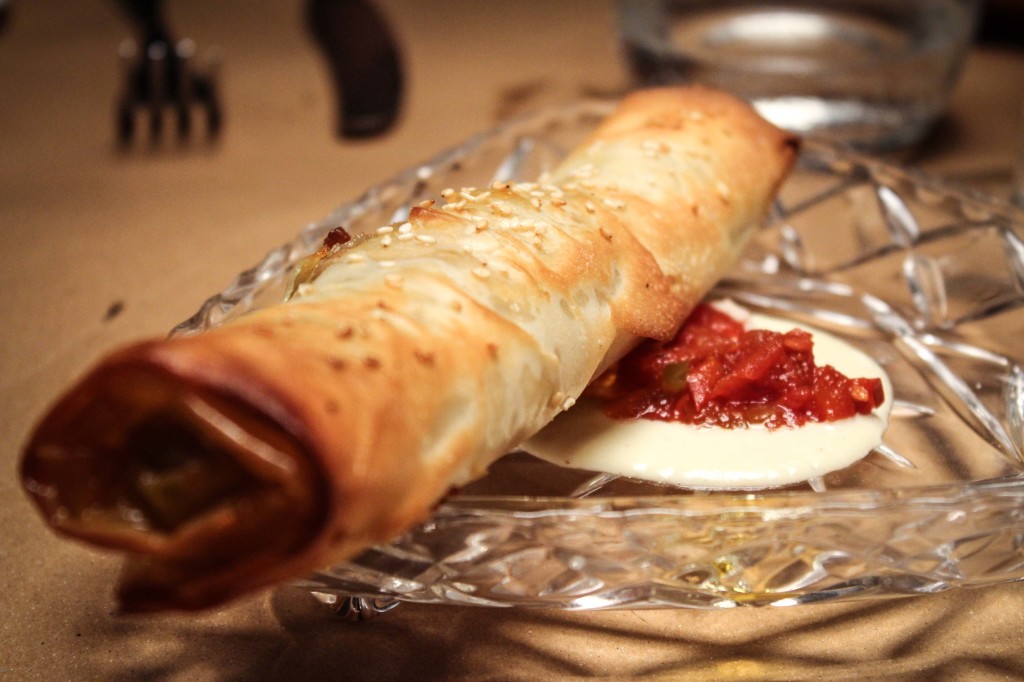 Staying in North Africa, it was time to smoke up with the Moroccan cigar – phyllo pastry stuffed with lamb confit, and served with a tahina sauce and spicy matbucha.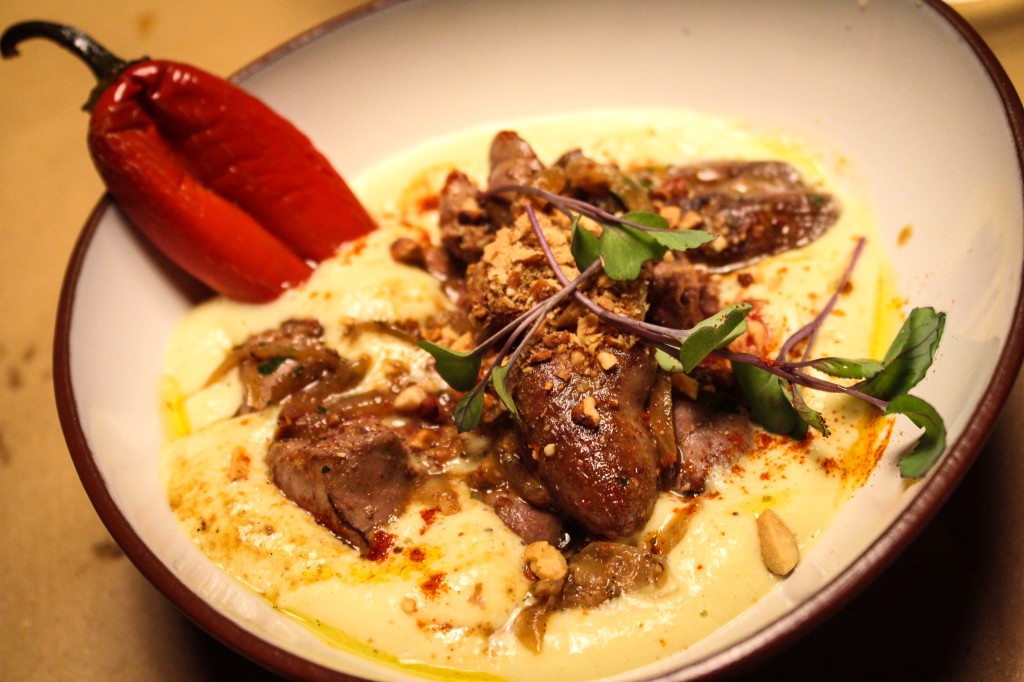 The Meorav Yerushalmi is not joking around. The mixed Jerusalem grill makes for an innards lover fantasy. Because I'm sure all organ lovers romanticize about chicken heart and liver, made with confit onion, toasted almonds, lime juice, cilantro, and swimming in a creamy hummus-tahina FOAM. Offals never had it so good.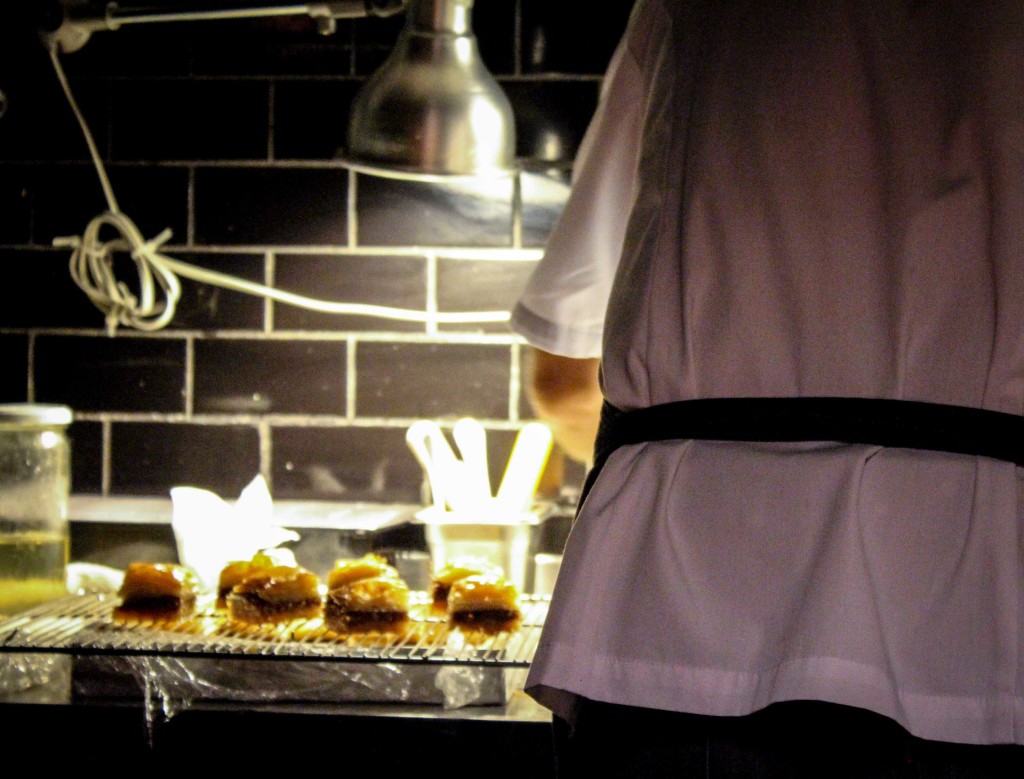 I spy with my creepy eye something that resembles baklava. Sweets might not be my thing, but the apple trifle with pistachios made me a convert. Just for the jokes.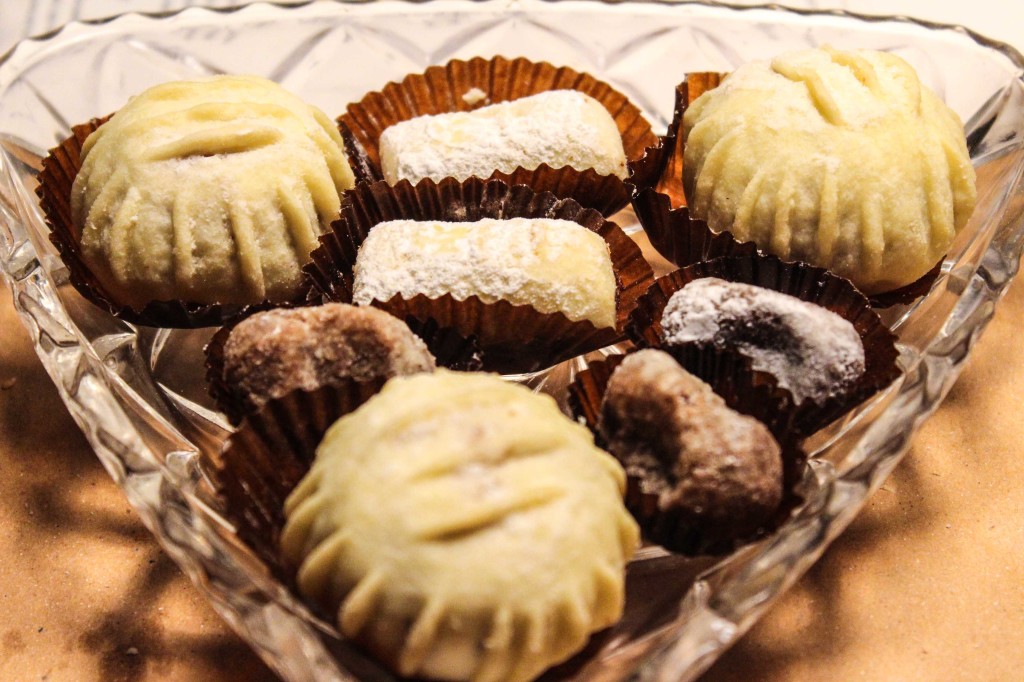 In some restaurants at the end of the meal you get petit fours, here you get JEWISH COOKIES, homemade by Nucha herself.
Dumps on dumps on varenikes. I had high hopes for these 'lil potato and onion filled pillows. Perhaps it was a lack of seasoning, or an overcooking issue, but the dumplings just didn't have that Soviet bite I was looking for.

Same with the falafel. Given the caliber of the rest of the dishes, I expected the classic sandwich to bring me right back to the shuk (Israeli market). But this was not the case. 
It's important to mention that everything in Mishiguene is made in house, inside an immaculate open kitchen. The only thing missing from the menu? Yo Chef Kalika, I NEEEEED a true Israeli breakfast.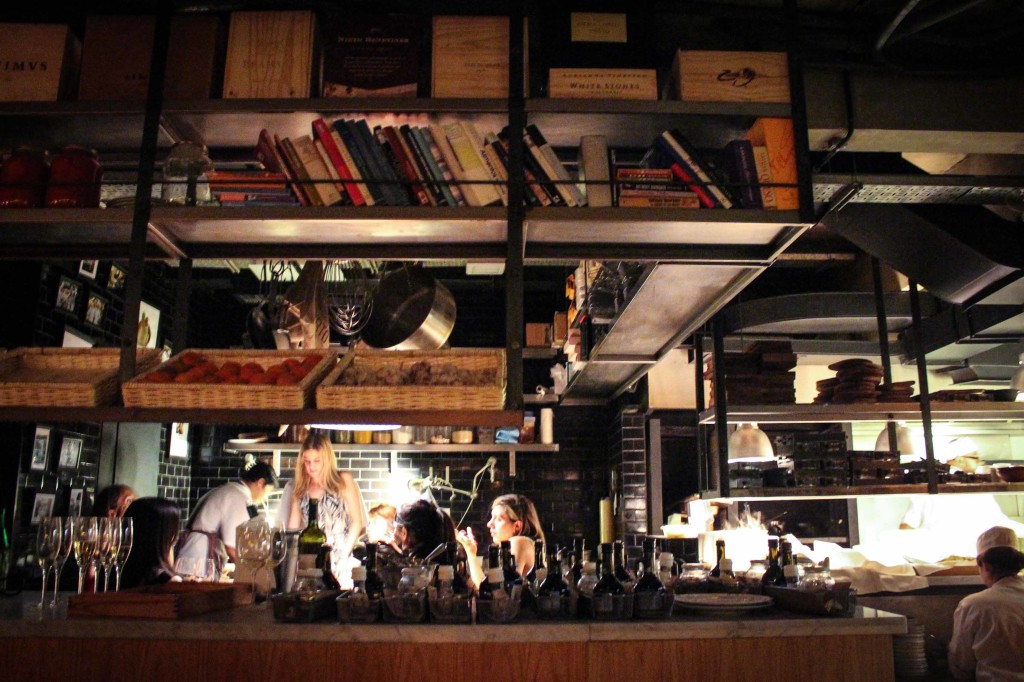 To feel like the ultimate baller, opt for the special chef's table inside the kitchen. It's ideal for a private group to get up close and intimate with a six course tasting menu (and wine pairing). All dishes are customized for each party, making it possible to try the greatest hits, served personally by Kalika and his cooking team.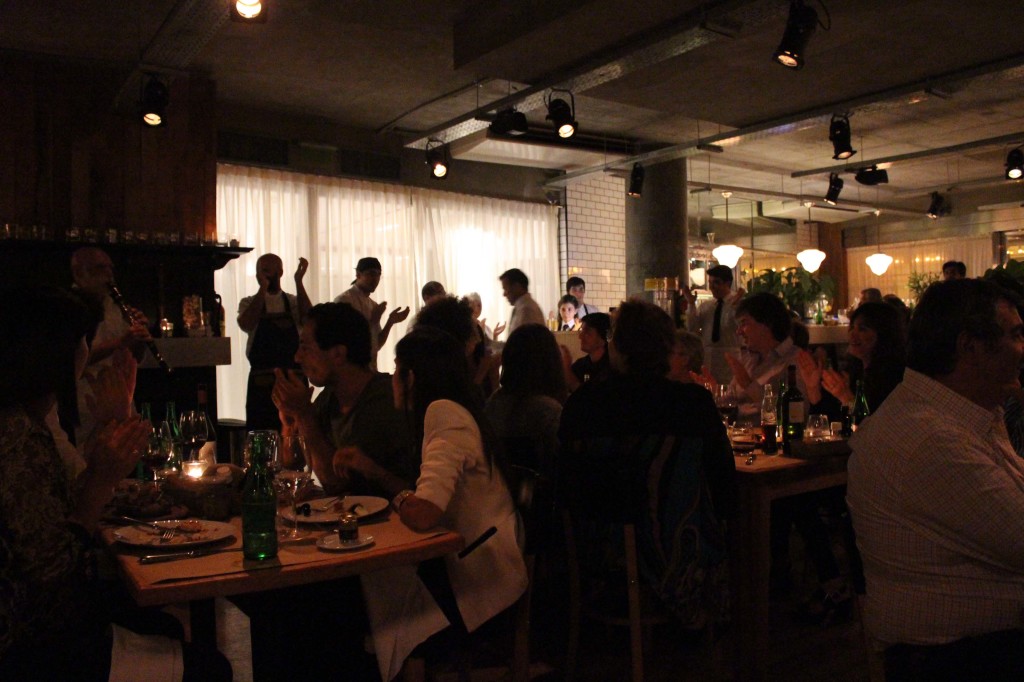 Shabbat is especially bumping – just how Friday nights in Palermo Jewish are supposed to roll: kiddush it up, bust out some klezer music, and watch as the entire restaurant – all ages, religions, nationalities and barrios – break into absolute merriment; clapping, singing, and getting down with a cuisine that's truly unique.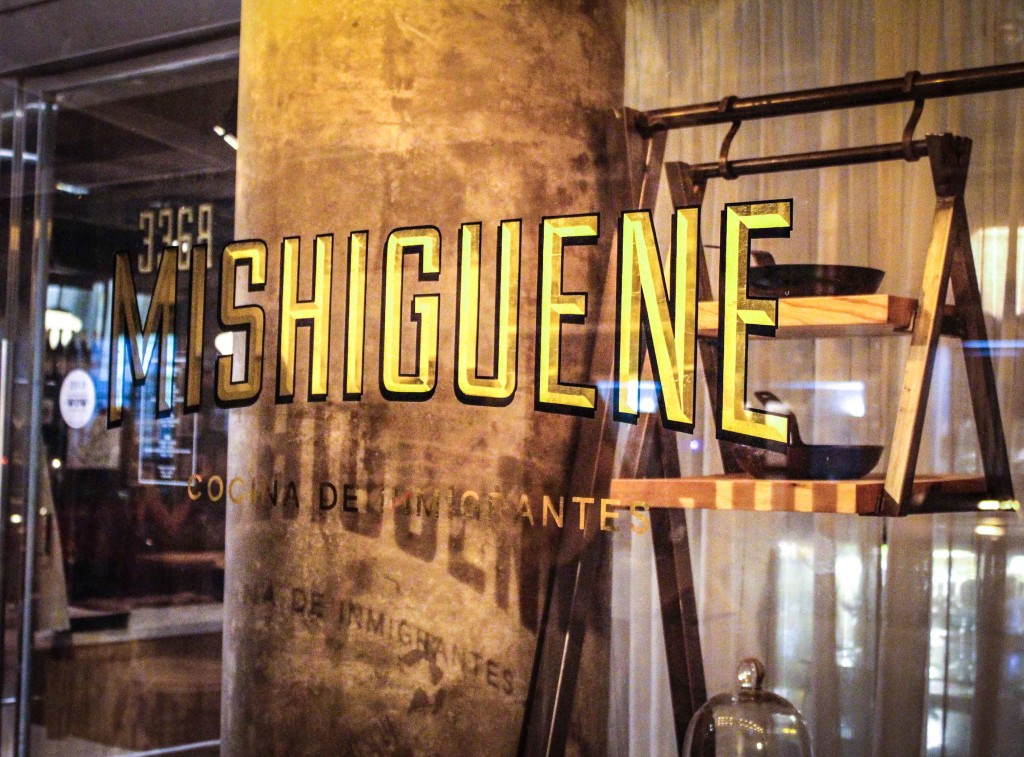 Mishiguene
Lafinur 3368, Palermo Botánico
Tel. 11-3969-0764
Mon – Sat: 12:00 pm – 4:00 pm; 8:00 pm – 1:00 am; Sun: 12:00 pm – 4:00 pm
Average price: $350
Facebook
Instagram
**This review is from Mishiguene's 2015 tasting menu.
Comments