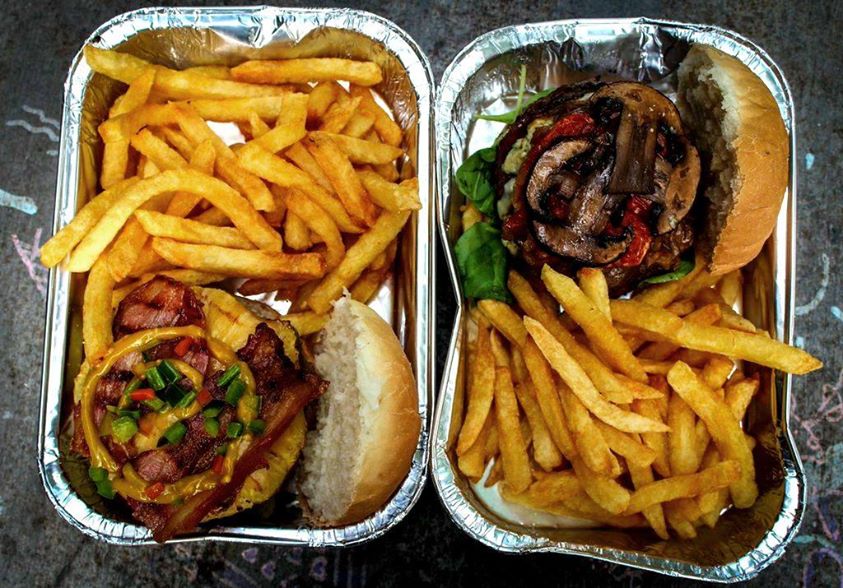 Burgers are so much more than the latest food trend, it's a lifestyle choice. It's scientifically proven that people are instantly happier while eating an awesome burger, so imagine the edible anti-depressant delight to see the hamburger party train finally make its way to Buenos Aires.
In Buenos Aires, burgers are the new black. Following in many major city's food scene footprints, porteños are moving away from the Barfy silliness to please the public with burger dens devoted to the juicy burger, homemade bun, and killer topping way of life. And thus began my chubster challenge — go on an obsessive quest to find me some burger marriage material. And luckily, many eligible suitors made a lasting impression.
Pony Line (Four Seasons Hotel, Posadas 1086, Recoleta)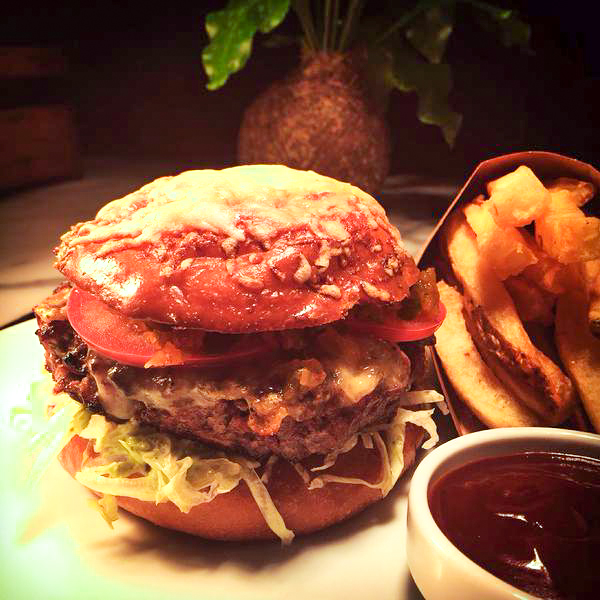 The lowdown: The moment I sunk my teeth into Pony Line's burger, I wanted to take it straight upstairs to a room at the Four Seasons for some hamburguesa humping. That's right, no sucio telo for this burger — I'm talking the five-star hotel Presidential Suite treatment… spa, massage, Champagne, THE WORKS.
The burger love: I was lucky enough for Executive Chef Juan Gaffuri to take me behind the scenes to witness the life of the Pony Line burger. It started at conception, where a 45-day dry aged beef is made into a megafatty patty, grilled medium rare, and built with homemade pickle relish, crunchy lettuce, tomato slice, homemade aioli, *real* Lincoln cheddar cheese, and placed in between a buttery brioche bun. Classy broads don't come cheap, but the hefty 230 pesos price tag is worth this prime burger action. (Photo: Pony Line)
Tierra de Nadie (Avellaneda 588, Caballito)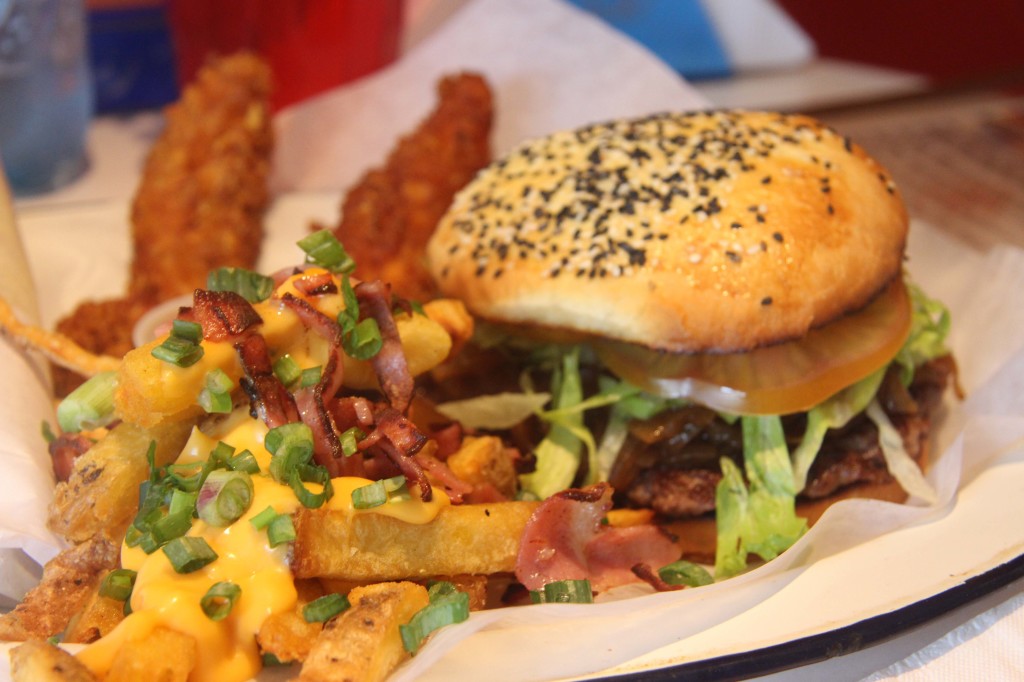 The lowdown: Stuck in no man's land in Caballito, this hole in the wall serving Yanqui delights proves to be a rare diamond in the rough. Dave, chef and owner, learned all sorts of burger secrets working at Kansas, and puts his own spin on what it means to bang out a bomb ass burger. 
The burger love: One glance at Tierra de Nadie's burger game and you'll instantly want to wrap your dirty mouth around it, inappropriately inhaling in just a few bites. Choose from dreamy deluxe burger options like the TDN Burger stuffed with "cheddar" and drenched with caramelized onions and choice of sauce (get the bourbon) or the 3Hot Chilli Peppers with pickled jalapeños and chili peppers, and a spicy rocoto sauce. You can go for the chronic topped with MOLLLLLLEJAS and pickled eggplant or for the double patty-like sandwich, where the bread is lined with a layer of crisp cheese.
Dellepiane Bar (Pasaje Luis Dellepiane 685, Recoleta)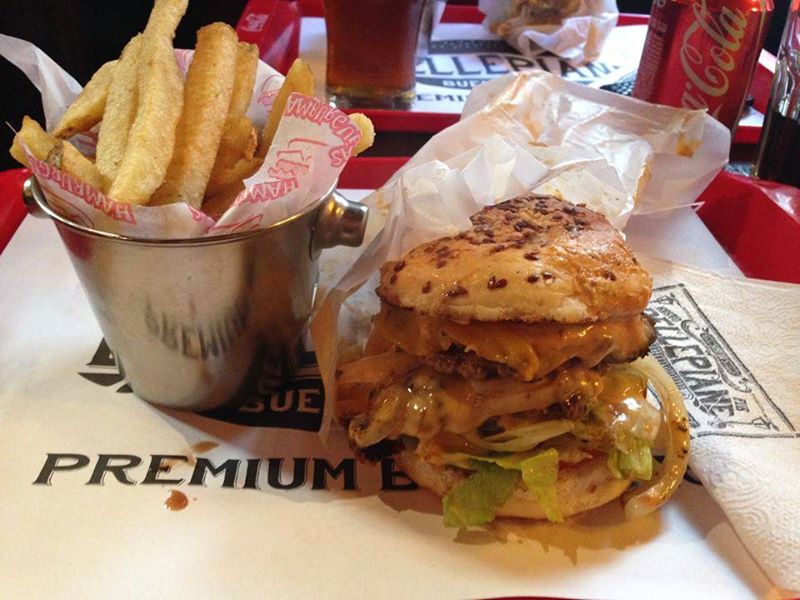 The lowdown: An Argie-US hamburger obsessed couple travel across the states in search of the burger best… and came back to BA to bring their own version. Bonus: this burger bar is located on one of the coolest street-art filled hidden passageways in the city.
The burger love: The menu features a handful of burgers and one special burger that changes weekly. When in doubt, I always order the burger named after the place.. and in this case, the Dellepiane, is topped with grilled onions, special sawwwce, double cheese, double bacon, double fun. (Photo: Dellepiane Bar)
La Cresta (Bolivar 865, San Telmo – Bulnes 829, Almagro)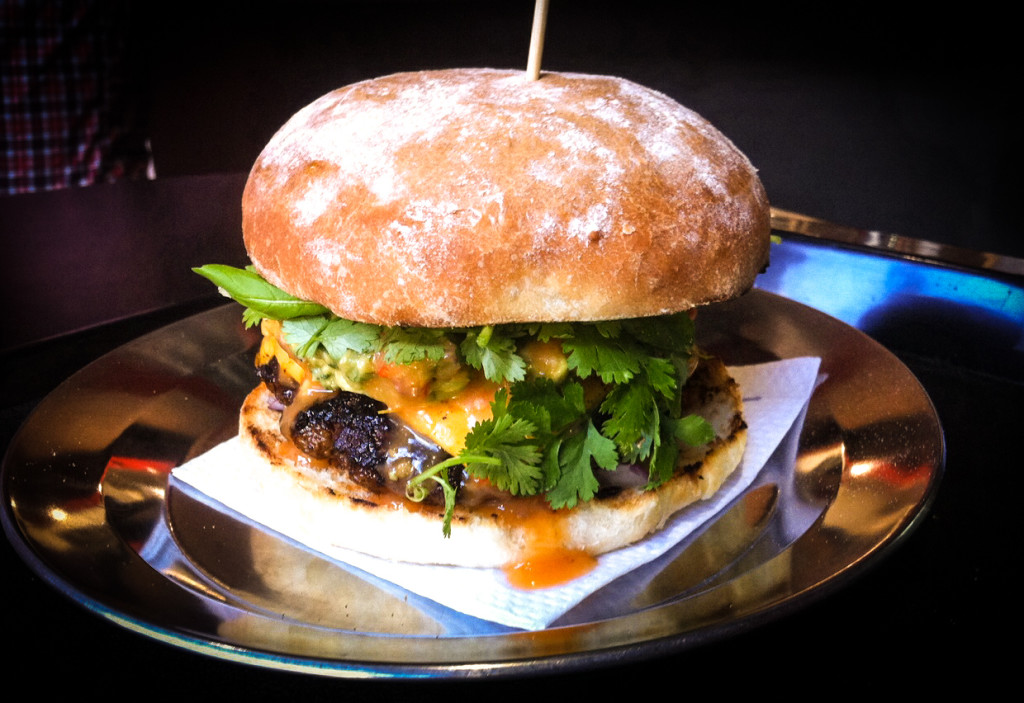 The lowdown: When La Cresta had plans to open in San Telmo, owner and grillgod Stuart told me about his BIG burger plans. While the Almagro location offered a few burgers on the menu, San Telmo was set to raise the burger bar, where the hamburgers would be the main star. Stuart's goal was simple and straightforward: make the best damn burger in Buenos Aires.
The burger love: Let's talk about the golden boy for a hot minute. His name: Chilli Chutney. His style: guacamole, passionfruit and mango chutney, cheddar, cilantro, picante on homemade toasted bun.
UCO (Soler 5665, Palermo Hollywood)
The lowdown: We can blame the chicken frying bitch at NOLA for Uco's glory in a bun, who complained to Chef Ed Holloway there were no decent burgers in Palermo Hollywood. She challenged him to make his own rendition, and he came up with this bad boy. The mission: honor Argentina in burger form.
The burger love: Instead of copying the North American art of burger-ing, Uco aimed to tribute Argie's natural assets with a porteño twist: a mixture of roast beef and quebracho-smoked PORK BELLY patty, topped with provoleta cheese, bacon, sofrito, homemade pickles, and served on a modified pan de campo. On the side? Polenta fries, yo. Cost? 150 pesos. Lunchtime only. (Photo cred: UCO) 
180 Burger Bar (Suipacha 749, Centro)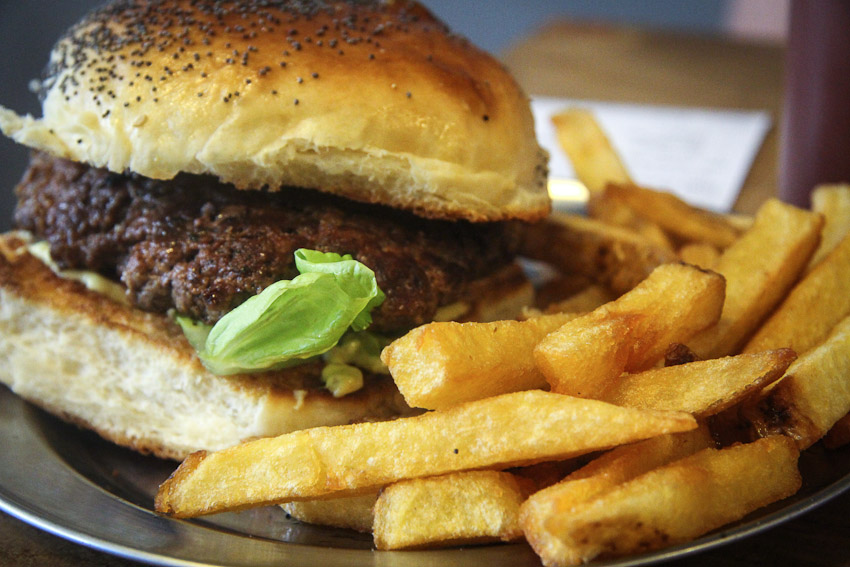 The lowdown: 180 does a total 180 from most of the microcentro competition – letting downtown diners choose their own 180 gram burger adventure. It's a beautiful sight to watch men in business suits shamelessly getting down with a big daddy burger, letting the juices dribble down their chins while embracing the fantastic beast.
The burger love: Top the burger with a choice of homemade sauces like barbecue, mayonnaise chimichurri, tzatziki, tartar, or dijonesa (mayo + mustard); and toppings like bacon, fried egg, provolone cheese, or ham. 
Burger Joint (Borges 1766, Palermo Soho)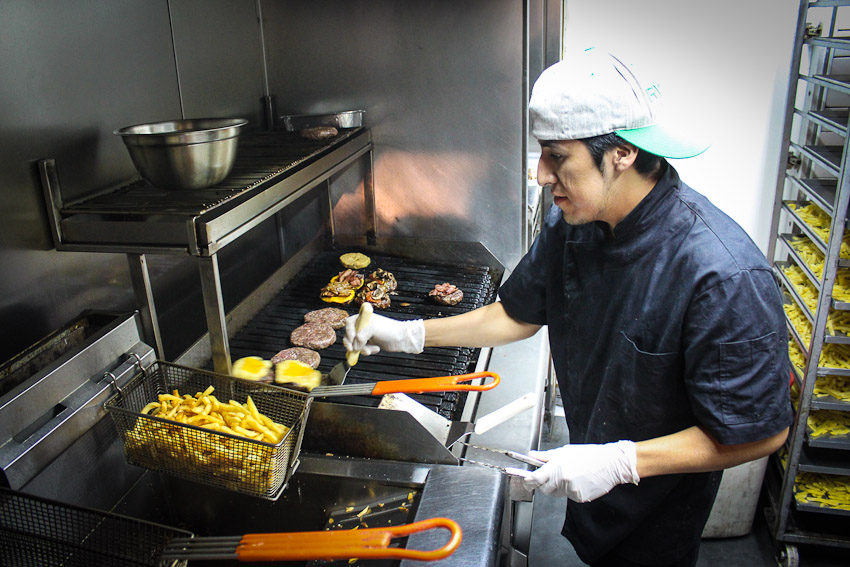 The lowdown: One can argue that the joint is the culprit that started all this burgermania in BA. A pioneer in its food class, the chill lugar with a fun grungy vibe bangs out solid burgers alongside crispy double fried French fries with curry ketchup. And of course, any burgería that screens non-stop Seinfeld vision automatically wins my endless devotion. Because Seinfeld is life. 
The burger love: BJ keeps it simple: Classic, Blue, Jamaican, Cabra and my go-to, the Mexican – stacked with guacamole, jalapeños and HOTHOT sauce. The American is also a favorite, because I'm so damn patriotic.
Burger Mood (Viamonte 359, Centro)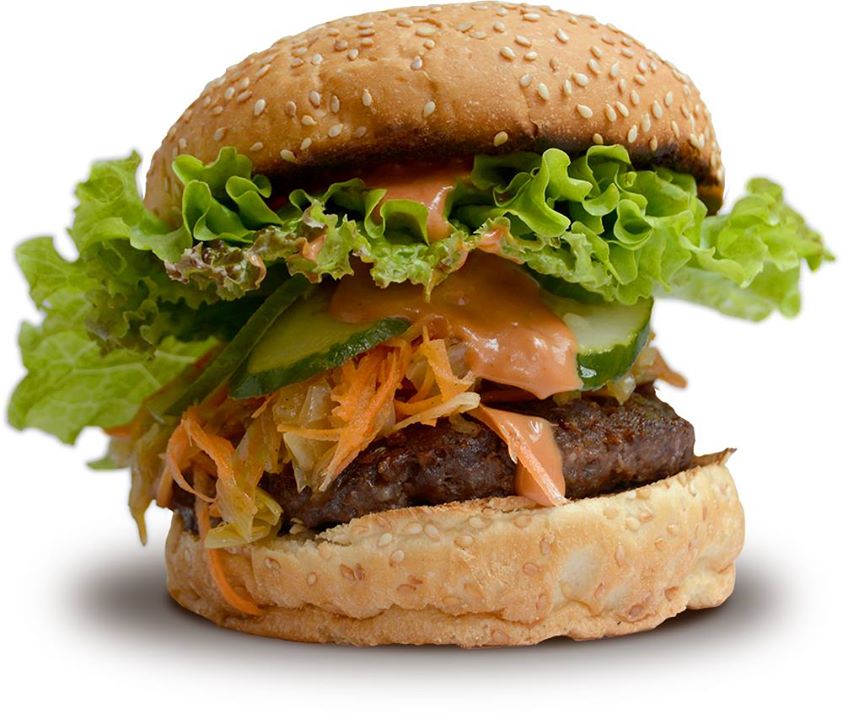 The lowdown: Microcentro lunchtime eaters have gotten shocked with a bit of burger-hysteria. Because who really wants to eat a sad kiosco sandwich or shady Chinese buffet? The makers of Green Curry got it right again, helping customers get in the sensual burger mood with this affordable hamburguesería.
The burger love: The menu is divided into three parts: 1. Suggested burgers like the Cuate (palta, cheddar, tomato, cebolla asada, spicy ketchup). 2. Design your own burger choosing the sauce and toppings.  3. Burger of da week on special, like this Kimchi Burger. (Photo: Burger Mood)
El Banco Rojo (Bolivar 914, San Telmo)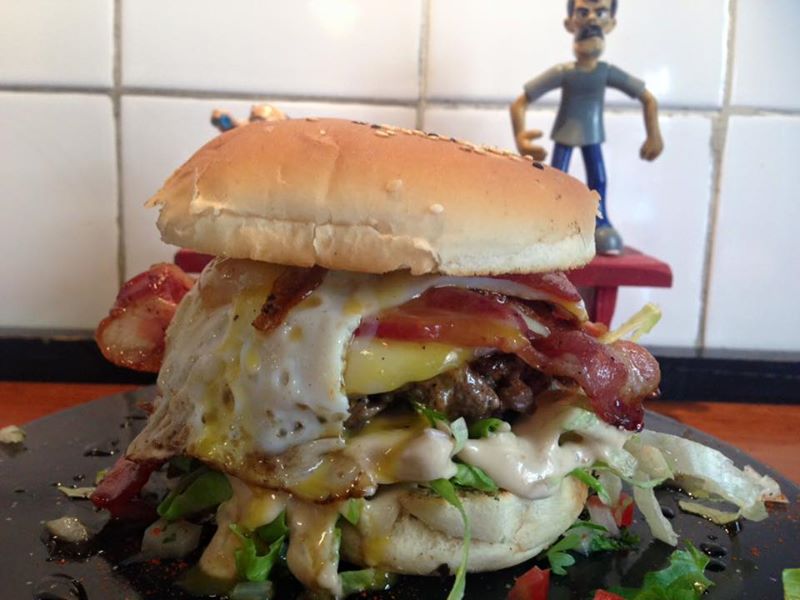 The lowdown: No trip to San Telmo is complete without a EBR visit. While the menu mostly features non-burger faster food dishes, whenever the meat-bun combo is on special, you know you can trust the outcome.
The burger love: Every week Banco Rojo graces us with a new burger recipe. Like this sexy hot mess standing above me, aka La Dulce Antonella with cheese, bacon, porny egg, sweet chilli sauce and eggplant mayo. (Photo: El Banco Rojo)
Marfa (Santa Fe 5199, Palermo)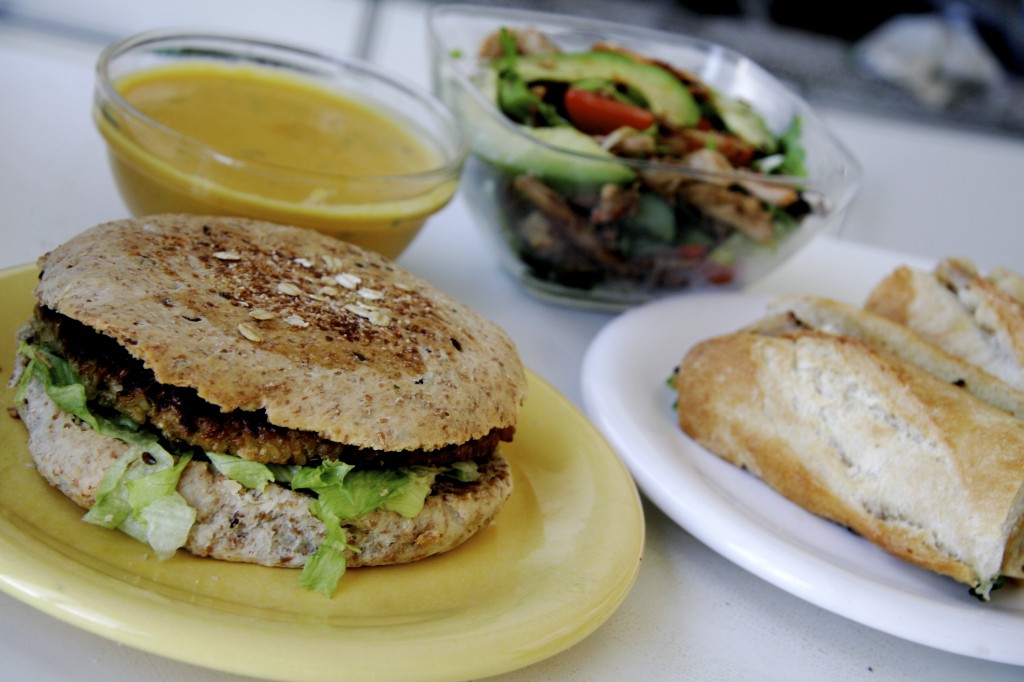 The lowdown: We all know a veggie burger isn't a real burger, but if you have to go green, go Marfa. The delivery and take away king of Palermo for years, Marfa continues to serve a solid non meat burger selection. 
The burger love: This is how the veggie burger goes down: each has a thin yamani rice base, and then can be combined with a few different flavors: lentils and squash; green onion and beet; carrot and spinach; and my favorite – broccoli, roasted red pepper and pesto.
Honorable mention: The majestic Lord Hector burger at Loreto Garden Bar (Virrey Loreto 2912),  Sweet Pepper's (Los Mimbres 1220, Tigre) food truck burger, El Puesto de Fabio's (Roque Sáenz Pena 1159, San Isidro) outdoor burger garden, and Illegal Burger's (Talcahuano 959) onion ring monster burgers.

Tips on what makes an awesome burger:
1. The ground beef needs to be of a high quality and not overworked. Please don't fondle the meat like you would your sweaty balls during summer. And you're welcome for that appetizing mental image.
2. The bread must be freshly baked and sturdy enough to hold the monstrosity together. Soggy-bottom faucet bread makes me wanna llorar. Bimbo buns make me wanna vom.
3. Toppings should be simple yet creative and smartly distributed.
4. The sauces shouldn't come out of commercial plastic bottles or stupidly small impossible to open packets. Extra points when homemade and addictive enough to make you want to take it home and smother on everything.
5. The cooking of the actual burger makes quite the difference (thank you captain obvious). It's crazy that most spots don't ask the temperature of how burger eaters would like their burgers cooked. **IMPORTANT** If you are a medium-rare kinda gal, make sure to tell your mozo – otherwise you will probably be chomping down on a dry, well done, hunk-o-beef.
6. Cheddar, you ain't real. Take yo fake orange self and go home. But, unfortunately these days the artificial cheddar fight is one we cannot win.
7. Whenever somewhere self-proclaims as serving THE BEST BURGER ON THE PLANET, be skeptical.
8. Read David Chang's Burger Manifesto.
9. Fries matter.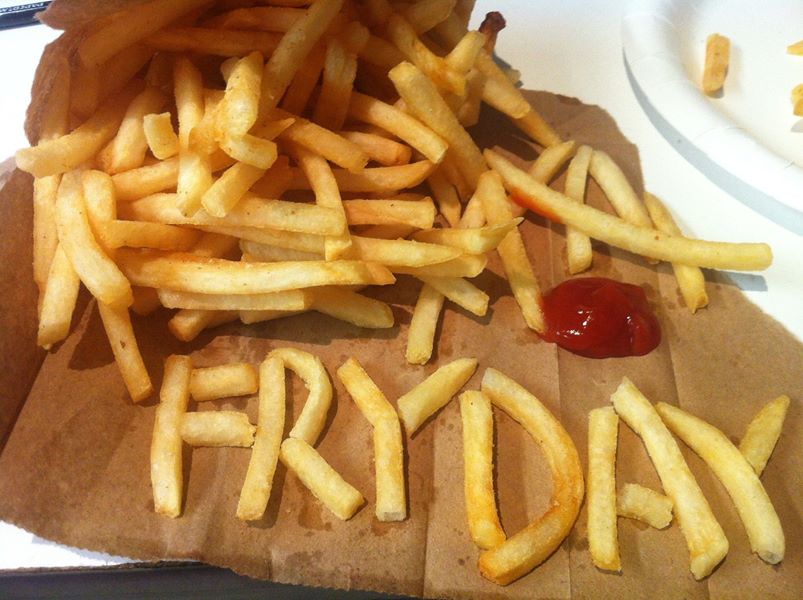 Shoutout to my true burger loves: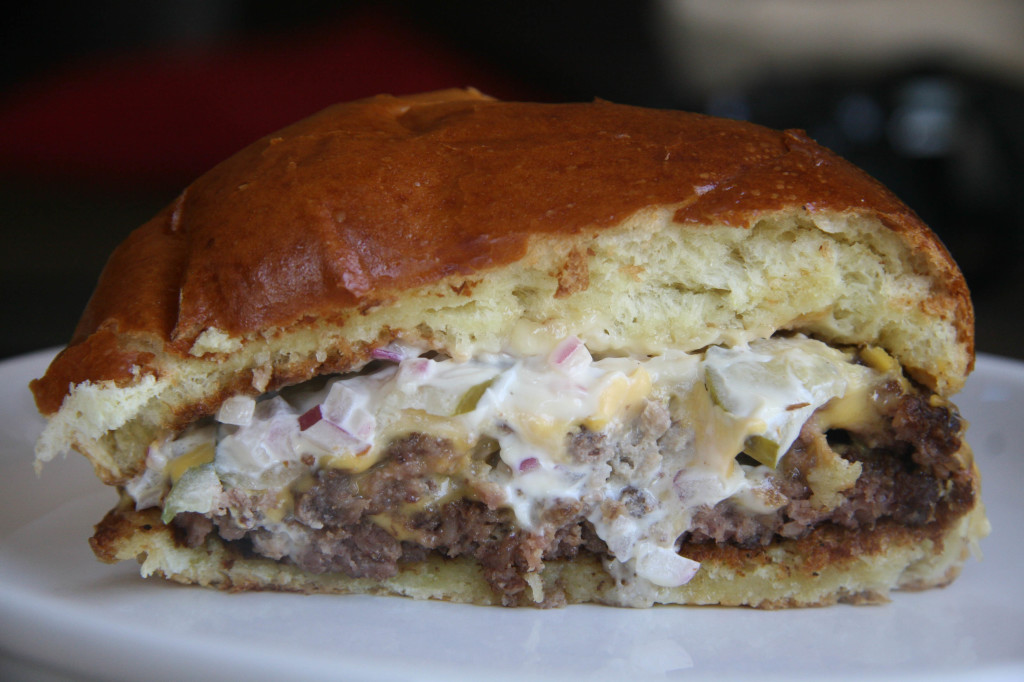 Cheeseburger at Au Cheval in Chicago.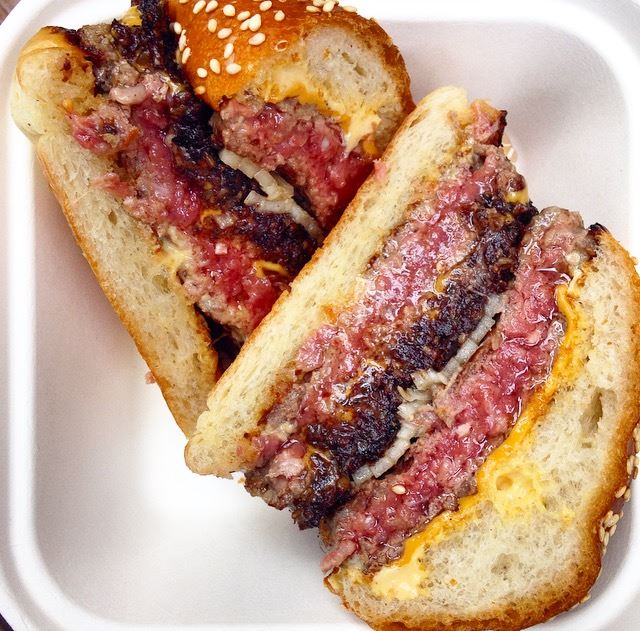 And the Bleecker St Black Burger in London.
More Buenos Aires Burger Resources:
Burger Facts
Burger Kid
The Burger Life 
Original article published on The Real Argentina blog – Porteño Burger Boom: Where to eat burgers in Buenos Aires.

Comments