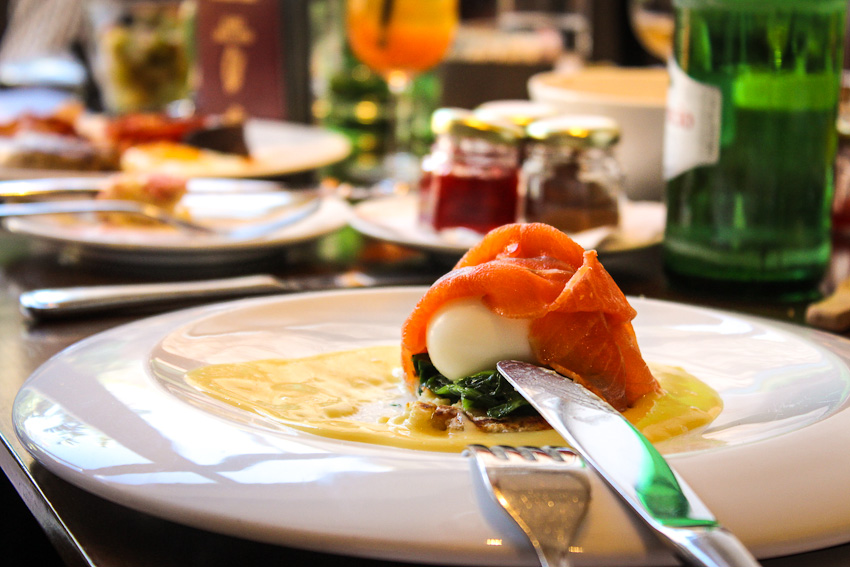 Buenos Aires has gone LOCO for brunch. In a city that traditionally never used to eat a hearty meal in the morning – unless it was leftovers from an asado the night before – it seems like every café has been popping up offering non-Argie breakfast foods that go far beyond medialunas, cortados and tostados.
Brunch, brúnch, broonch, brunchear, bruncheamos, bruncheando, bruncheada, brunchmance (romantic brunch?), bronchmance (bros who romantically brunch?). They said brunch would never catch on, that's it's not part of local food culture, that no respectable Argentine would ever eat eggs and bacon in the morning. But now the term has been espanglishized, conjugated, mainstreamed, and whored out onto many restaurant and café menus across the city. Because for some strange reason, people fucking love to love brunch.
The Buenos Aires Bruncheando Directory
ELENA – Four Seasons Hotel, Posadas 1086, Recoleta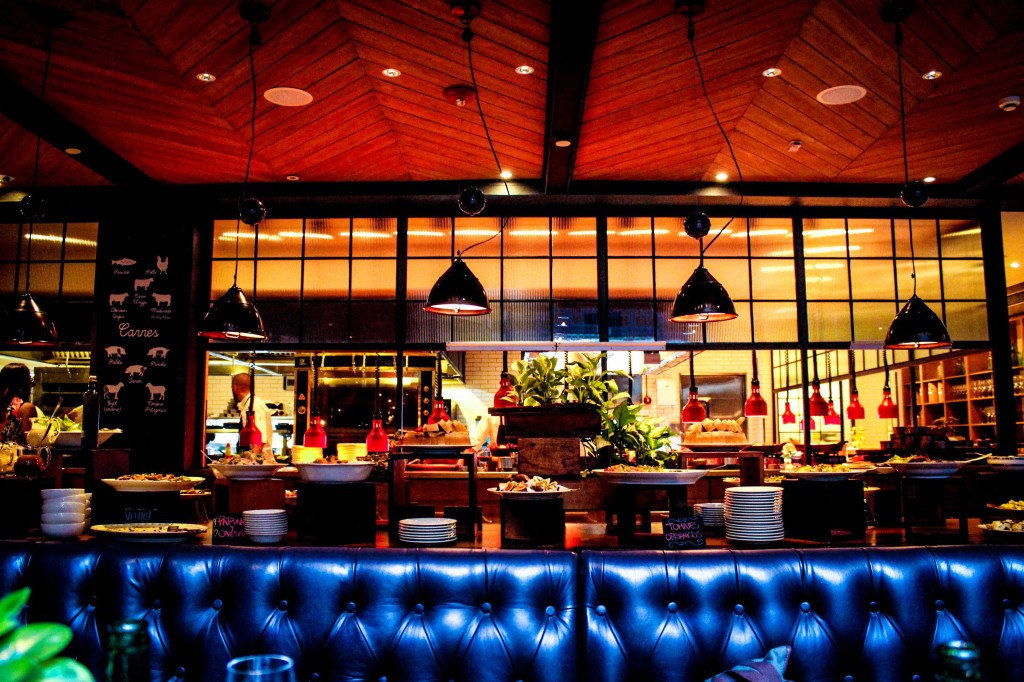 THE LOWDOWN: Put on your Sunday's best and brunch it up in style. And by style I mean stretchy fat pants, piling your plate high, stuffing face, and going multiple rounds at Elena's bumping buffet in the beautiful Four Seasons Hotel. Even though it's not technically *BRUNCH*, it's still my favorite special occasion boozy brunch spot in Buenos Aires.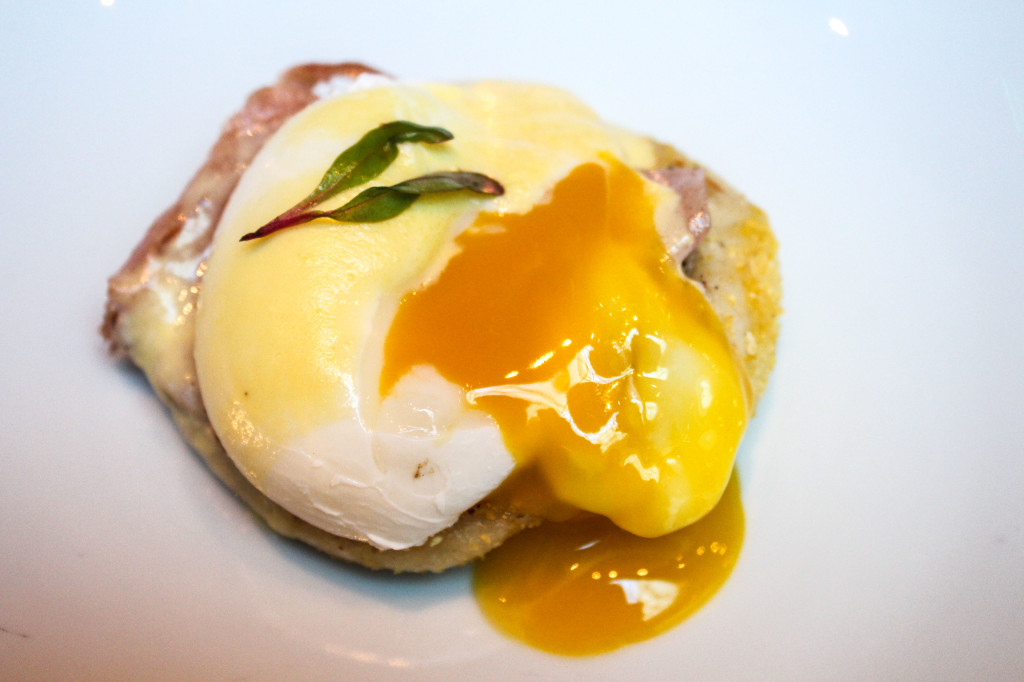 THE BRUNCH DETAILS: This beautiful 4-bite eggs Benedict wonder on an English muffin is LEGIT. Besides the egg station, there's a meat station, a pasta station, a glorious table filled with colorful salads, a seafood bar, a mega dessert spread, and even a cheese and charcuterie CORNER. What more can you ask for in life? The price isn't cheap, but worth every penny.
LA ALACENA – Gascon 1401, Palermo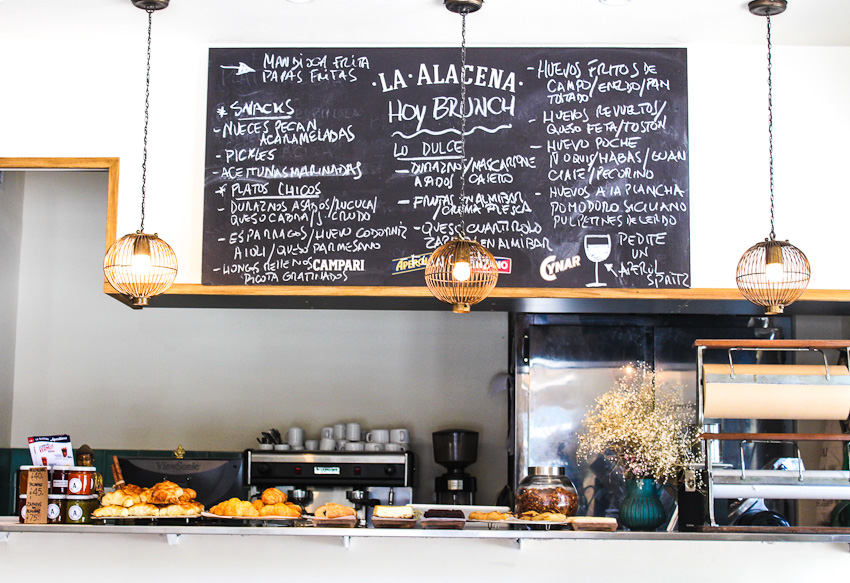 THE LOWDOWN: Sophomore class café La Alacena has a totally inviting space with modern open kitchen, friendly staff, outskirts of Palermo location, and a breakfast menu that will make you wake up with a smile. The pastries are made everyday in house with some of the best breads, focaccia and croissants in the barrio.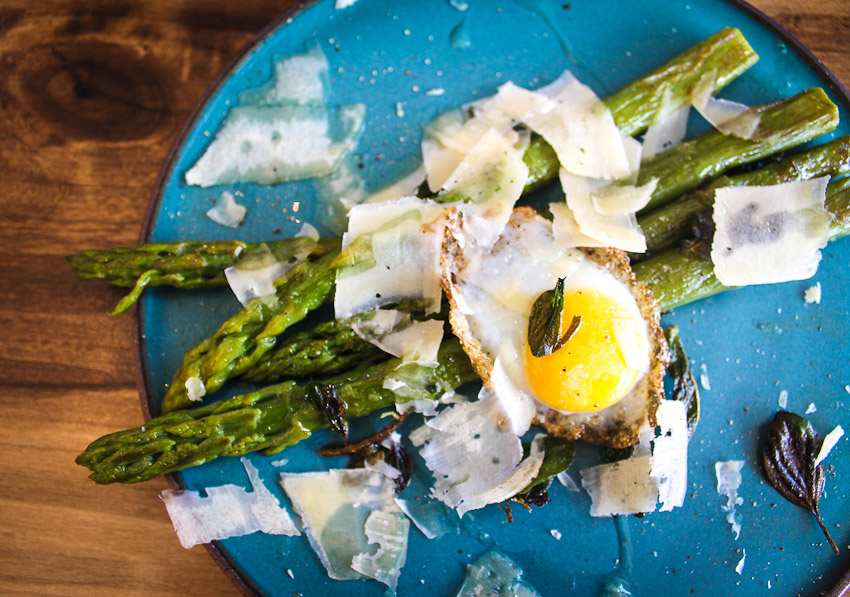 THE BRUNCH DETAILS: On weekends and holidays, La Alacena pops it with a special a la carte brunch menu. Some of the specials (that change seasonally): organic farm eggs in a pomodoro sauce with pork meatballs and a quail egg with asparagus. Portions are on the smaller side, so it's probably not the place for hangry fatties. Breakfast is served daily before 11am.
CAFE RIVAS – Estados Unidos 302, San Telmo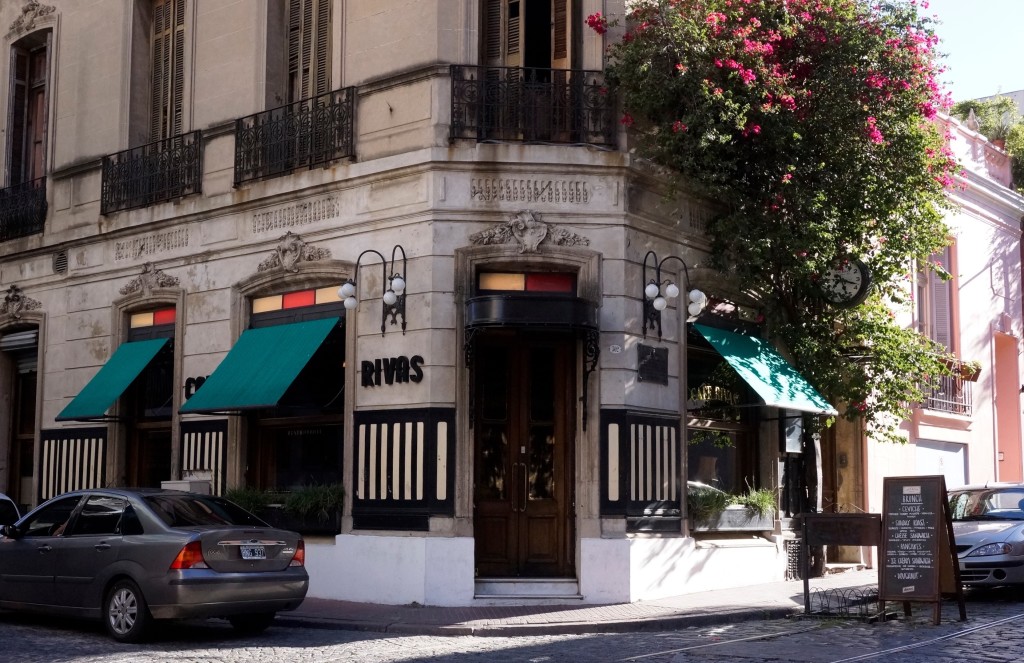 THE LOWDOWN: Bartender Guillermo Blumenkamp (owner of Doppelganger) took over one of the prettiest corners of San Telmo and totally reinvented this old school café. Chef Facundo Acevedo, who spent time in London cooking at the Argentine embassy, brings his British food love for Saturday and Sunday brunch.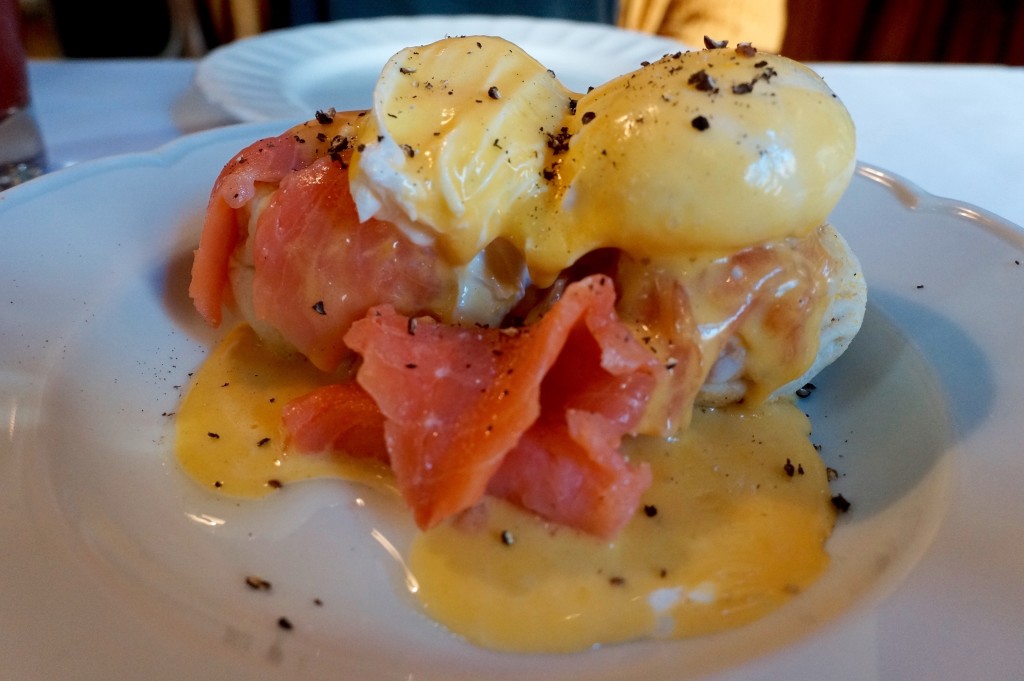 THE BRUNCH DETAILS: Eggs Benedict lovers, this spot has your name all over it. Beautifully cooked oozy eggs are served on top of a biscuit and smothered in Hollandaise sauce. If you're hungry, skip the BLT (it's kinda skimpy) and instead opt for the Sunday roast.
SALVAJE BAKERY – Dorrego 1829, Palermo Hollywood / Colegiales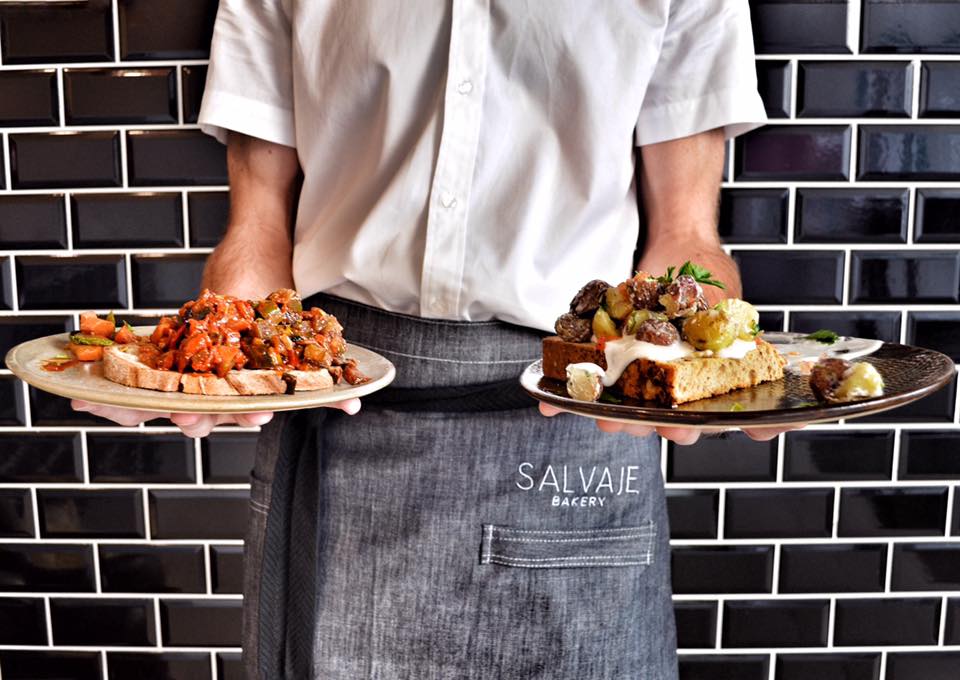 THE LOWDOWN: Every Sunday this garage turned bakery switches focus from making bread to preparing delicious and healthy brunches.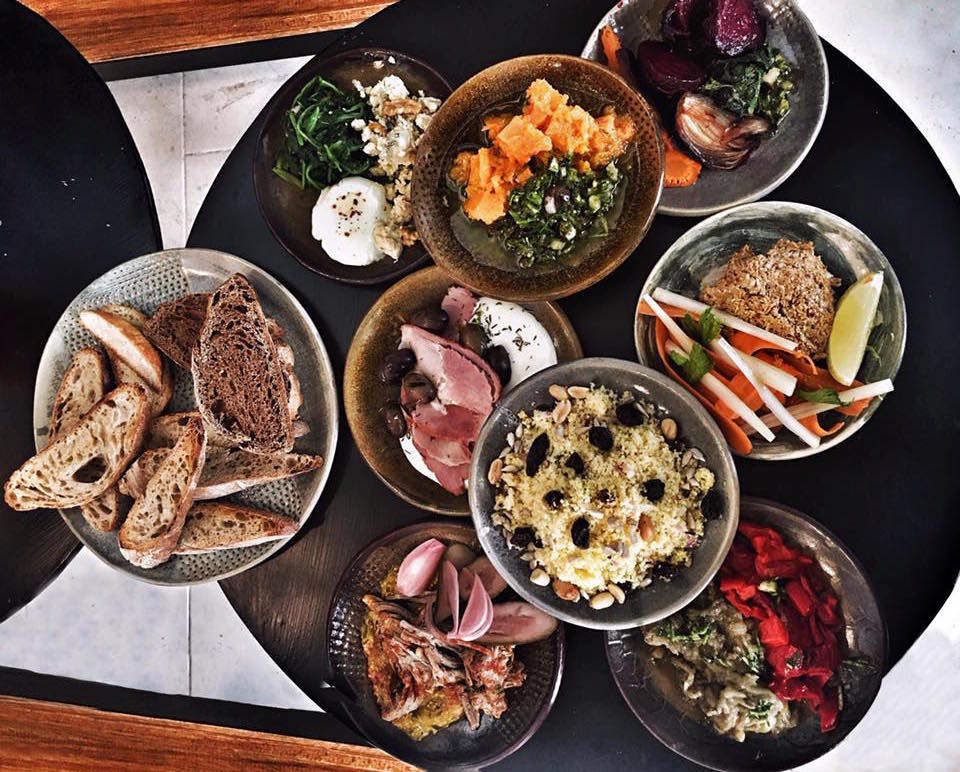 THE BRUNCH DETAILS: Bread tasting, say what?! Beyond all the breads, think non-traditional Ottolenghi-ish Sunday brunch options with braised pork sandwiches, pickles, tabbouleh, and salads. (Ph: Salvaje)
HIERBABUENA – Caseros 454, San Telmo/Barracas 
THE LOWDOWN: Caseros might just be one of my favorite streets in the whole city, and vegetarian/vegan friendly Hierbabuena my favorite spot on the street. On Saturdays, Sundays, and holidays from 11am – 3:30pm, hungry and healthy eaters from across the city pilgrimage to San Telmo for both their brunch and special egg menu. Weekdays (until 12pm) are prime for a power breakfast.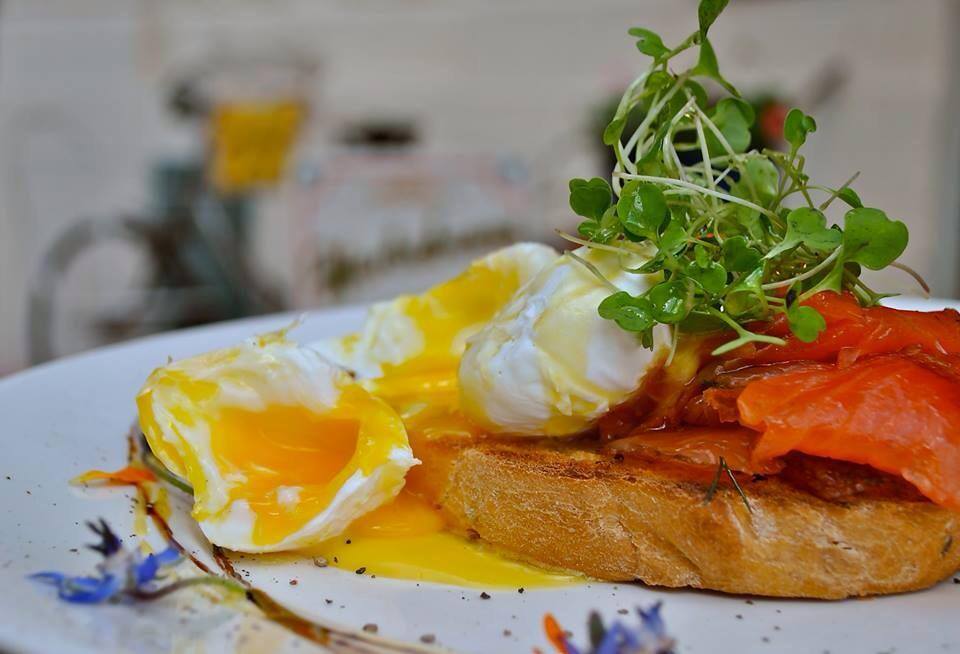 THE BRUNCH DETAILS:  Hierbabuena's mother of a brunch includes a whole slew of morning time egg-pastry-bread-postre-veggie-juice-granola-yogurt favorites. It's a lot of food and unfortunately skinny girls who want to share one order with six of their best dieting boluda friends cannot — the brunch is sadly restricted to two people per order. Weekday mornings are for nutritious dishes like scrambled eggs with quinoa, avocado, homemade whole wheat breads and a great juice selection. (Photo: Hierba Buena).
UCO Restaurant – Fierro Hotel, Soler 5862, Palermo Hollywood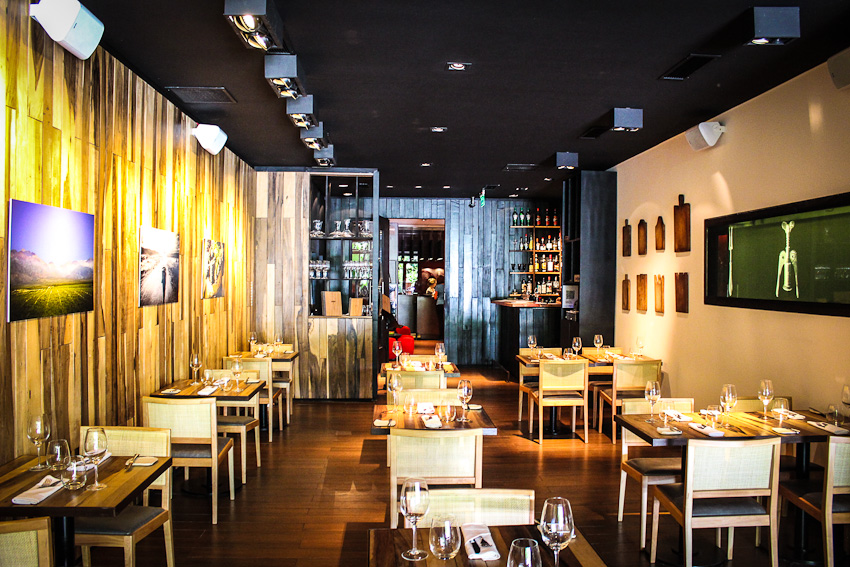 THE LOWDOWN: EVERYDAY at UCO in the Fierro Hotel (formerly Hernán Gipponi Restaurant), Irish import chef Edward Holloway brings an oh-so indulgent multi-course menu featuring fruit, pastries, charcuterie, egg dishes, and postres. Grab a spot in the beautiful wood-adorned refurbished restaurant (the leather cushioned corner booth be my jam yo) or outside in their incredible garden patio. Make sure to clear your afternoon, because this will take some sweet ass time.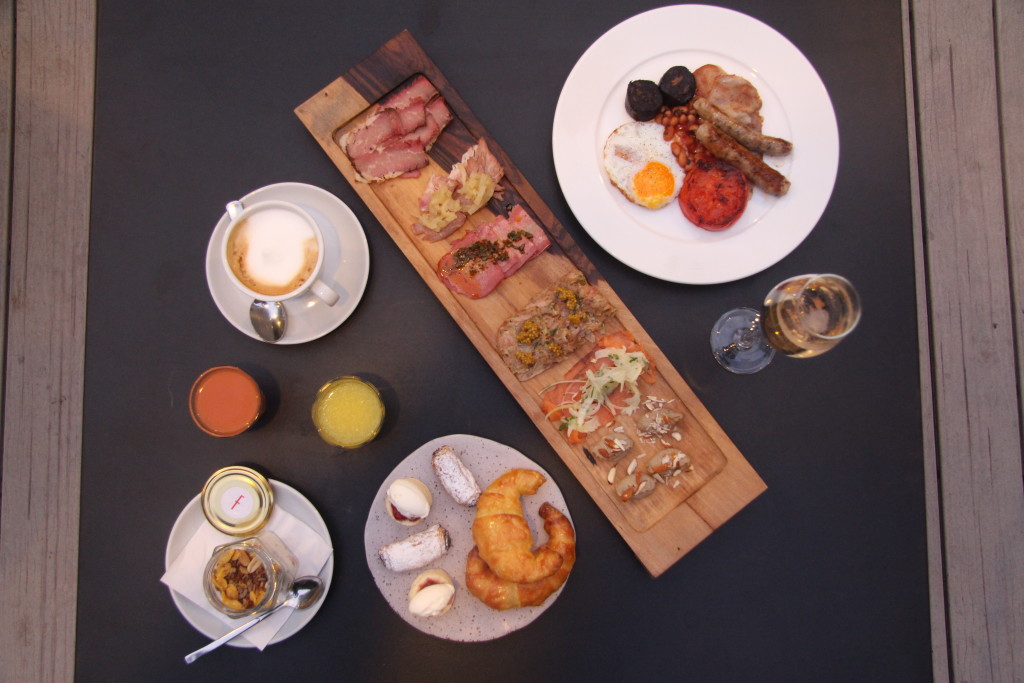 THE BRUNCH DETAILS:  The mega brunch starts with juice, coffee, fruit, yogurt and a selection of pastries (GREAT croissants) and sweets, continues with a prime fiambre spread, glass of sparkling wine, and features a choice of main egg course like a little lovin' from the chef's hometown with a complete Irish breakfast fry up: blood sausage, sausage, bacon, grilled tomato, fried egg and beans. Check out the menu here.
CAFE CRESPIN – Vera 699, Villa Crespo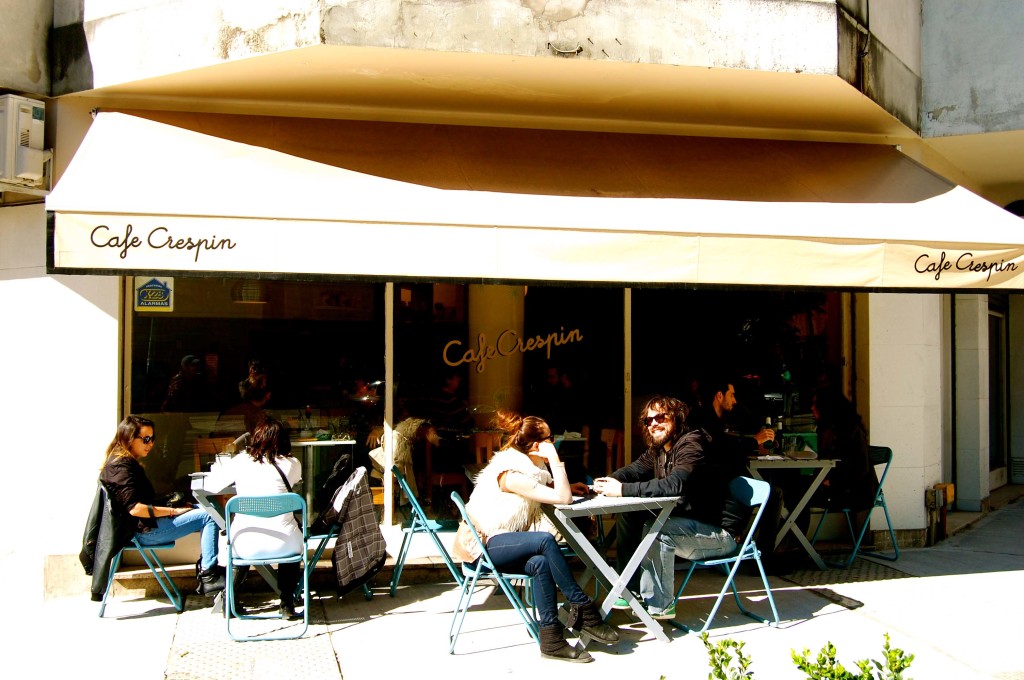 THE LOWDOWN: The corner Villa Crespo café has strongly represented the brunch movement for a few years, bringing a savory-sweet mix of North American favorites. Café Crespin serves brunch on the weekends all day long, and a solid breakfast on weekdays.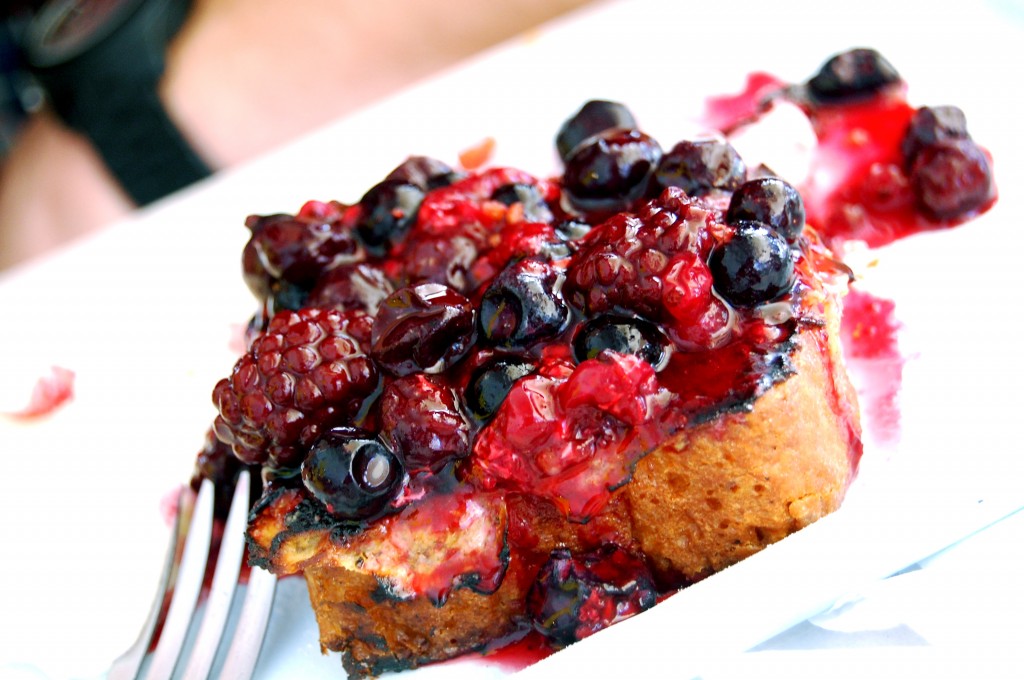 THE BRUNCH DETAILS:   There are two options for the weekend brunch menu – Clásico and Estrellado. Both come with a coffee-Mimosa-sweet bakery-eggs-potato number, the Clásico is made for one but perfect for two while the Estrellado is made for two but can easily feed three normal eaters, or four porteñas. Let's all appreciate the daily breakfast menu for a hot minute: French toast with syrup and berries and perfect scrambled eggs with bacon or salmon.
MALVÓN – Serrano 789, Villa Crespo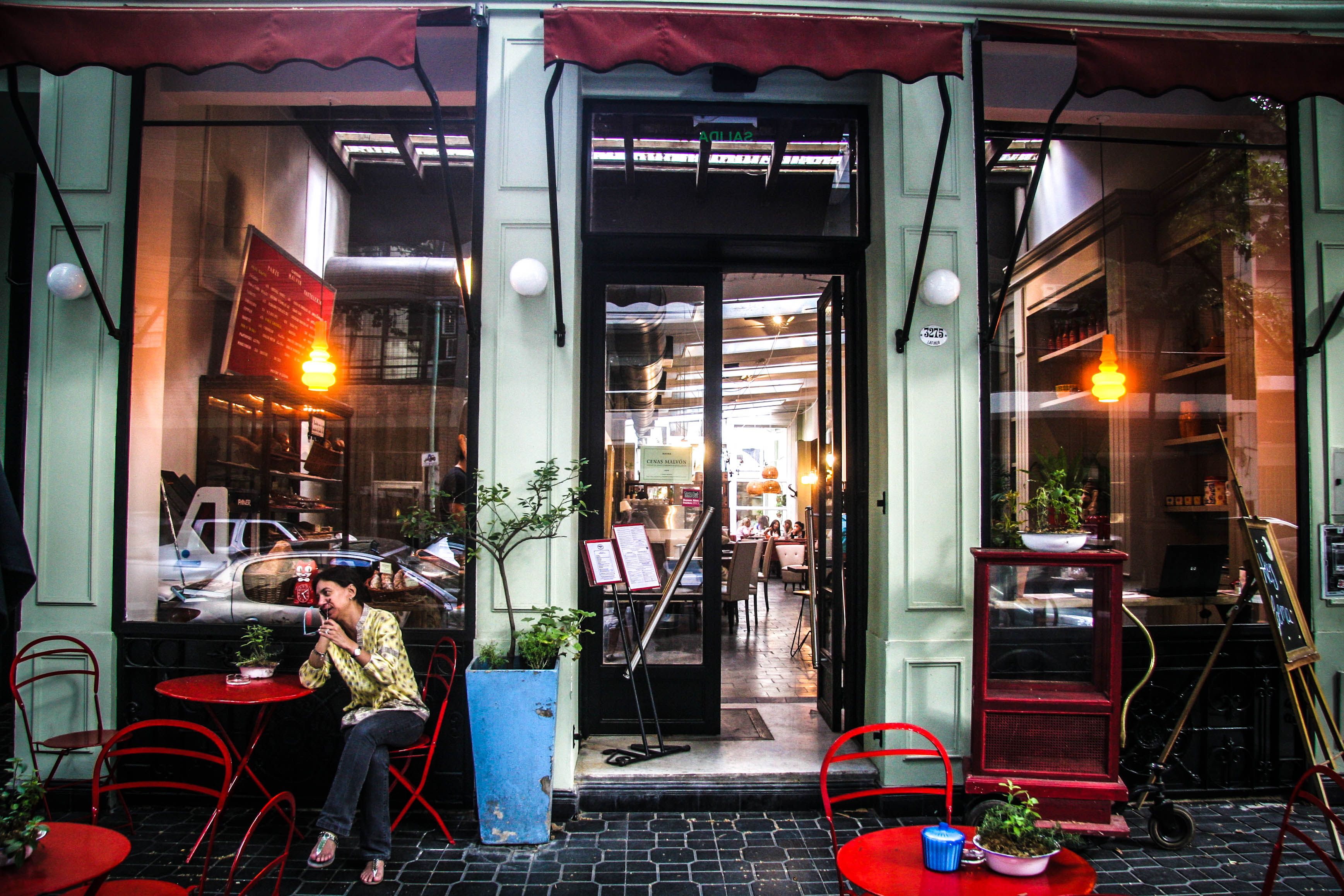 THE LOWDOWN: Saturdays, Sundays & Holidays 10am – 4:30pm Malvón makes a special brunch menu which comes with a whole gang of sides and drinks. Service can be slow and the wait long so make sure to get there early, or arrive late. If you are a weekday bruncher, they also serve breakfast every morning. While they have two locations, there's something about the Villa Crespo patio that's extra special.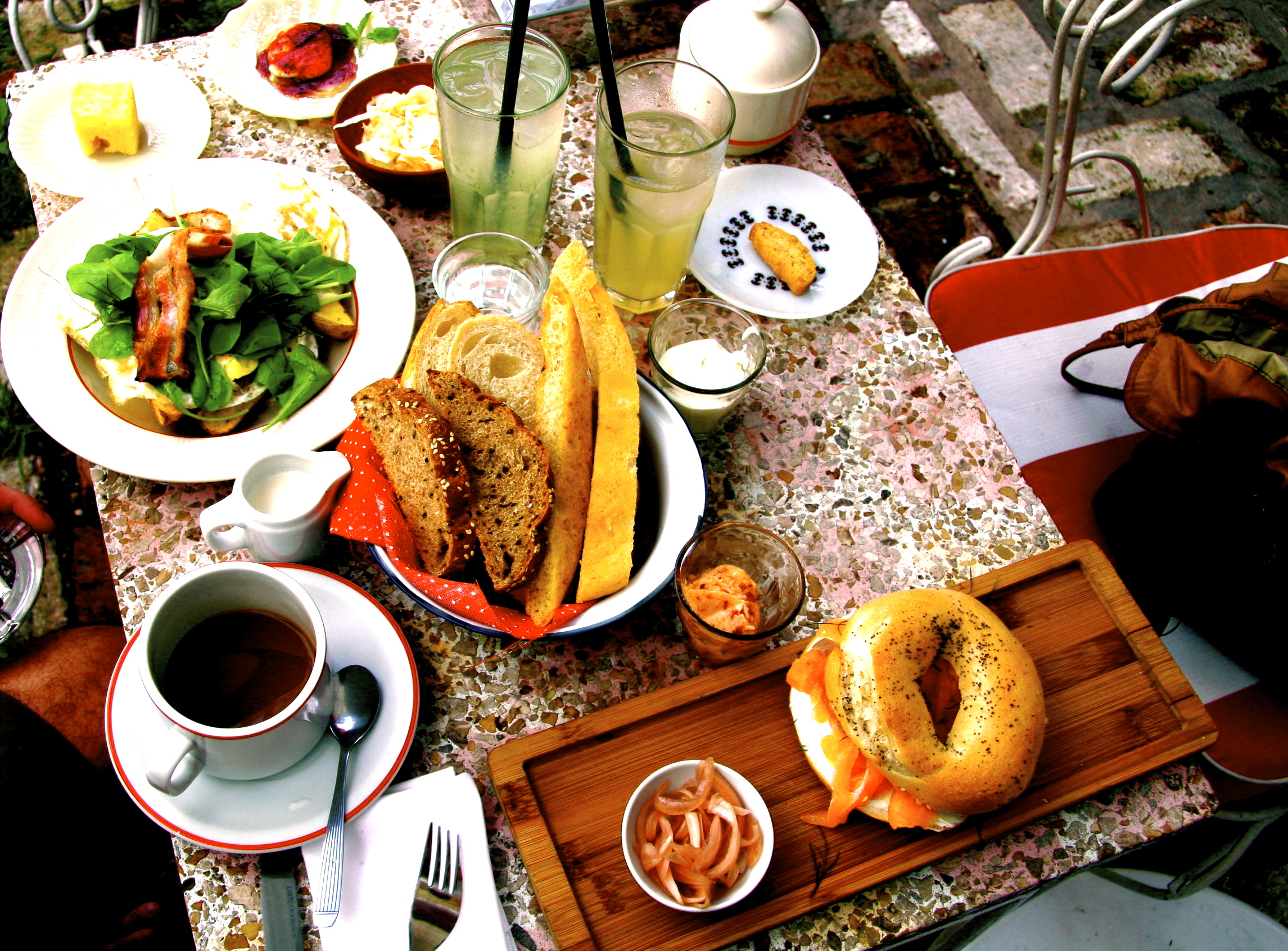 THE BRUNCH DETAILS:  Order the eggs benedict (huevos benedictos), fritatta, or popover Noruego for brunch. If you go for weekday breakfast, the eggs & brioche or French toast make for a good start to the morning.
YEITE – Humboldt 293, Villa Crespo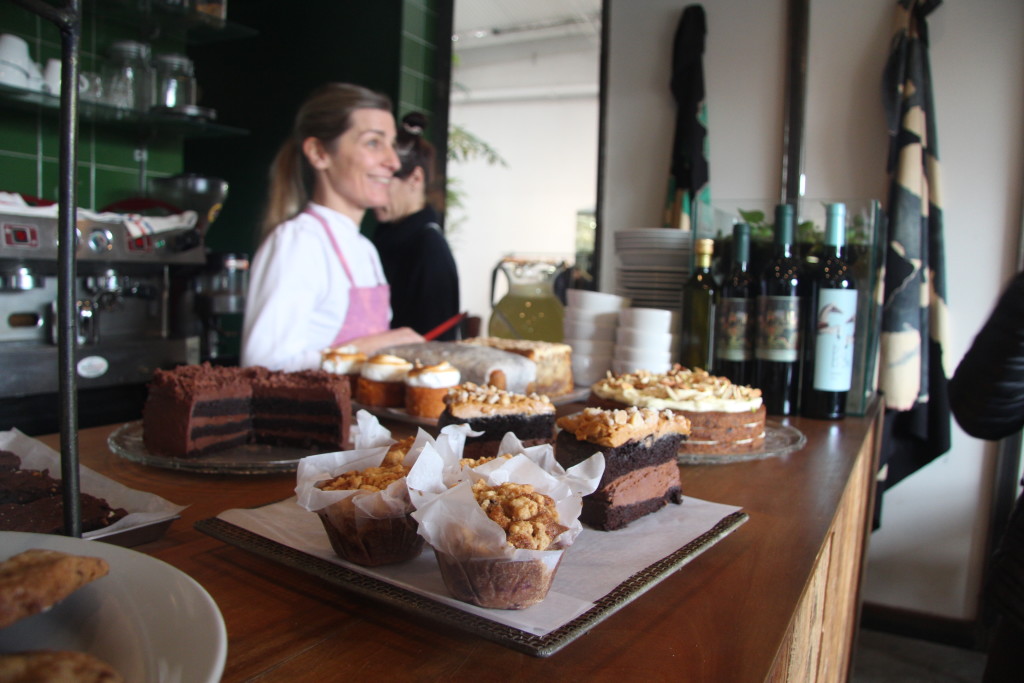 THE LOWDOWN:  Across from Atlanta fútbol stadium and attached to clothing designer Jessica Trosman's studio sits some of the best damn sweets Buenos Aires has to offer. Pastry chef Pamela Villar and her sister Josefina have teamed up to bring an industrial café with a wonderful breakfast, lunch and merienda.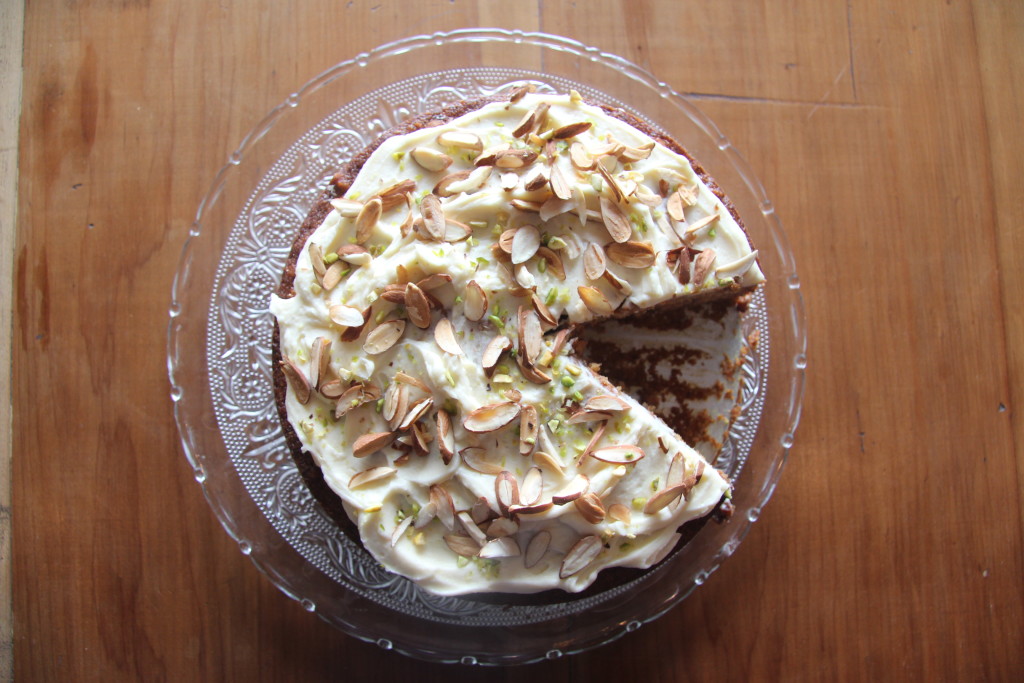 THE BRUNCH DETAILS: The postre game at Yeite is always on point: carrot cake, cheesecake brownie, Marquise de chocolate, and a counter overflowing with freshly baked goodness. Any morning is a good time to get down with the pastries of your dreams, but head over on Sundays (11am – 2pm) for a more hearty brunch.
OUI OUI – Nicaragua 6068 // Nicaragua 6099, Palermo Hollywood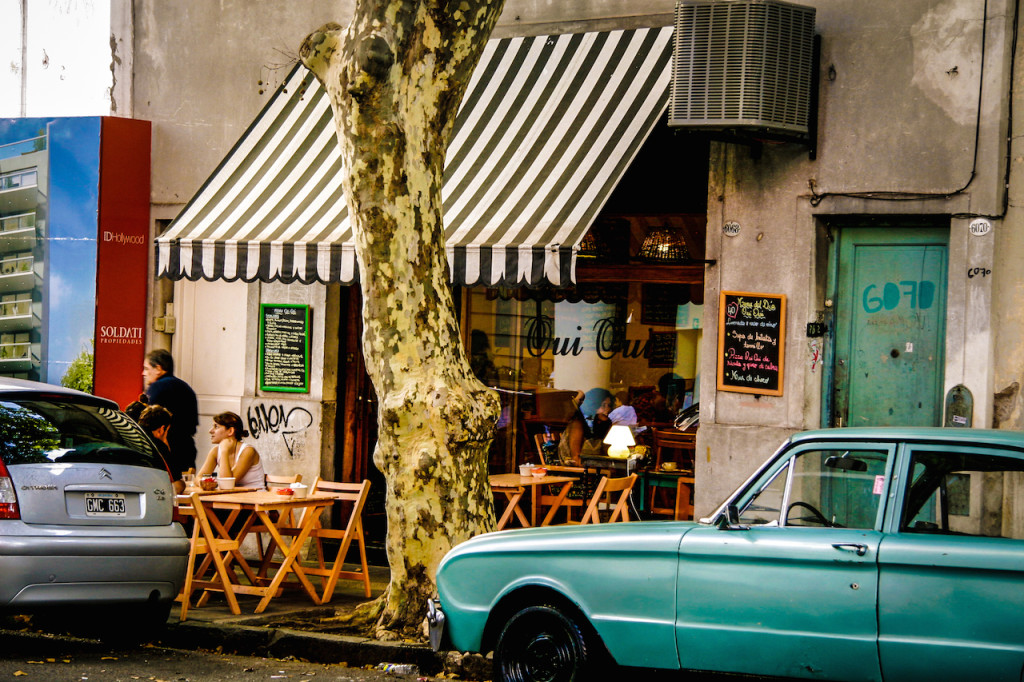 THE LOWDOWN: A pioneer in the Buenos Aires brunch scene, Oui Oui has been honoring brunching foreigners for years. One of the only brunch menu that's available every day, anytime.
THE BRUNCH DETAILS: I'm all about the Tony breakfast special: eggs Benedict, roasted potatoes, greens, and coffee. WHO ARE YOU TONY?? I WANNA BE YOUR FRIEND.
LE PAIN QUOTIDIEN  – Multiple locations in Palermo, Belgrano, Recoleta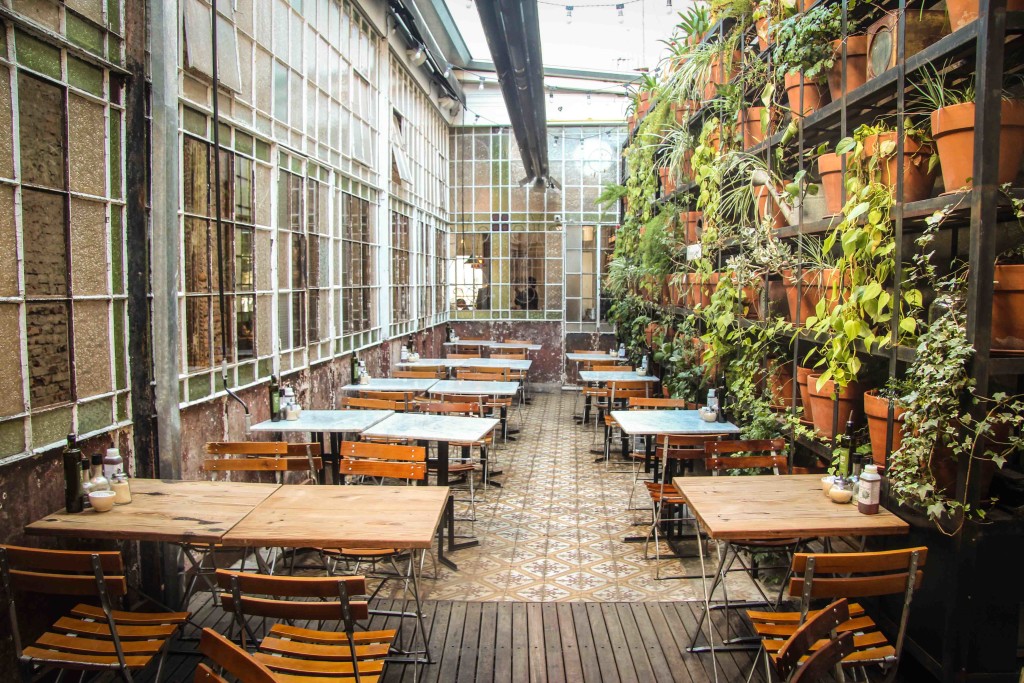 THE LOWDOWN: LPQ might be a worldwide café, but it definitely deserves our respect. They use all local quality products, a rarity in the chain world, make their own bread daily, and have good coffee. Plus, each of the locations have a good rustic feel, most with great outdoor spaces. (Above: the patio on Armenia)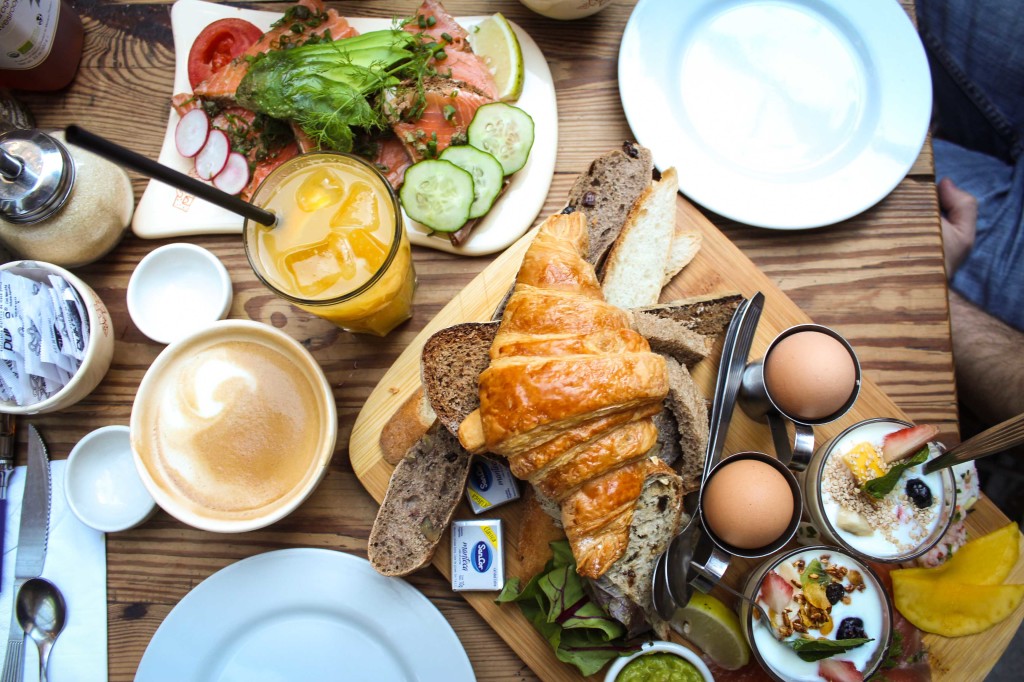 THE BRUNCH DETAILS: Even though LPQ serves a daily brunch from 9am-3pm, contributing quite the spread (see above), my advice is to skip the packaged deal and order a la carte. My favorite dish for brunch: salmon tartine with avocado, capers, and radish. Ask for an egg on the side and you got yourself quite the brunch. And a giant (LAB) coffee. And kale juice.
LA CRESPO – Thames 612, Villa Crespo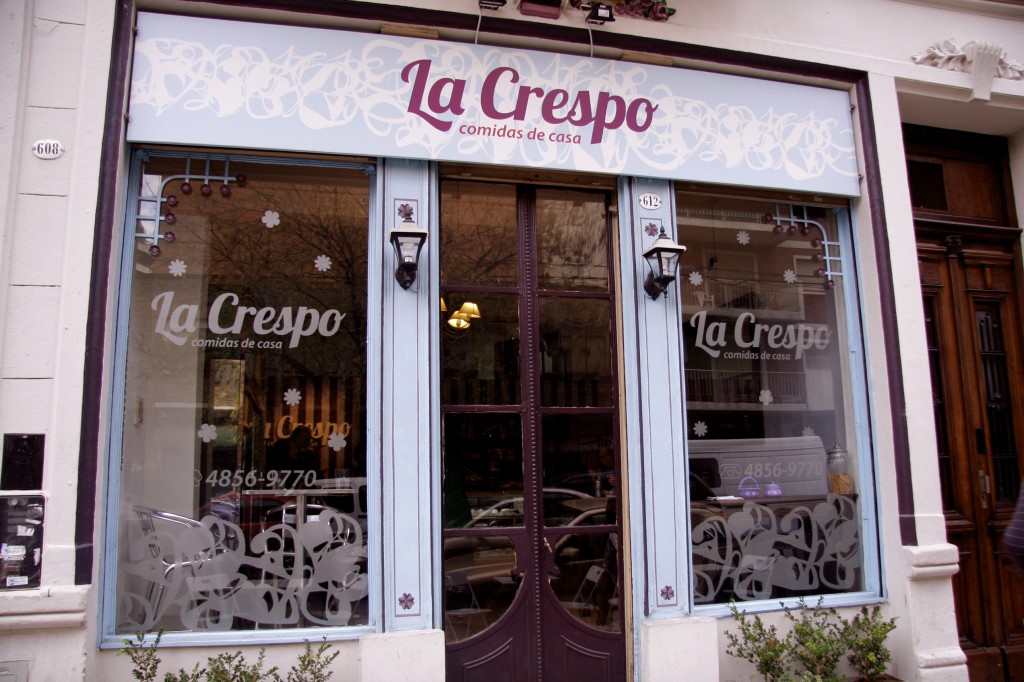 THE LOWDOWN: It's a family owned spot, born and raised in Villa Creplaj, with that casual eclectic café vibe. It's where I go when I feel homesick for a dose of Jewish deli.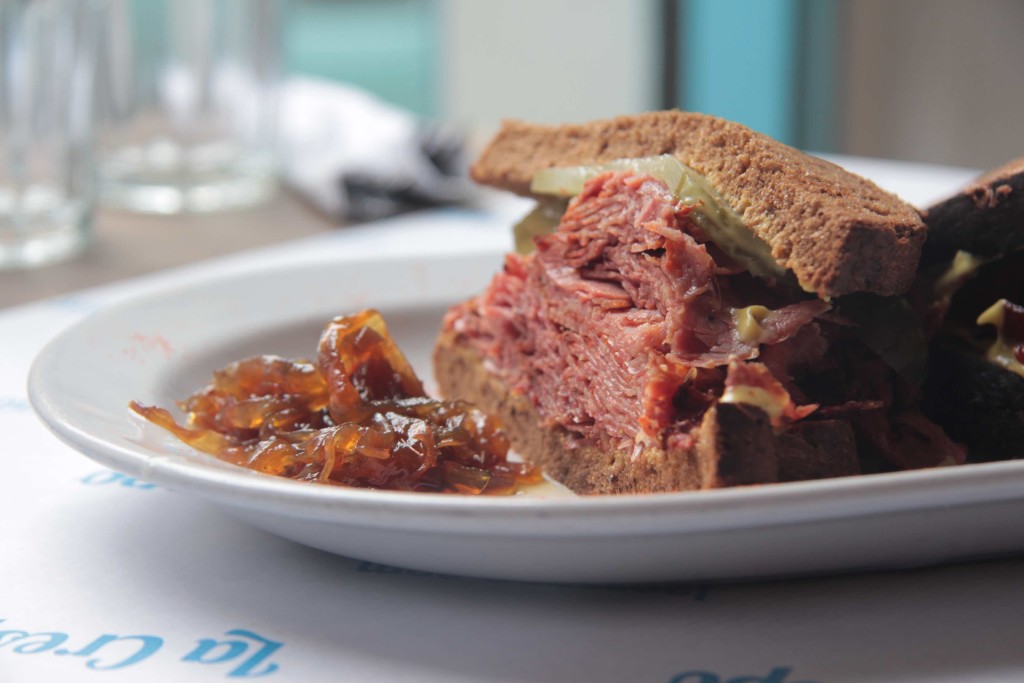 THE BRUNCH DETAILS:  La Crespo doesn't technically offer brunch, but their food is my ideal breakfastlunchlinner eating activity. HOT PASTRAMI sandwich or/and gravlax on a bagel (ask for it toasted) with homemade cream cheese, red onion and capers.
NININA BAKERY – Gorriti 4392, Palermo Soho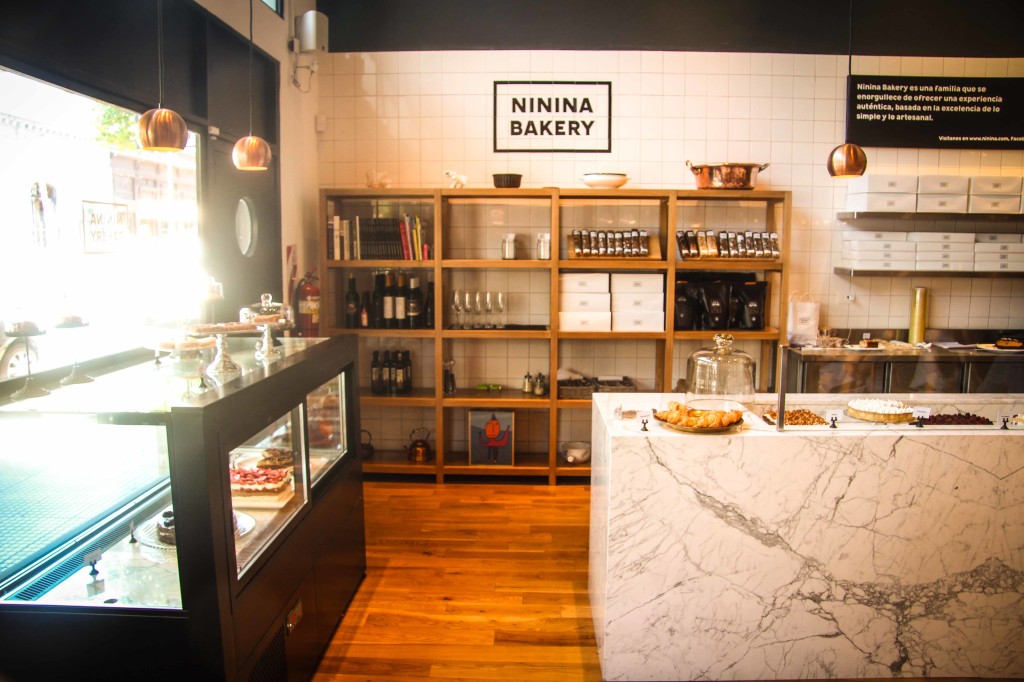 THE LOWDOWN: For the buzzing Soho bruncher, Ninina is just for you. This bakery excels at all things pastries (croissants, breads, donuts, gonuts) so it's only natural to carb-up with a busty brunch any day of the week until 3pm. A more tranqui breakfast is also offered ALL DAY EVERY DAAAY. My tip: kitchen sluts should head straight to the communal table for behind the scenes baking action.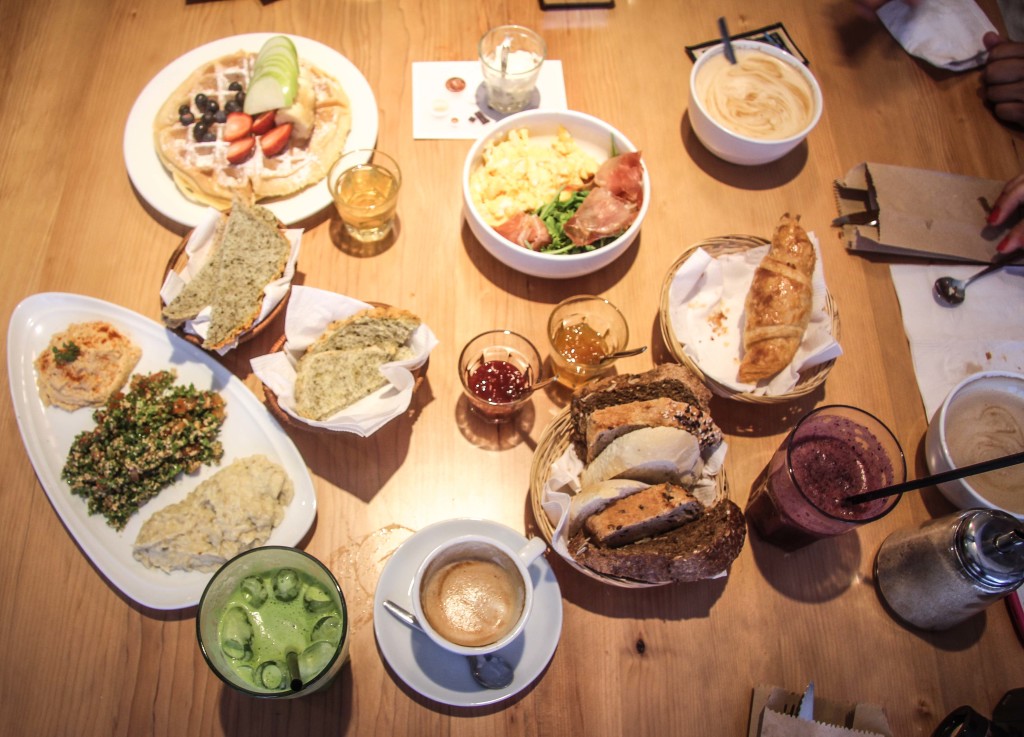 THE BRUNCH DETAILS:  It's the brunch para dos sharing situation with several eating options: coffee or tea, juice or a cocktail, bread basket or croissants, scrambled eggs-avocado toast or "bagel" (aka bread with hole) with smoked salmon, and homemade granola, waffle or fruit plate. For the less intense bruncher, the breakfast menu can be ordered a la carte.
OSAKA – Soler 5608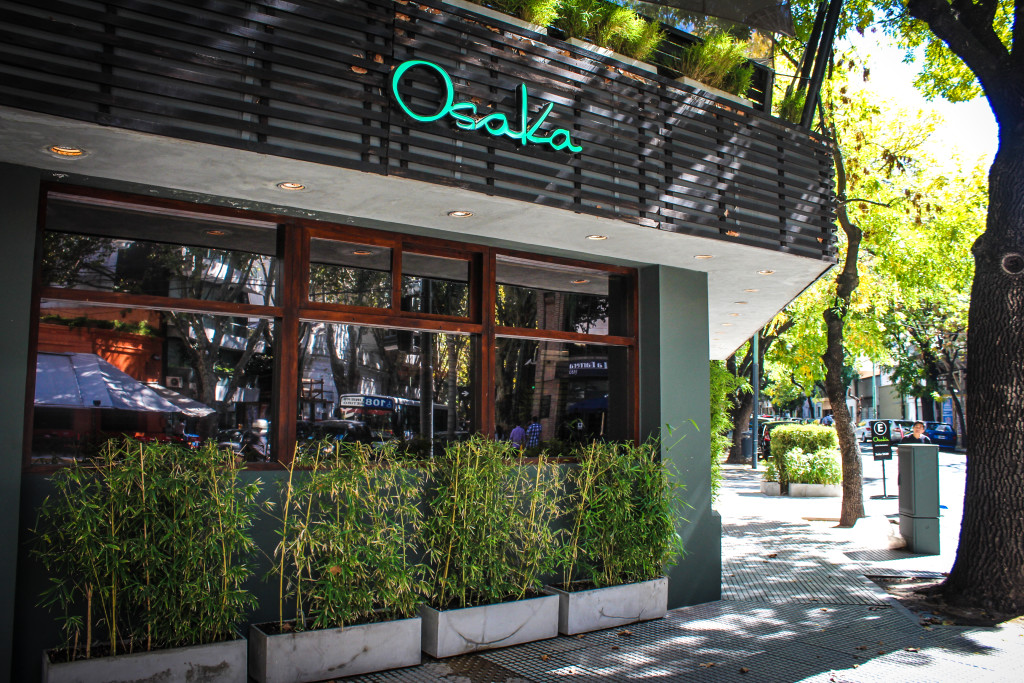 THE LOWDOWN: Peruvian-Japanese famed Osaka has also gotten in on the brunch game with their fancy Sunday afternoon mash-up of Nikkei-Yanqui-Argie FUSSSSION dishes.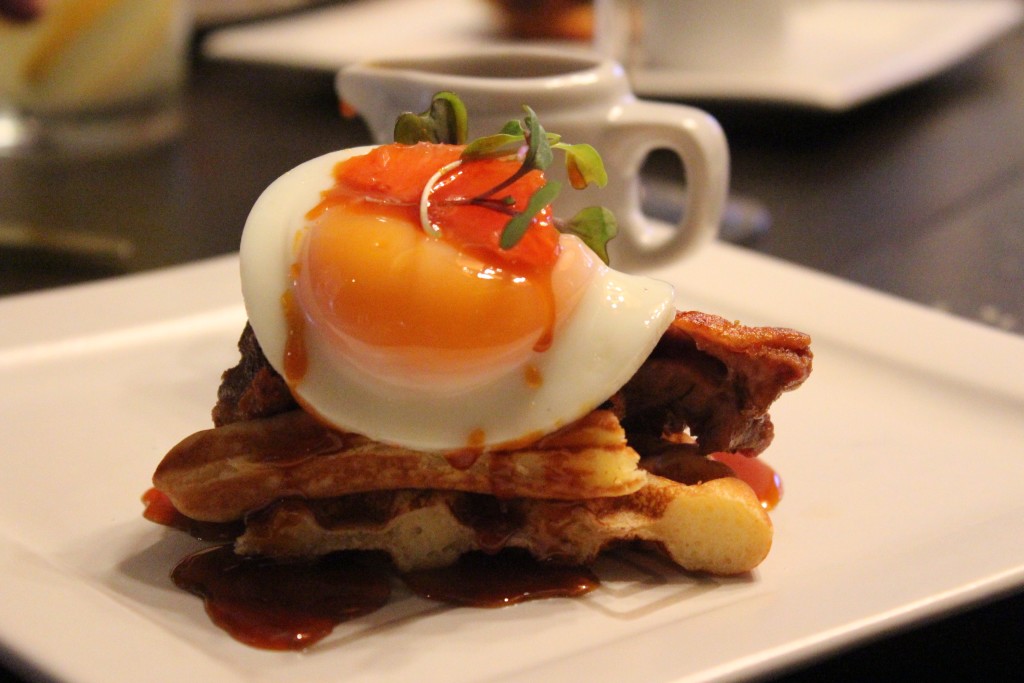 THE BRUNCH DETAILS: It's a bizarre bipolar brunch where you can choose from a selection of imaginative dishes. A blood sausage tortilla, pork buns, crispy rice with kobe, Sushi brunch(?), and this waffle with duck confit and EGGGGG.
PL Deli Café – Gorriti 6046, Palermo Hollywood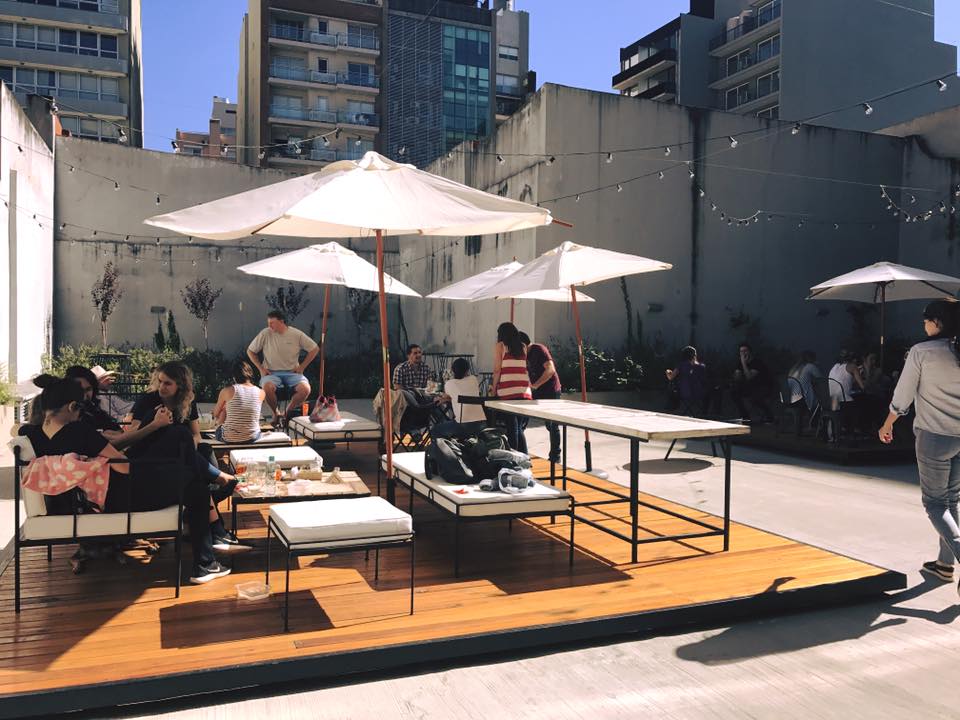 THE LOWDOWN: Punto+Letra catering company, which specializes in sweets and mini brique cakes, moved from their tiny space on Uriarte to a massive location, showing of one of the biggest urban terraces in the city. Breakfast is served everyday, and brunch on Saturdays and Sundays.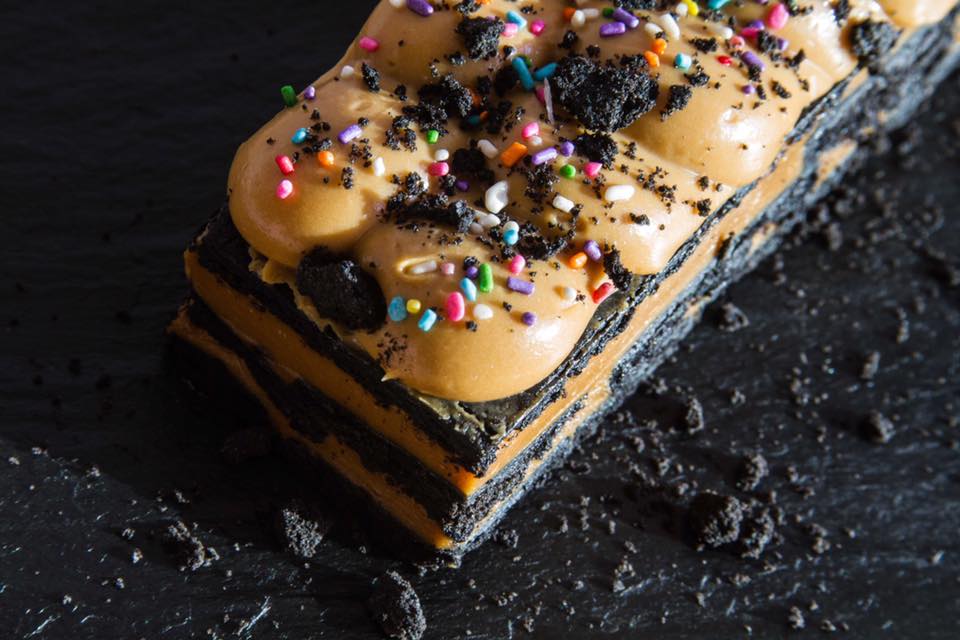 THE BRUNCH DETAILS:  The weekend brunch, which can easily feed two, includes options like croissants, pain au chocolat, or a basket of chipá, hashbrowns with scrambled eggs, fried chicken and waffles, coffee or tea, juice, and a brique, the house mini cake specialty. Every day the menu features waffles and eggs, churros, homemade yogurt, and a wide selection of fresh juices. The best of all? The mini marroc or chocotorta cakes. (Ph: PL Deli)
BONUS TRACK:
SHEIKOB'S BAGELS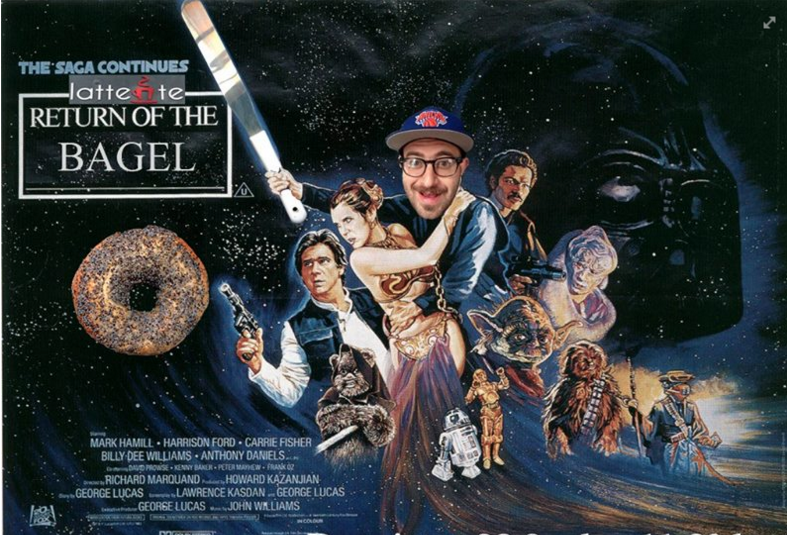 It's THE bagel of Buenos Aires. Jacob (aka Sheikob) kneads, boils and bakes each one of his bagel bad boys with the ultimate tender love and care. Then, he hops on his bici and sets up shop outside of Shelter Coffee on Thursdays, Felix Felicis & Co on Fridays, La Librería del Fondo on Saturdays, and OG Lattente on Sundays. The bagel sandwich action: go for the works – smoked salmon, homemade cream cheese, onion, and special seasonal toppings. UPDATE December 2017: Sheikob's Bagels (Uriarte 1386) has gone brick-and-bagel as BA's first real bagel shop!
LUCIO'S MEDIALUNAS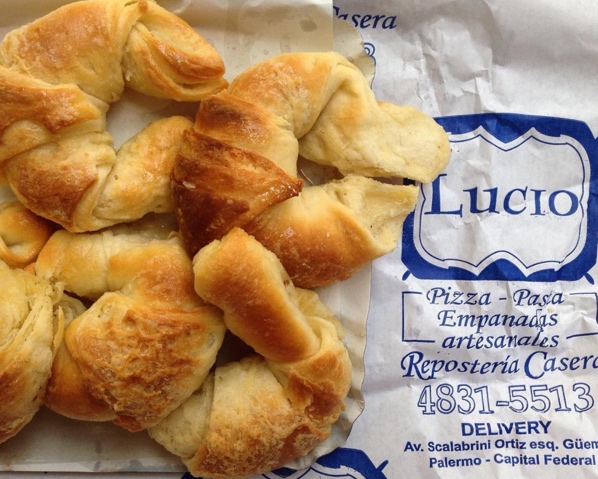 Shout out to Lucio's medialunas (Scalabrini Ortiz y Guemes) because they are soft and gooey and freshly baked and make me feel all warm and fuzzy inside.
*Buenos Aires brunch tips. It's important to keep in mind the following….
Lower your expectations. If you are a recent implant to Buenos Aires, coming from a brunch-dominated country, just know you ain't gunna find the same quality in Buenos Aires.
Don't expect an "authentic" American / English breakfast. Assume bacon isn't real bacon, bagels are just bread with holes, and bloody Marys happen to be a weird and watery tomato sauce with vodka concoction. That doesn't mean it's not good, just different.
Argentine brunches have a different model: part of a special menu only offered on the weekends, and generally associated with menu rules, restrictions, and time restraints. They also are fixed prices for packaged meals, including a whole list of items for two people (rather than ordering a la carte).
And on that note… why the massive course brunches priced for two? I don't want the whole mega deal that's not really a deal. And I don't want gross yogurt with stale granola as part of my brunch spread.
Things I'd like to see on Buenos Aires brunch menus: MODERN ARGENTINE BRUNCHES! Forget poorly imitating N.American/English brunches and do something dope with what ya got: chorizo, morcilla, bondiola, revuelto gramajo, tortilla española, etc, etc, etc. The opportunities are endless.
And of course, as in any country, brunch crowds are generally THE WORST. My personal brunch advice? Learn how to cook eggs, buy some bacon, some bagels, and brunch it up at home.
Comments