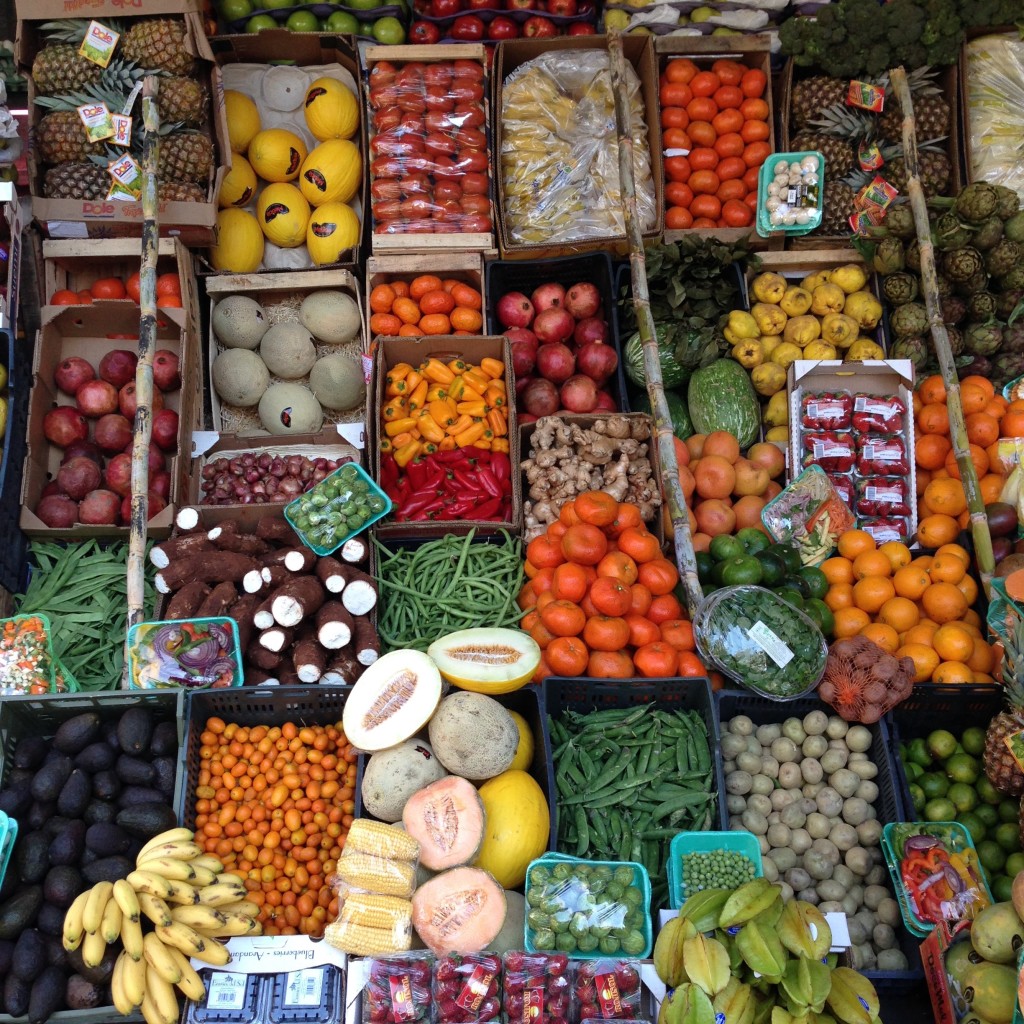 In Buenos Aires, it's not hard to eat seasonally. If an ingredient isn't in season, it's not available. Or it's really expensive. Or it probably tastes heinous. There's nothing like a tomato in the summer with the flavor of an actual juicy tomato, a 10 peso creamy avocado in late spring, a deep orange roasted pumpkin in the fall, or a hearty root vegetable soup in the winter.
Once you find your trusty verdulería, become BFF with your produce dealer, it's easy to shop by the Buenos Aires seasons, eating these fruits and vegetables when it hits its peak season. *Check out the entire seasonal eating guide on Bodega Argento's The Real Argentina blog.*
Otoño / Fall: March – June
Take your coat, scarves and boots out of the closet, and get your giant soup pot ready to provide warming nourishment. The leaves are changing colors, summer tans are fading, winter is coming and soup is just waiting to be devoured.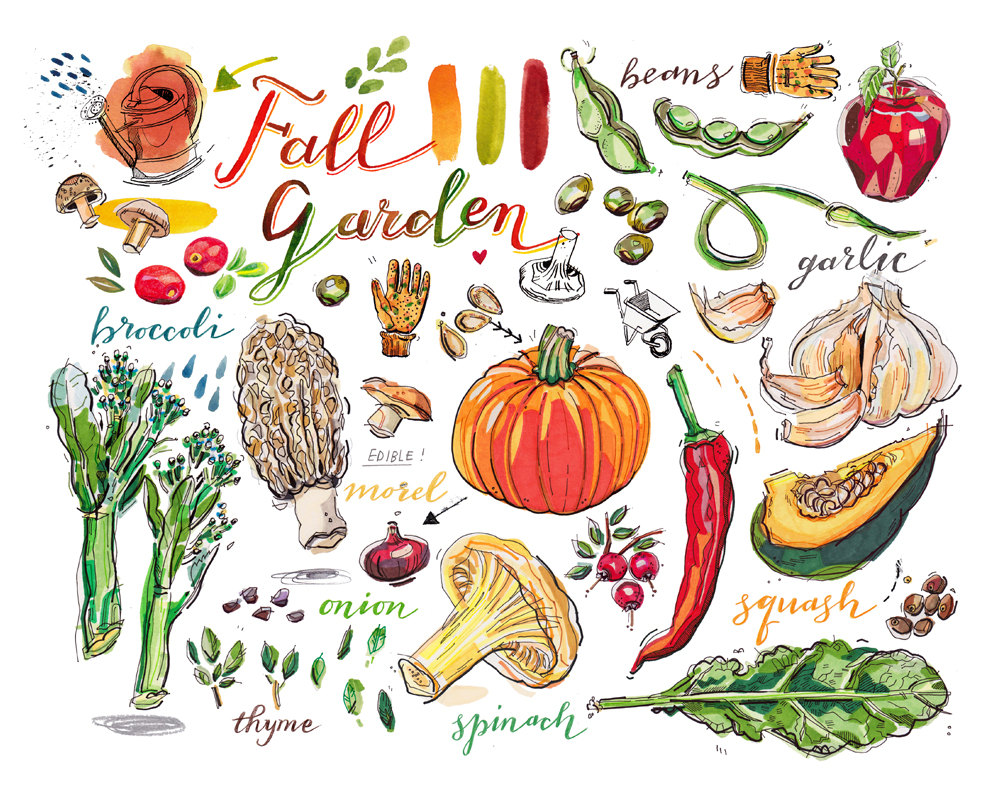 | | | |
| --- | --- | --- |
| Achicoria / Chicory | Ajo / Garlic | Apio / Celery |
| Apio Nabo / Celeriac | Batata / Sweet Potato | Berenjena / Eggplant |
| Berro / Watercress | Brócoli / Broccoli | Cebolla / Onion |
| Coliflor / Cauliflower | Espinaca / Spinach | Hinojo / Fennel |
| Hongos / Mushrooms | Lechuga / Lettuce | Morron (verde, rojo, amarillo) / Pepper (green, red, yellow) |
| Papa / Potato | Puerro / Leek | Rabinito / Radish |
| Radicheta / Green leaf chicory | Radicchio / Radicchio | Repollo / Cabbage |
| Repollo de bruselas / Brussels sprouts | Rúcula / Arugula | Verdeo / Green onion |
| Zanahoria / Carrot | Zapallo de anco / Buttnernut squash | Zapallito / Round green squash |
| Zucchini / Zucchini | Manzanas / Apples | Membrillo / Quince |
| Naranja / Orange | Palta / Avocado | Papaya / Papaya |
| Pelon / Nectarine | Pera / Pear | Pomelo / Grapefruit |
The Produce Guide: Where to buy the best fruits and vegetables in Buenos Aires.
The city is filled with awesome vegetable shops. The best is to venture around your barrio and when you see some fine looking produce for a good price, become a regular. These are some of the verdulerías and mercados that sell the chronic:
My verdulero: Gascón 947, Almagro
El Triangulo: Borges y Charcas, Palermo Soho
La Visión: Cabildo 2998, Nuñez
Nelly: El Salvador 4495, Palermo
Pauly: Cordoba 2511, Recoleta
Irma: Luis Maria Campos 256, Las Cañitas
La Martina: Medrano 342, Almagro
Molina Frutas & Verduras: Federico Lacroze 3016, Colegiales
Ely: Sarmiento 4194, Almagro
Lo de Mary: Soldado de la Independencia 1189, Las Cañitas
Barrio Chino: Ichiban, Casa China, Asia Oriental, Tina & Co
The Markets
Mercado Boliviano de Liniers: José León Suárez 100, Liniers
Mercado de San Telmo: Bolivar y Carlos Calvo
Mercado Progreso: Rivadavia 5430, Caballito
Mercado Juramento: Juramento 2527, Belgrano
*El Galpón Organic Market: Federico Lacroze 4171, Chacarita
Ferias itinerantes de abastecimiento barrial
Mercado Central: Autopista Ricchieri y Boulogne Sur Mer
*Mercado Solidario Bonpland: Bonpland 1660, Palermo
Produce Delivery Services
* = Organic
The Best Pumpkin Soup Recipe Everrrrrrrr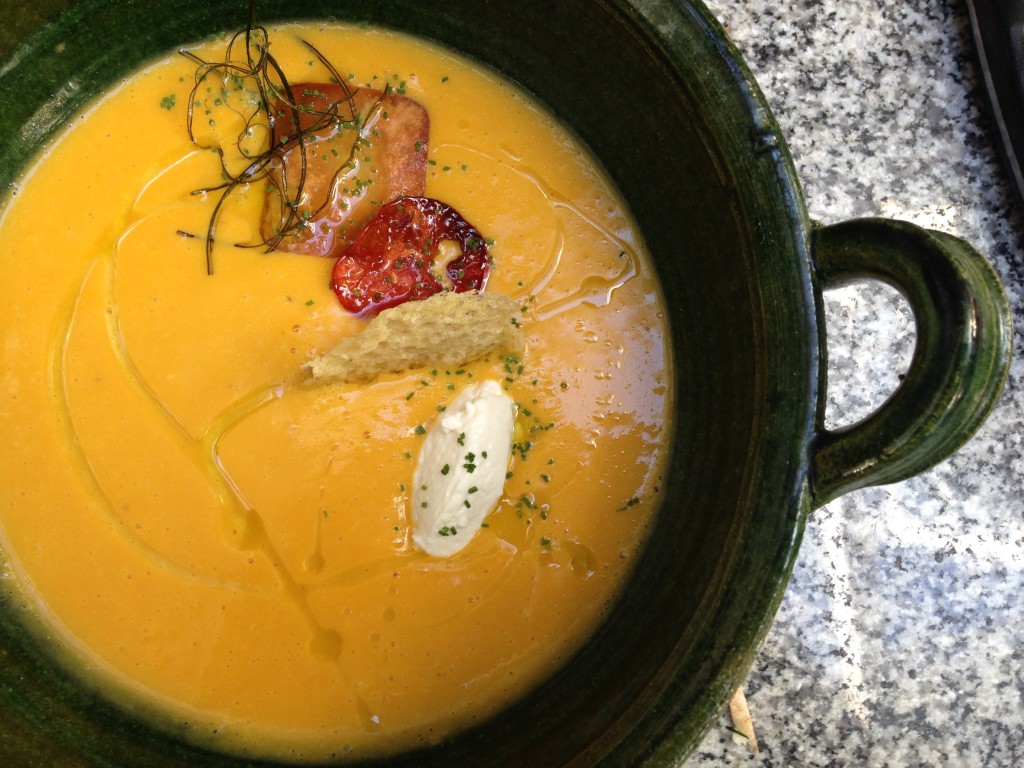 Venezuelan chef Gustavo Castillo made me the best pumpkin soup of my life. He cooks up all kinds of delicious soup wonders every week (and other incredible dishes to order), and kindly gave up his secret fall pumpkin soup recipe:
Ingredients:
1 Cabutia (the pumpkin with dark skin and bright orange flesh)
1 clove of garlic
1/2 onion
Milk, about 1 cup (optional, can subsitute for water or stock)
Salt, to taste
Black pepper, to taste
1 tsp honey
2 fresh bay leaves (laurel)
1 sprig fresh thyme (tomillo)
Butter, 1 1/2 Tbsp, very cold
1 Cinnamon stick or 1 tsp of Cinnamon powder
Vegetable oil, lightly coat the pot
2 Tbsp Cream (optional)
Directions:
Wash and cut the pumpkin in half. Peel, very carefully, with a knife. Make sure the flat part of the pumpkin is on the cutting board, because you don't want the calabaza to fall on the ground or your finger to slip on the knife.
Take out the seeds with a spoon. If you're feeling extra fancy, you can save the seeds and sauteé them in oil, using for a garnish.
Cut the pumpkin in cubes (can be irregular sizes). Set aside.
Peel and chop the garlic and onion.
Heat a pot with oil and 1/2 Tbsp of butter. Once hot, add the onion and garlic. Stir on medium heat until golden and translucent. Then, add the pumpkin cubes, mix, and let sit until it becomes golden brown.
Pour in the milk. It should be enough to just cover the pumpkin. Toss in the whole bay leaves and thyme sprig. Cover and let simmer on low heat for about 10 minutes, or until the pumpkin is soft but not falling apart. *Milk can be replaced with vegetable stock.
Take out the herbs and transfer to a blender. If the mixture is too thick, add more milk.
Once it's blended together, pour back into the pot. Add cinnamon. Then, cut the *very cold* butter in small pieces and add it to the pot. If you want to make it extra delicious, throw a splash of cream inside too. Or if you're a vegan (I'm sorry) skip the butter, milk, cream all together.
Season with salt and pepper.
*This recipe is vegetarian, gluten-free and can be vegan-friendly.
Comments