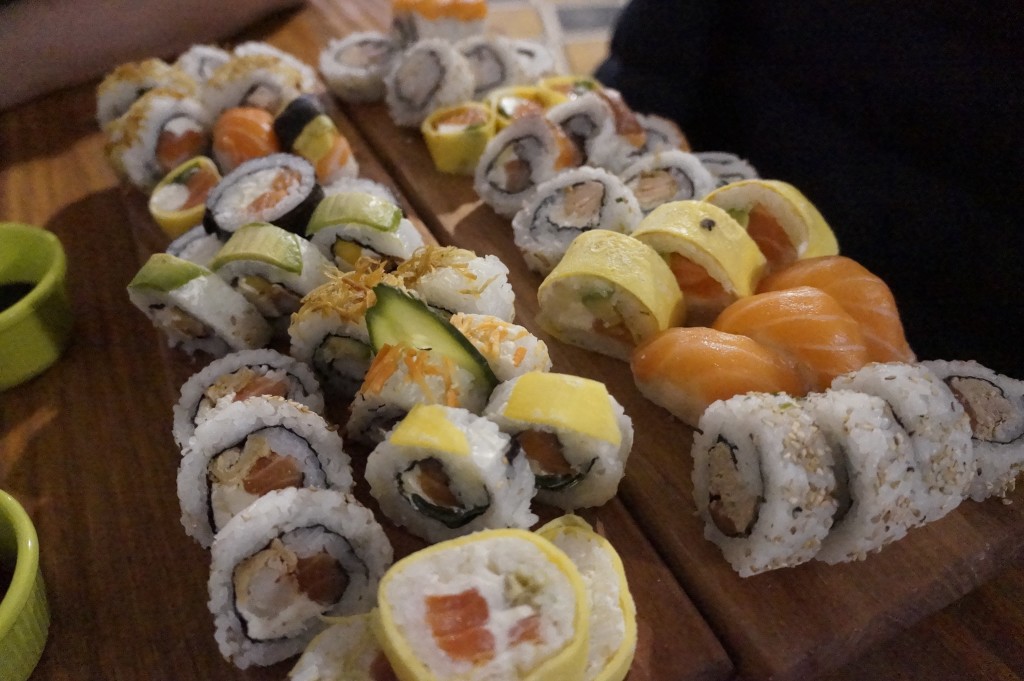 I know what you're going to say, why on earth would someone pay actual money for bad sushi? It was a poor decision from the start. My brain knew it would be a mistake, but my heart still had some hope. I guess I wanted to see for myself just how gross all-you-can-eat cheap sushi in Buenos Aires could be. The answer (spoiler alert): it's really, really, bad.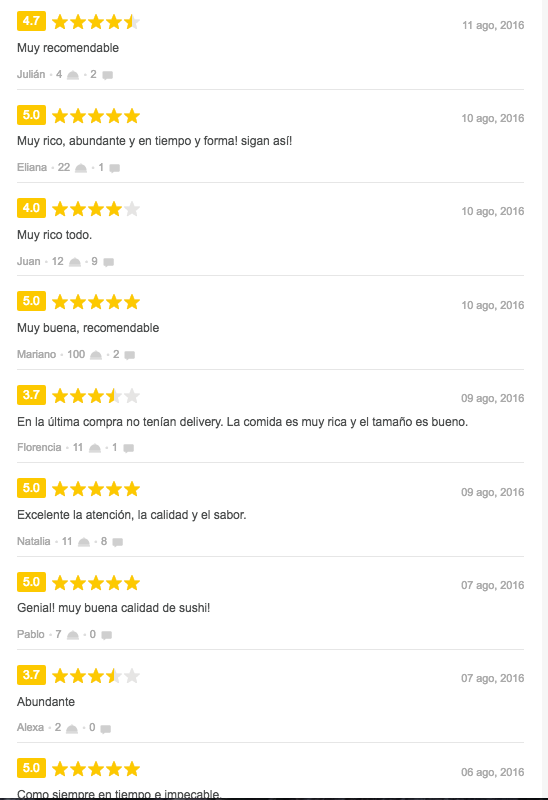 When Futu Sushi's Facebook ad popped up about $250 peso sushi libre, a page with nearly 50,000 fans, I was slightly intrigued. As I do with any restaurant before visiting, I did my share of vetting and online stalking. First, the website: "We are a company with more than 10 years of experience in the sushi world. After testing different combinations, we created our exquisite rolls for the demanding palates of our clients." I looked at the photos of somewhat frightening sushi rolls and read the reviews. My fellow lazy eaters over at PedidosYa seemed to give high marks for Futu's service.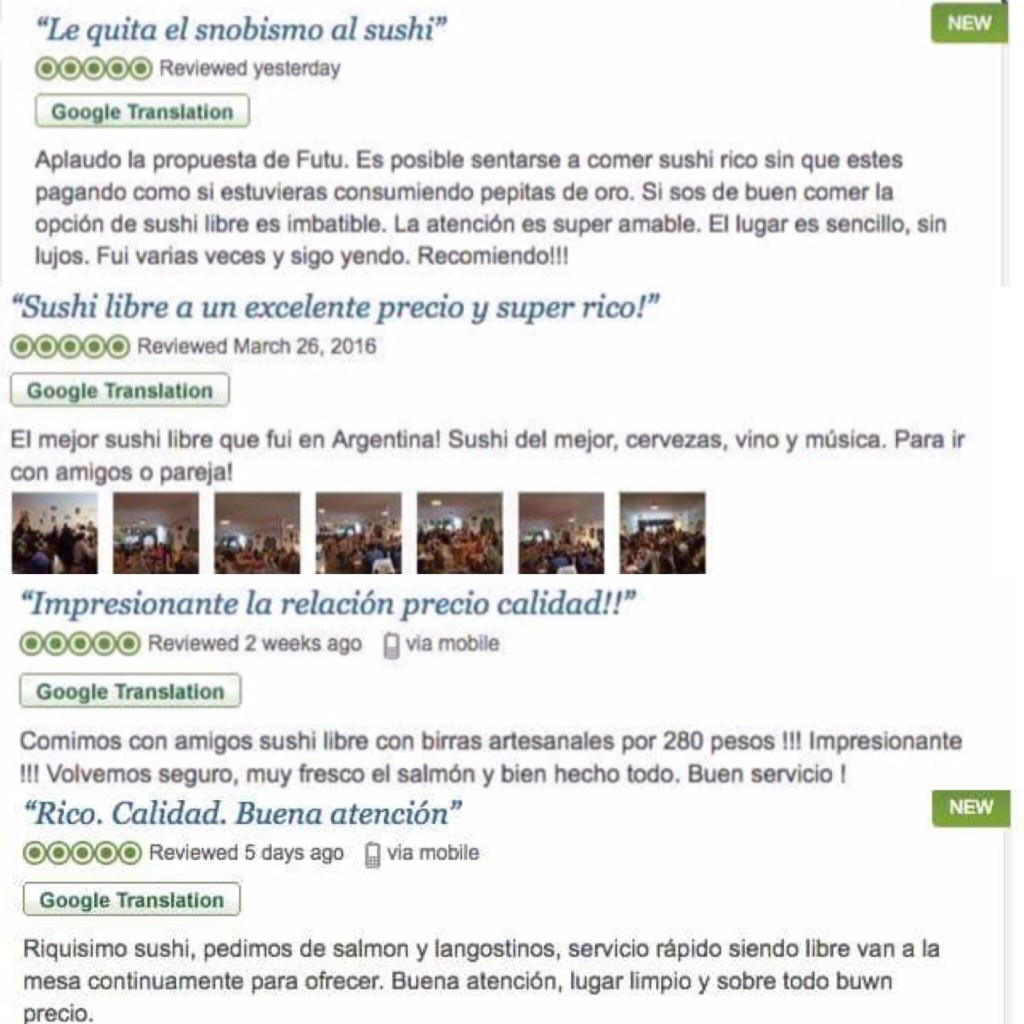 Then, I moved over to read the rave reviews from the fine commenting folks at TripAdvisor. Since TA commenters usually know what's up when it comes to the best food in any city*, I went through with the online reservation (yes, this was premeditated dining). I crossed my fingers, and, as always, I hoped for the best while expecting the worst. *This is sarcasm. TripAdvisor commenters are generally the worst and only one step up from YouTube trolls.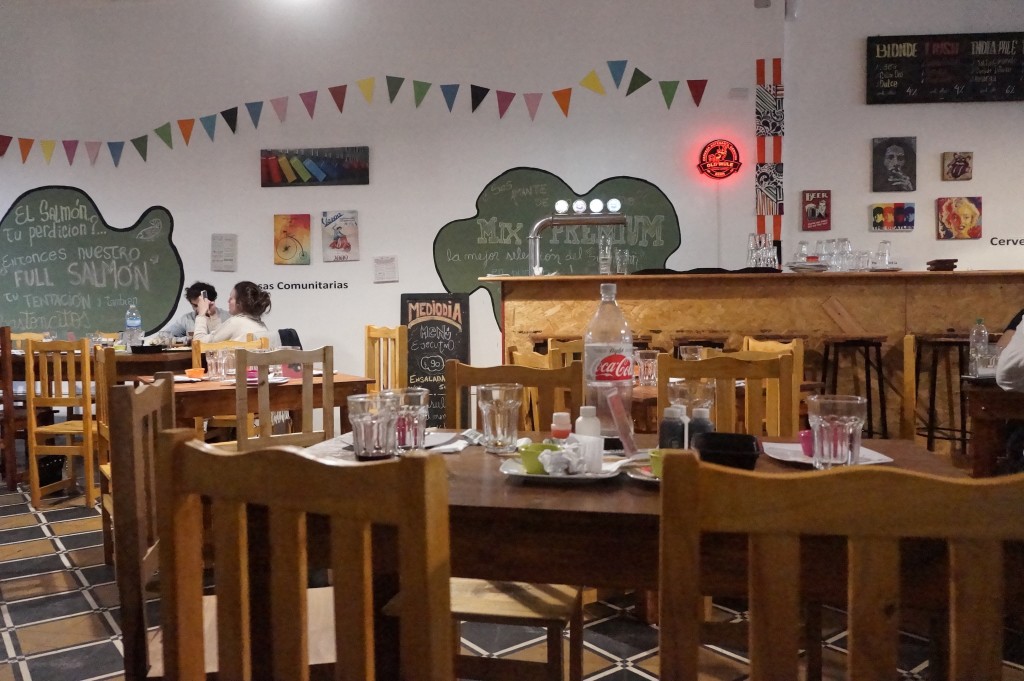 If I had to guess what kind of restaurant this was solely based on the decor, sushi probably wouldn't be the first spot to come to mind. (Something about Bob Marley, Marilyn Monroe and Rolling Stones posters don't scream the taste of Japan to me.) Instead, I'd probably guess it was the espacio cultural hangout to some leftist political affiliation headquarters next door, where the Quilmes, Fernet and liter bottles of Coca Cola flowed just as freely as the customers' dreadlocked mullet hairdo(n't).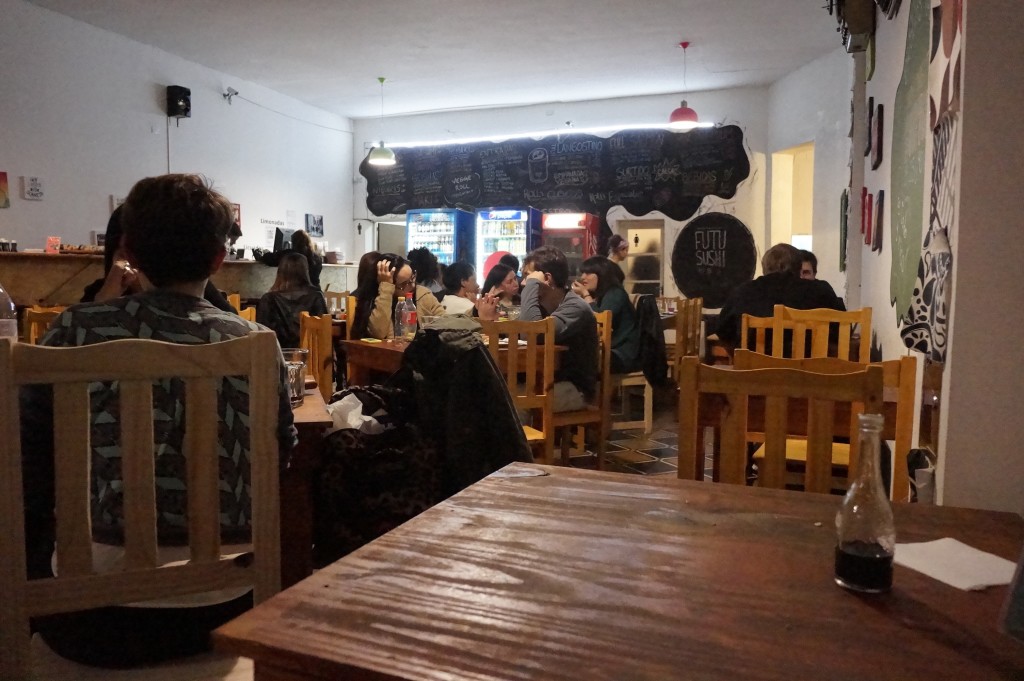 I arrived, announced I had a reservation — which they didn't seem to care — and sat down. After a good 20 minutes of waiting, the moza, who introduced herself as Florencia ("they call me Flor for short") came over to explain the way sushi libre works: The sushi is unlimited. You can eat as much as you want, for a flat $250 pesos, cash only. Drinks and desserts are separate, so are the non-sushi dishes. If you don't like a certain type of roll, you don't have to eat it and they will bring more, although Flor doesn't like wasting food — "me da cosa tirarlo", she says.
There's a large chalkboard that displays multiple sushi combos, but those aren't necessarily available as part of the sushi libre deal. Instead, dozens of pre-made sushi tablas are lined up on the bar, each one with a slight variation, and it makes its ways to the tables as ordered. I told Flor I'm not a big fan of queso crema in my sushi, but she assured me there were plenty of rolls without cream cheese, and she would bring over the tabla right away. (Spoiler alerts #2 & #3: cream cheese was in full force and the sushi didn't come right away.)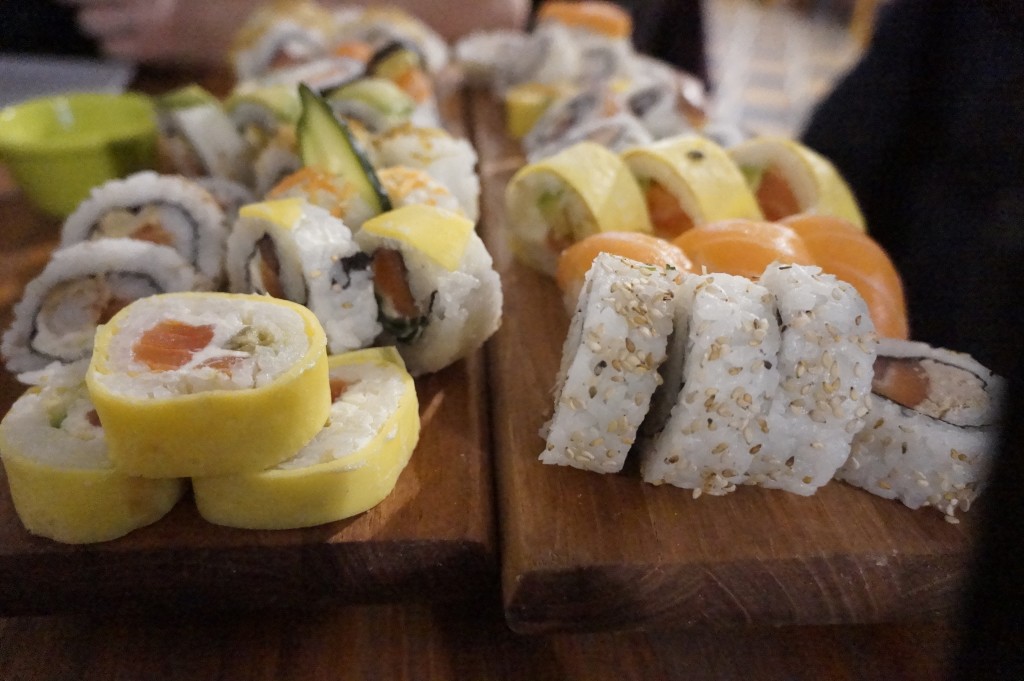 How is a restaurant that offers unlimited sushi able to financially make it work? It's proven, by science or something, that food tastes better when you are really hungry (and hangry). So what happens when you can't track down Flor or any other employee for a good half hour? By the time they finally bring you (not one but) TWO mega cutting boards filled with over 50 pieces of sushi rolls, chopsticks attack and bad overeating choices are made. *Side note: my girl Flor did a fabulous job,  she ran around the restaurant by herself catering to almost every table.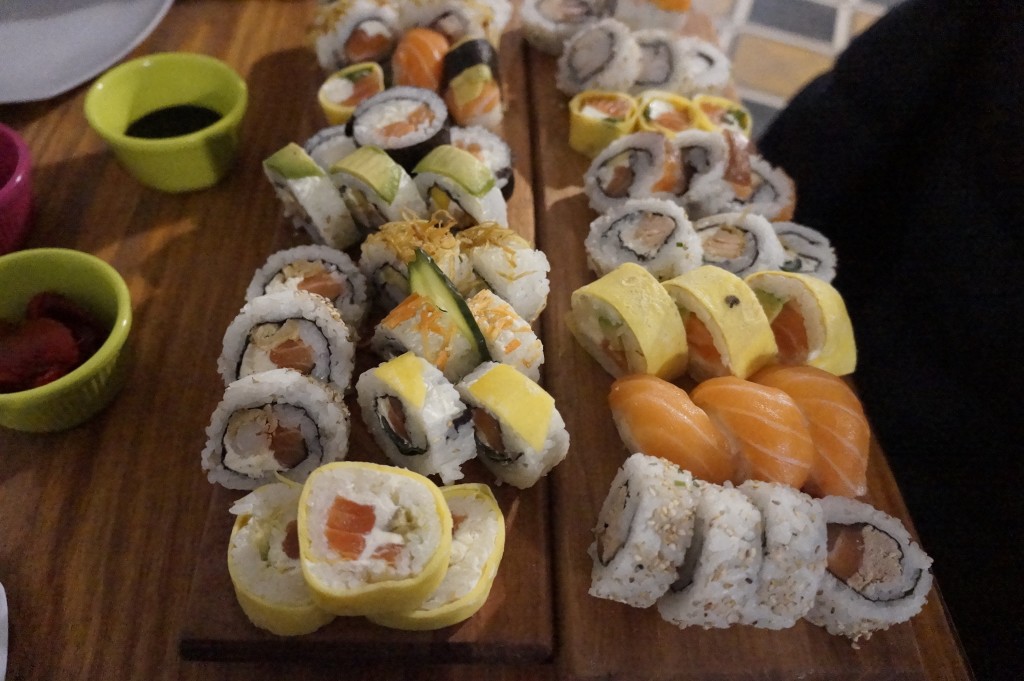 The first two tablas had a wide selection of family favorites: salmon with cream cheese, smoked salmon with cream cheese, battered and fried salmon with cream cheese, cream cheese and salmon topped with shredded carrots, cream cheese and salmon wrapped in avocado.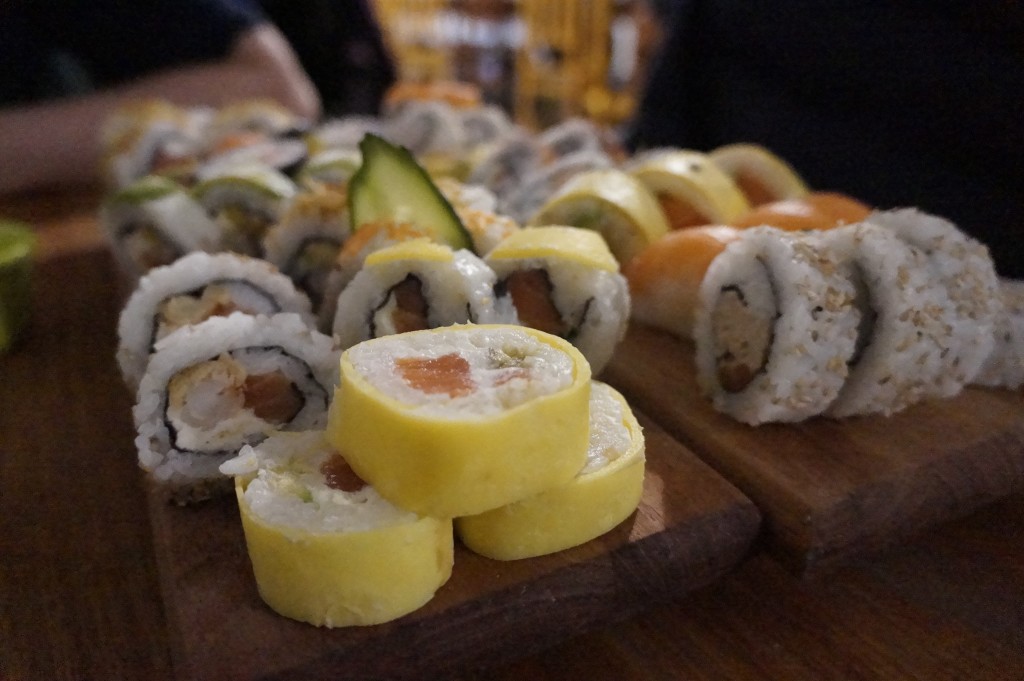 Salmon and cream cheese wrapped in egg, AKA breakfast sushi!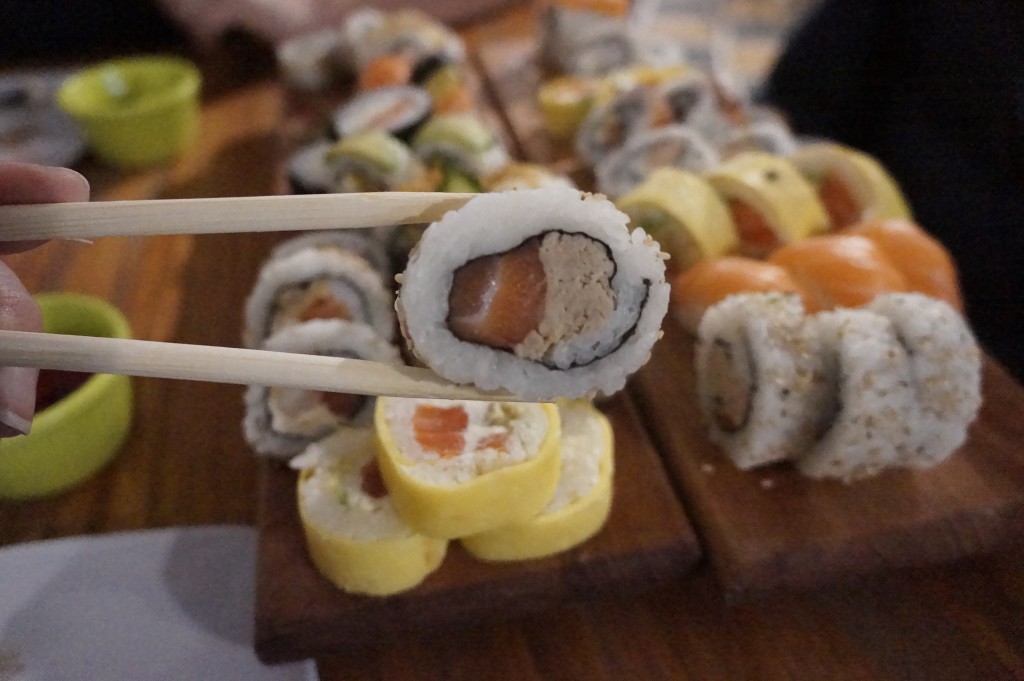 And I can't forget about the double trouble salmon and canned tuna combo. Everything tasted similar to decent grocery store sushi, if it had been left in the fridge overnight without a top. You know, the kind that's somewhat acceptable when you're really hungry, but after the fourth bite reality sets in and you come to your food senses. The rice was flavorless and bitter at the same time, the fried parts were like a rubbery mush, and most of the ingredients that went inside the rolls just made me feel sad, empty, and alone. The one saving grace: when doused in a soy sauce wasabi mixture, the salmon was edible and relatively fresh.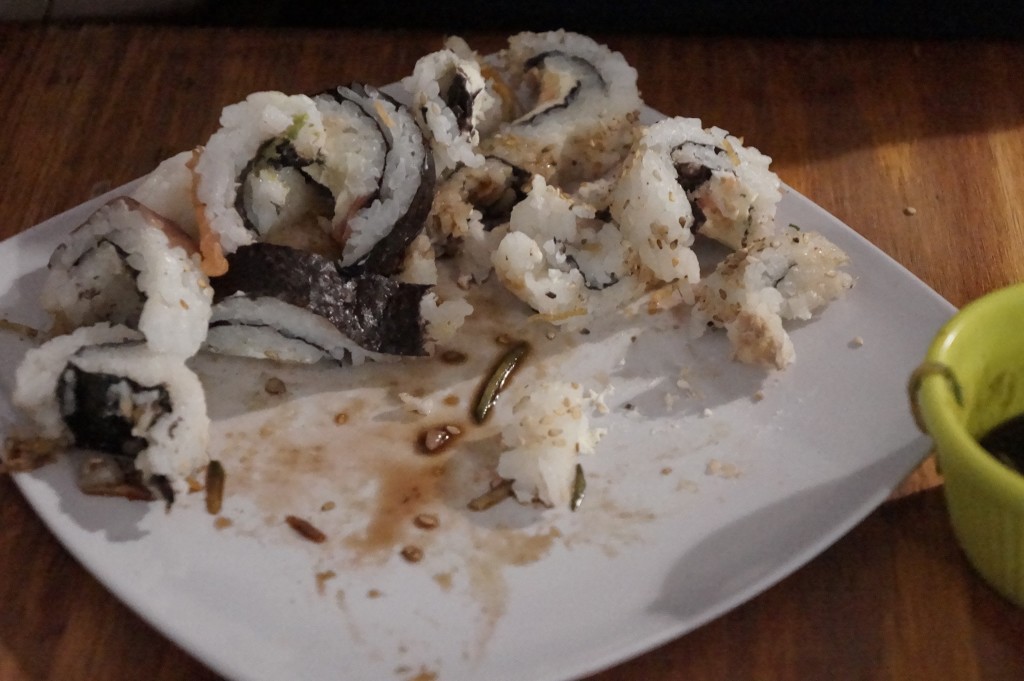 My sushi snob-less eating companion didn't even approve, her advice on the matter: just say no. She dismembered the rolls and tossed her unwanted rice calories to the side, hoping Flor wouldn't notice all that waste.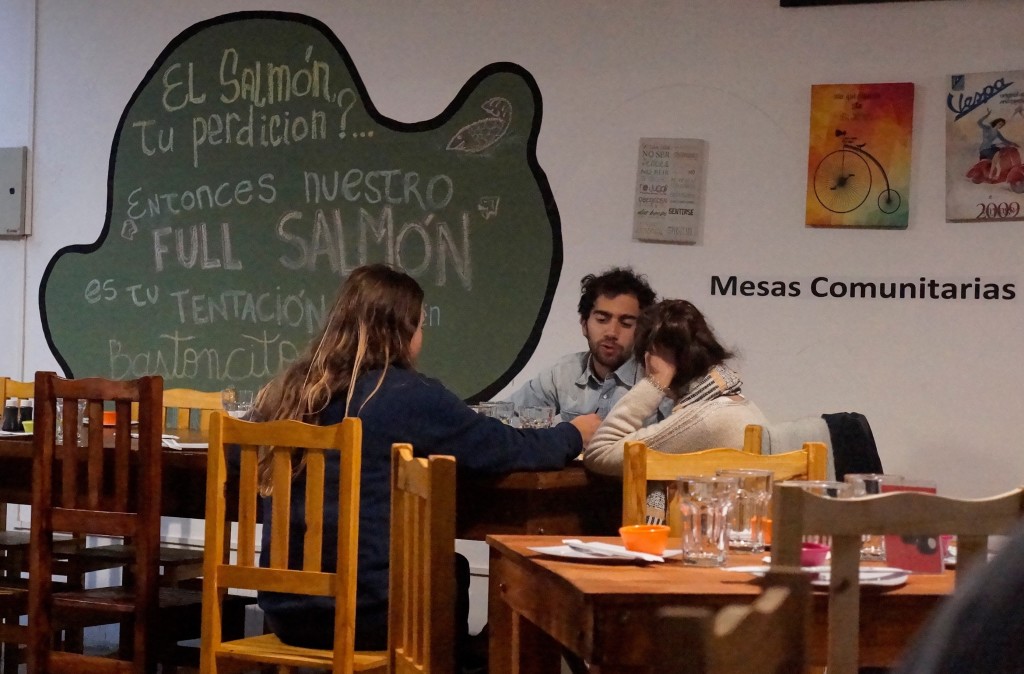 I looked around the room — groups of friends, families, and couples were happily dipping their sushi in sweet and sour sauce without a worry in the world. I know I'm not the target for this type of place, but how can it be so popular? Am I just a big asshole sushi snob? (Yes.) Is quantity really that much more valued than quality? Should I just shut up and let people eat whatever the hell they want in peace?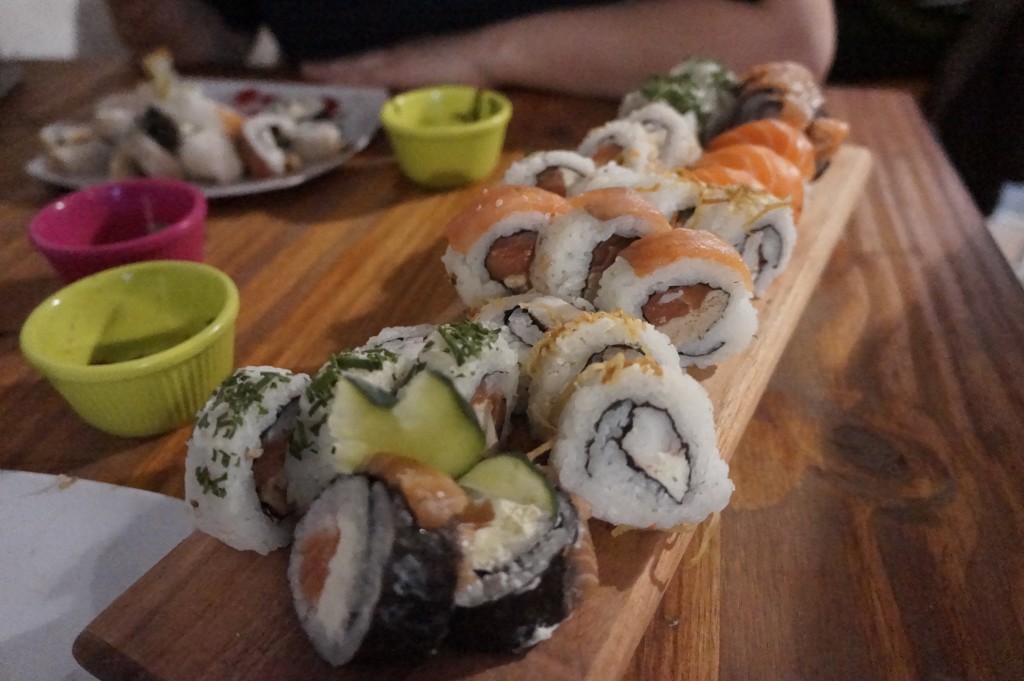 You'd think I'd know better to stop there — but I still had hope! What if this is how they get you? They have you fill up on the weak round first so you get winded right before the premium shit starts coming out? We tracked Flor down for the next round asking her for different combos this time, but before we could take a toke to build up a second bad sushi wind, she came back in a jiffy with more: cream cheese and salmon with green onion sprinkled on top, canned tuna and salmon covered with smoked salmon, salmon and cream cheese wrapped with nori on the outside. Salmon on cream cheese and cream cheese on salmon.
At this point, I put down my chopsticks and realized that hitting rock bottom in life is when you order and eat second helpings of really bad all-you-can-eat sushi libre. I left confused and disappointed in myself, praying that I wouldn't get sick from that last eggy breakfast roll bite. (Spoiler alert #4: I didn't.)

Futu Sushi
Scalabrini Ortiz 622, Villa Crespo
Tel. 4855-7292 / 4855-6469 / 4857-2060
Sushi libre, $250 peso, plus order takeaway/delivery online
Facebook
Comments