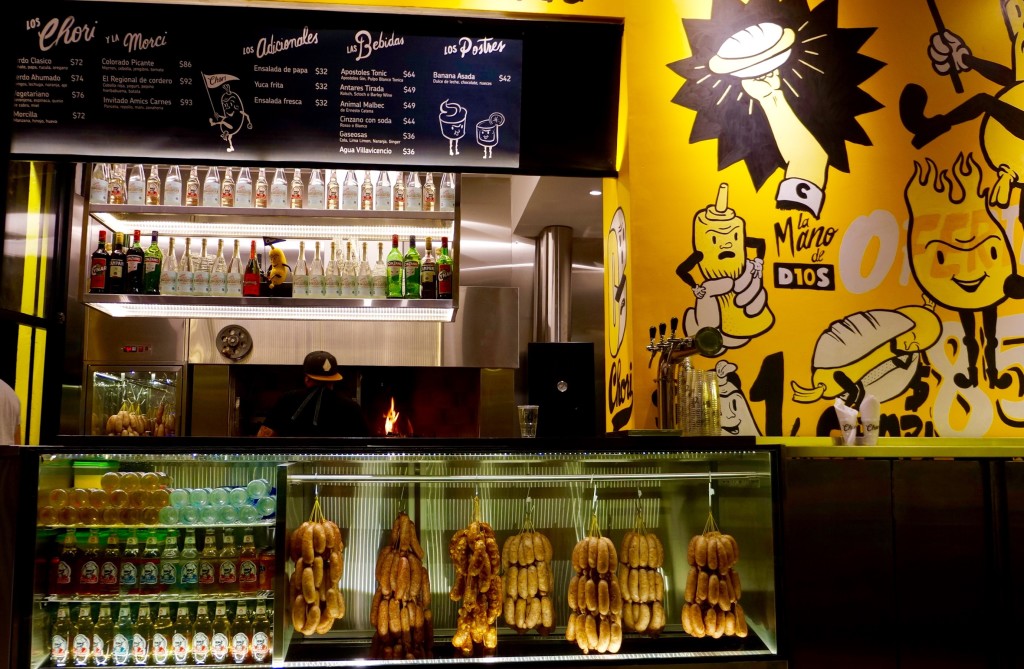 It's a genius concept. You take the choripán, Argentina's most iconic street food, and chef it up to make each component shine. I'm talking about a meaty safe place where the homemade chorizo, fresh-baked bread, and creative toppings all join forces in sandwich harmony. Hey Buenos Aires, you can keep your silly burger craze because I want to party all night long at Chori's holy sausage fest.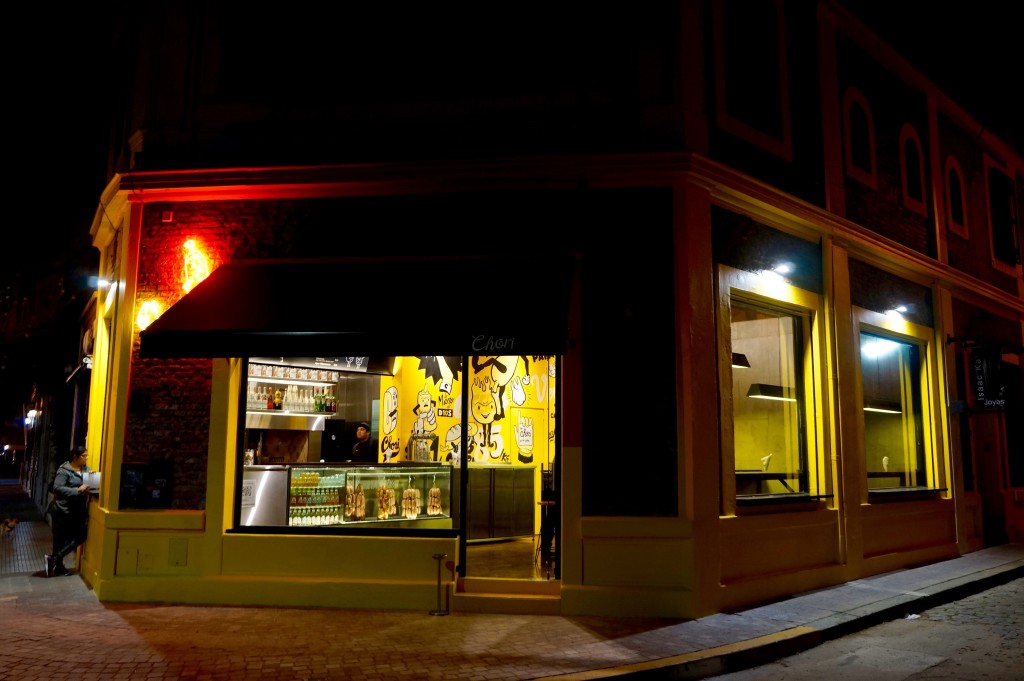 Argentines claim to have invented a lot of things: pens, digital fingerprints, the bus, cartoons, soda water, barbed wire, radio stations, and even helicopters; but we all know that the choripán is clearly Argentina's finest creation*. It's crazy to think, however, that the country's most popular fast food dish hasn't swept the local culinary scene with gusto, triggering a major (or even minor) sausage revolution. Instead, there are so many restaurants popping up with meh imitations of Yanquilandia cafés, serving sad brie-arugula-sun dried tomato sandwiches on a (just-bread-with-a-hole) bagel. Why can't we focus on reinventing Argentine foods and flavors? It's time for a leader to make some change.
*There's no actual proof that the choripán originated in Argentina, but Celia Degiovanni, a culinary personality at the World Choripán Festival in Córdoba, insisted that the Cordobeses invented the choripán, so who I am to debunk a true chori queen?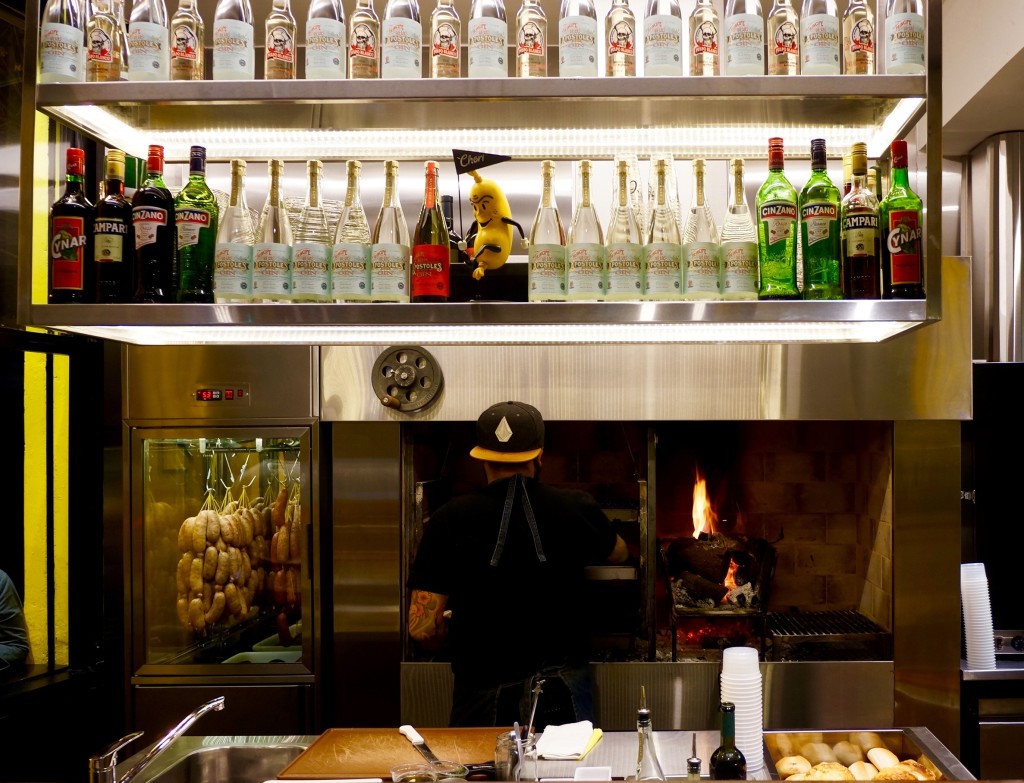 The beef bros who modernized the holy parrilla at La Carnicería are at it again. Chori, the affectionate term for the choripán — which is basically an adult hot dog on steroids — opened in August in Palermo Soho and celebrates the great and juicy sausage way of life. There's no table service at this casual order-at-the-bar spot. Here, the attention is on the choripán (duh), with five different chorizo sandwiches, one morcipán (blood sausage), and a vegetarian sandwich with eggplant, spinach, goats' cheese and honey.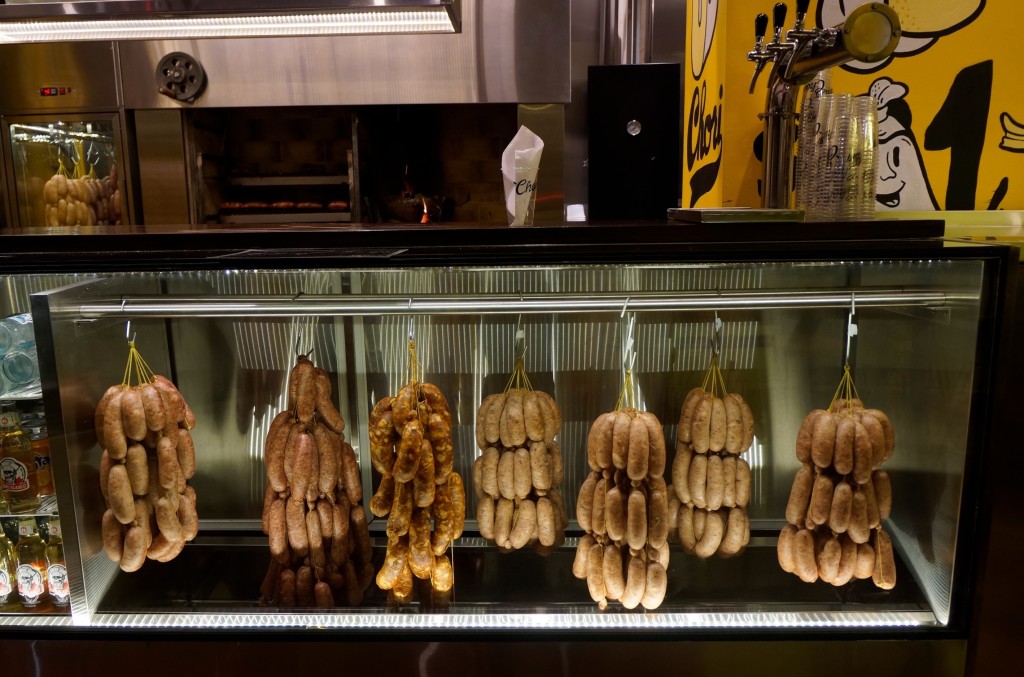 Word to the food wise: It's always a good sign when you enter and immediately spot red-light district sausage links sexily dangling on display.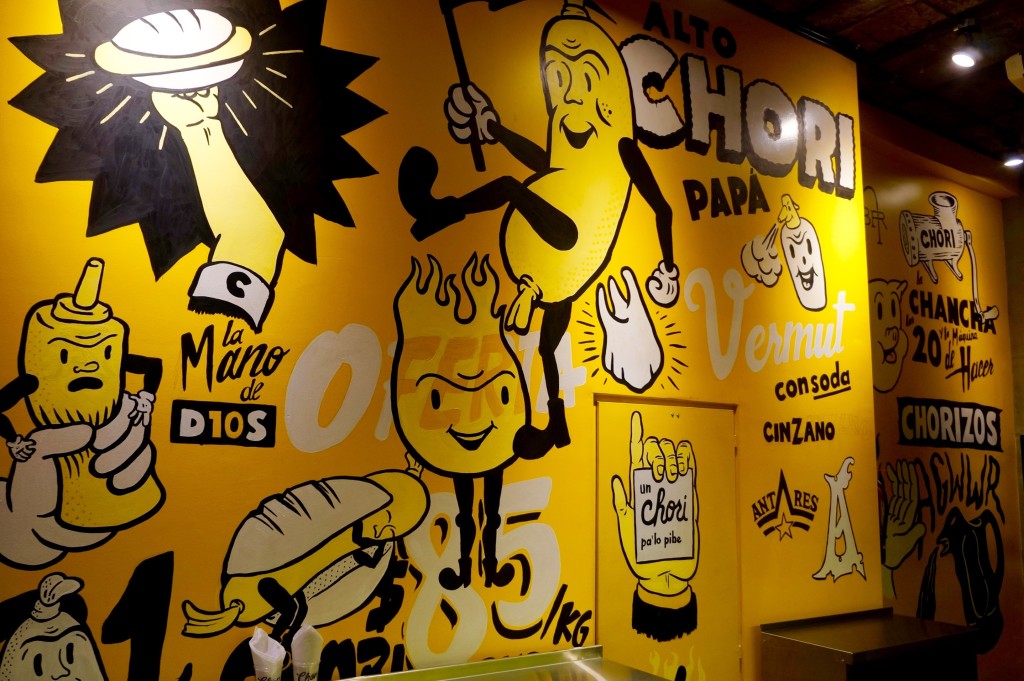 The bright yellow walls feature a cast of adorable pop art chori characters, designed by the talented local artist Alan Berry Rhys. Can someone please turn this into a cartoon series? I'd totally watch a show dedicated to Chori & Friends, a group of fun-loving amigos who run around town and get into all sorts of crazy sausage antics.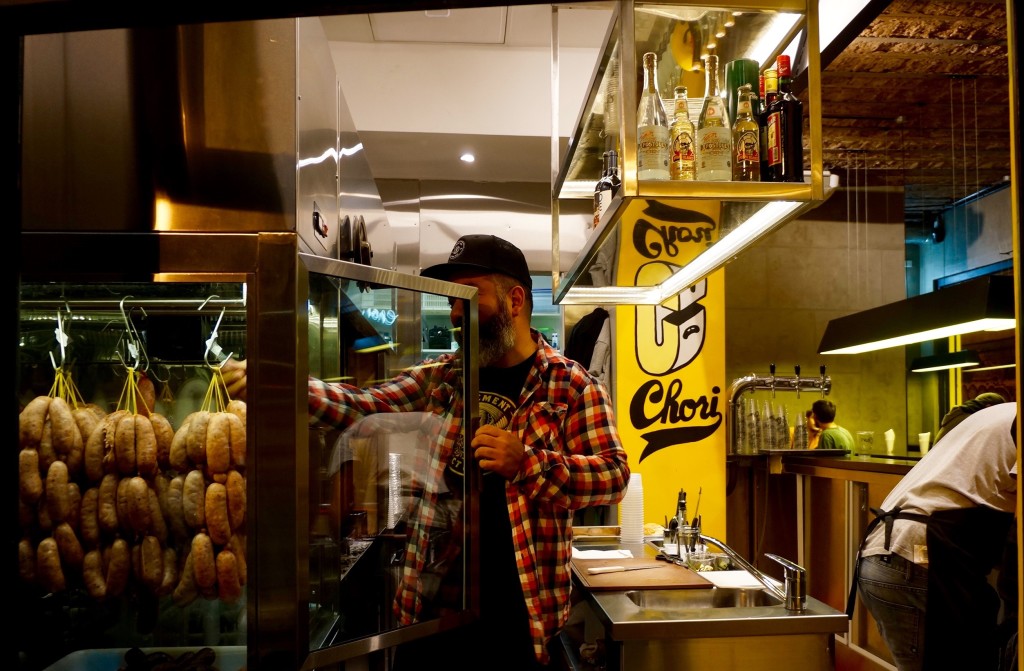 The family of homemade sausages are the star of the show — pure pork, smoked pork, lamb, spicy, and pancetta schlongs are grilled to perfection, stuck between freshly made buns alongside their designated toppings and sauces.  You can find flavors like the Cerdo Ahumado, a smoked pork sausage with mushrooms, lettuce, orange zest and garlic; Colorado Picante, with a spicy mix of red pepper, onion, ginger, and tomato; and El Regional de Cordero, a lamb sausage topped with red onions, cucumber yogurt sauce, hierbabuena, and sweet potato. Choris are served solo but can be order with sides like yuca fries, potato salad, or green salad.
Don't let the name fool you – the Chori Clásico is anything but a classic choripán. This version is packed with a porky sausage, tomato, arugula, mayo and served on a soft brioche-like cheese crusted bread. Some may say the bread is too soft, or lacks a fresh, crisp, acidic, pickle-y component to cut the fatty richness, and while maybe that is true, I'd still choose this sandwich to join my crew any day.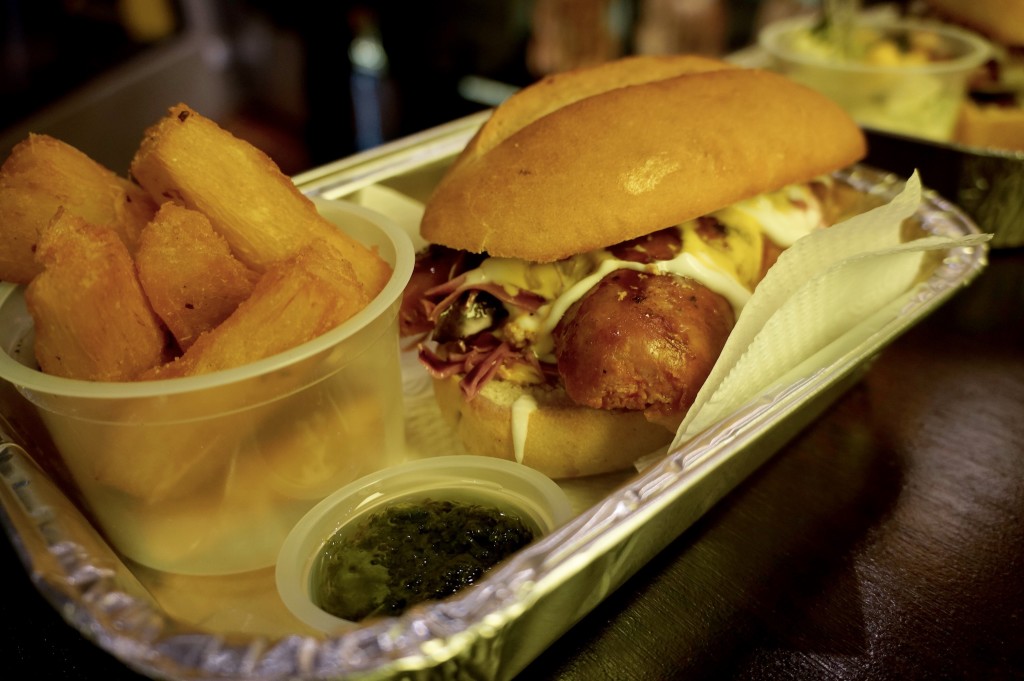 My all time favorite: Invitado AMICS Carnes, the guest choripán from the master chorizo makers over at AMICS butcher shop. Why is it the total bomb? 1. Pancetta 2. Pancetta 3. THE CHORI IS MADE FROM FUCKING BACON. Besides the pork belly sausage, the sandwich is served on a crusty roll and topped with crunchy pickled cabbage, carrots, and sweet candied peanuts. It's the total sweet-sour-nutty-fatty-tangy-meaty package.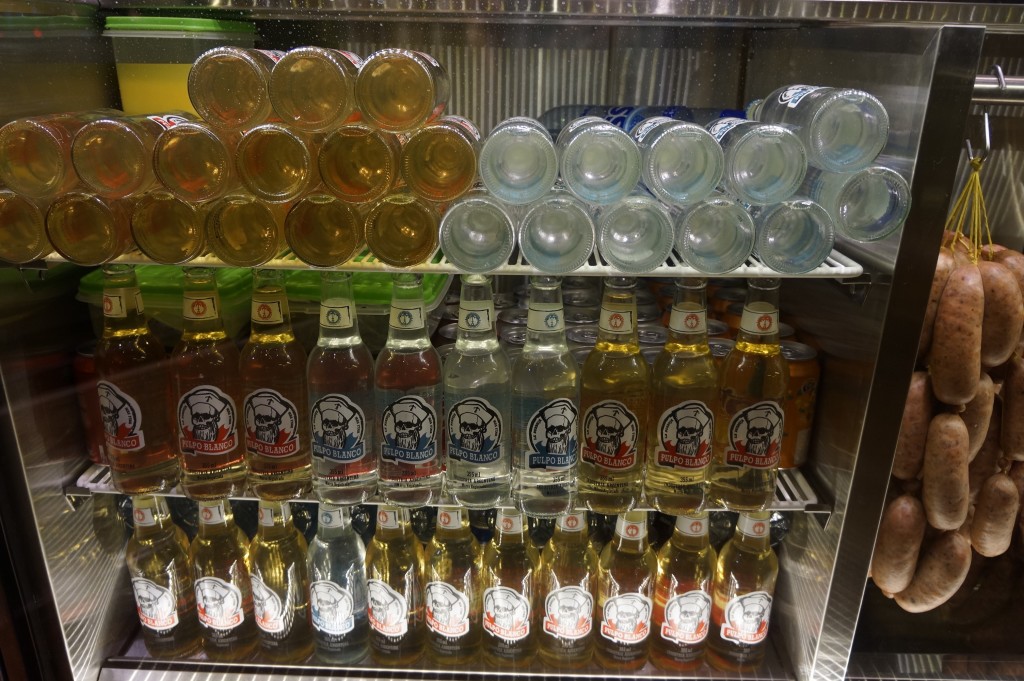 Tato Giovannoni – bartender, owner of Florería Atlántico, and creator of Príncipe De Los Apóstoles gin and Pulpo Blanco tonic and ginger ale – is part owner of Chori, and has all of his products on display for consumption. The thing to order: Tato's world's famous Gin & Tonic, which tastes best when consumed curbside out of a plastic cup.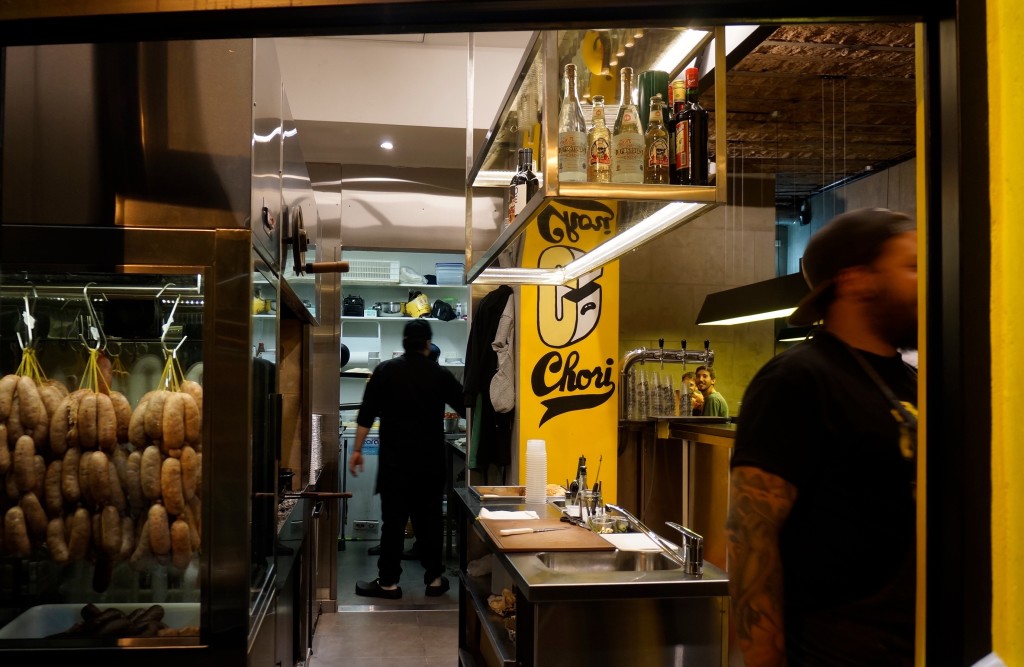 Like any new restaurant, Chori is still working out the kinks and finding its identity. Prices are standard for Palermo Soho: a hearty choripán runs $75 – $95 pesos, and for under $200 pesos you can fill up on a choripán + side + alcoholic drink. Sure, you're not paying $40 pesos for your favorite chori with chimi at the cancha or dirty Costanera carrito, but these are two different animals, impossible to compare, and both indispensable foods in the growing Porteño food scene. Alto chori, papá.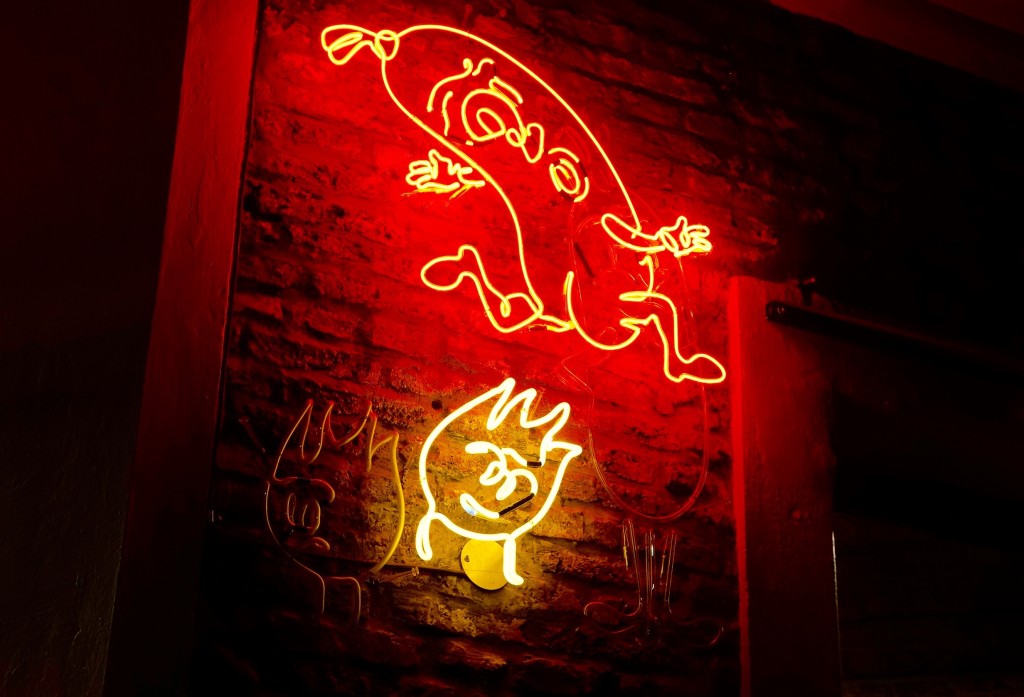 Chori
Thames 1653 (corner Santa Rosa), Palermo Soho
Tel. 3966-9857
Hours: Tues – Friday 7pm-12am; Sat & Sun 12:30pm-5pm, 7pm-12am
Average price (without drinks): $120 pesos
Follow Chori –> Facebook // Instagram
Comments