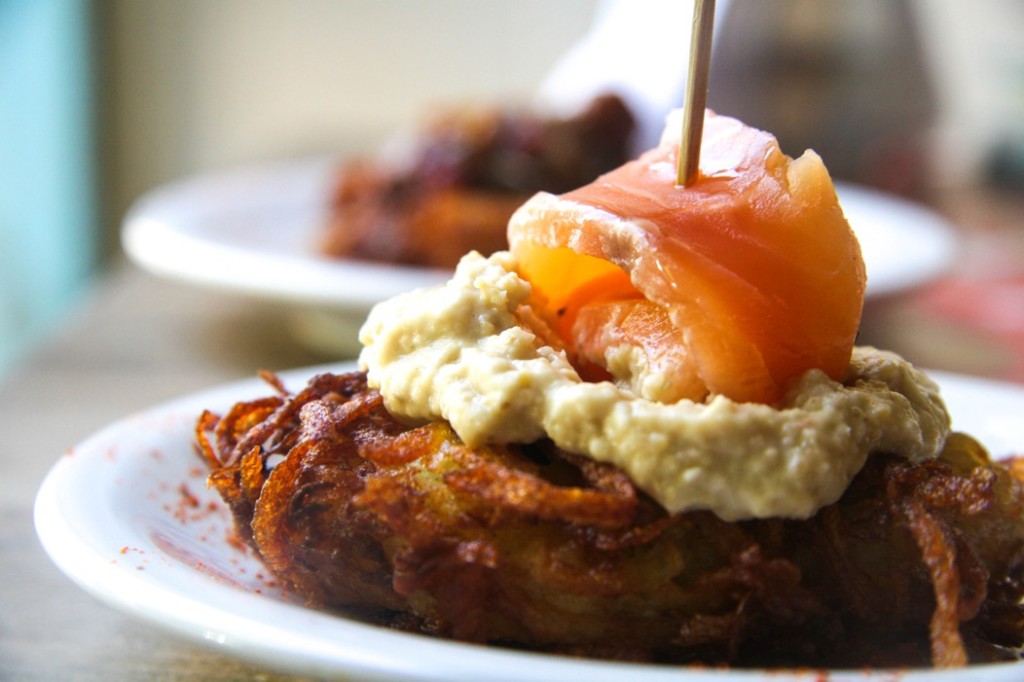 It's essential to celebrate Hanukkah (Janucá) in Argentina with a batch of crispy potato latkes. My favorite Argentine-Jewish mother, chef/owner Clarisa Krivopisk of La Crespo, shows me her spin on the festive potato pancake.
"I make latkes like a Jewish mother. I don't follow a recipe. I add a little bit of this, a little bit of that, and that's it. Jewish cooking is simple," Clarisa Krivopisk told me as she eyeballed salt in her hand to season a large bowl of grated potatoes and onions. La Crespo may be known for serving the best hot pastrami sandwich in Buenos Aires, but this family run Jewish deli in Villa Crespo has mastered the art of the potato pancake.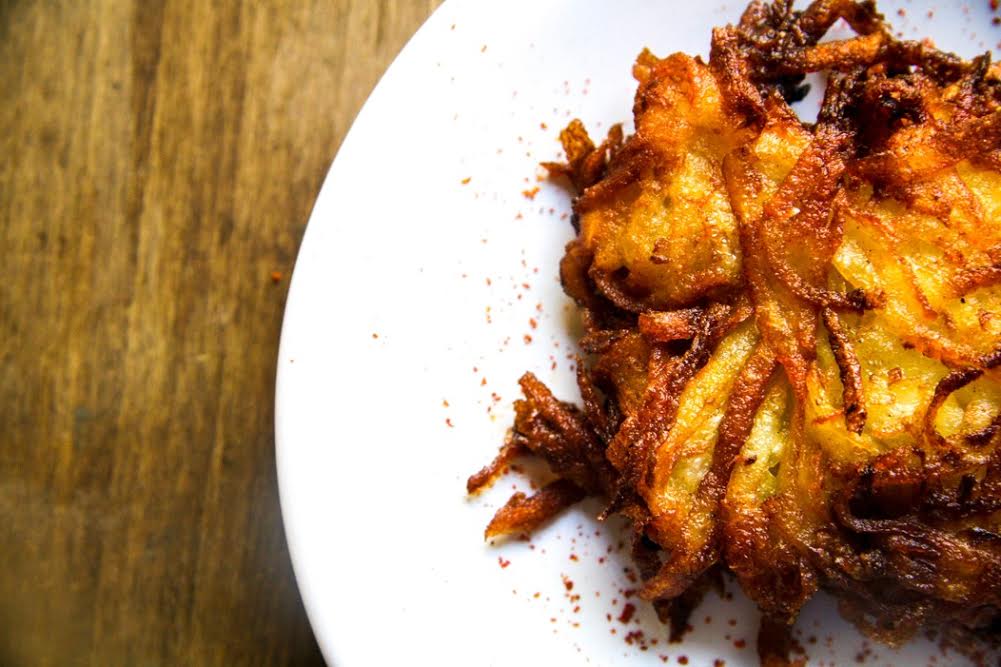 It's tradition to ring in the Hanukkah cheer with deep fried foods, paying tribute to the importance of oil and the Menorah, which miraculously burned for eight days instead of one. At La Crespo, Clarisa not only prepares the Ashkenazi favorite to perfection during the holidays, but puts latkes on the menu all year round. "In the Old Country, our families struggled to find food for many years. Because of that, food is important to Jews. It's part of who we are," Clarisa said.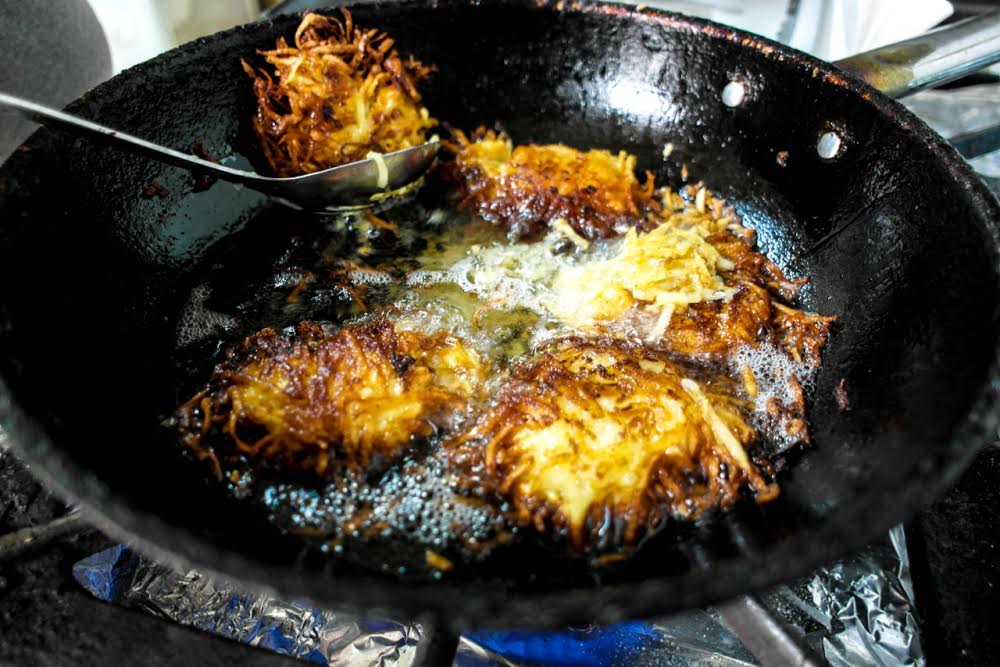 Unlike latke recipes in the United States, where the potato pancake is served with apple sauce and sour cream, La Crespo appeals to a more local Sephardic-Ashkenazi palate and tops the latke with something savory: a hummus dollop and slice of salmon gravlax. "Argentine Jews don't put apple sauce on latkes, it would be way too sweet," Clarisa explained.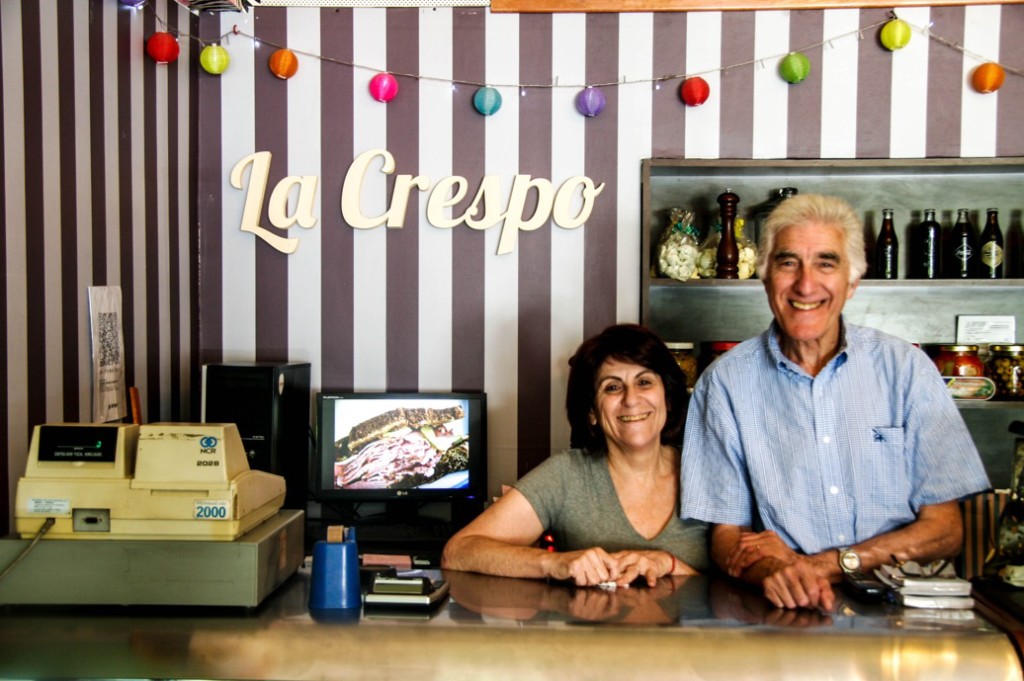 The secret to La Crespo's latkes? The technique and ingredients. "I only use high quality fresh ingredients, and I make sure to drain all the liquid out of the shredded potato and onions. It's that simple," Clarisa told me. "Escucháme, my grandchildren eat here, so I serve every customer as if they were family."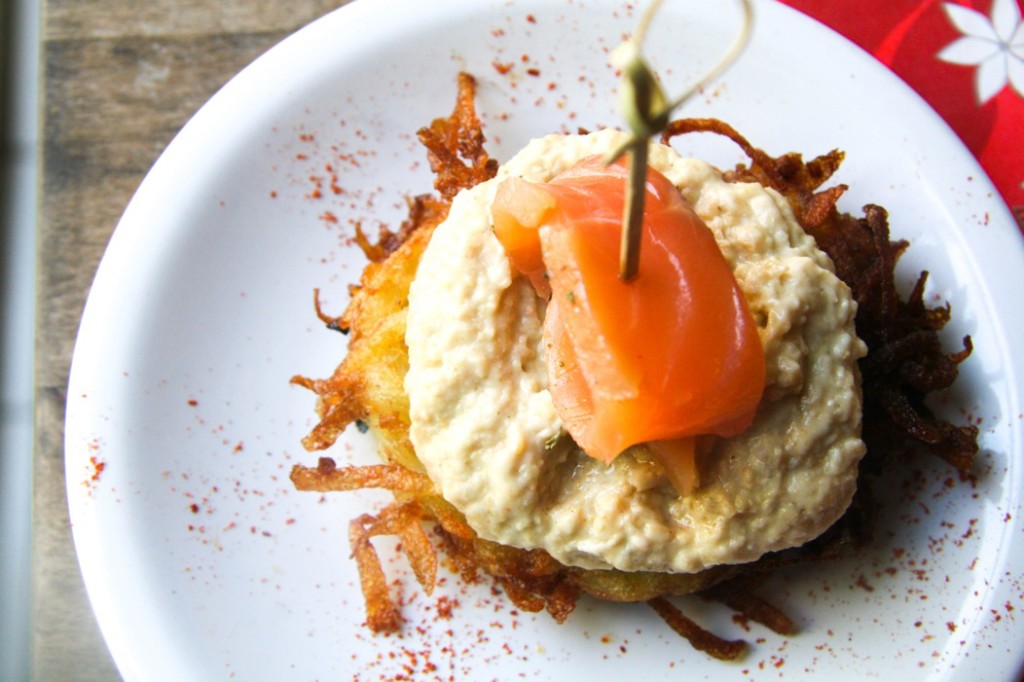 INGREDIENTS
4 large potatoes, grated
1 large onion, grated
1 large egg
1 tablespoon flour
1 teaspoon baking powder
Salt and pepper, to taste
Vegetable oil for frying
DIRECTIONS
1. Peel and coarsely shred 4 large potatoes with a hand grater. Grate 1 large onion. Combine in a large bowl. Set over a strainer and let stand for 5 minutes. Using a slotted spoon, press down the potato and onion mixture to squeeze dry excess liquid. Tilt the bowl to discard the liquid. (It's really important to make sure no liquid remains as this is the secret to a crispy latke.)
2. Add one egg, flour, baking powder, salt, and pepper to the bowl with potatoes and onion and mix well.
3. Heat a frying pan with frying oil, this will take about 5 minutes to reach a very high temperature. Test the oil with a piece of shredded potato, if it begins to fry and turn golden brown, the oil is ready for frying.
4. Begin to fry the latkes one spoonful at a time, using the slotted spoon to drain the additional liquid again before placing the latke in the frying oil. Carefully place the latke mixture in the frying oil, but do not overcrowd the pan.
5. Flatten the latkes in the skillet with the back of the spoon, and cook until the edges turn golden brown, about 2 minutes. Then, flip over and cook another minute until the bottom turns golden brown.
6. Place latkes onto a paper towel. Repeat with the remaining potato mixture. You may need to add more oil to the skillet.
7. Top with hummus and salmon gravlax. Best when served warm and fresh out of the fryer.
Original recipe published on The Latin Kitchen
Comments