Originally published on Argento's The Real Argentina
Almagro, the up-and-coming Porteño neighborhood that is already on the up, has everything you want in a Buenos Aires barrio. Unlike too cool for school Palermo, Almagro is cool without even trying. The gritty dog poopy streets are lined with hidden holes-in-the-wall, unpretentious gems, and rich café, theater and tango culture. The Corrientes-Cordoba-Rivadavia central location still has that bustling yet down-to-earth neighborhood feel, where after just a few visits to the local haunts, you are already on a first name basis with your favorite butcher, medialuna baker, and parrilla meat-maker. So where should you begin your food tour of Almagro City, BA's hottest under-the-radar barrio? Here is a guide of where to eat, drink and hangout in Almagro.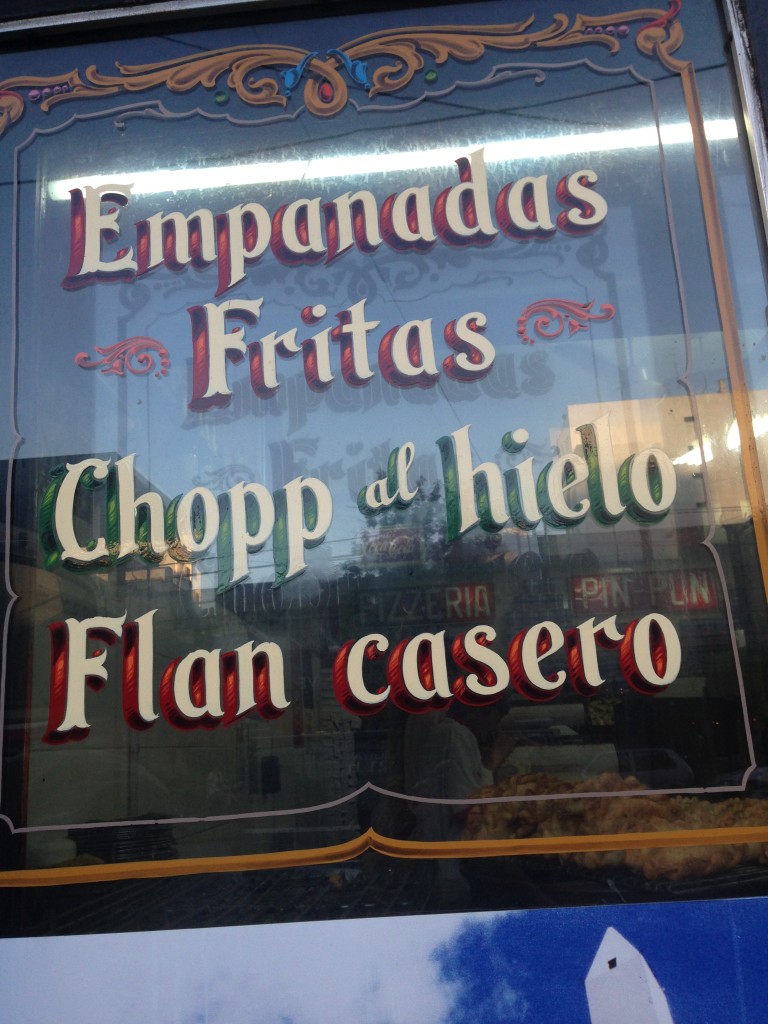 THE RESTAURANTS
Don Ignacio – Av. Rivadavia 3439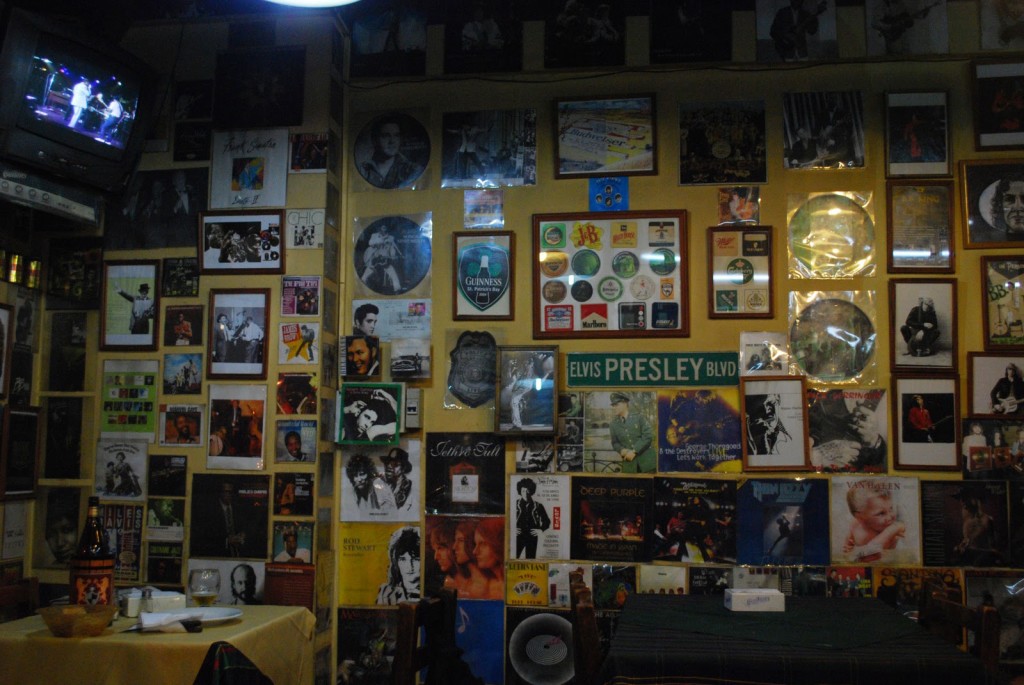 Don Ignacio makes the Cadillac of milanesas. Skip the garbage at the various Club chains and venture to Rivadavia, where music-obsessed Don Nacho serves up massive milanesa, oozing in cheese and toppings. A true Porteño hidden gem at its best.  $$
El Molino Dorado – Quito 4100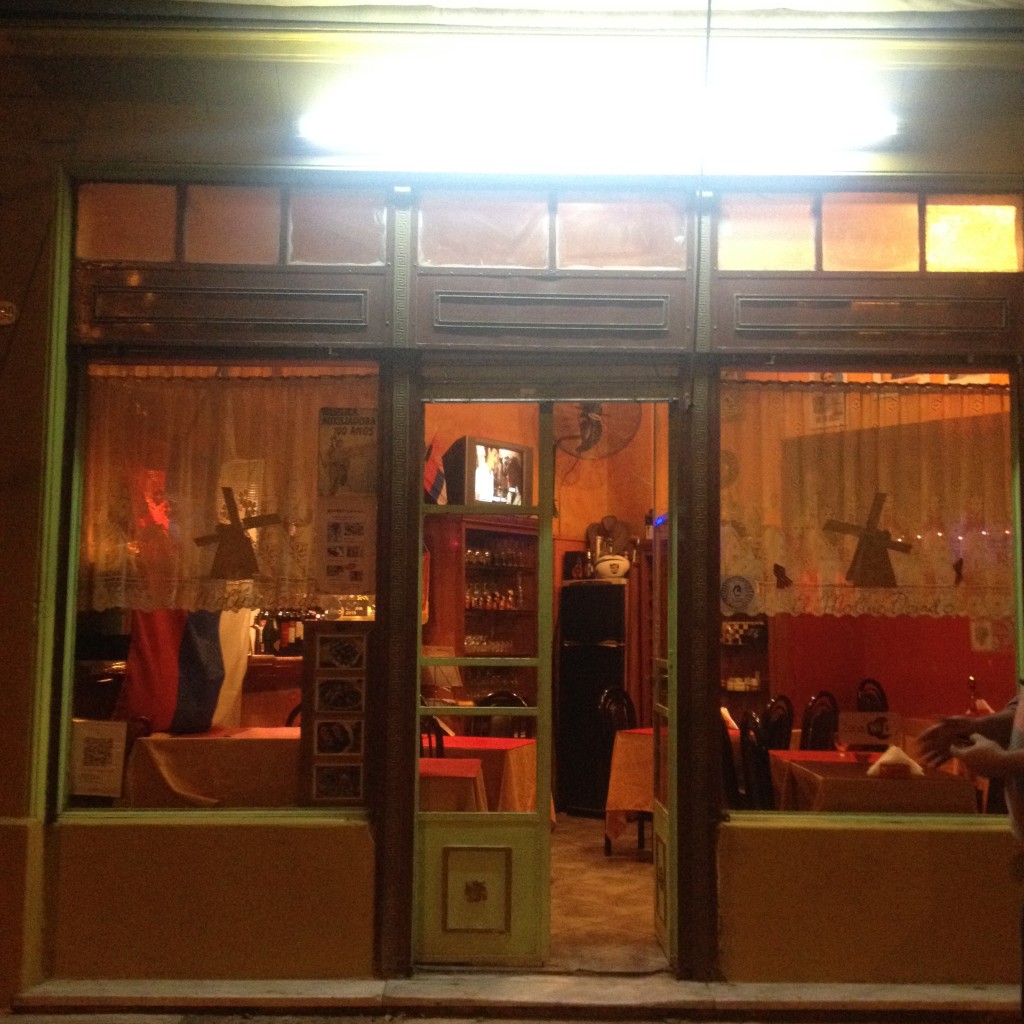 Looking to warm your soul like a real ice cold Rusky? Dmitiri and his cooks from the motherland prepare hearty dishes in true Russian fashion. There's nothing better than downing dumplings by the dozens and sipping on homemade vodka while an old school television set blasts creepy dark web Soviet karaoke. $$
Lúcuma – Humahuaca 4101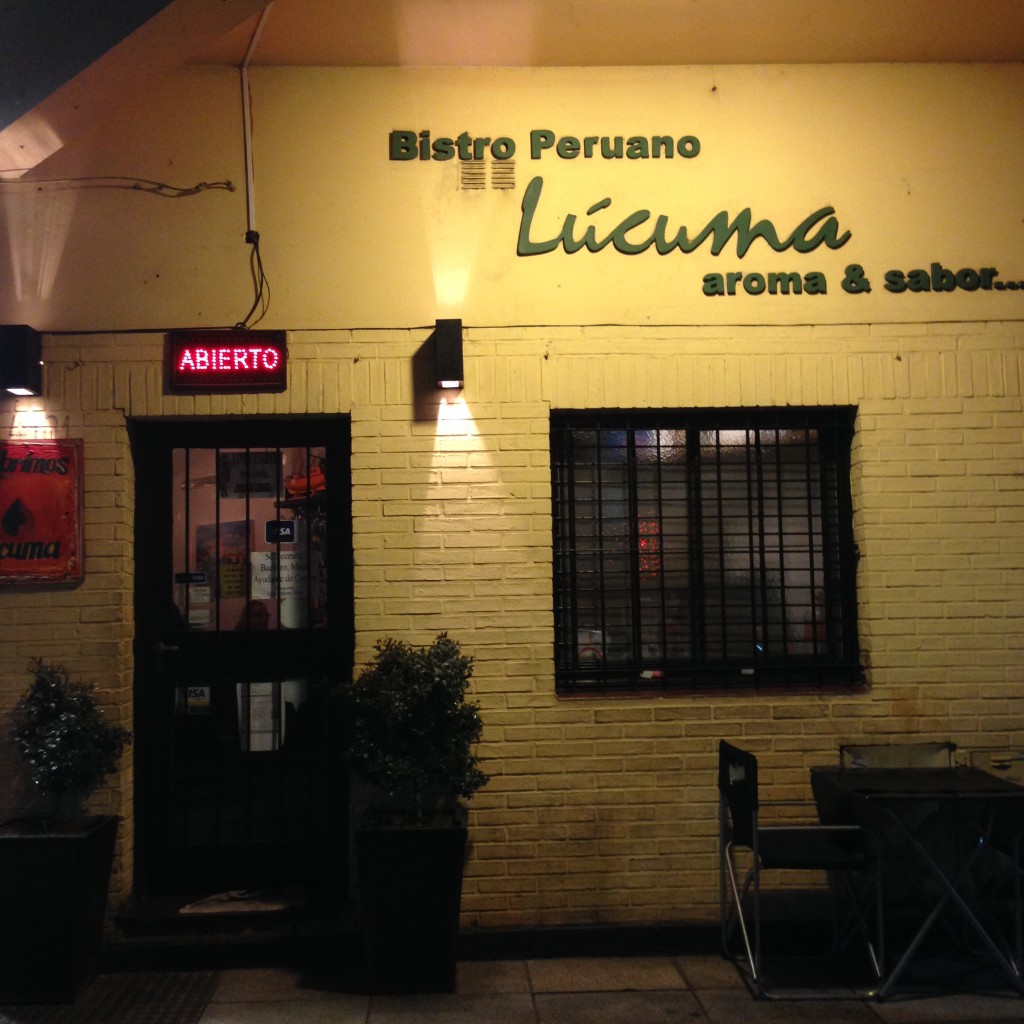 Family style wonders come out of the minuscule Peruvian kitchen at Lúcuma, which is known for their stellar takes on lomo saltado and tacu-tacu. It might be pricier than nearby Once spots, like the great La Conga (La Rioja 39) and Puro Peru (Gral Urquiza 375), but flavors and consistency are always on point. $$$
La Cresta – Bulnes 829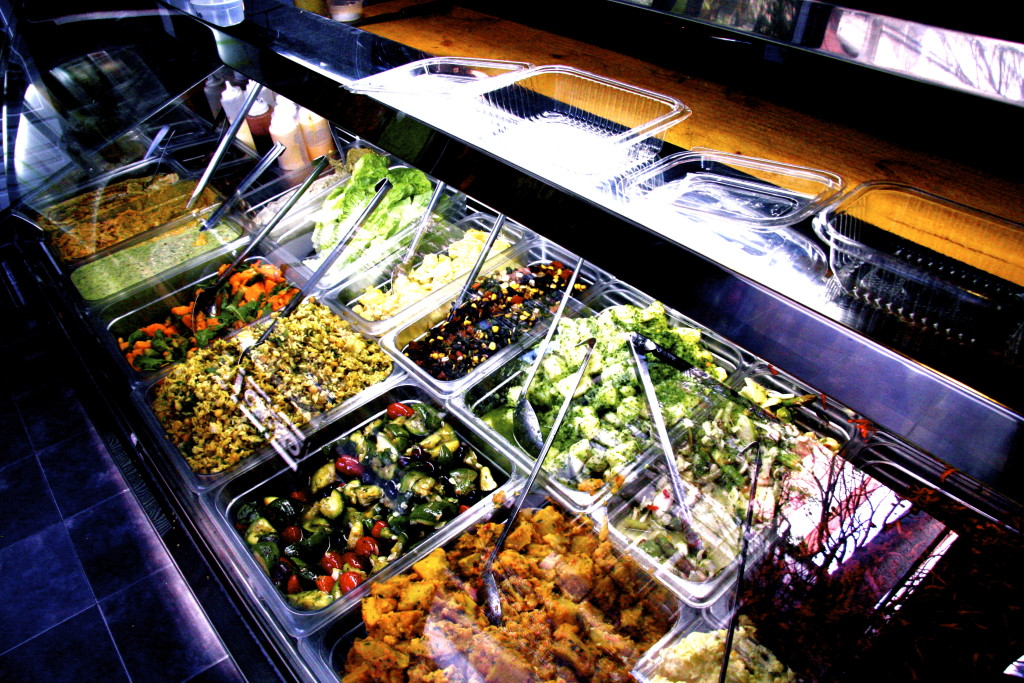 It's the original gangster of the roasted chicken wrap world. La Cresta might have expanded to San Telmo, but as a loyal customer, I always stay true to Almagro's Bandido wrap – a Mexican themed combination of roasted chicken, black beans, guacamole and pico de gallo. If you live in the 'hood, I'm sure La Cresta has saved you when your fridge is empty and you have a serious case of cooking fiaca. $
Doble AA – Estado de Palestina 866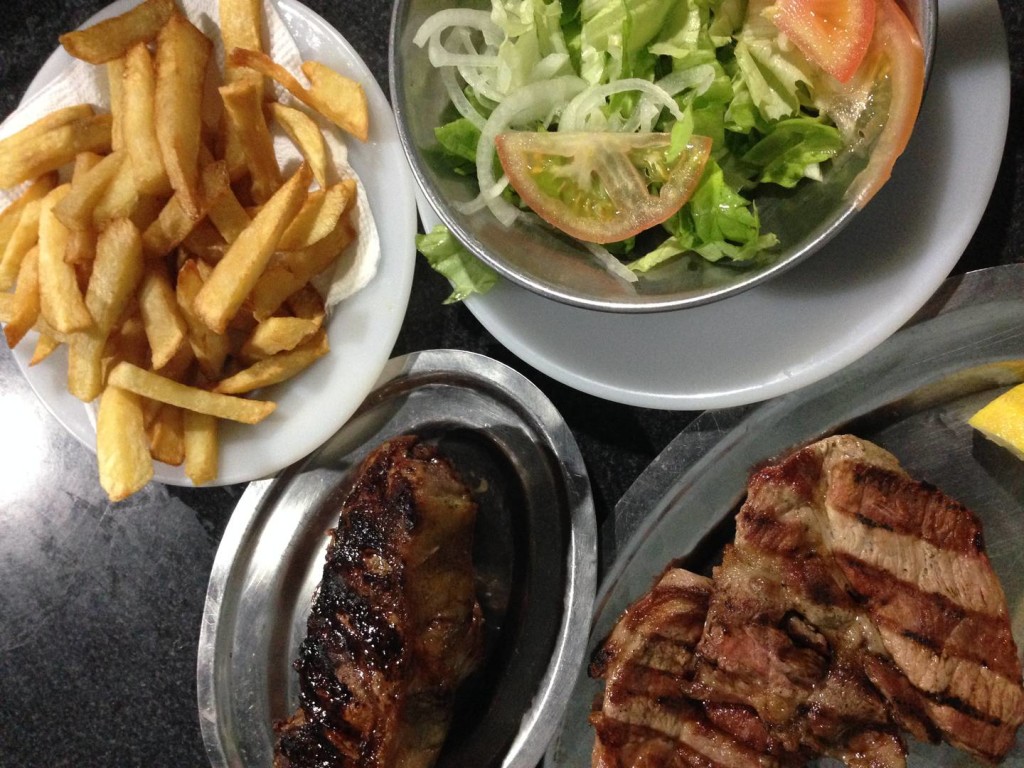 While this tiny parrilla on Palestina probably isn't suitable for a first (or even fifth) date, it is the ideal local barrio lunch for your no frills steak fix. My perfect order? Bife de chorizo jugosa + mixta + soggy fritas + sifón de soda. A few blocks away, old school parrilla/bodegón Lo de Mary (Humahuaca 4099) serves decent casual steakhouse delights, although there's something about Doble AA's meat quality and grilling skills that has me swooning after each bite. $$
Pierino – Lavalle 3499
Looking to impress the flavor conservative in-laws on your BA restaurant knowledge? Take them to Sunday lunch at Pierino and you'll join the secret Porteño society for knowing la data. Homemade pastas are the specialty at this family-owned joint that has been around since 1909, and frequented by many of the city's most well known musicians, artists, tango dancers, and writers. (Photo: Pierino) $$$
Teamim – Díaz Vélez 4431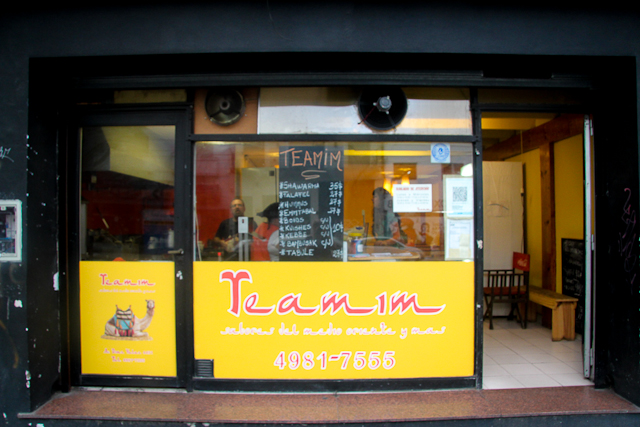 The unassuming open kitchen near Parque Centenario whips up a series of flavorful Israeli and Middle Eastern dishes. While most of the business is to-go, there are a few picnic tables for those exhibitionists who wish to publicly get their nose deep in hummus and spicy sauced shawarma. $
Doña Tipo Cocina – Bulnes 802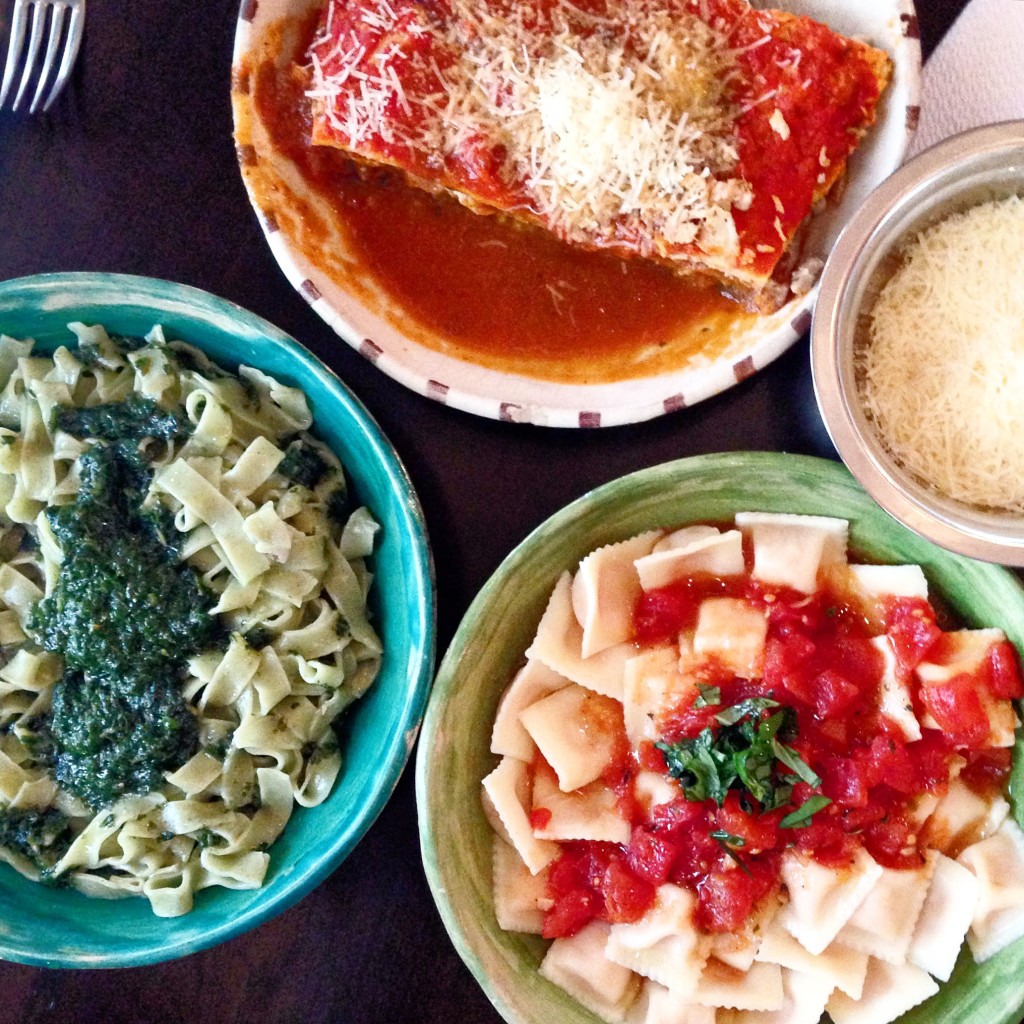 A great lunch special is to be appreciated and devoured. This cozy corner café has been a favorite to barrio locals for its simple, home cooked flavors and friendly service. When in doubt, go pastas. $$
Pizzeria Pin-Pun – Av. Corrientes 3954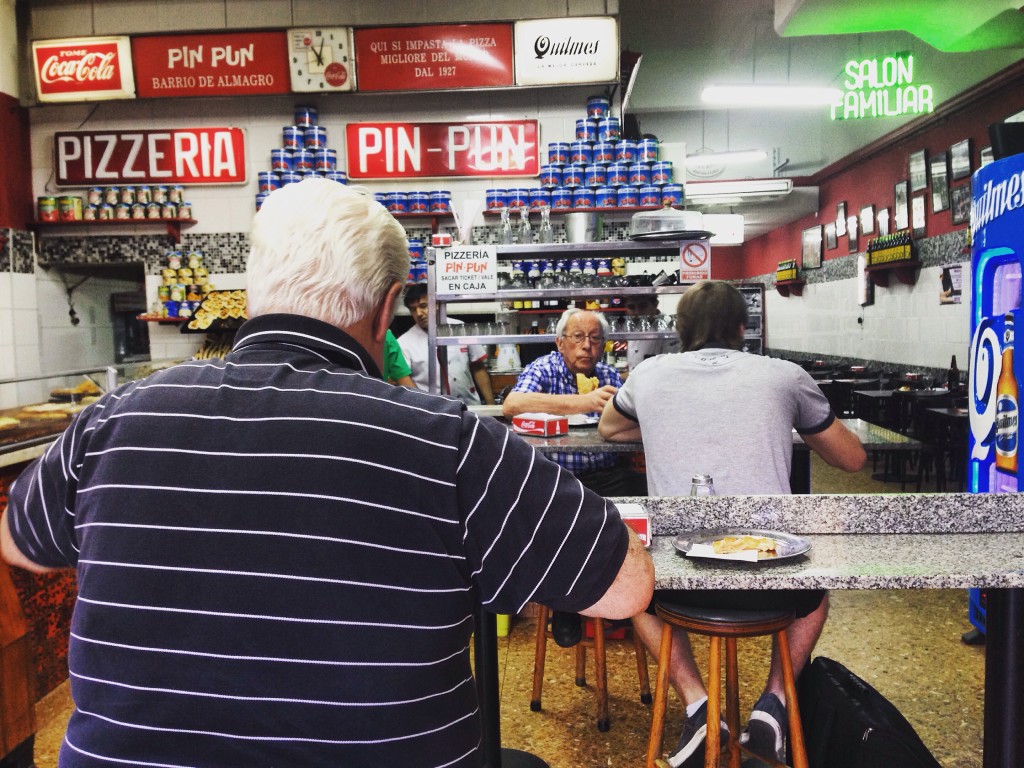 Pin-Pun might be famous for its cheesy Argie pie, but the true food knows-it-all tend to skip the pizza and go straight for the beef empanadas, baked not fried. A total Almagro landmark. $
The Best of the Rest: Sushi, Al Paso & Delivery For all your go-to neighborhood raw fish needs, Almagro has two Japanese-owned sushi dens: Matsuoka Restaurante (Sánchez de Bustamante 1027) and Hikaru (Rocamora 4584). Whenever that fried chicken tickle strikes, and you don't feel like venturing to NOLA, send Tom's Chicken (Av. Córdoba 4070) a WhatsApp message and they will come to save the day with ultra crispy pollo frito (just beware: the fried chicken is the thing to order, and French fries/coleslaw ain't so great). I'm not so sure Fetiche (Gascon 918) makes the best lomo sandwiches in all of BA (as they claim), but for delivery standards, it's on point. Arepa lovers, head for a quick stop to La Arepera (Estado de Israel 4316), one of the city's first ever Venezuelan arepa shops.
Honorable Boedo Mention 
La Birra Bar – Av. San Juan 4359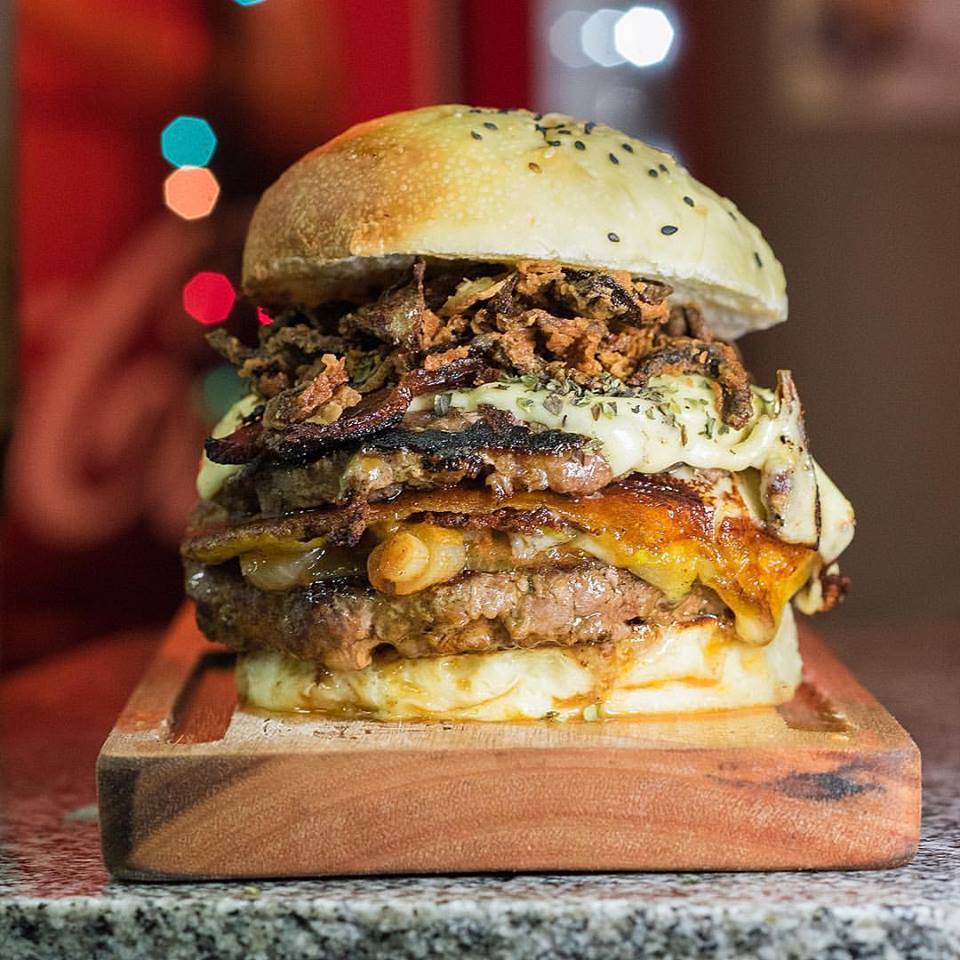 Okay, so this is technically in Boedo, but it would be a shame not to cross the Almagro border when we are talking about such burger greatness. La Birra has been around for 15 years, making burgers for one, but it wasn't until recently when word got out about this hidden treasure, and Instagrammers and food obsessors flocked. Why is it the craze of the internets? Because the burger is cooked just right and meat-bun-toppings taste oh so good. (Photo: La Birra) $$
The Cafés and Bars
For decades, Almagro has been known for its lively nightlife scene. No, I'm not talking overly serious mixologists shaking up cocktails that will change the world, Porteñas wearing mile high platforms waiting in line at a bad Juan B Justo boliche, or hipsters in a sweaty standing room only bar clutching a "craft" beer. Almagro offers a different kind of cultural experience: One with dirty dive bars, cheap Fernet and cokes, men cloaked in woven sweatpants and mullets, the artsy-theater crowd kids, and incredible live musical performances.
El Boliche de Roberto (Bulnes 331) should be the top attraction on any Almagro City list. The old school tango singer's bar, officially called "12 de Octubre" and originating back to 1893, is piece of Buenos Aires heritage, and also the former hang out of infamous tango singers and musicians. Over at Señor Duncan's house (Rivadavia 3832), there's always something interesting going down, whether it's a swing dance class or live jazz band, while La Catedral (Sarmiento 4006), has provided aspiring Vegetarian tango dancers an alternative refuge for years. The other side of Corrientes hosts its own mini bar/theater/musical venue hopping hub along Guardia Vieja street, with hits like La Vieja Guardida (Guardia Vieja 3777), Guarda la Vieja (Billinghurst 699), El Emergente (Acuña de Figueroa 1030), and Le Troquet de Henry (Guardia Vieja 3460 – order the empanadas!).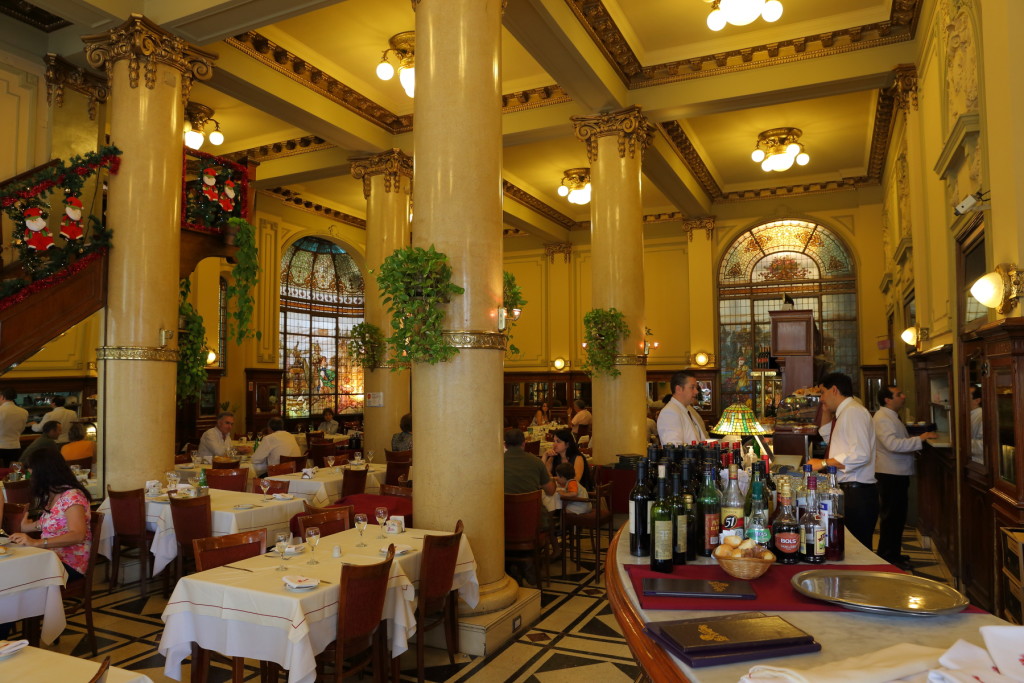 Legendary bares notables, historical bars and cafés, are sprawled across the barrio, like the picturesque El Banderín (Guardia Vieja 3601) for the perfect afternoon aperitivo, Las Violetas (Rivadavia 3899) a piece of Porteño history where old ladies from across the city congregate for an elaborate merienda, or La Orquídea (Corrientes 4101), one of the last standing 24-hour cafés that exist.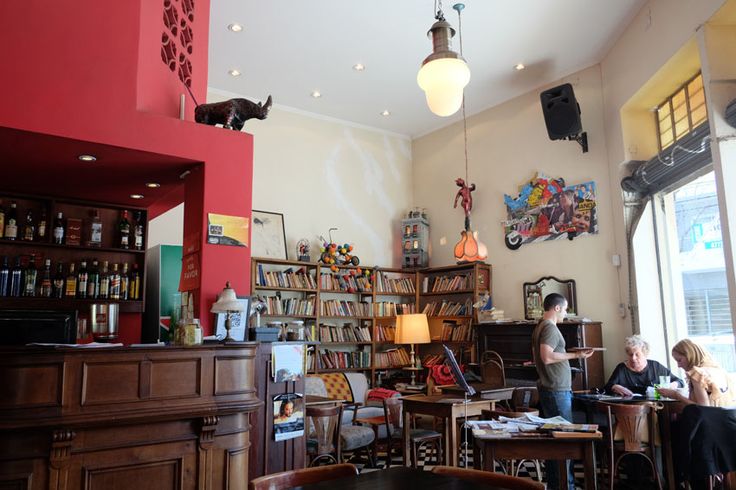 At Musetta Caffé (Billinghurst 894), you can guiltlessly order a coffee, stay for hours, and move into your new home office… until nighttime hits and it turns into a bar and cultural center. And then of course there's La Vermutería (Lavalle 3780), the barrio fave to order one too many 5,6, and 7 o'clock vermouths.
Specialty Stores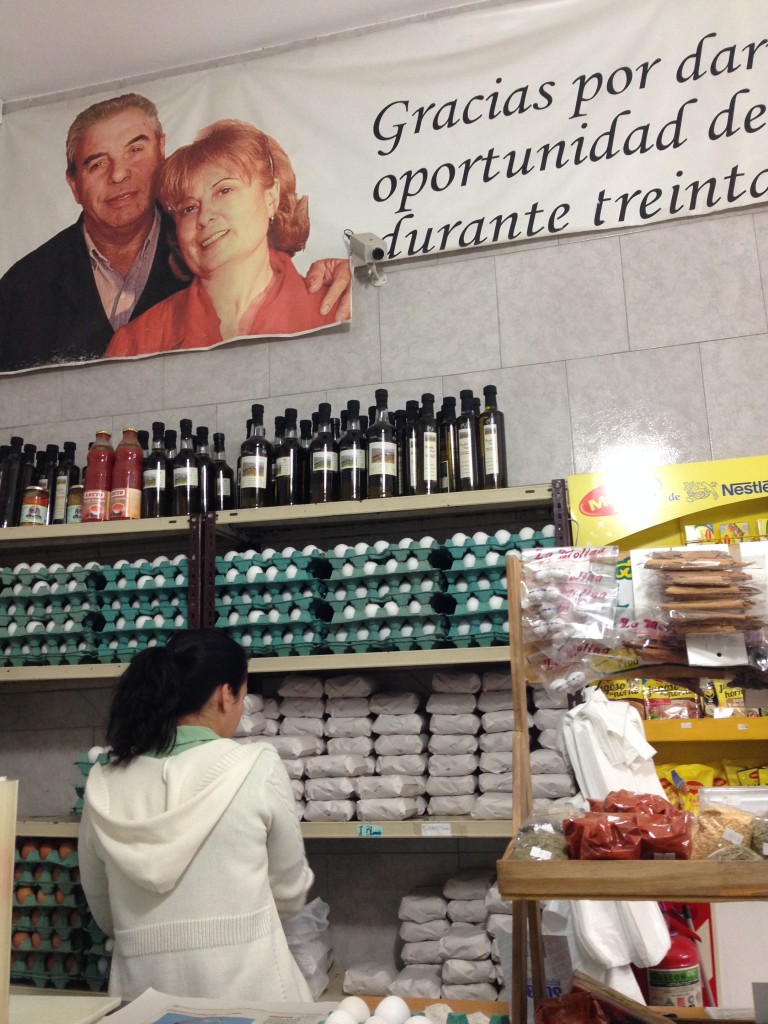 You don't have to shop at big Jumbo or Disco supermarkets (although it exists – Disco on Gascón 649 and always empty Jumbo on Guardia Vieja 4558) because in Almagro, you go directly to the source. The best and insanely fresh orange yolk brown farm eggs? La Granja (Gascón 915). The barrio beekeeper selling delicious honey and hard candies? Apicutodo (Humahuaca 4224). An Almagro cheese and fiambre temple? La Casa del Queso (Av. Corrientes 3587), or the Venezuelan owned Casa Campo (Gascón 832). Soft and gooey medialunas paired with chocolate covered alfawhores? NARANJO & FLOR. Fresh flowers and herbs? Flower street on Acuña de Figueroa y Corrientes, or the even better Mercado de las Flores (Corrientes 4377). The whole barrio is overflowing with great produce at better prices (too many to list) so keep your eyes peeled for awesome fruit and veggies. Plus, dietéticas like the mini Barrio Chino market Mi Trébol (Gascón 718) or Kcero Almacén Natural (Gascón 886) will save trips to Chinatown to buy peanut butter, dried cranberries, and good soy sauce. Oh, and if we are talking ice cream for a hot second, Heladería Tino (Díaz Vélez 4520) should be your 80's style heladería jam, while over on Rivadavia both Dumbo (Rivadavia 3929) and El Podio (Rivadavia 3778) make chocolate-dulce de leche-sambayón trifecta dreams come true.
Just one more important thing: Dear Real Estate Chantas, don't even try to rename my beloved Almagro with some ridiculous Palermo nickname.
Comments