I'm going on another empanada quest, a search across the country to find the best empanadas Argentina has to offer. Even though empanadas are everywhere, it's not easy to find that perfect empanada. I'm talking flavorful dough, folded thoughtfully with a respectable repulgue, and baked or fried until golden brown. It's the kind of empanada crammed with such delicious insides that you'll want to spoonful the fillings directly from its tupperware in the fridge to your face. To start this series, I'm highlighting one of my non-traditional empanada favorites in Buenos Aires.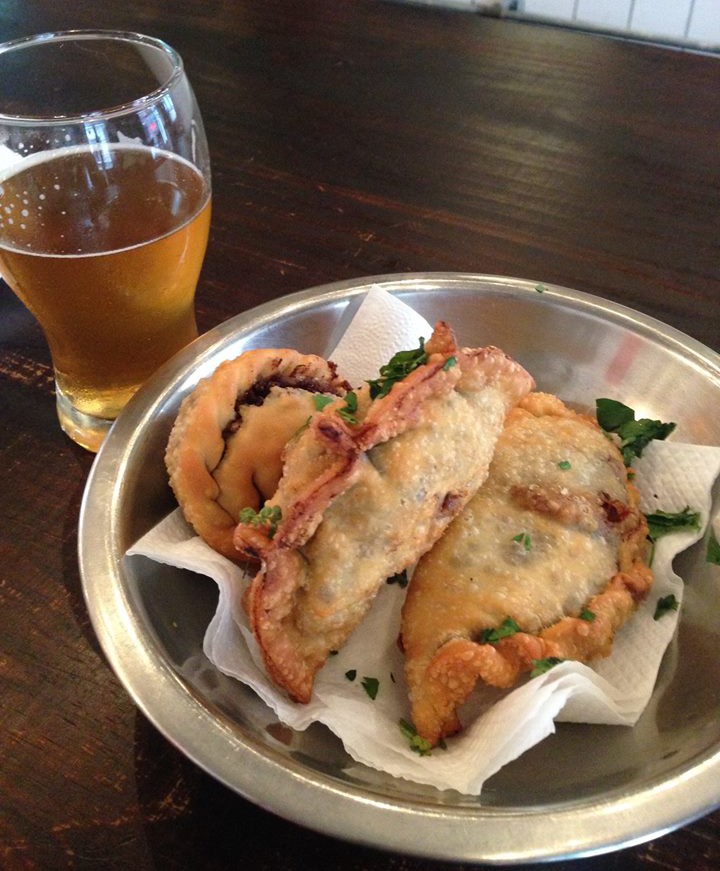 The Place: El Banco Rojo – Bolívar 866, San Telmo, Buenos Aires
The Flavor to Order: Cordero picante (spicy lamb). Honorable mention goes to the empanada de morcilla (blood sausage) and cerdo (pork), which some say tastes just like a Totino's pizza roll. Plus, BR makes weekly empanada specials, cheto-ing it up with flavors like asparagus, pancetta and fontina cheese.
The Awesome Factor: The spicy lamb empanada from Banco Rojo reigns supreme for several reasons. It's one of those marriage-material empanadas, the kind you'd want to take down to Tribunales and apply for a unión convivencial. First of all, it's stuffed with a stew-like braised lamb that packs tons of flavor. Second of all, it's actually really damn spicy. And lastly, it's deep fried… because doesn't everything taste better when it's beautifully deep fried to a non-greasy crunchy consistency?
The Recommended Pairing: CERVEZA! Craft beer (rubia) for the aficionados, or Quilmes for ya'll who don't give a F.
Price: AR$23 pesos each
Also, shoutout to El Banco Rojo's dump trump garbage can for being TRASHTASTIC.
El Banco Rojo
Bolivar 866, San Telmo
Tel. 4362-3177
Hours: Tues – Sunday, 12pm-12am
Comments