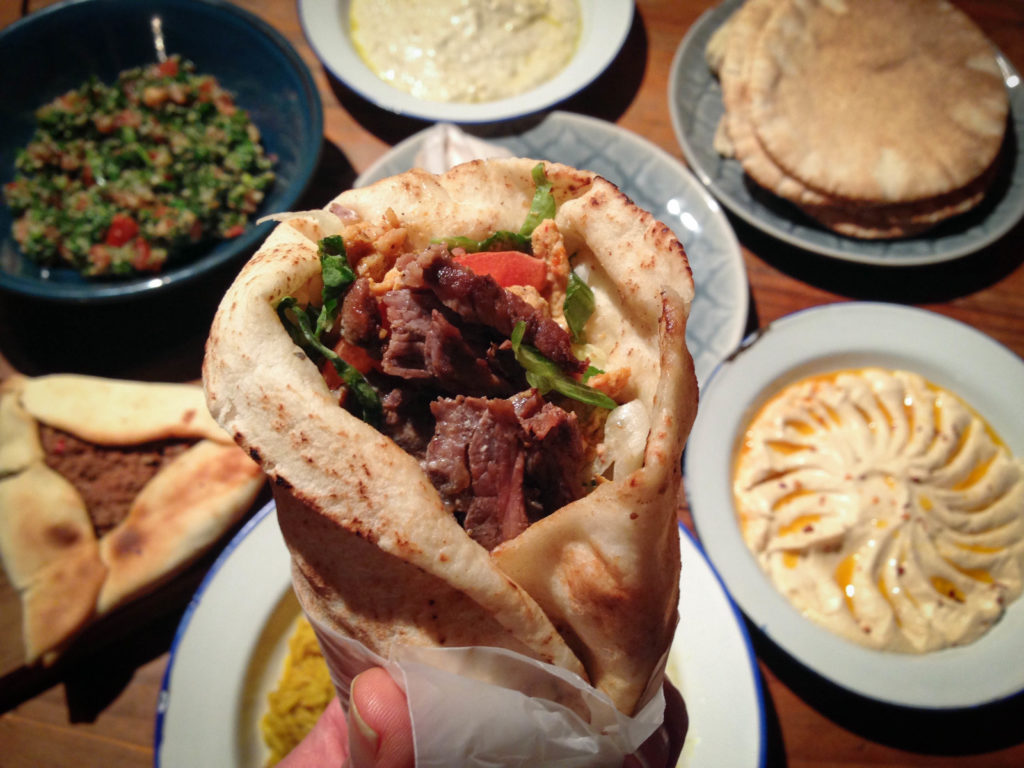 You know when you find that special shawarma and you can't get it off your mind? You might have seen him around the barrio a few times, walked by without really giving him a second thought, but after your first up close and personal encounter, BAM! You're smitten. Cartoon heart bubbles start popping and the Saved By the Bell wooing audience track switches on. That's exactly what happened to me last week when I took one bite of shawarma, and I haven't stopped thinking about it ever since.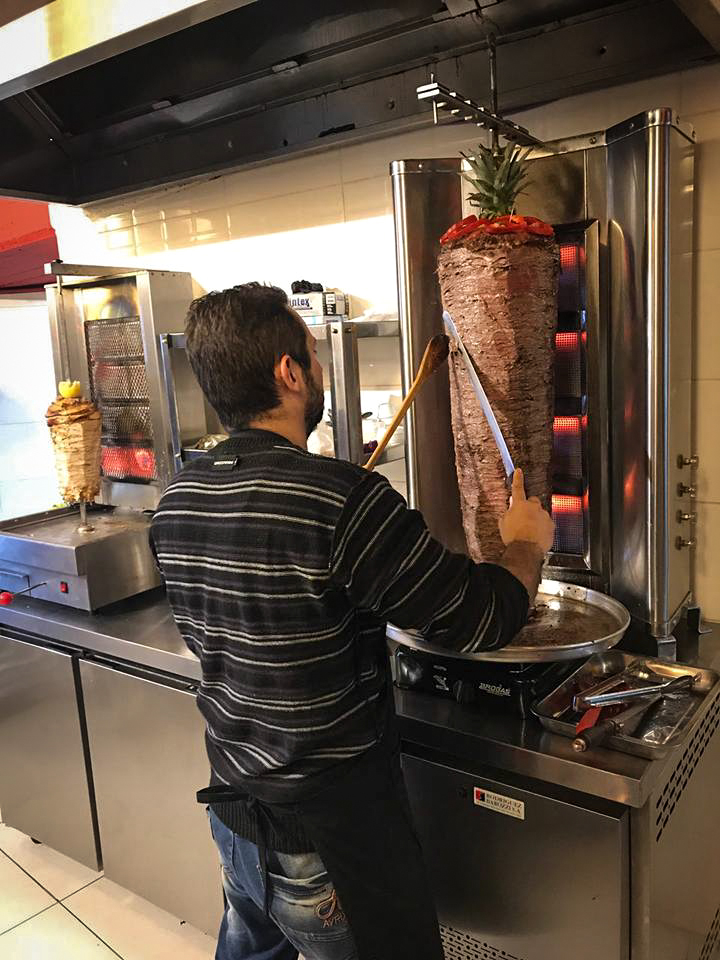 Al Árabe opened a few months ago on El Salvador and Thames, taking over the small corner café that you probably never went to. Muhammed Al Shami, originally from Syria, moved to Argentina nearly ten years ago and spent most of that time working in the restaurant industry. With the support of his family, he started this new Middle Eastern restaurant venture, and in very little time, it became a neighborhood hit, a Palermo delivery staple, and a restaurant savior with all day long opening hours.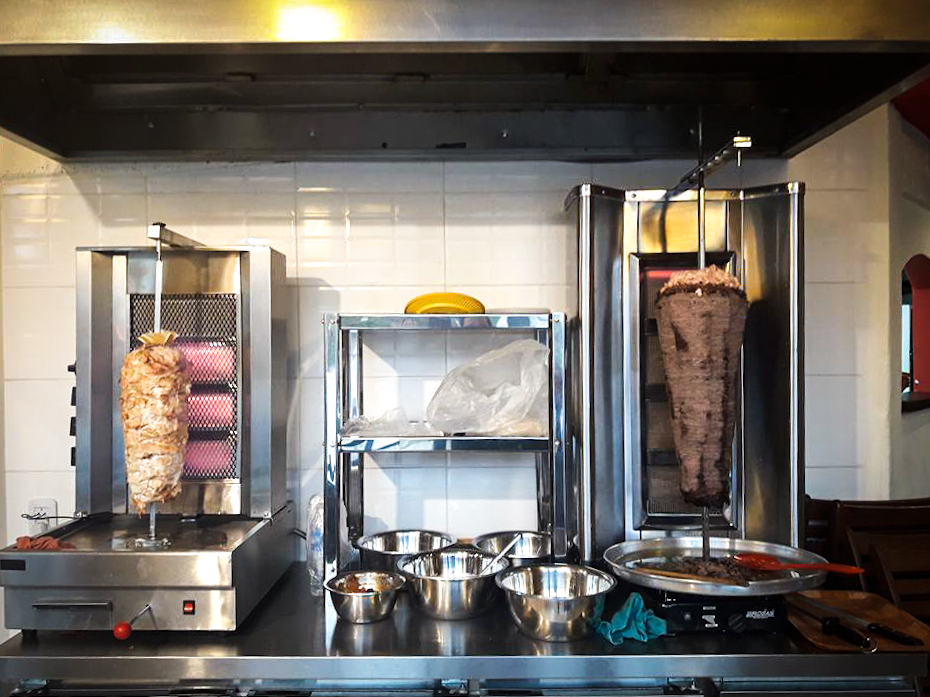 Why is this shawarma superior? Let's break it down and analyze the anatomy of a delicious shawarma:
Meat Praise. First and foremost, a great shawarma is never made with subpar ingredients. So often the slab of shawarma meat sits on the vertical spit all day long where it transforms into a tasteless hunk of chewy leather. But not here.  At Al Árabe, the spit-roasted beef is loaded with fragrant spices like cardamom, cinnamon and pepper, and remains juicy and flavorful.
Roasting Skills: Once the paper-thin carved meat detaches from the shawarma mound, it is slightly charred a second time by a bottom pan that catches all the meat and drippings. Once the meat drops, the gas flame underneath makes it sizzle and crisp up in its own juices.
Fluffy Bread: The hand-pulled pita has a similar texture to gyro or naan bread. Before rolled up, it's quickly patted over the spit heat so it can be lightly toasted as it awaits the fillings.
Freshness: What can ruin a shawarma? Brown lettuce, sour tomatoes, and slices of onions cut way too thick. What can make a shawarma? Crunchy lettuce, fresh tomatoes, and nicely spiced thin onions. Add some tangy garlic yogurt sauce and salsa picante 

for

ambiance and you have a winner.
Peso Pinching: Cost to quality ratio must be factored when analyzing any food. In a BA era where it seems like even a simple street food dish is inflated and overvalued, it's refreshing to see a product that tastes good and priced fair. 1 shawarma = $60 pesos.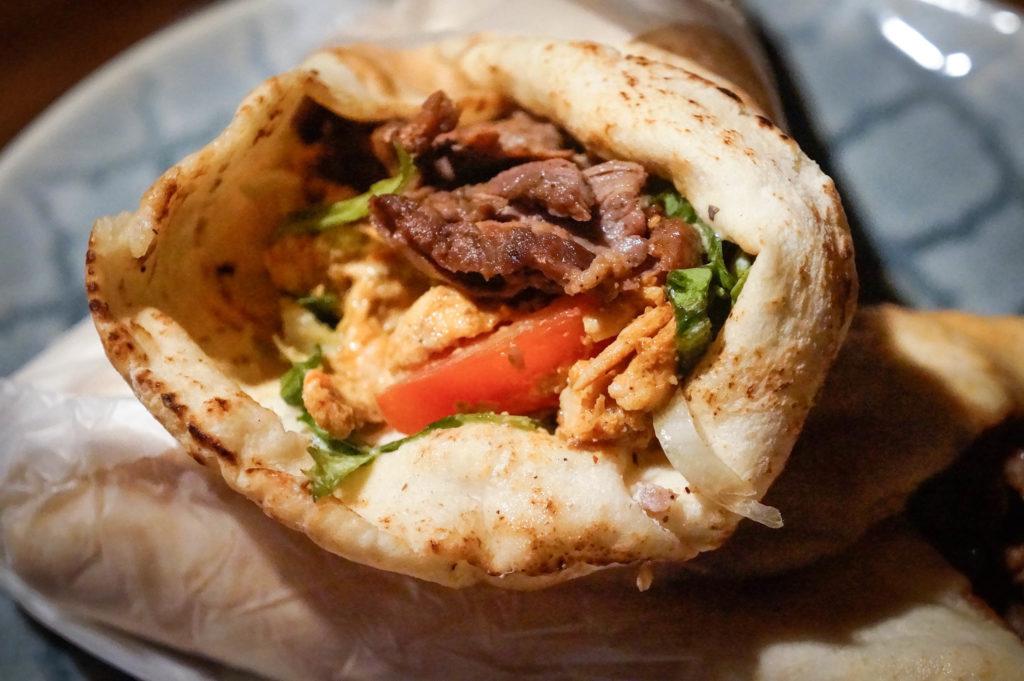 You can order the chicken or beef, or if you're feeling adventurous, the good old mixta. Above, you can see the mixed chicken and beef shawarma all wrapped up and ready to go.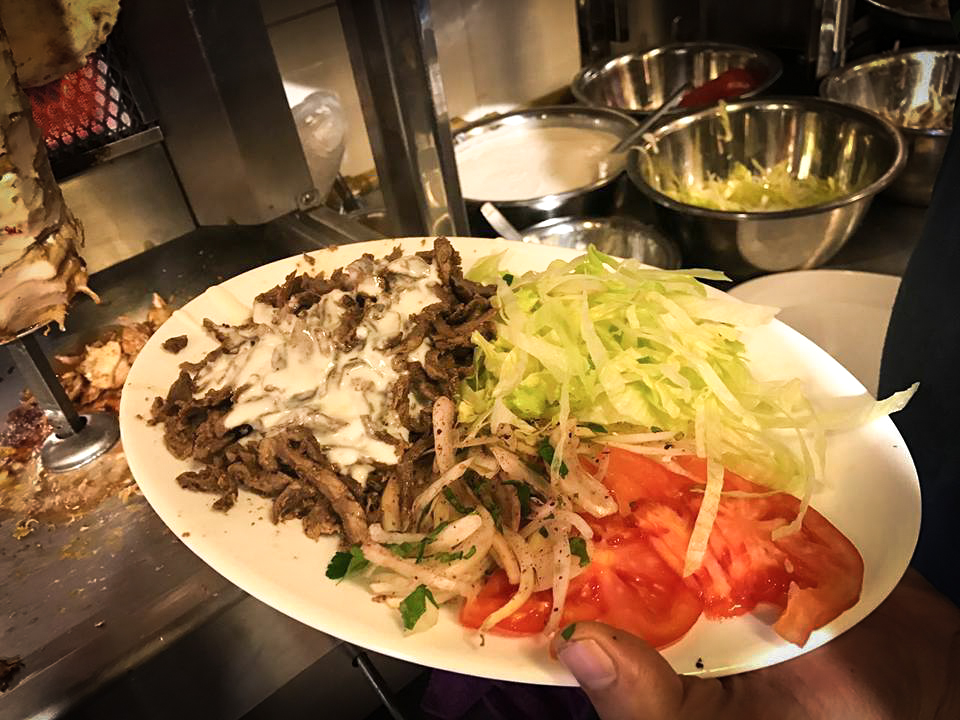 This is the shawarma al plato AKA shawarma on a plate. The platter portion is bigger than the shawarma wrap, and costs about $40 pesos more. A deconstructed shawarma, take that Ferran Adrià.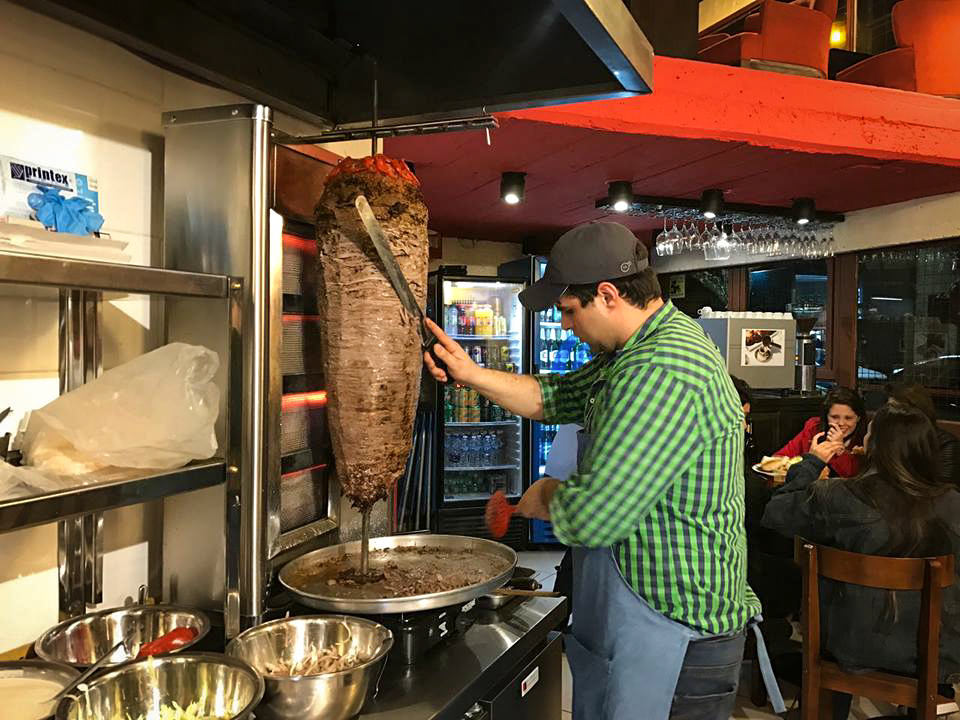 Please note the double-handed pat your head and rub your stomach carving technique. The right hand carefully carves vertically while the left spatula circles around to crisp up the fallen pieces.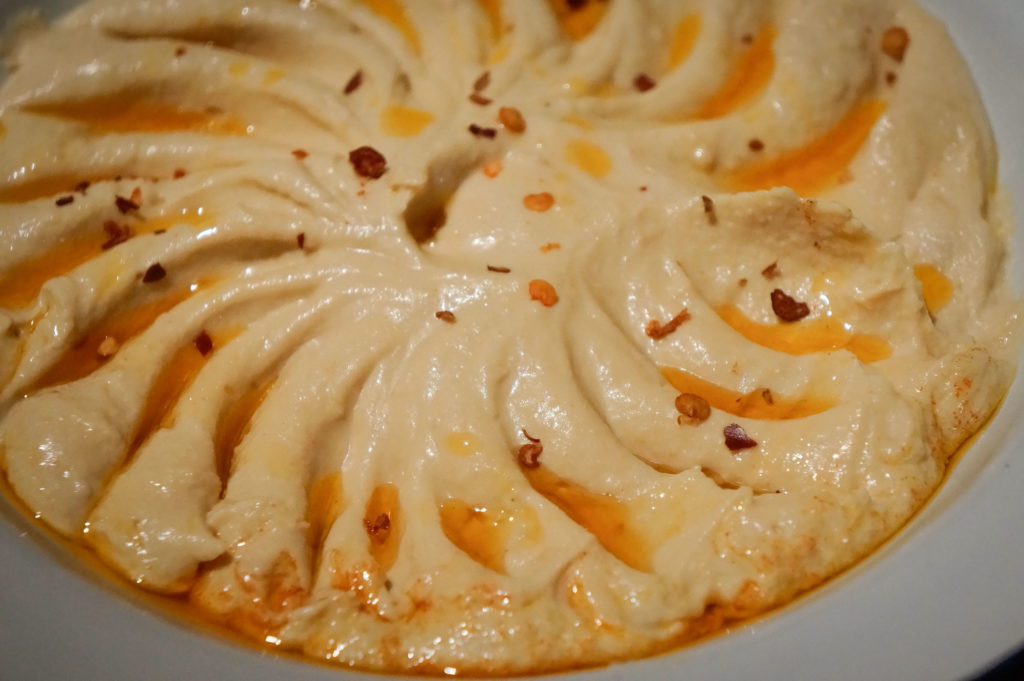 Hummus isn't truly hummus without tahini. Often times at Buenos Aires restaurants, expensive tahini (sesame paste) is substituted with sesame oil or even peanut butter (the horror!). A few months ago I finally found my favorite hummus at Mishiguene Fayer, a beautifully presented dish of bright pink beet hummus with toasted almonds, pickled beets, thick yogurt and a soft-boiled pink egg. It's divine and made my hummus dreams come true. The only downside? It costs over $150 pesos. Al Árabe's hummus at $60 pesos is something I could dip into every day: a creamy texture with no chunky chickpeas, and bursting with bright lemon juice and bold tahini flavor. Pro tip: Request to hold the oil drizzle on top.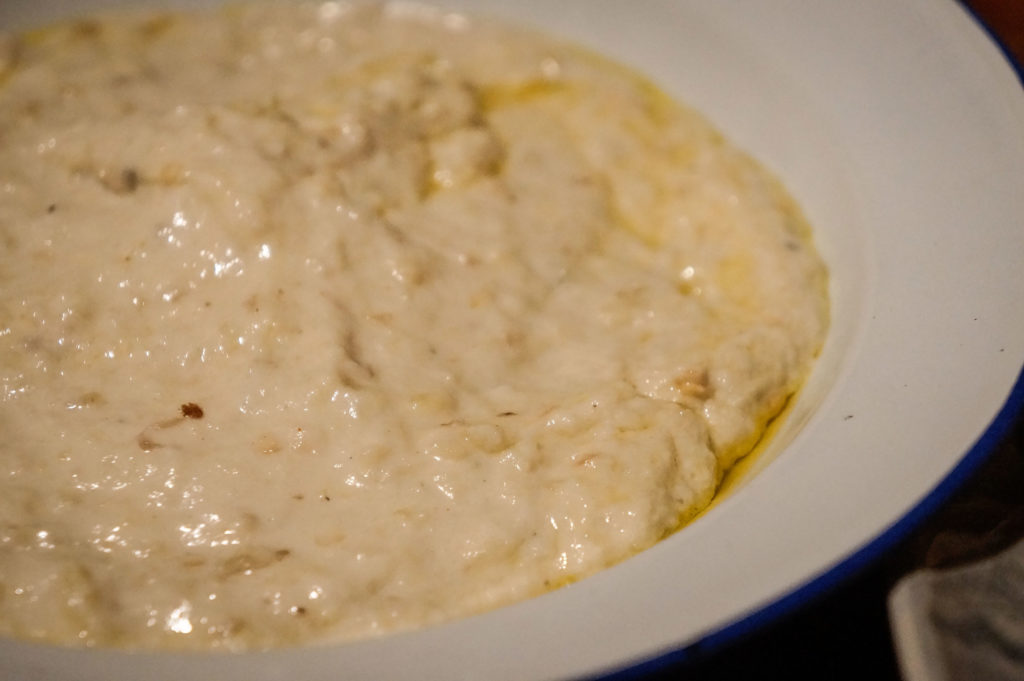 Ordering mtabal for the table would be a wise move. The Syrian eggplant dip is similar to what you know as babaganoush, but here, the grilled or smoked eggplant is mashed up and mixed with yogurt, garlic, tahini and lemon juice. An absolute delight.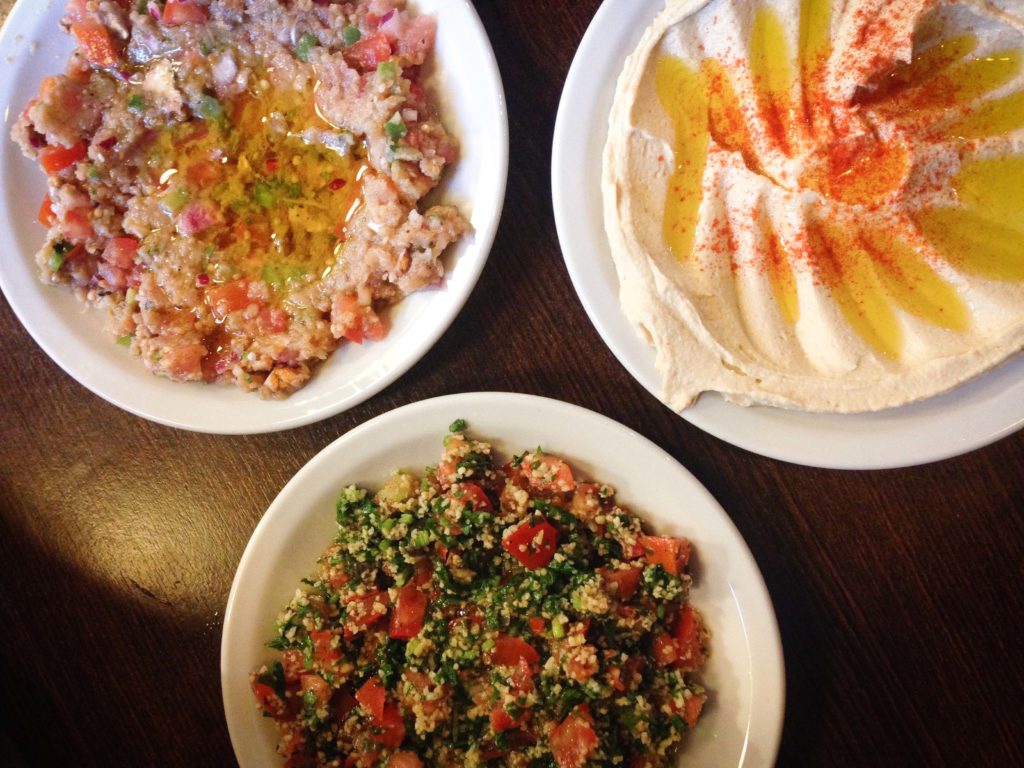 The babaganoush at Al Árabe (top left) is more like an eggplant caviar salad. Smoked eggplant is chopped up with fresh tomatoes, onion, and green pepper. Falafel fanatics should also know that the fried garbanzo flour balls are the real deal.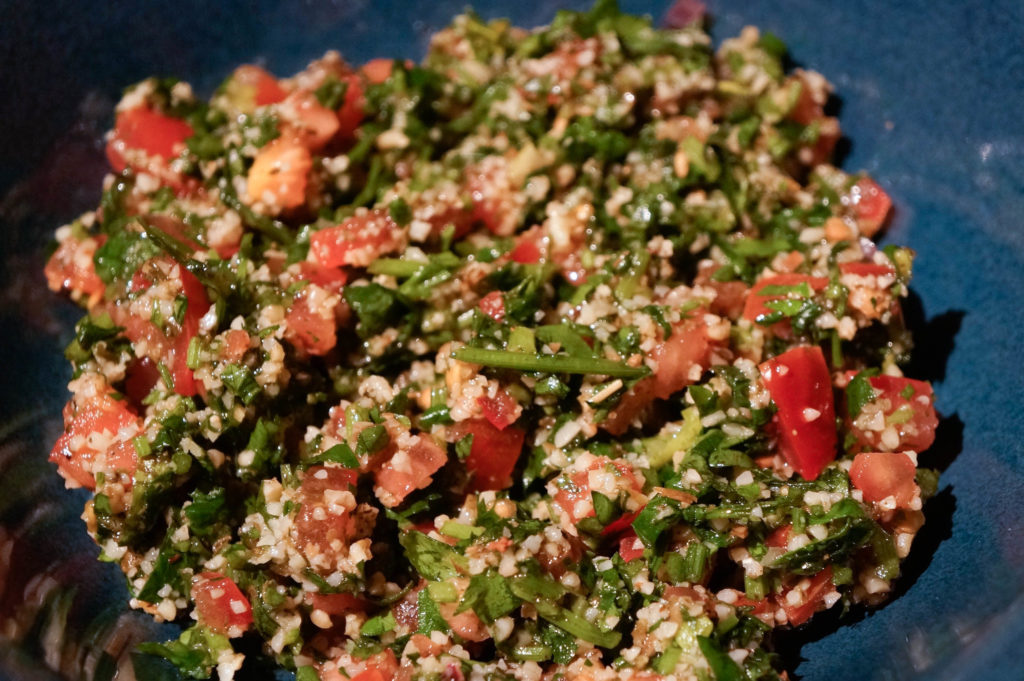 It never hurt anybody to have an extra portion of tabbouleh around. The bulgur wheat salad is mixed with loads of fresh parsley, green onion, tomatoes, mint and generously seasoned with lemon juice. The only dish I wouldn't repeat: chicken with rice and almonds. Ever bite down on whole cardamom pods? It's not pleasant.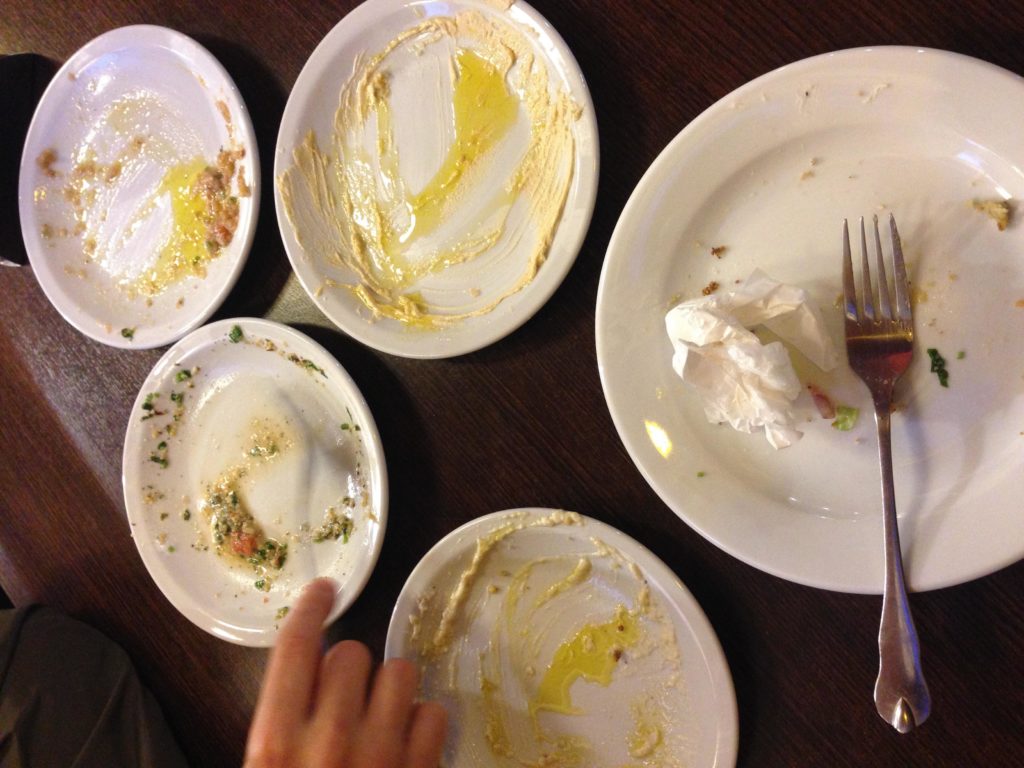 In a matter of minutes, all the mezze plates –hummus, babaganoush, mtabal, tabbouleh, shawarma and falafel — were gobbled up, devoured, and intensely craved the day after. And exactly 24 hours later, I ordered again, this time delivery, and Al Árabe arrived to my doorstep in under 30 minutes.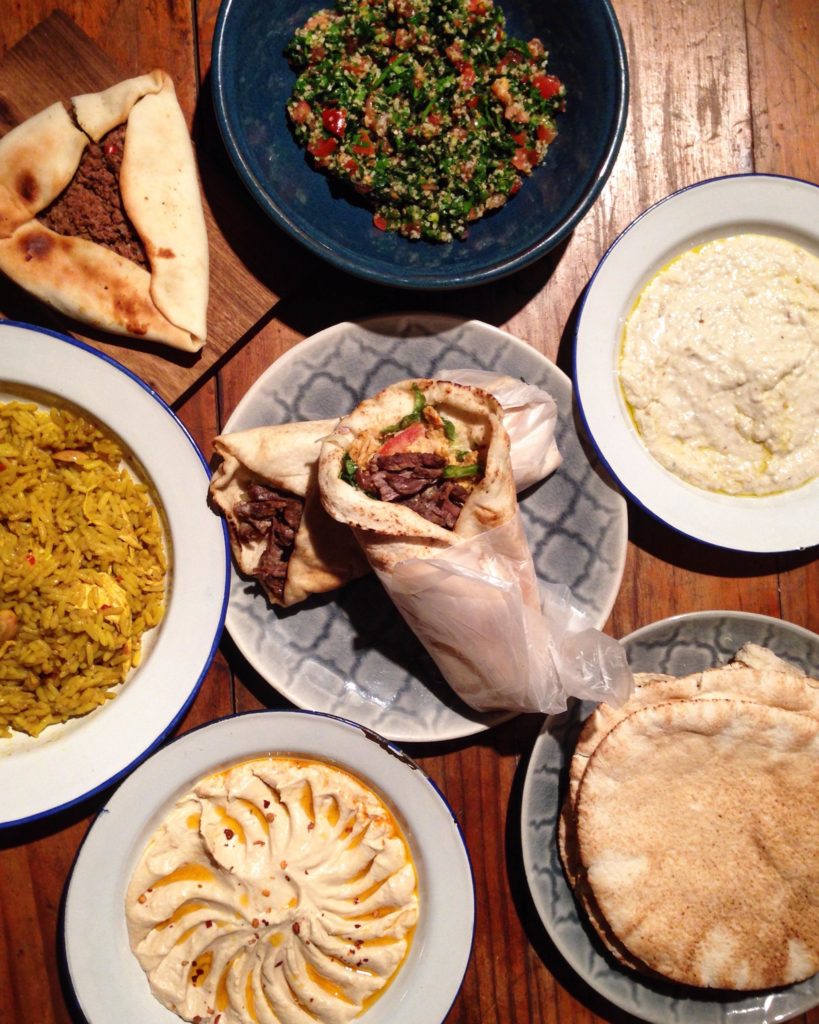 Al Árabe
El Salvador 4999, Palermo Soho
Tel 4833-0219
Sunday-Thursday: 12pm-12am, Fri & Sat: 12pm-2am
*Delivery to the area
Facebook / Instagram
Average price: $150 pesos
Comments