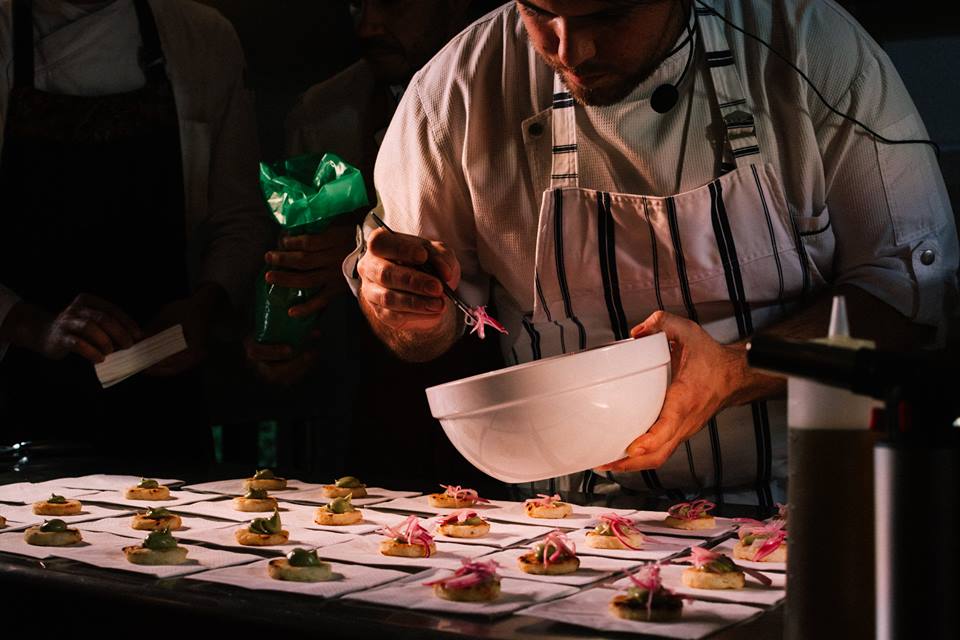 Big names in the Latin American culinary scene touched down in Uruguay's exclusive beach town for one of the most anticipated gastronomic festivals of the year: Punta del Este's Aromas y Sabores. In its eleventh year, chefs and bartenders from Uruguay, Argentina, Colombia, Spain, and Chile came to participate in a three-day event of cooking classes, seminars, tastings, and visits to the region's best restaurants.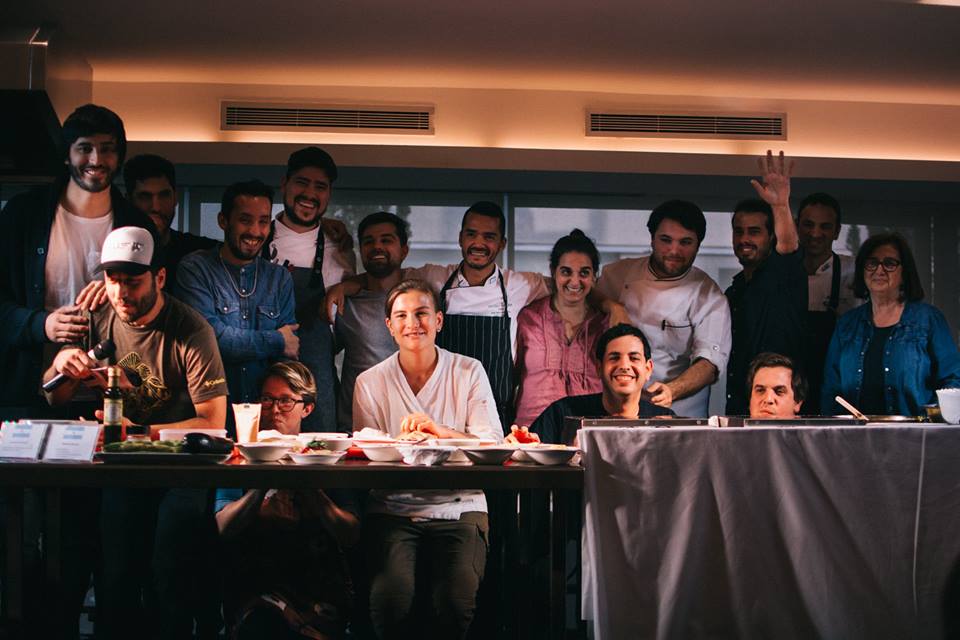 Punta del Este's Gastronomic Corporation invited chefs on the rise like Augusto Mayer and Leo Lanussol of Proper in Argentina, Gustavo Sáez of 99 in Chile, Juan José Carmona of El Lago in Spain, Santiago Maciás of I Latina in Argentina, Matías Palomo of Sukalde in Chile, Mariano Ramon of Gran Dabbang in Argentina, and Campari's Ambassador bartender Sebastián Atienza. It also featured local chefs like María Elena Marftetán from Lo de Tere and Federico Desseno of Marisimo and La Cantina del Vigia.
THE COOKING DEMONSTRATIONS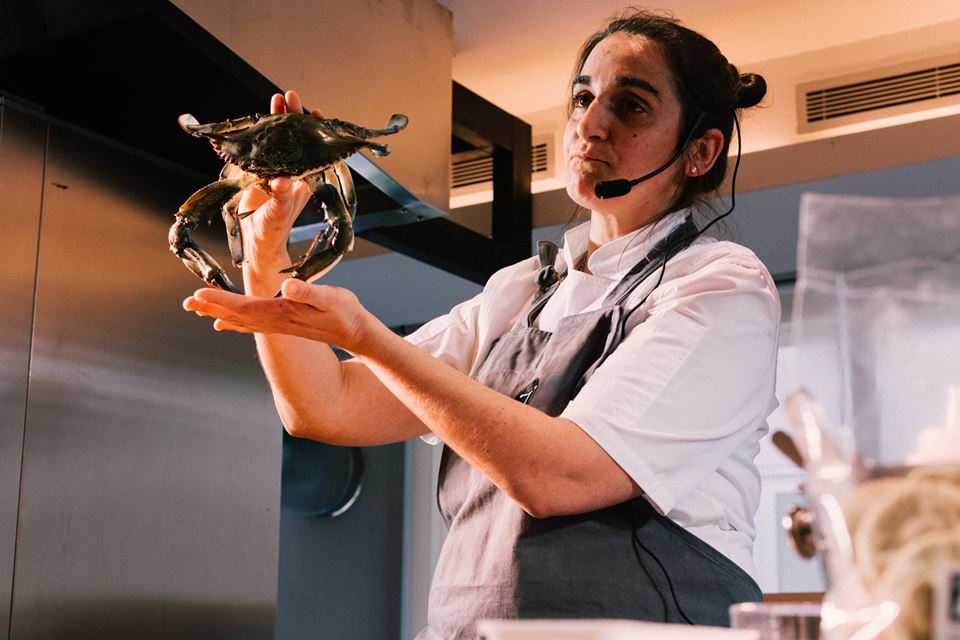 The family beachside restaurant, Lo de Tere, a Punta del Este culinary institution, has served loyal meat-eating customers for years. But with the help from visionary chef María Elena Marfetan, Lo de Tere is at the forefront to change the Uruguayan diet from carnivorous to pescatarian. At Aromas y Sabores, chef Marfetan spoke about the fishing communities and the importance of using local ingredients that come from the sea, like siri, a blue crab from Rocha, an area just outside of Punta del Este. Marfetan, along with other prominent chefs, organize multiple events across the country to promote the artisan fishing industry. One major festival, Aquí se pesca, aquí se cocina, or Here we fish, here we cook, brings together cooks and local fisherman to highlight all of the natural wonders from the Uruguayan coast. 
If you have ever eaten at 99 Restaurante in Santiago, you probably already know not to skip dessert. Award-winning pastry chef and owner of 99, Gustavo Sáez, showed pure technique and flavor demonstrating a series of recipes.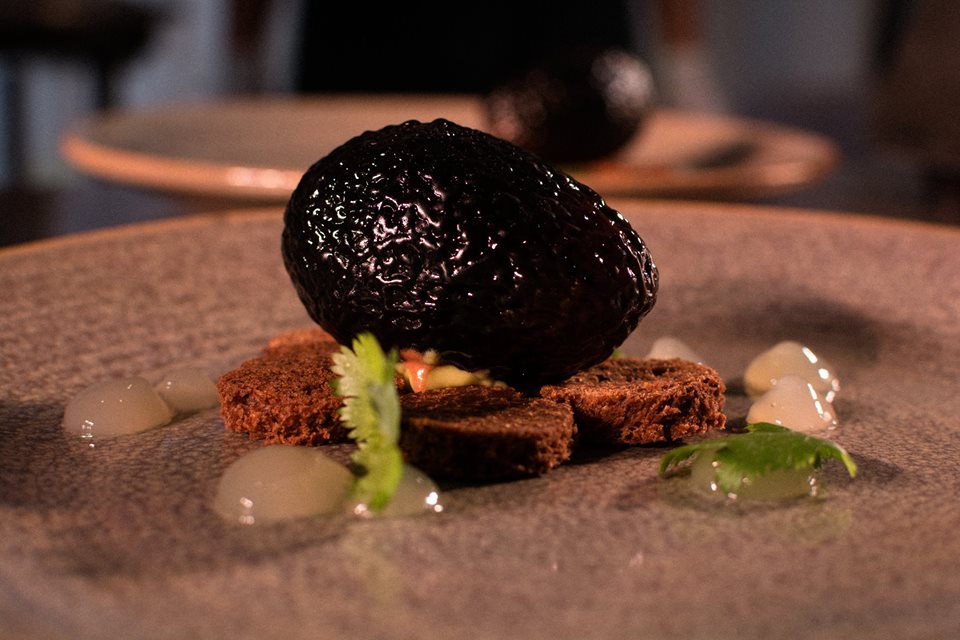 Pan con palta, the riff off of the popular Chilean avocado toast breakfast, contains chocolate avocado (made out of a plastic avocado shaped mould), avocado mousse, lime gel, and cilantro. An inventive and delicious dish that truly represents the local food tradition in a totally modern way. Sáez also made a creamy zapallo (squash) ice cream, that may have been the most delicious single spoonful of the entire weekend.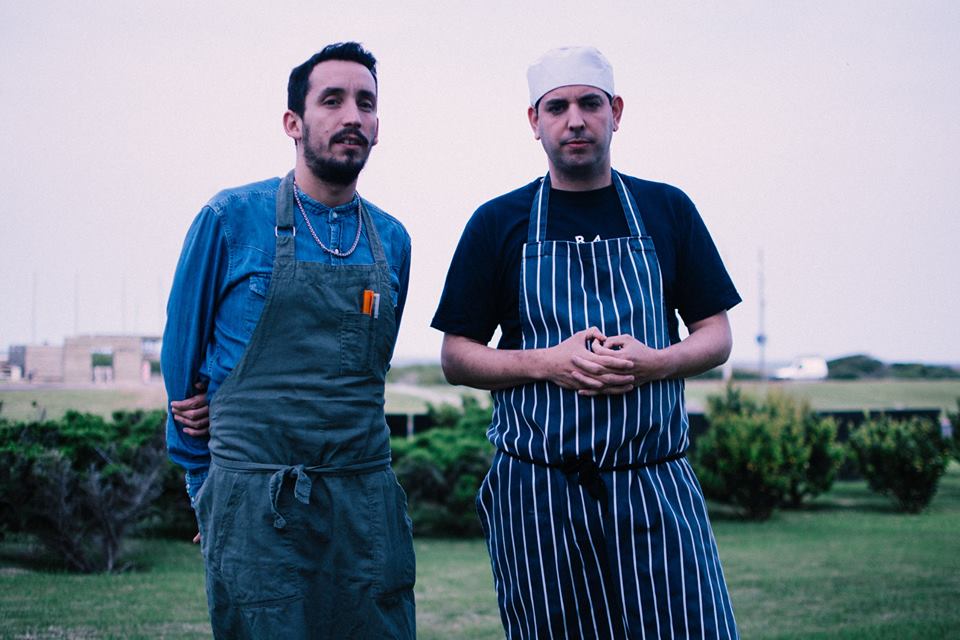 Chefs Mariano Ramon (Gran Dabbang) and Leo Lanussol (Proper) took their bromance to the stage for a Proper+Dabbang cooking class. Their message was simple: the only way for gastronomy to evolve is if chefs lose the ego and work together. "Proper and Dabbang are only a block away, so instead of acting as competition, we support one another," the chefs said. "When Dabbang is closed for vacation, we put a sign up on the door that says to go to Proper. And when Proper is closed, they tell their customers to go to Dabbang."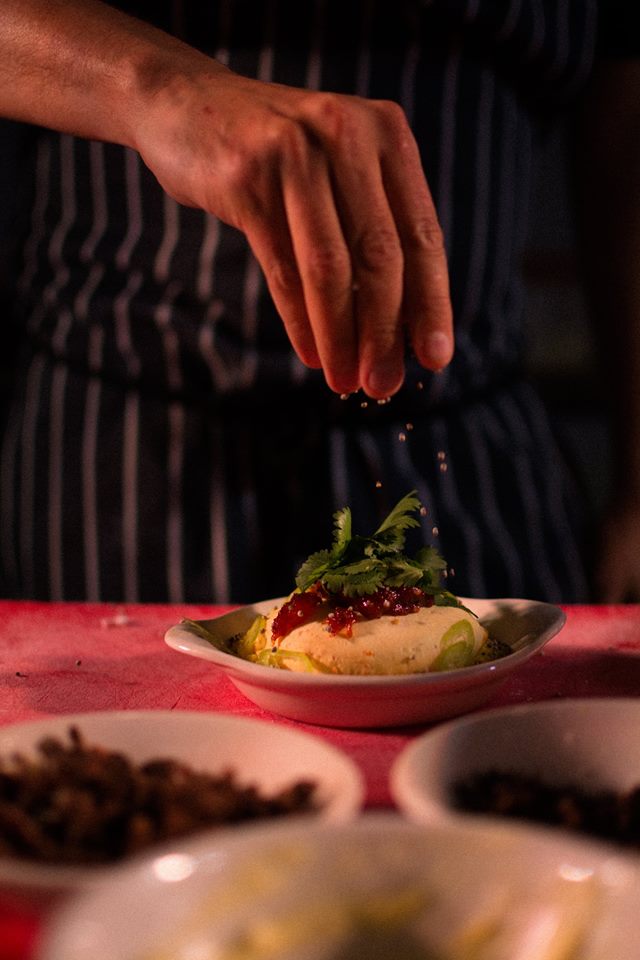 The two cooks each prepared several simple dishes, showing various versatile techniques that could be used in different recipes, like how to make homemade butter, chipá, pickled onions and spicy tomato chutney. The audience favorite? Ramon's chipá with cardamon and coconut milk creamed corn, spicy tomato chutney, and cilantro.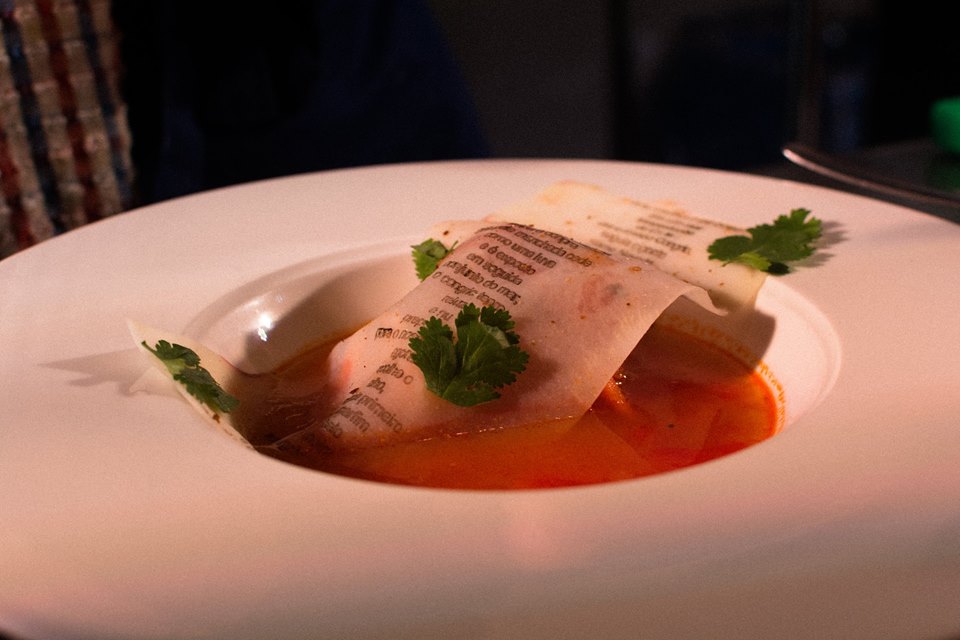 Matías Palomo of Sukalde demonstrated a series of Chilean recipes, where he gave each one a creative Chilean twist. Palomo prepared caldillo de congrio, a popular Chilean fish stew, and accompanied it with a poem by Neruda. The innovation? The poem was written on potato "paper" with squid ink, and completely edible (and delicious).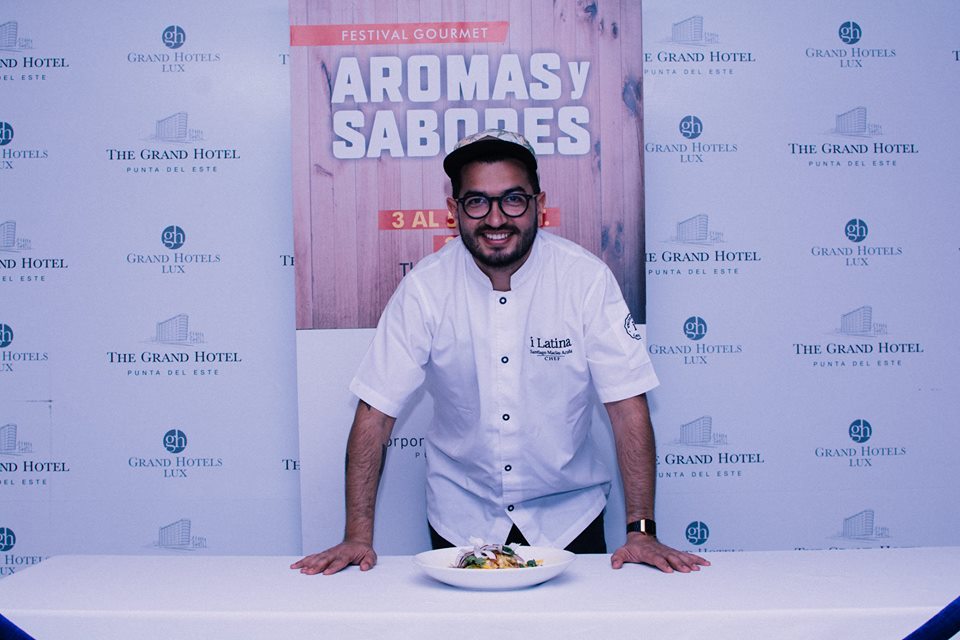 Santiago Macías, chef and owner of I Latina in Buenos Aires, brought flavors from Colombia and the Caribbean by using ingredients unknown to many of the culinary students, but available in Uruguay. Fried plantains, arepas, and a tropical ceviche were among the highlights.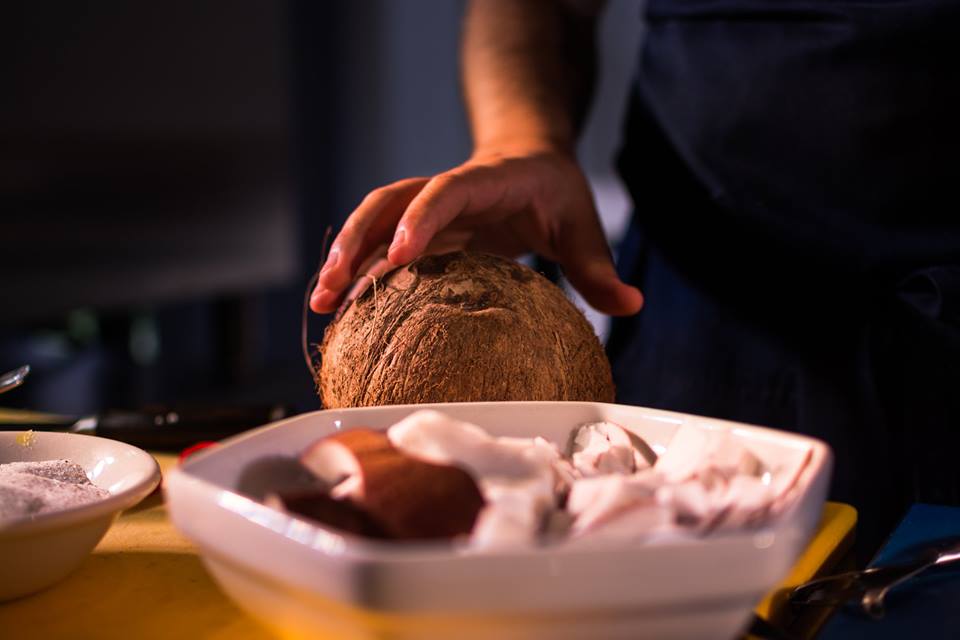 The hit: Barú-style fish ceviche with coconuts, mango, lychee, and shrimp.
GETTING TO KNOW PUNTA DEL ESTE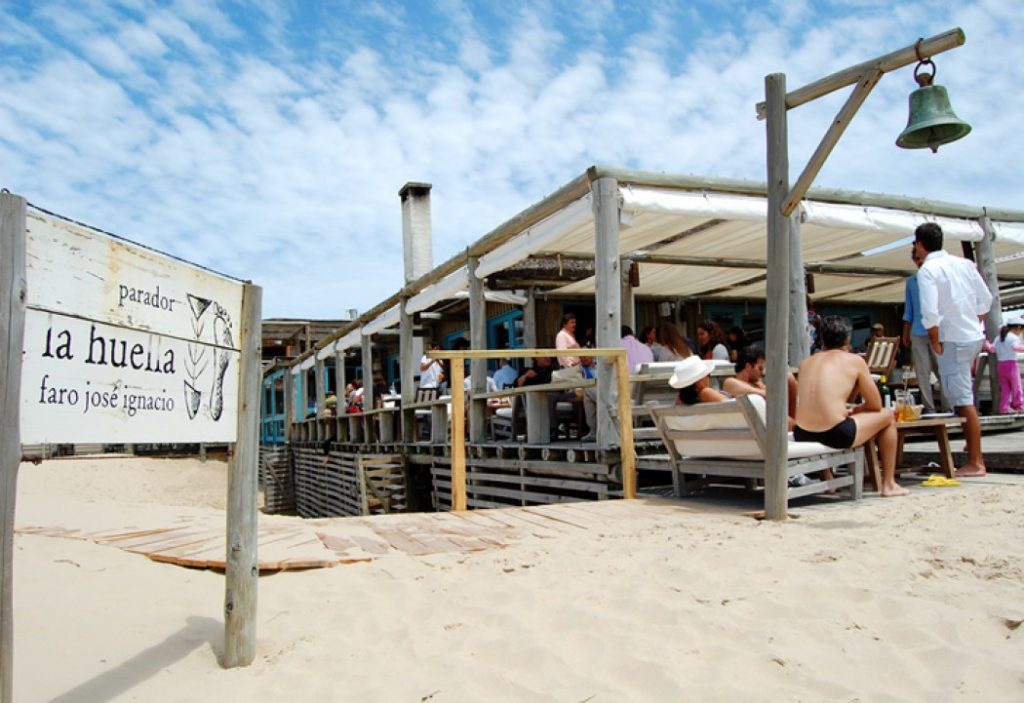 Beyond the daily seminars and cooking classes, invited guests had a chance to learn more about Punta del Este's budding restaurant and wine scene. The first night kicked off at Lo de Tere. Here, María Elena Marfetan's tasting menu represented the Uruguayan coastline using ingredients like blue crab, seabream, salicornia, and algae. Gastón Figún, sommelier and member of the Punta del Este Gastronomic Association, chose local Uruguayan wines for all the festivities from wineries like Bodega Garzón and Viña Eden. Other visits included a mega asado at the incredible Playa Vik in José Ignacio, a multi-course feast featuring roasted bone-marrow, caviar egg, and octopus at Gastón Yelicich's Cuatro Mares, and the rustic Cantina del Vigía for a spread of wood-fired seasonal dishes. The closing lunch? No visit to the Uruguayan coast is complete without a trek to José Ignacio and a chance to eat at what might be possibly the most quintessential beachside restaurant, La Huella. While the kitchen brought out nearly every dish on the menu — empanadas, grilled fish, tiraditos, homemade pizzas, grass-fed beef, pasta, grilled vegetables, fried calamari — the chefs wanted one thing: the entire sushi bar.
Aromas y Sabores Festival 2017, Punta del Este
For more information about Aromas y Sabores, and other Punta del Este food festivals, contact the Corporación Gastronómica de Punta del Este.
Photos by Juan Manuel Real
Comments