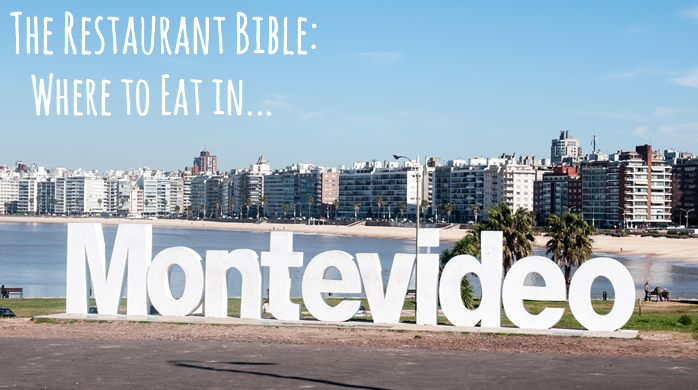 If Montevideo isn't on your radar as a Latin American food destination, it totally should be. The laid-back tranquilo city is stepping out of BA's shadow and undergoing their own mini food boom. While Uruguayans still share an inherent love for pasta and parrilla, many are beginning to open their minds to a new world of flavors. We all need a Porteño vacation once in a while, so skip the Buenos Aires to Colonia visa run and check out the exciting food happenings in Montevideo.
ESCARAMUZA – Dr. Pablo de María 1185, Cordón
Take a beautiful bookstore, add a secret garden terrace, bring in talented chefs who cook delicious comfort foods, and what do you get? Escaramuza! Brought to you by the owners of the Architectural Digest-worthy Eterna Cadencia librería in Buenos Aires, Escaramuza makes you want to spend your afternoon sifting through the book collection before relocating to the backyard patio for a leisurely lunch.
JACINTO – Sarandi 349, Ciudad Vieja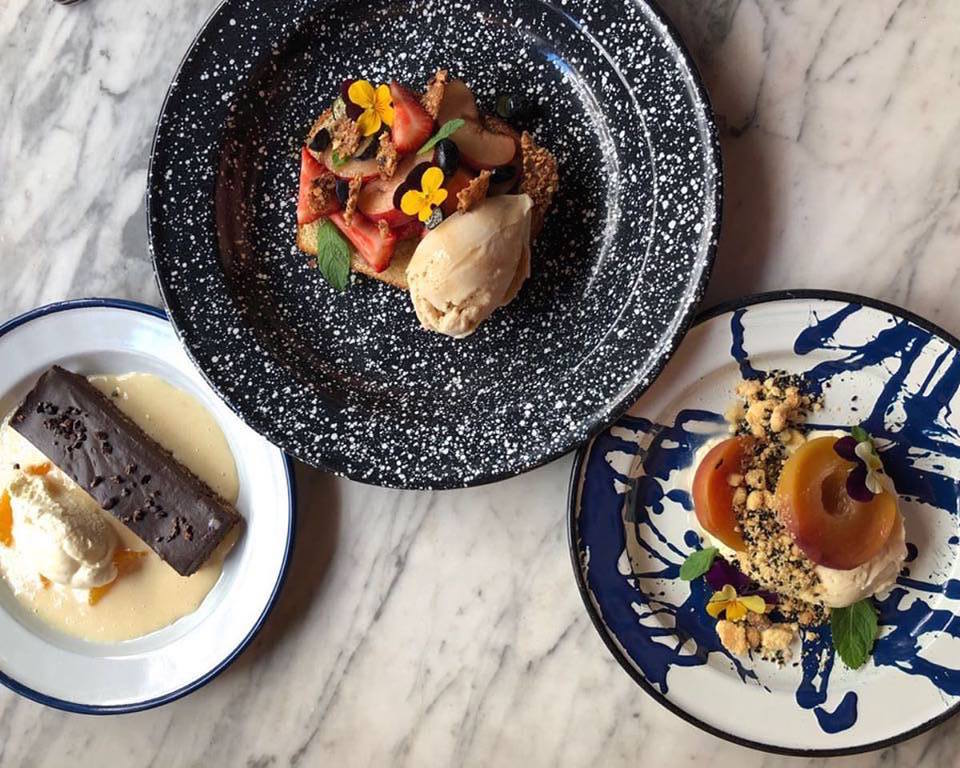 This longstanding Ciudad Vieja restaurant has been a pioneer in the Montevideo culinary scene. Chef/owner (and Masterchef judge) Lucía Soria knows her way around a kitchen and alongside a crew of young talented chefs, creates lunch, merienda, and dinner menus packed with simple, seasonal ingredients. A must visit. (Ph: Jacinto)
LA FARMACIA CAFE – Cerrito 550, Ciudad Vieja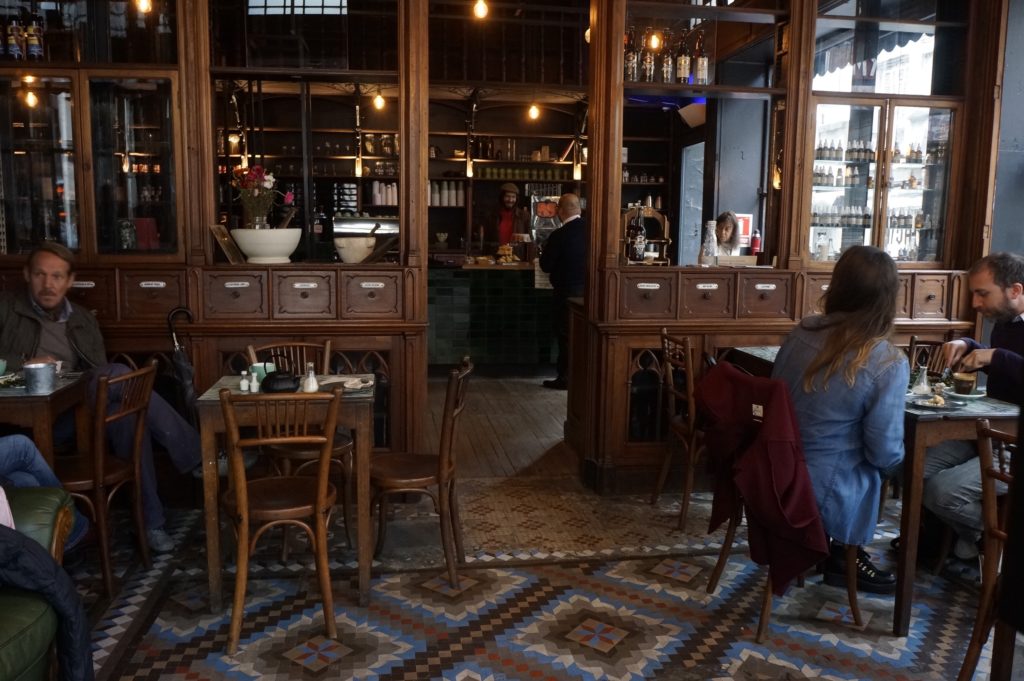 An antique corner pharmacy goes out of business, but keeps its aesthetic, and re-opens as a specialty coffee shop — now that's what I call a modern-day culinary fairytale. From the tile floors that only exist in your dream house to the cleverly designed hanging tables, I started to swoon the moment I stepped inside La Farmacia. Then I tried the coffee and totally fell in love.
BAR AROCENA – Arocena 1564, Carrasco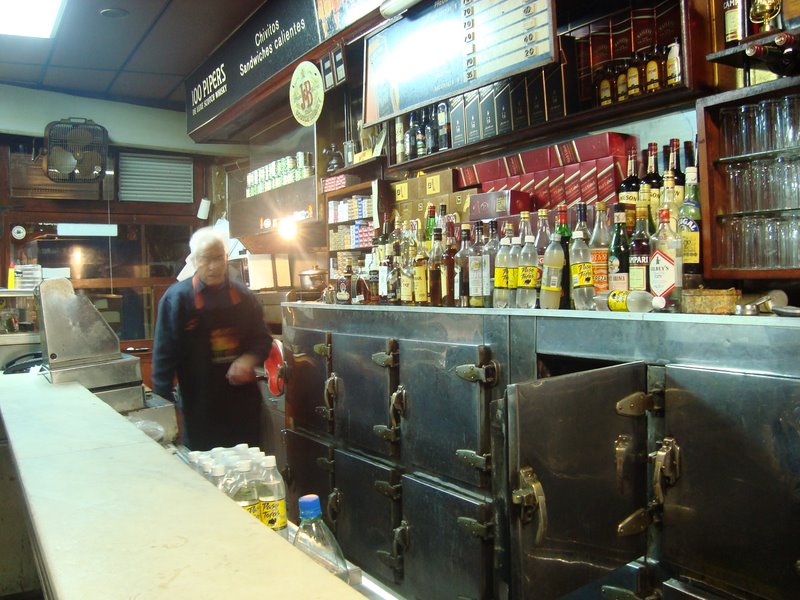 It's obligatory to crush a chivito in Uruguay. So it makes sense to try it at the alleged birthplace of said steak sandwich. Old school style Bar Arocena, which first opened in 1923, brings us chivito royalty decked out with thin tender steak, cheese, ham, bacon, mayo, fried egg, and lots of history. Make sure to also order a portion of papas fritas. Crucial info: Bar Arocena opens 24 hours. Crucial <related> info 2: Smoking marijuana is legal in Uruguay. (Ph: Chivitour)
CLUB DEL PAN – Pablo de María 899, Parque Rodó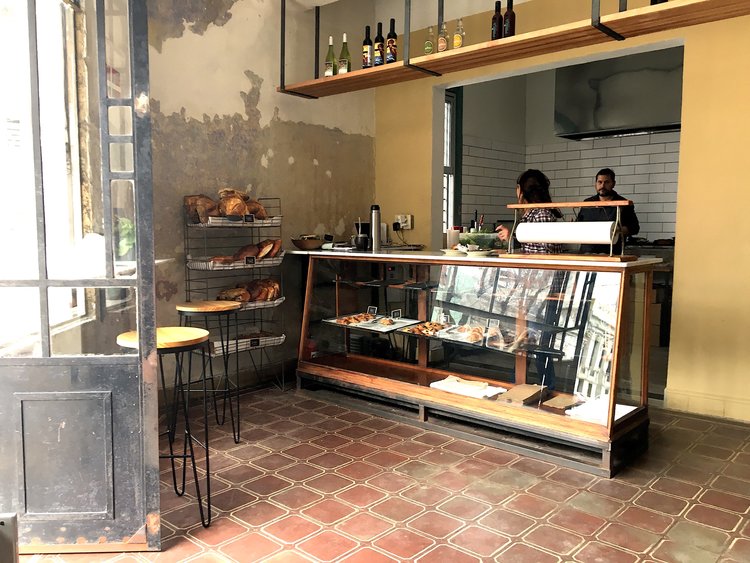 I tried awesome sourdough bread at several Montevideo restaurants, and whenever I asked where it came from, the answer was the same. Club del Pan is a tiny corner bakery revolutionizing the ways of bread in Uruguay. Pick up a loaf, a sheet of focaccia, croissants or a sandwich and eat it on the front stoop or take it home for later. (Ph: Colchón de Verdes)
CAFE GOURMAND – Constituyente 1869, Cordón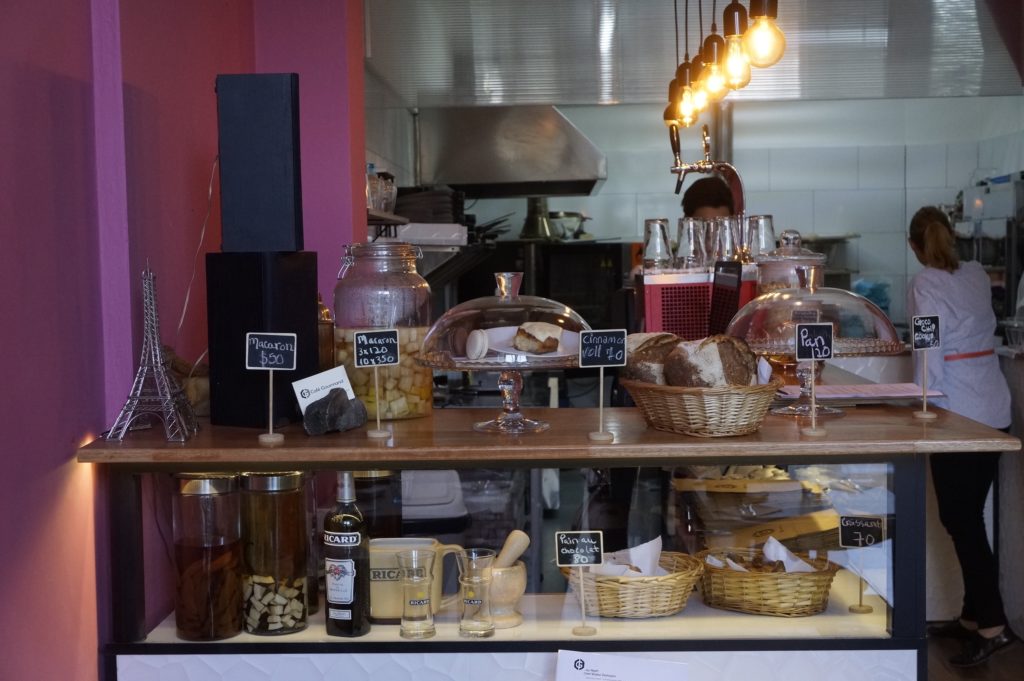 Café Gourmand is the type of place you want in your neighborhood. The small café owned by an expat couple serves excellent French pastries, freshly baked bread, coffee, and a Saturday brunch with dreamy eggs Benedict. For lunch, Tuesday-Friday, chef Grégoire whips up a different special, think anything from carnitas to Philly cheesesteak to homemade pastas.
TOLEDO BAR DE TAPAS – Cerrito 499, Ciudad Vieja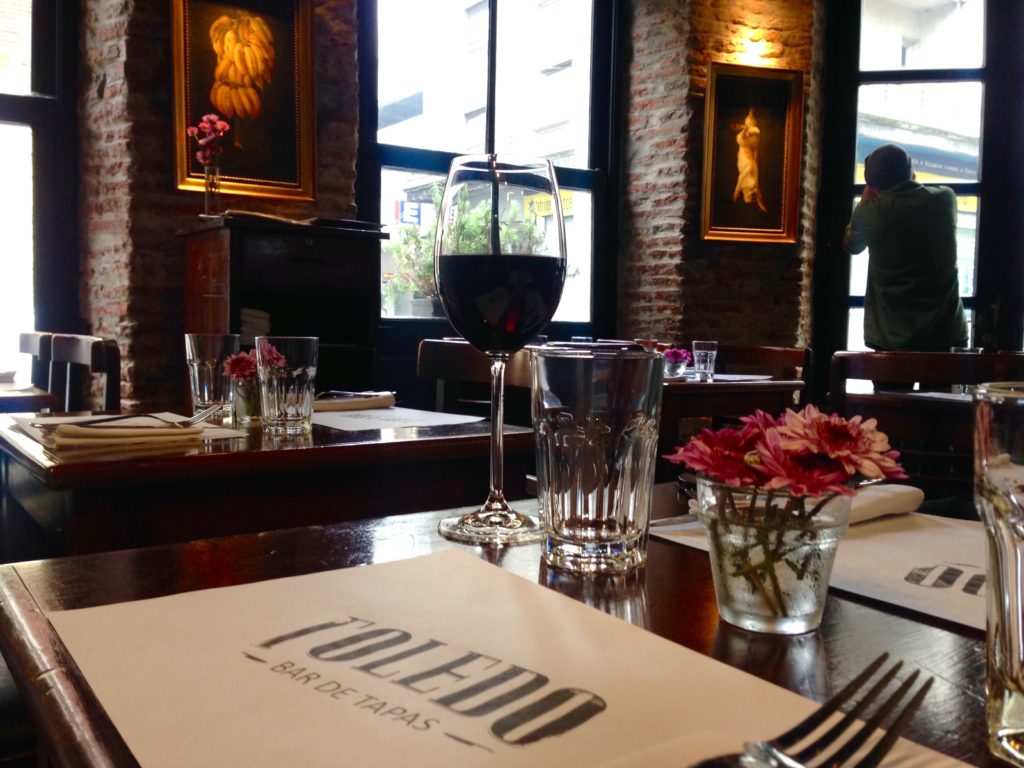 Montevideo is all about the tapas. A mixture of Spanish influenced dishes and small plates come together to form a citywide food trend. On a charming corner in Ciudad Vieja, brick-exposed Toledo stands ahead of the rest, preparing stellar renditions of oozy tortilla española and slow-cooked egg with mushrooms and truffles. Hot tip: Hop up to the bar overlooking the open kitchen for the best seat in the house. Only open for lunch.
CEBOLLATI 1326 – Cebollati 1326, Palermo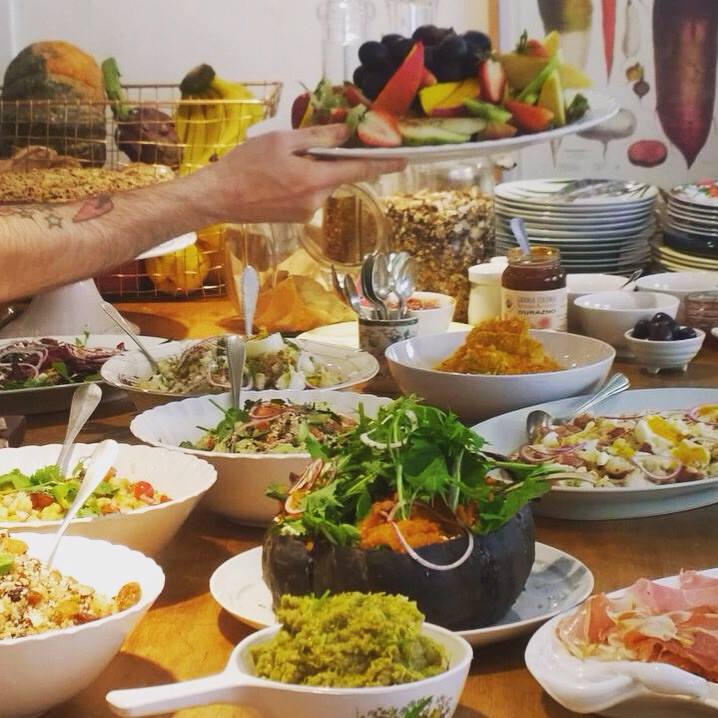 Brunch in Montevideo tends to channel an Ottolenghi-style spread with salads, fresh vegetables, cured meats and egg dishes. Cebollati, a hole-in-the-wall with tables pouring onto a quiet sidewalk, opens Thursdays to Sundays and specializes in an ever-changing menu of healthy breakfasts, lunch, and brunch on the weekend. The system is unlike other restaurants — customers buy a ticket that gives them a fixed price three-course meal of their choice, drinks included. (Ph: Nuevos Atletas)
DEMORONDANGA – Dr. Mario Cassinoni 1200, Parque Rodó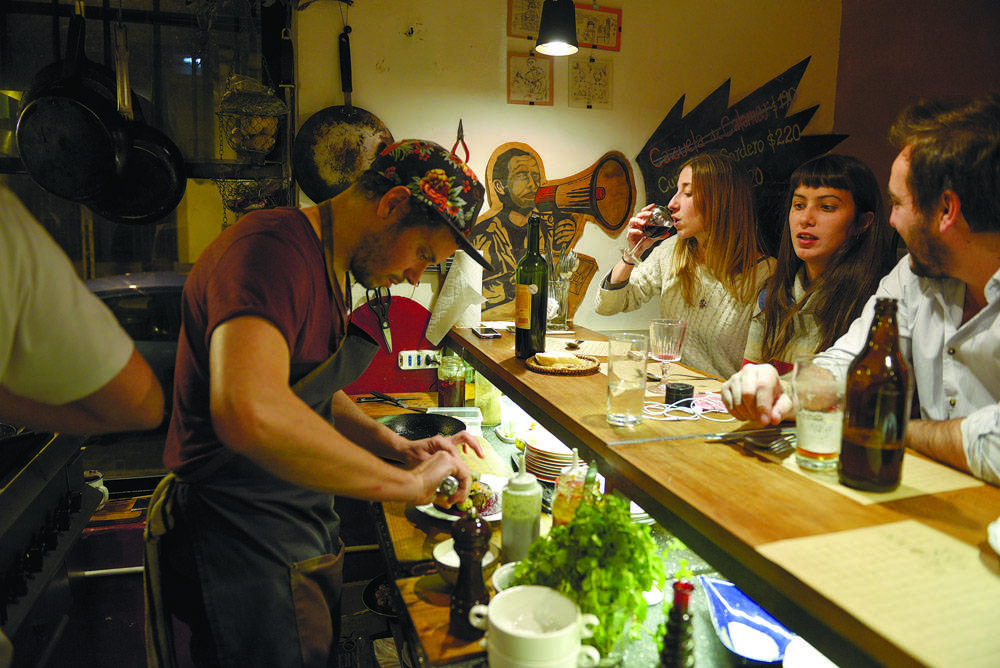 You don't need a spacious kitchen to make great food. Demorondanga is the perfect example of a younger generation of Montevideo chefs doing interesting things in tiny spaces. If you are lucky enough to find a spot at the laid-back bar, prepare for a night of flowing drinks and tapas dishes. (Ph: La Diaria)
*FUTURO REFUERZOS – Coming Soon Inside Sinergia Food Spot – World Trade Center, Buceo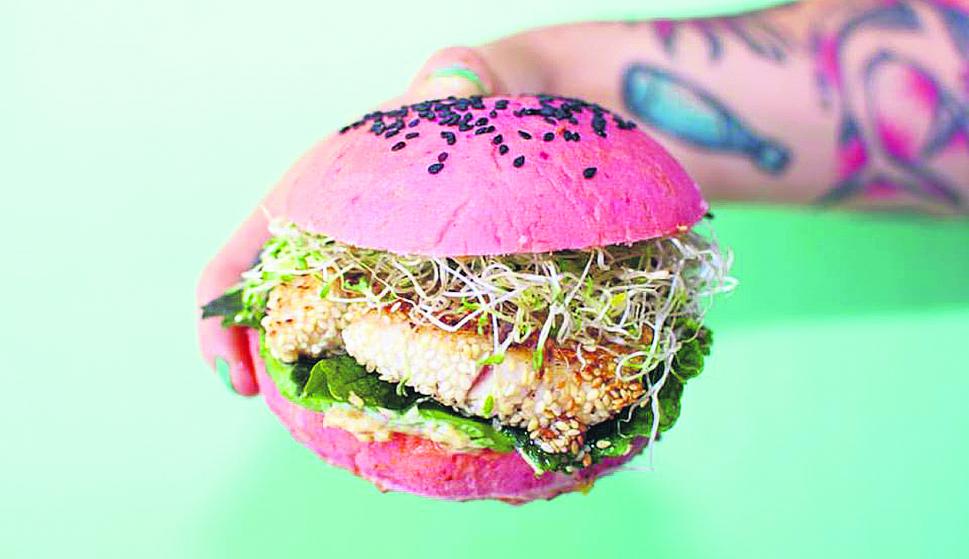 A good sandwich shop is an essential part of any city. The refuerzo, a type of sandwich in Uruguay, gets a modern twist at this new wave joint soon to be moving to the Sinergia Food Spot at the World Trade Center. (Ph: Alvaro Gargiulo Cor)
BAKER'S BAR – Pablo de María 1198, Cordón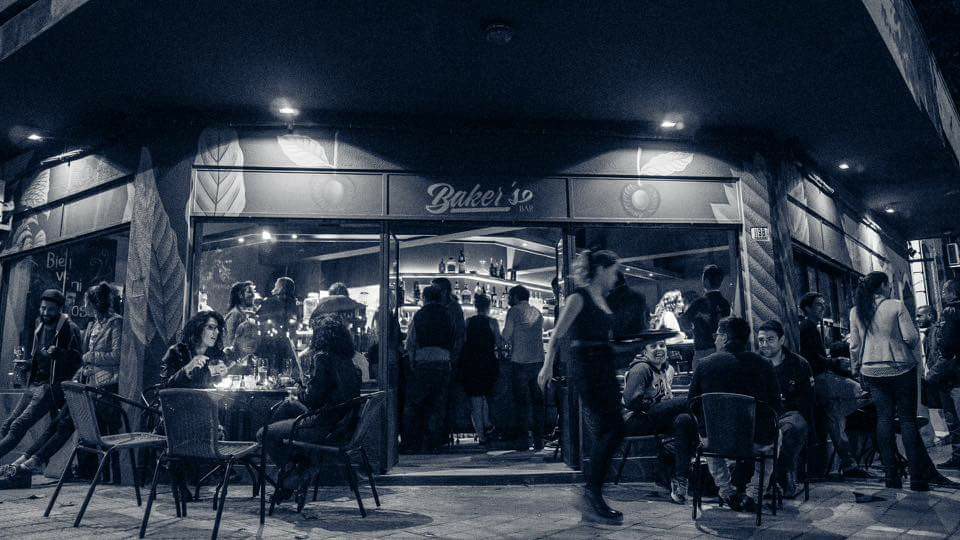 Looking for an excellent craft cocktail in Montevideo? Baker's is the (only) place for you. In a scene overridden with simple sweet drinks and beer, this bar entices with a unique propuesta. Try the house specialty ideal for summer, Me Mataste, with Aperol, white wine, ginger syrup, orange juice, passionfruit and soda water. (Ph: Baker's)
EL PALENQUE @ MERCADO DEL PUERTO – Piedras 237, Ciudad Vieja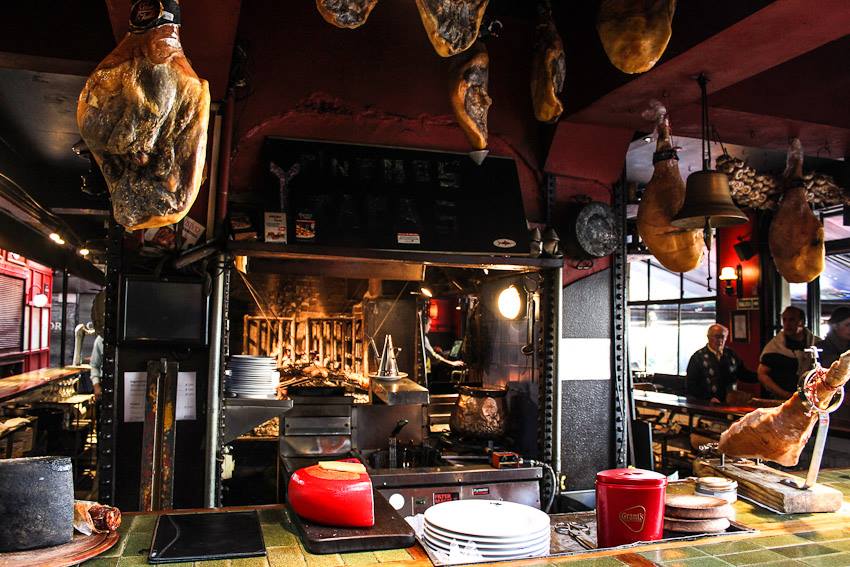 I know we are all looking for off the beaten path, true, authentic, local experiences these days, but sometimes it's okay to be a tourist because guess what? We are! You can smell the meat smoke blocks away from the Mercado del Puerto, the infamous century-old market turned grill haven and tourist attraction in Montevideo's Old City. Most of the parrilla bars serve a similar array of grilled meats, but those in the know will choose El Palenque.
INMIGRANTES – Juan Paullier 1252, Cordón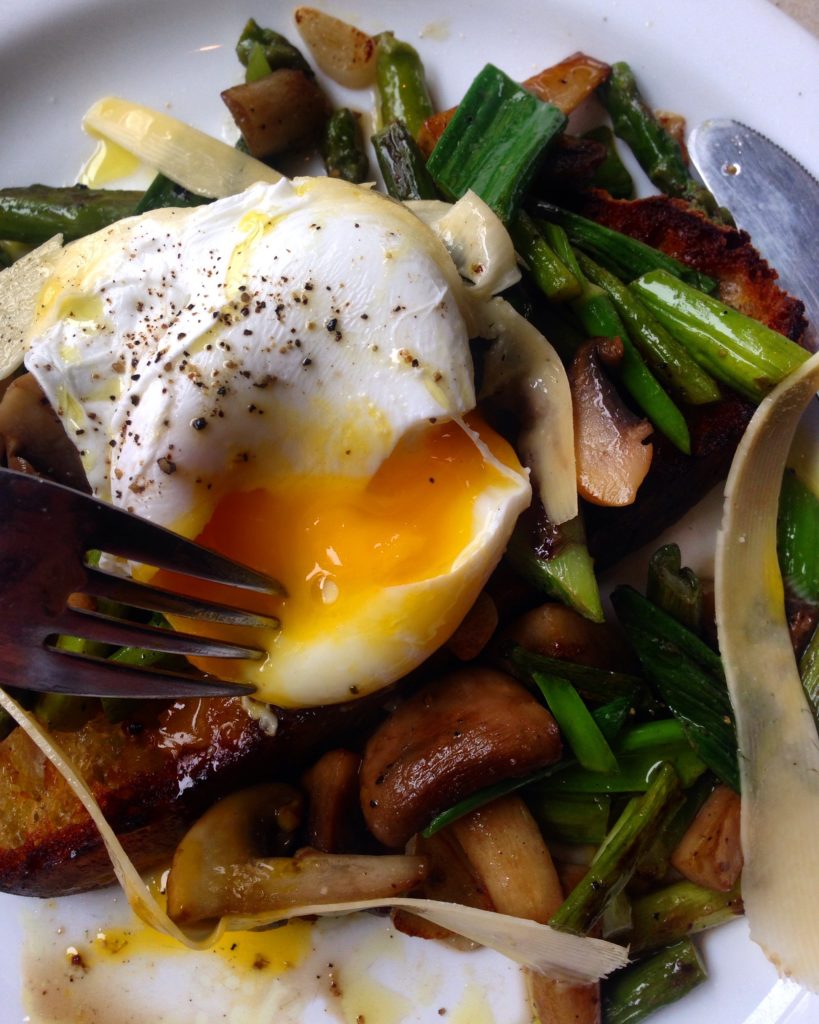 You know the type of restaurant where everything sounds so good it's hard to make important menu decisions? That's what happened to me at Inmigrantes, a brand new spot in Montevideo's up-and-coming Cordón barrio. It serves lunch and dinner and doesn't close between services, which is important considering it's hard to find restaurants open during siesta time. Try dishes like the sourdough (Club del Pan) toast with asparagus, mushrooms, and poached egg or the homemade fettuccine with sage butter.
Other restaurants that I didn't try, but come recommended by reliable sources: FOC, Tona, Manzanar, El Jardín in Zonamérica, Amorín, Estrecho, Myeong Ga Korean Restaurante, and Sante (I only tried the pumpkin cheesecake, but it transported me to Thanksgiving dinner).
WHERE TO STAY
HYATT CENTRIC MONTEVIDEO – Rambla República del Perú 1479, Pocitos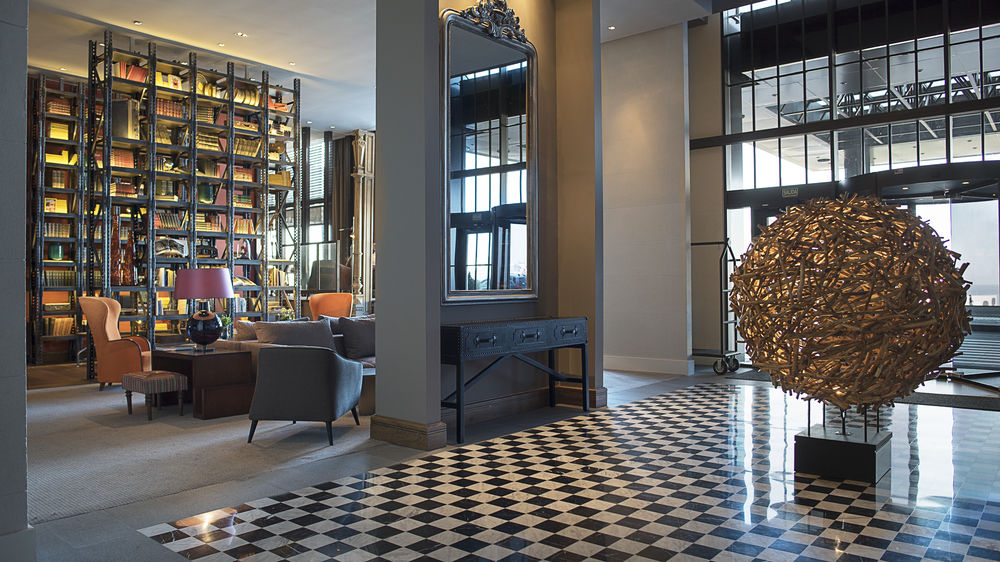 Hyatt hotel's new lifestyle concept hotel, Hyatt Centric, makes its debut in South America. Here, the comfortable smart hotel has great city and waterfront views, excellent amenities, and offers tons of affordable deals and rates. I could hang out in the lobby/reading room all day. Check out my complete review for Telegraph UK.
Looking for your own apartment or to share with others? There's always Airbnb.
WHAT TO BUY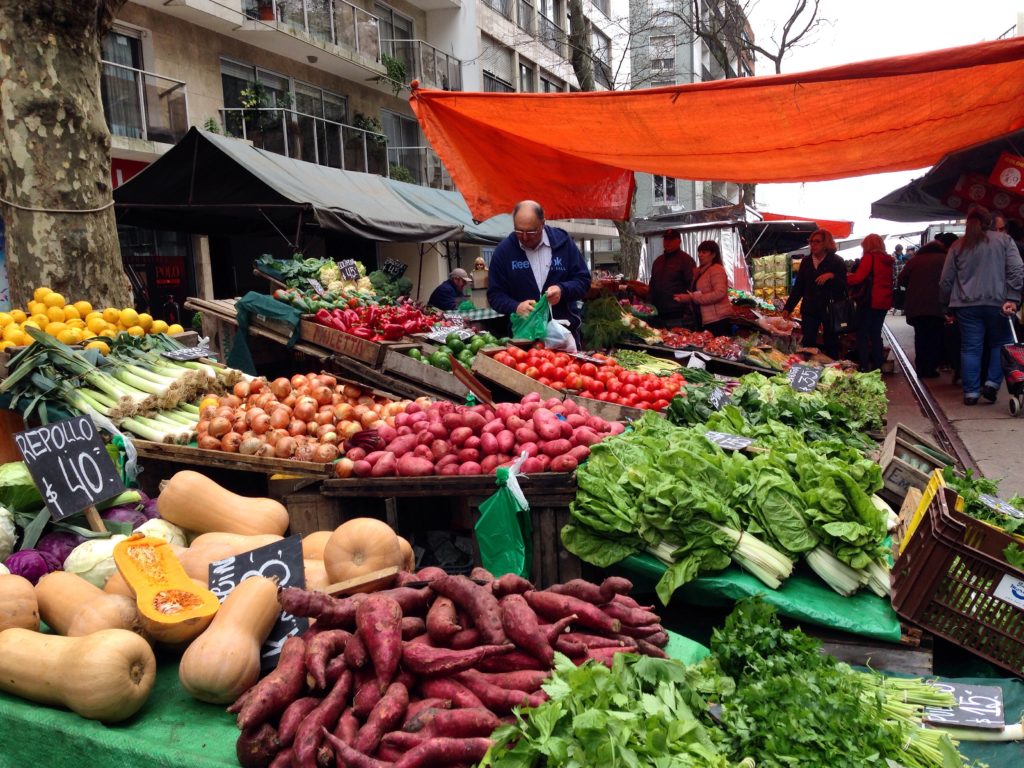 Whenever I visit a new city, my first stop is the produce market to get a sense of local ingredients. Anyone who loves a good open-air fruit and vegetable vibe should definitely hit up Montevideo's ferias vecinales, roaming markets that pop up daily in a different neighborhood across the city. I went to the Pocito's Friday market and it did not disappoint. Four blocks of pure ingredients, at great prices for Uruguayan standards. The best thing I picked up? REAL sweet potatoes (boniato zanahoria) that I smuggled across the border. Locked up abroad, yam edition.
ENAMELWARE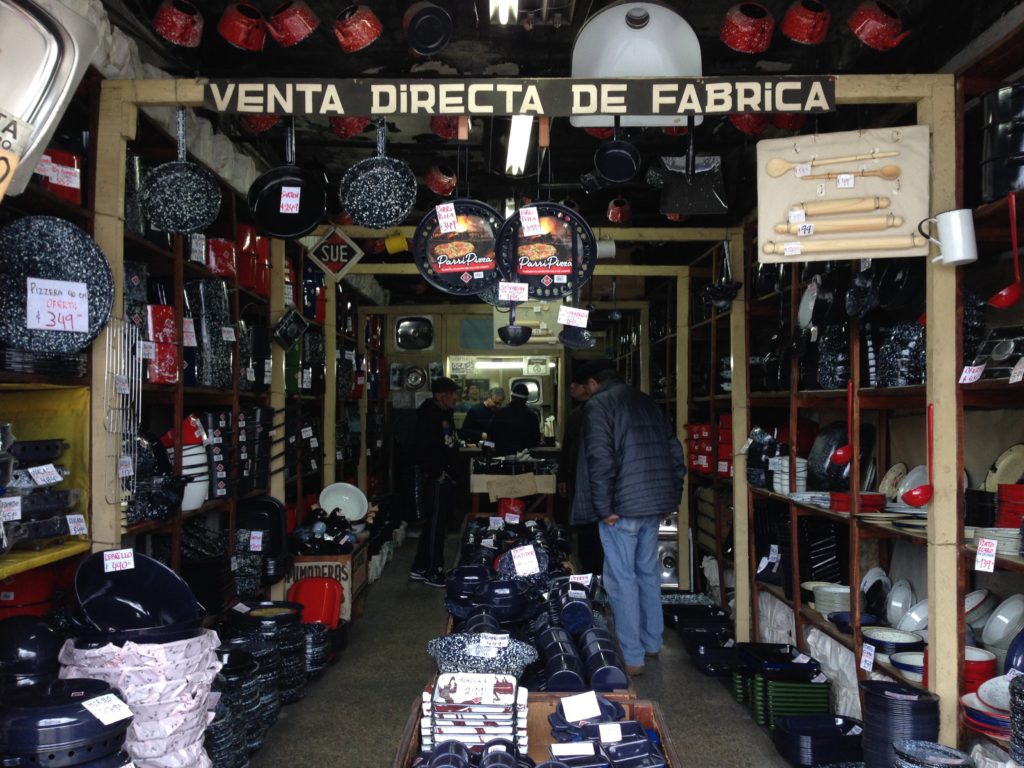 Granny chic is all the rage in Uruguayan restaurants and enamelware has come back in a big way. Bowls, plates, casserole dishes — all sorts of esmaltados are not only beautiful for plating, but are durable, affordable, and lightweight. Where to get it? Esmaltados SUE (8 de Octubre 3948), Sociedad Uruguaya de Esmaltado, or at Jacinto where chef Lucía Soria designed her own line of SUE.
MATE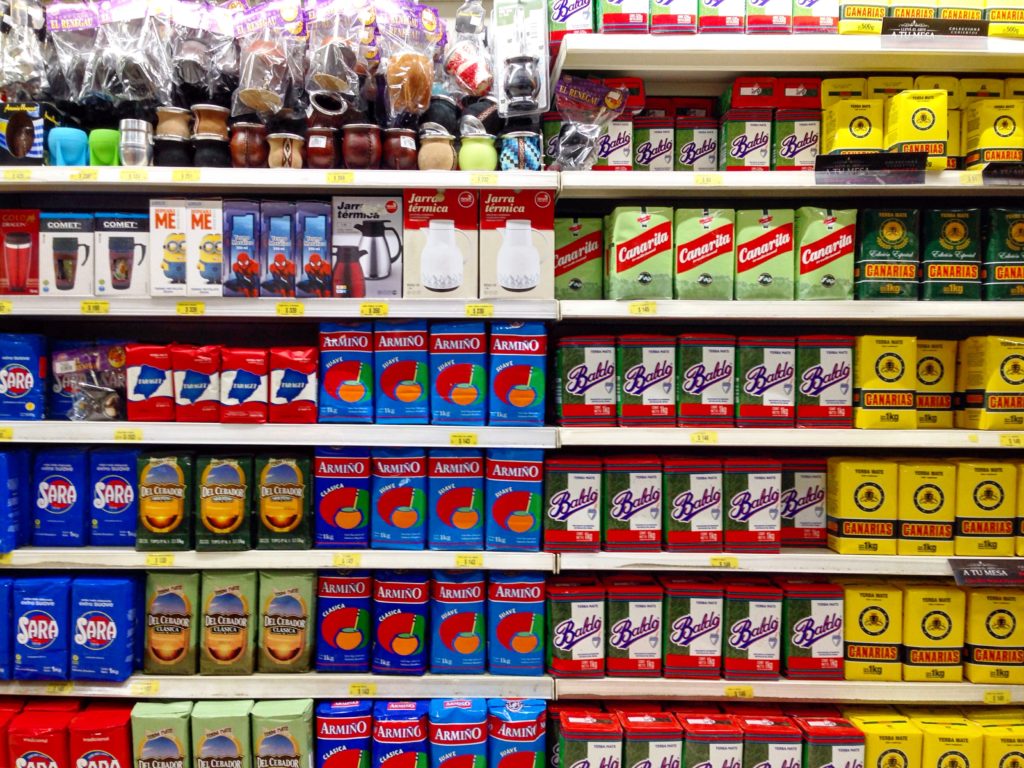 Uruguayans drink a whole lot of mate. Many carry around a satchel that comfortably fits a mate gourd, yerba, and thermos. You'll even find an entire aisle at the supermarket dedicated to yerba and mate paraphernalia. Supermarket Tienda Inglesa has a large selection, plus you can stock up on other imported product essentials like fairly priced Heinz ketchup, Haribo gummies, and BBQ sauce.
ALFAJORES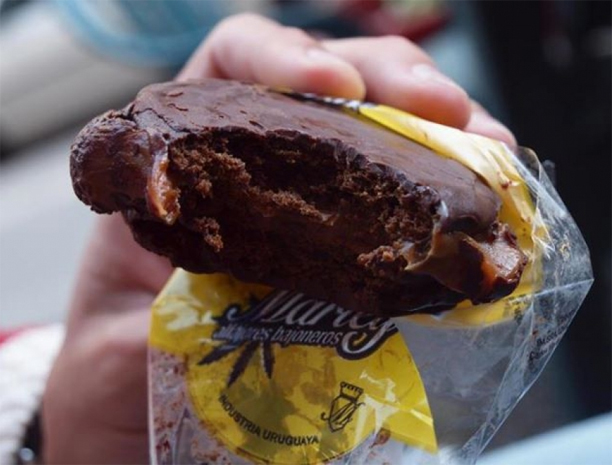 Sorry, not sorry Argentina, but Uruguay has superior alfajores and dulce de leche. There's something about these Uruguayan cows, they really know how to lactate. Two brands I love: YoYo and Marley. (Ph: UnoSantaFe)
READ ON ABOUT MONTEVIDEO'S RESTAURANT SCENE….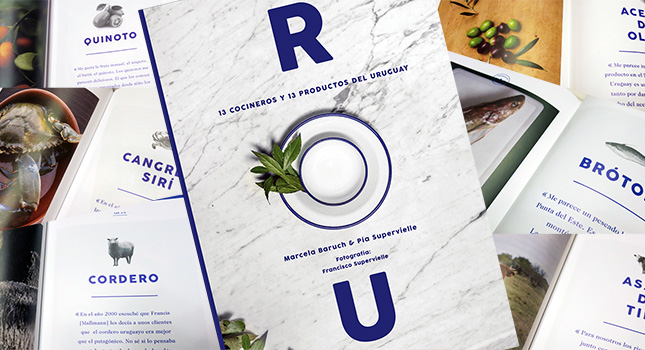 Marcela Baruch – Uruguay's most respected gastronomic journalist, creator of Peregrina Gourmet, and author of ROU, 13 Cooks and 13 Uruguayan recipes.
Marcela's Never Fail Go-To: "Order anything from the sushi bar at Café Misterio made with local catch. Try the grilled fish with mash potatoes and verjus sauce."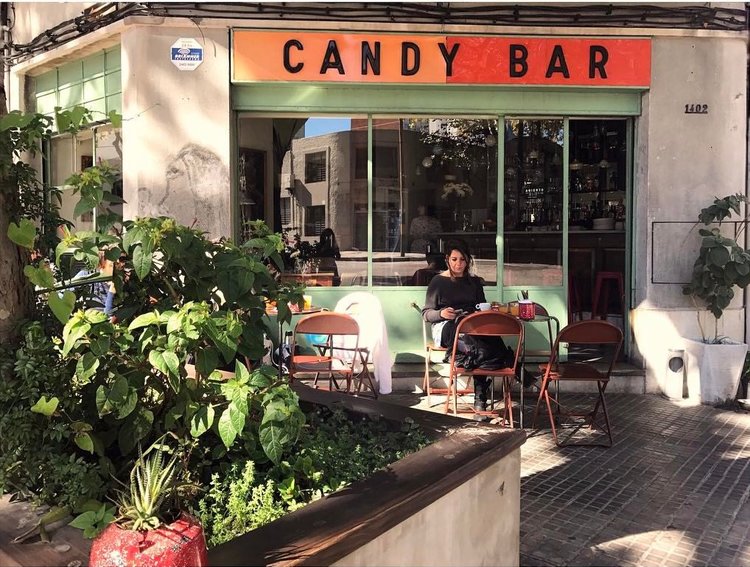 ELI VARSCHER – Producer/food lover and creator Colchón de Verdes. Eli's brunch of all brunches: "Oslo is one of my favorites. It's organic and totally different than other brunches in Montevideo. Another favorite is Candy Bar because it's perfect to sit outside and drink a coffee or lemonade. Order the scrambled eggs, tomato salad, and French toast with fruit and honey — the best way to get up in the morning!"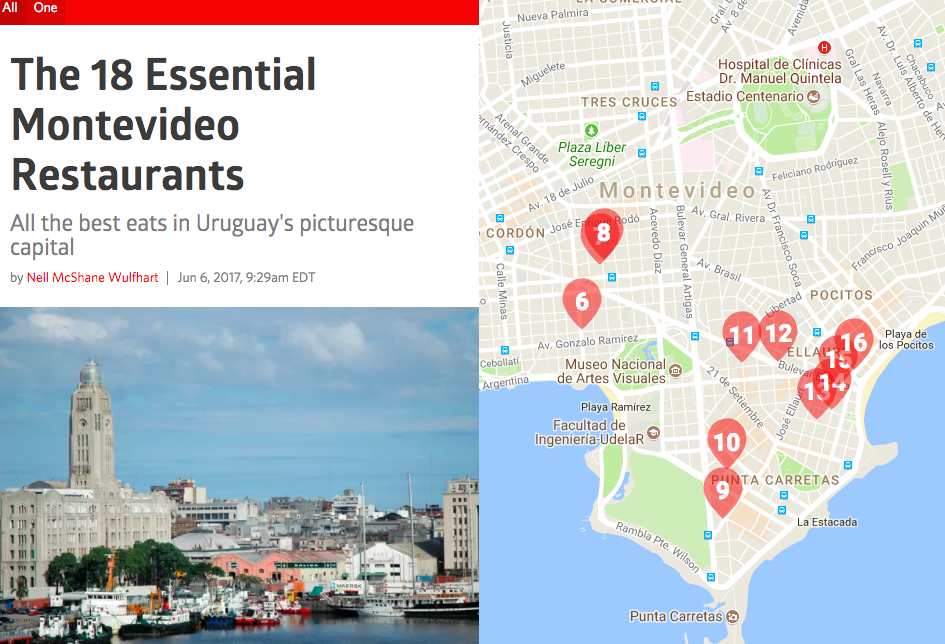 Nell McShane Wulfhart – The New York Times travel writer and Montevideo expat wrote Eater's 18 Essential Montevideo Restaurants.
Montevideo CliffsNotes:
ESCARAMUZA – Dr. Pablo de María 1185, Cordón
JACINTO – Sarandi 349, Ciudad Vieja
LA FARMACIA CAFE – Cerrito 550, Ciudad Vieja
BAR AROCENA – Arocena 1564, Carrasco
CLUB DEL PAN – Pablo de María 899, Parque Rodó
TOLEDO BAR DE TAPAS – Cerrito 499, Ciudad Vieja
CAFE GOURMAND – Constituyente 1869, Cordón
CEBOLLATI 1326 – Cebollati 1326, Palermo
DEMORONDANGA – Dr. Mario Cassinoni 1200, Parque Rodó
FUTURO REFUERZOS – Coming soon… Inside Sinergia Food Spot – World Trade Center, Buceo
MERCADO DEL PUERTO – Piedras 237, Ciudad Vieja
BAKER'S BAR – Pablo de María 1198, Cordón
INMIGRANTES – Juan Paullier 1252, Cordón
AMORIN – Durazno 1451, Palermo
FOC – Ramon Fernandez 285, Punta Carretas
TONA – Luis Franzini 955, Pocitos
SANTE – Cerrito 521, Ciudad Vieja
MANZANAR – Carlos F. Saez 6463, Carrasco
CAFE MISTERIO – Costa Rica 1700, Carrasco
CANDY BAR – Durazno 1402, Palermo
ESTRECHO – Sarandí 460, Ciudad Vieja
MYEONG GA – Ciudadela 1367, Ciudad Vieja
RESTAURANTE EL JARDIN – Zonamerica
OSLO Brunch Pop Up – Around Montevideo
HYATT CENTRIC MONTEVIDEO – Rambla República del Perú 1479, Pocitos
ESMALTADOS SUE – 8 de Octubre 3948, Unión
FERIAS VECINALES – Roaming markets, check local listings for days and barrios
TIENDA INGLESA – Supermarket chain
Comments