THE CHALLENGE: 
TO EAT LIKE AN ARGENTINE, one day of consuming the most typical fare.
A rundown of the most popular Argentine foods including breakfast, lunch, merienda, dinner and dessert. I asked some die-hard Argie culinary traditionalists what they ate on a daily basis, and these were the results…
Disclaimer: It's important to clarify that this is a massive generalization of the dishes Argentines eat. While many people do not actually eat like this daily, a lot still do. Also, this is based on an Argentine boy diet, because as we all know, most Argentine girls don't actually eat.
DESAYUNO
Option #1 – Medialunas
You can't just hop to any old café and order medialunas; there is a science behind it.  You need the soft doughy insides covered in a flaky shell.  Stale medialunas with weird lemon essence are a total turn off, while warm fresh out of the oven medialunas induce a spontaneous erection.
Where to go? For the best medialunas in Buenos Aires get your culo to Alimentari (multiple locations), Lucio (Güemes 4001, Palermo), Guber (multiple locations).
Option #2 – Tostados con jamón y queso o tostadas con mermelada, queso crema y dulce de leche
Ham and cheese toasted sandwich or toast with jam, cream cheese and DULCE DE LECHE — these two delicious morning meals are what makes Argentines wake up on the right side of the bed. Often, they are sold as some kind of deal with a café con leche or cortado and fresh squeezed orange juice.
Where to go? Stick with the classics. It's pretty hard to go wrong with toast (although many places do), so my advice is to head to a Café Notable and start your day with some beautiful porteño heritage.
*Keep in mind… In Buenos Aires, breakfast is not the most important meal of the day. Don't expect eggs-bacon (unless it's a weekend brunch) because many locals think eating EGGS and BACON in the morning is INSANELY HEAVY and disgusting… although it's perfectly normal to eat a cheesy ham mega sandwich or bread smothered in DULCE DE LECHE. I'm just sayin' …
ALMUERZO
Option #1 – Milanesa con Fritas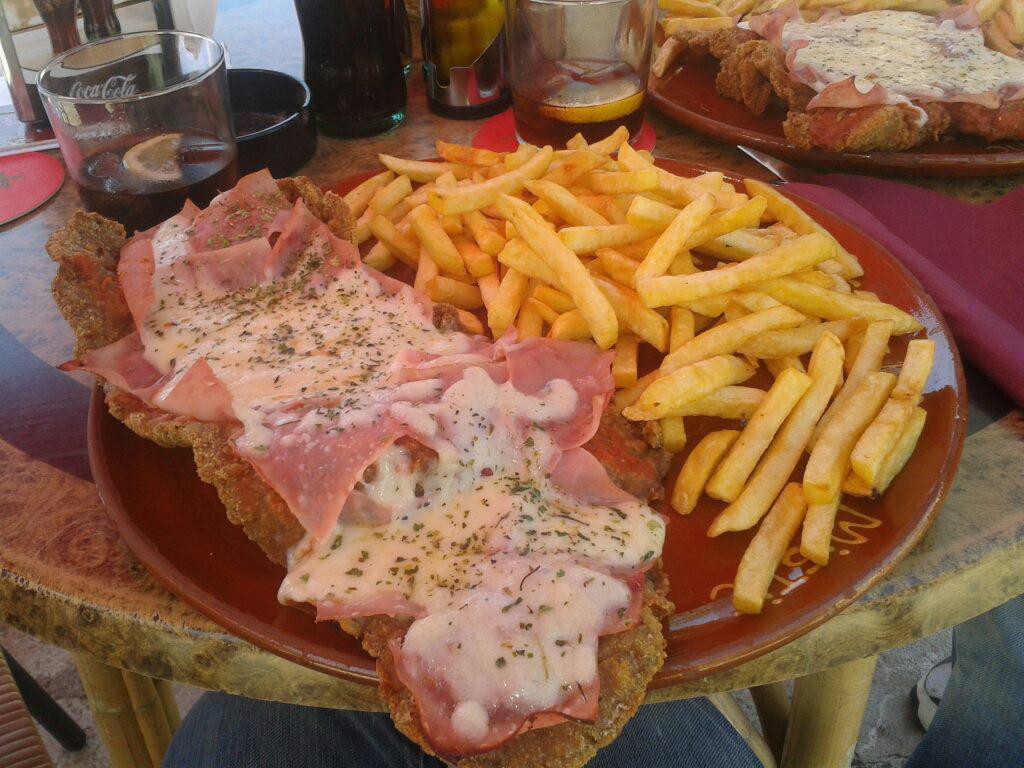 You may be thinking fried meat (chicken or beef), flattened, breaded and deep fried and served with ham, cheese and sauce, will put you right into a food coma, but this popular lunchtime dish can be seen on menus across the country. While the traditional napolitana has tomato sauce or tomatoes, ham and cheese, there are a myriad of milanesa variations: a la suiza (white sauce), suprema de pollo (chicken breast), or my personal favorite for the grossest combination, a la Maryland, with bananas, bacon and shoestring potatoes. Hot tip: Order it a caballo with a fried egg on top. Ask for extra packets of salsa golf and you may be confused for a local. And you should always watch out for the mila-pizza.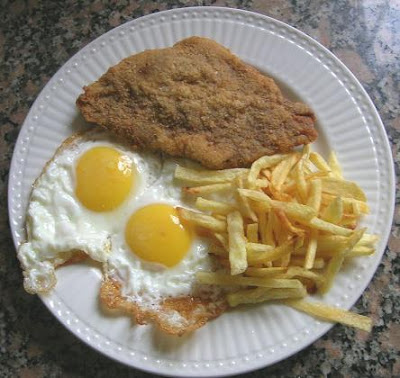 Where to go? For the best milanesas in Buenos Aires, you can't go wrong if you go to Don Ignacio (Rivadavia 3439, Almagro), Albamonte (Corrientes 6735, Chacarita), Hermann (Santa Fe 3902, Palermo) and El Obrero (Caffarena 64, La Boca). El Buen Libro (Reconquista 631) and Café Paulin (Sarmiento 635) serve a monster milanga mila-sandwich. Careful with ordering a milanesa in a shithole, your stomach may hate you for it. Too many times I have gotten a big bite of tasteless and rubbery or pink and raw.  Check out (outdated) Proyecto Napola Tour, a genius of a blog that is on a quest to find the best milanesa napolitana in Buenos Aires. (Photo: Recetas Argentinas)
Option #2 – Pizza al corte
Did you know most Argentines are crazy about pizza? It's probably one of their favorite foods. But in Buenos Aires, pizza is done a little differently: THICK crust, oozing with cheese, very little sauce, and hamming it up with toppings. Muzzarella, napolitana, fugazetta = life.
Where to go? For a slice of porteño's finest, head to hometown favorites like El Guerrin, El Palacio de la Pizza, La Mezzetta, Angelin and El Cuartito. For my personal favorite pizza, some which stray from the Argentine variety, check out my Buenos Aires pizza guide.
Option #3 – CHORIPÁN!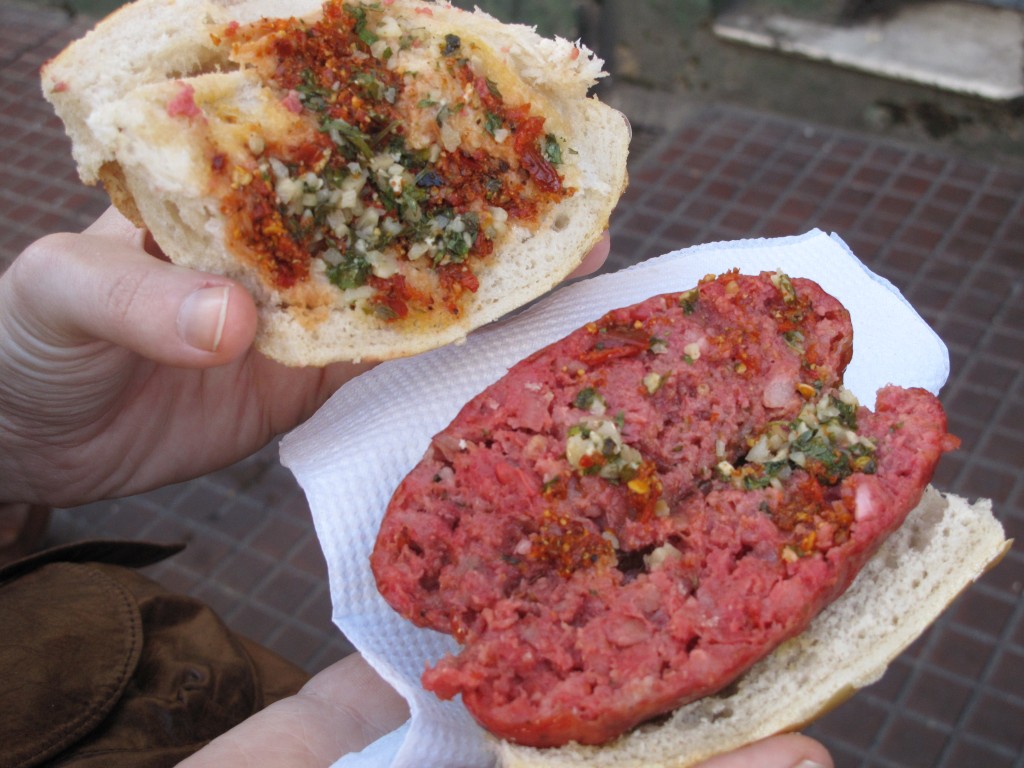 I've said it many times, and I'll say it again: if it were socially acceptable, I'd marry a choripán. It's a perfect union between chorizo and bread, smothered with chimichurri, smashed down and shoved inside your face hole.
Where to go?  Lo de Freddy, forever.
Option #4 – Empanadas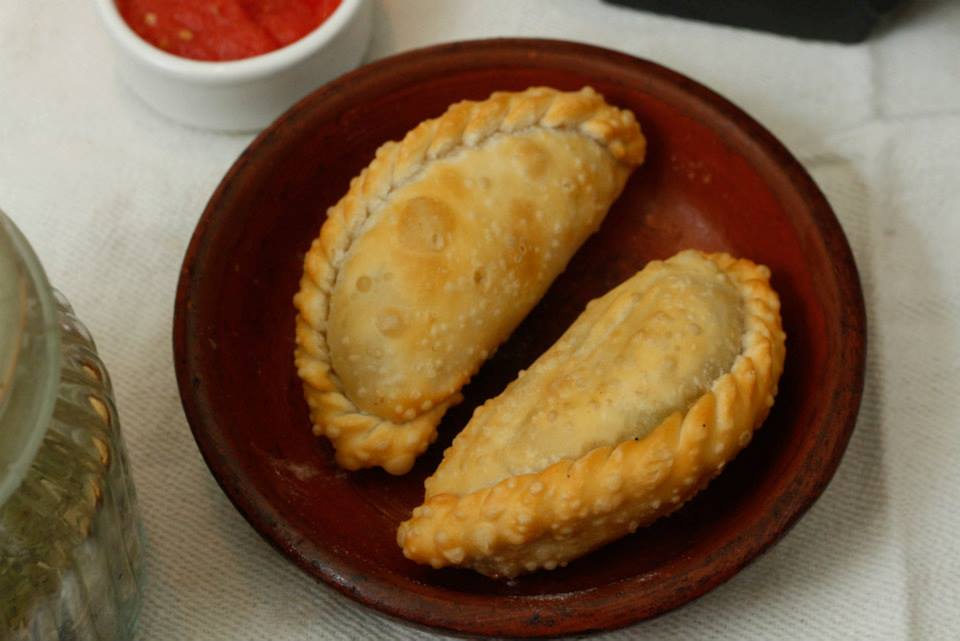 Empanada making is an art form, and so is empanada eating. But there's something I want to know: How many empanadas do you need to eat to hit that sweet spot of satisfaction? 3? 5? 12?
Where to go? La Cocina, Na Serapia, La Aguada, La Paceña, Peron Peron or any of these spots on my best of Buenos Aires empanada list.
Option #5 – Sandwiches de Miga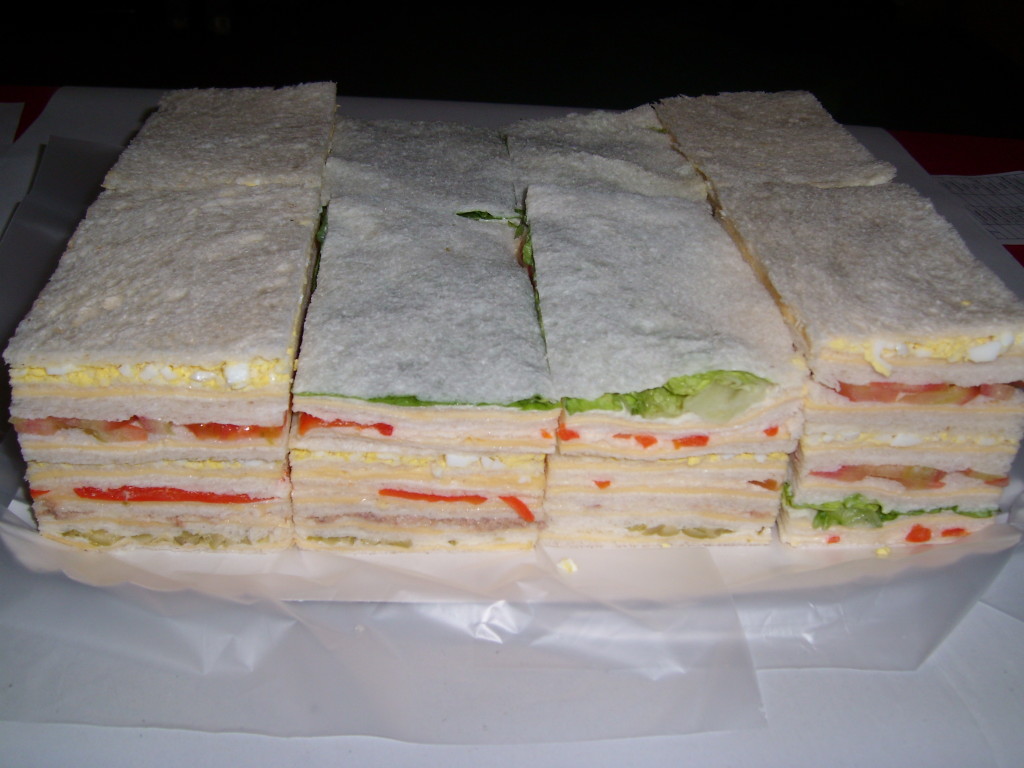 Where to go? No where. I cannot keep a clear conscious recommending anyone to lunch a soggy miga sandwich. Sorry. Not. Sorry.
Quick TARTA shoutout! Don't be confused with the translation, this ain't no piece of cake. Tartas are more like savory tarts or pies, think a slice of pastry crust filled with flavors like cheese and pumpkin, ham and cheese, tuna and olives, etc. etc. etc.
MERIENDA
#1 Galletitas and Mate (Cookies + Crackers, Mate tea)

The type of merienda you eat is very telling of what kind of porteño you are.  Are you the mate and galletita type? Do you prefer a sweet merienda? Savory merienda? Wine-beer-picada merienda? YANQUIS: Wanna know the secret to becoming semi-porteño and eating dinner at 10pm? M-E-R-I-E-N-D-A in the afternoon.
Where to go? Put on some flowy, hempy striped genie pants, grab some mate, Toddy cookies, alfajor, crackers and a porro, and head over to Plaza Francia for an earthy merienda eating with the other hipteños (porteño + hippies).  While most cafés don't offer mate in house, Cumaná (Rodriguez Peña 1149, Recoleta) and Las Cabras (Fitz Roy y El Salvador) does an afternoon mate table service.
Option #2 – Vino or Aperitivo + Picada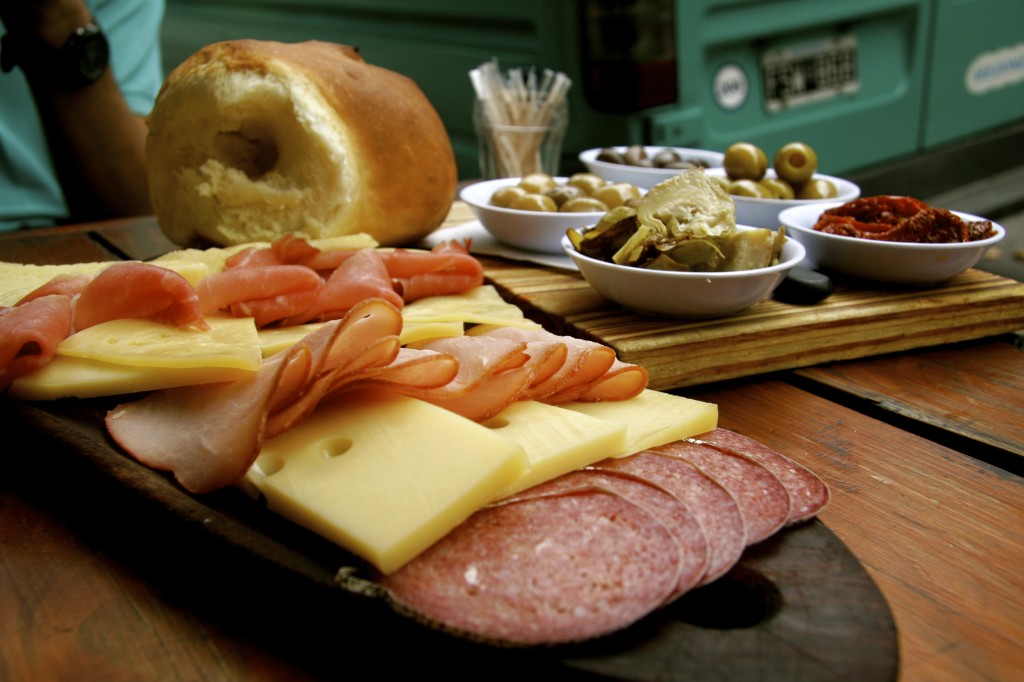 Perhaps you prefer the boozy afternoon snack? Like a wonderful glass (or bottle) of wine accompanied by our favorite meat and cheese platters. Me too.
Where to go? Pain et Vin for some wine and cheese, El Refuerzo (Chacabuco 872) for some picadas + afternoon aperitivos, or Oporto Almacén for some Argie comfort food tapas. 
Option #3 – Café con leche y algo dulce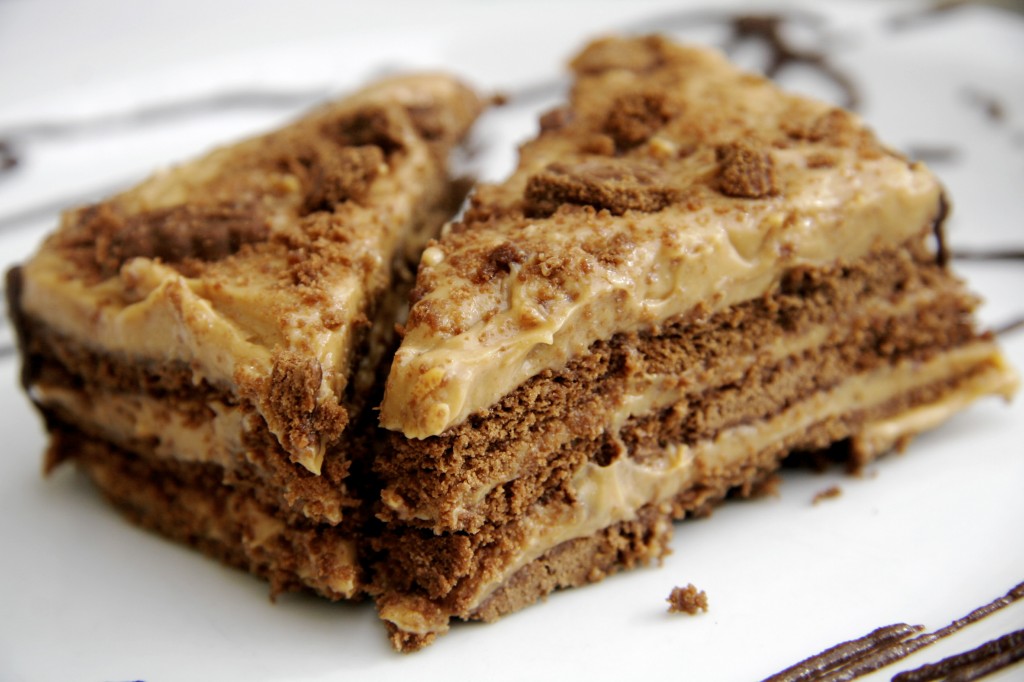 Cakes, pies, cookies, scones, muffins, BRING ON DA SWEET STUFF. Get in the merienda mood with an absolute afternoon sugar rush.
Where to go? Chocotorta at Loreto Bar, Brique cakes (like marroc) from Punto Letra, cakes from Yeite, a fancy merienda at Alvear Hotel or a classic merienda at Las Violetas.
CENA
Option #1 – Parrilla (BBQ)
There's no doubt that locals are serious about their meat and they keep it simple with just some salt, a grill and of course the carne.  For a variety of meats, order the parrillada, a plate filled with various cuts. Chimichurri and salsa criolla are pretty much the only condiments allowed to put on top; you will be shunned as a blasphemous loco if you ask for any other sauces. On the side? Simple salads: lettuce-carrot-tomato; arugula-Parmesan cheese; tomato-onion-lettuce; add an extra bonus of an overcooked boiled egg and you're in for a treat.
Where to go? While I might have attackers come stab me with a fork in the forehead if I reveal some of my favorite "secret" barrio parrillas (that really aren't very secret anymore, but I don't want to break their food trust), I can publicly endorse Parrilla Peña (Rodriguez Peña 682, Recoleta) because I like the old school bodegón neighborhood feel.  There is still more Spanish spoken than English at the tables and the meat is always grilled to perfection. Lo De Paka (Congreso 2011, Belgrano), Pobre Luis (Arribeños 2393, Belgrano), La Brigada (Estados Unidos 465), Don Julio (Guatemala y Gurruchaga, Palermo) are other solid choices if you are looking to get your meat on at traditional restaurants. Or just check out this list of my favorites.
Option #2 – Pasta
Boisterous in their Italian heritage, Argentines love their pasta. That's why on pretty much every menu some sort of fideos and stuffed pastas are a must order: linguini-ravioli-gnocchi(on the 29th of the month). Generally, the sauces are sold on the side, like pomarola, 4quesos, salsa blanca, bolognesa, crema de hongos.
Where to go? La Locanda, Mauro.It (11 de Septiembre 2465, Belgrano), Maria Fedele, Cucina Paradiso for that Italian stallion amore. For the Argentine-Italian variety, Almagro family joint Pierino is always a solid option, while Salgado Alimento has been pleasing Villa Crespians for years.
POSTRE
Option #1 – Helado
Where to go? I can personally blame Jauja (Cerviño 3901) for a 10 pound weight gain. Rapanui (Arenales y Azcuenaga) is also the tops, as is Occo (Cordoba y Dorrego), I've also been on a LadoBueno kick lately. Or try all of my favorite heladerías on this list. If I am trying to be super Argentine, I'll order dulce de leche, and only dulce de leche. If I'm feeling a bit more adventurous, my top go-to flavors are chocolate suizo o amargo, marroc, frutos del bosque, and perhaps for the wild card, dulce de leche con brownie.
Option #2 – Flan Mixto, Vigilante, Arroz con Leche
It's not an Argentine dessert unless all of your teeth begin to decay, rot and fall out from utter sweetness. You'll almost always find flan mixto (flan with dulce de leche and whipped cream), and Vigilante aka queso y dulce (cheese with sweet quince paste) on most menus, and you should probably order it.
A rundown of the most popular foods in Argentina, according to reading a shitload of porteño restaurant menus:
ASADO: meat, meat, meat. Whatever comes off the parrilla. Lots of innards – sweetbreads, blood sausage, intestines, kidneys, liver. Provoleta for some cheesy goodness.
Choripán

Milanesa

Empanadas

Pasta

Sandwiches de miga

Tartas & tortillas 

Lomito sandwich, bondiola sandwich, vaciopan sandwich (los primos del choripán)

Salads: Ensalada rusa, mixed salad with lettuce, tomato, onion

Papas fritas

Picada meat cheese platter

Panchos & Patys

Medialunas & facturas

Dulce de leche: Chocotorta, Flan Mixto, Alfajores, Helado

Regional: Locro, humita, tamales, chivito, curanto

Sauces: Chimichurri, salsa criolla, salsa golf, mayo, ketchup
Article updated January 2016.
Comments