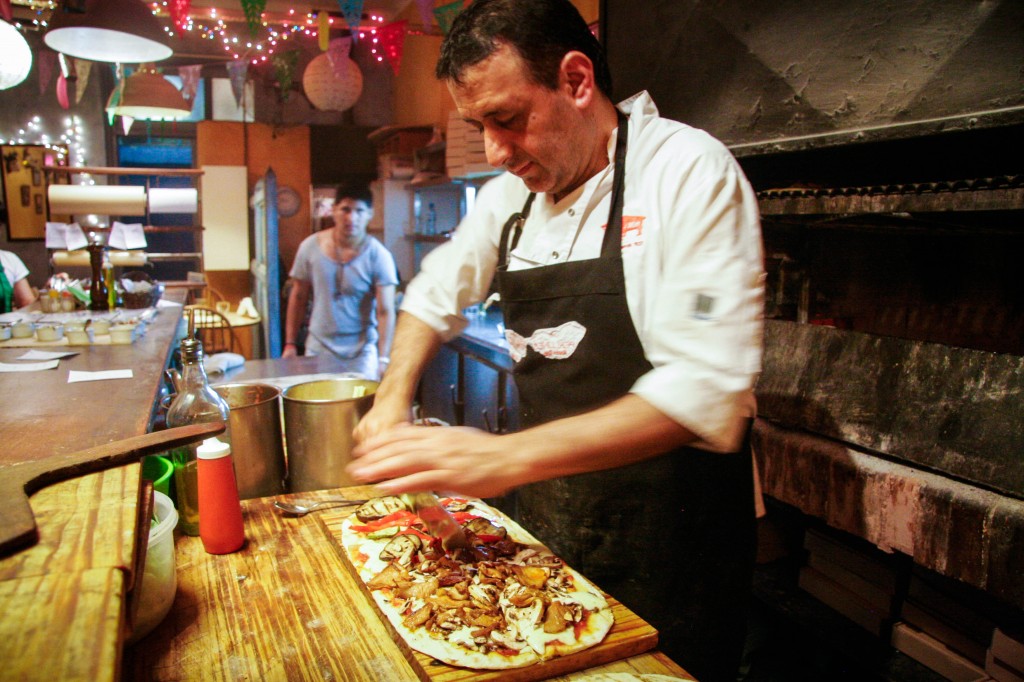 UPDATE June 2016: La Mas Querida now has a new Palermo Hollywood location –> Carranza 1875. 
It's only natural for Argentina's favorite cooking contraption to mate with the number one fast food to form an illegitimate food baby. Some would say it's the antithesis of what porteño pizza is all about, and maybe that's why I love it so much: thin crust, a plethora of adventurous toppings, and dipping sauces on the side, it's time to get into La Más Querida's beloved pizza a la parrilla.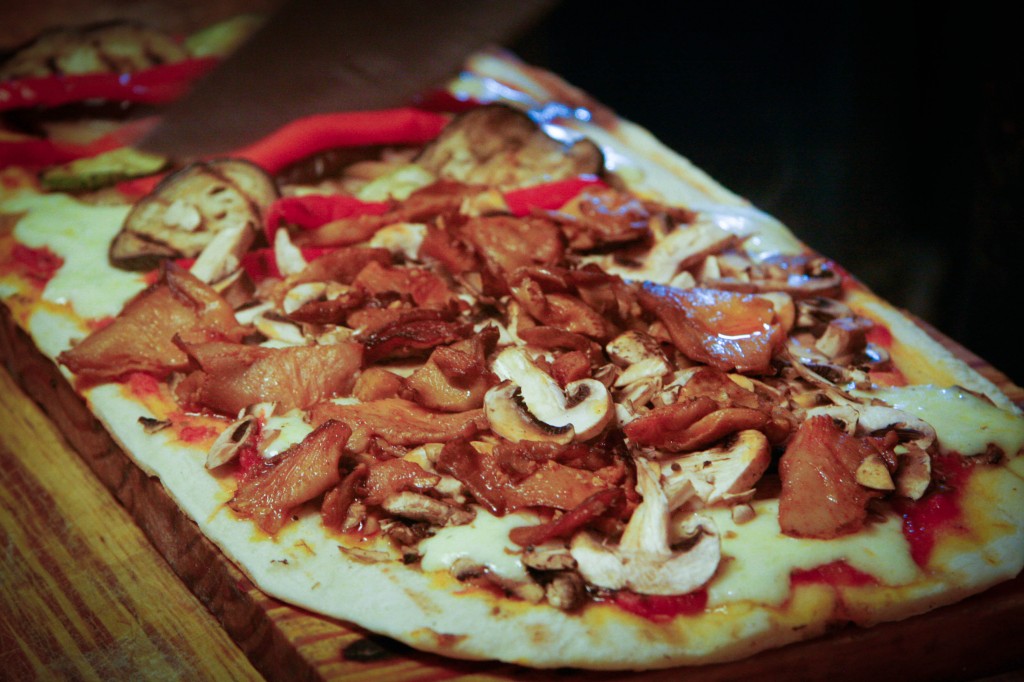 For those devout pizza eaters whose stomach only considers a pizza when it is adorned with obscene amounts of cheese, pervy pools of grease, and accessorized with the napo-muzza-fugazzeta-jamon y morron-palmitos y salsa golf toppings, you may want to move along, La Más Querida's pizzas are from a different school.
Tucked behind the Barrio Chino train station on a dead end street, this small pizzería has only about 12 tables, each with a front row view to watch the star attraction: the asador's  pizza making station and live grilling performance.
Before we get into all the cheesy pizza details, you'll need an introduction to Buby. Buby Van Asperen, a self proclaimed ex-hippie and master at sporting a Hawaiian shirt, opened La Más Querida in 2005 to bring a quality pizza a la parrilla to Buenos Aires. With a background in catering to the stars, (really, he was a caterer for some of the biggest musical acts to come to Argentina in the 1980/90s — ask him to tell you about Whitney Houston's utensil demands) he wanted to create a space that catered to his personal taste: using quality ingredients, unique flavor combinations, spicy sauce options, all in a tropical resort-y like atmosphere — filled with a big laugh of buena onda. And he's managed to do just that.
The menu includes about 10 different pizza flavors, ranging from mixes like the signature La mas querida…pizza with smoked salmon, mushrooms and arugula, de queso brie with brie cheese, sun dried tomatoes, basil, and mozzarella, and Tapenade with black olives, capers, anchovies, tomato and mozzarella cheese.
Even before the pizzas came out I knew I fell madly in love for La Más Querida when a bowl of buttery popcorn and three glorious sauces were dropped on the table. Mediterranean with garlic, chopped tomatoes, olive oil and basil, Andina with pepper, chilis, onion, vinegar and huacatay, and PicaPica EXTRA hot with CHILIS, lots of sexy sultry spicy chilis.
Okay, now let's get into the first act. The pre-cooked dough is set on wooden slabs before being adorned with tomato sauce and cheese (ask for extra tomato sauce on your pizza).
Next, it's loaded with toppings. You can choose from combinations already on the menu or pick from the make-your-own selection for a dream pizza (extra sauce, little cheese, please). Unlike many other pizzerias, there are no pizza rules here — a medium pizza can have 2 flavors, and a large pizza up to three. Once toppings are loaded, the asador slides the pie onto the grill and waits for the magic to happen.
Finally, the magic happened. After about 15 minutes, the long rectangularly oval pizza is taken off the grill, drizzled with olive oil, cut up into pieces and delivered right to the table.
Let's talk flavors. The Mediterranean is my go-to order, it has tomatoes, basil, mozzarella, and pesto squiggles. I always order that and you should too – garlicky, cheesy with fresh bright basil pesto. The other half: grilled vegetables, also a good order, although the eggplant was cut a bit too thick and didn't cook all the way.
Cheesy pesto ready for a close up.
Going cross the pond Eura-peein style with the Francesa – a pile of caramelized onions with cubes of panceta and loads of gruyere cheese is hard not to be a hit. I mean, CHEESE+BACON+ONIONS, a natural winner even if it's too cheesy for my lactose hating stomach. It was shared halvsies with the Rúcula y Panceta, which is just as it sounds: Parmesan cheese, arugula and crispy chunks of panceta.
Now time to drip the sauces on your pizza, and rub it on your privates (?).
One large pizza could easily feed 3 normal people, happily stuff a hungry couple, or fake-fill up 6 porteñas. They come in two sizes, medium and large, but who are we kidding, always order the large.
La Más Querida
Echeverría 1618, Belgrano (Barrio Chino)
Tel. 4788-1455
Hours: Tues – Sunday, 8pm – close
Average price per person: 90 pesos, cash only
Delivery to the neighborhood
New Palermo Location –> Carranza 1875, Palermo Hollywood. Tel 4774-4191
Comments