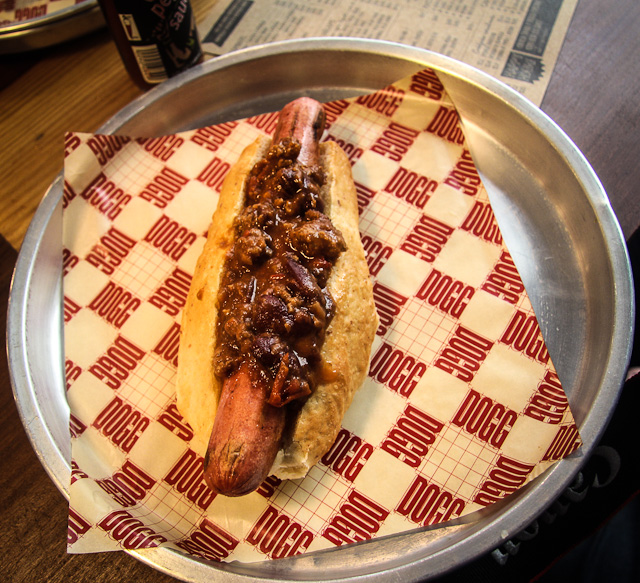 It's time to forever bid farewell to your favorite pancho stand, because a beautiful all beef salchicha has hit the streets of BA. Packed with juicy beef, grilled on the parrilla, nestled inside a pillowy fresh bun and served with a glorious selection of fresh toppings and interesting sauces, all of our long and pink wiener-y hot dog dreams have finally come true.
Once you go DOGG, you'll never go back.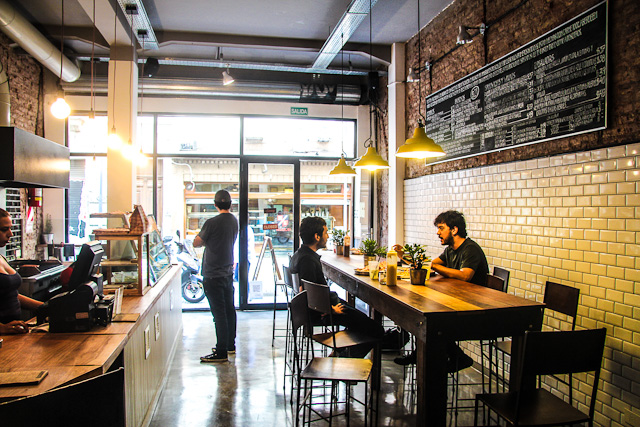 When I first heard about DOGG, a small weekday lunch spot in the microcentro, I took in their whole hot dog spiel with some skepticism: inspired by the same hot dog recipe that Polish immigrants used in Brooklyn during the 1920s, made with 100% Aberdeen Angus select with added "secret" spices. Sounds maybe like some good chamuyo marketing to me, but would it be a real good ole Yanqui hot dog as it claims or another sad Argie imitation?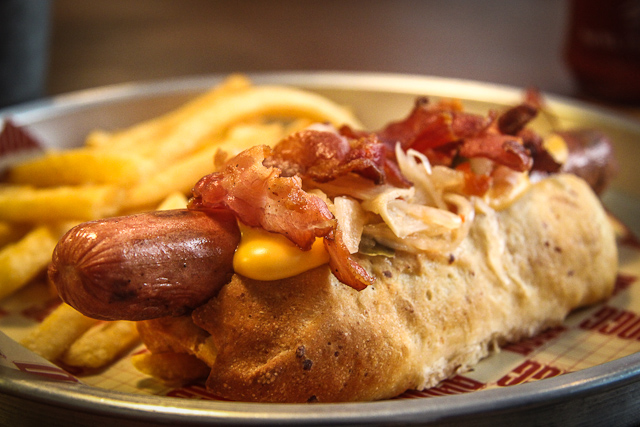 Oh holy hot dog, you do really exist! It's true what they say, you don't realize how much you have truly missed someone until he is plopped in front of you on a plate and smothered with sauce. Unlike its plastic and processed pancho cousin, this skinless dog is cooked in its natural casing, where each bite snaps in your boca, exploding with all the flavors and seasonings.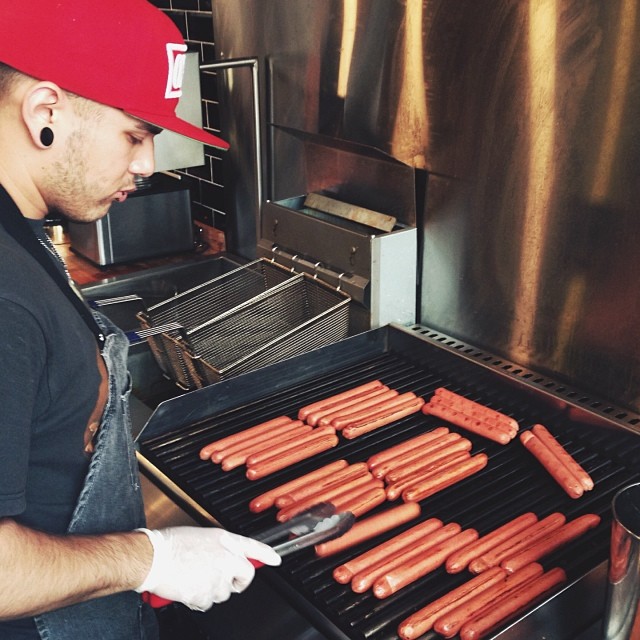 Chef and food stylist Máximo Togni, along with his partners Pablo Capara y Yesica Vissani, are behind this project, and it's obvious Team DOGG have done their hot dog homework. During a long stint working in New York restaurants (and as chef at the Argentine embassy in Washington DC), Togni not only has the experience, but he must have eaten a lot of perros calientes to truly nail this salchicha recipe. Every component comes together in perfect pancho harmony: grilled beef schlong + homemade bun + toppings + sauces + love. (Photo credit of hot dogs grilling: DOGG)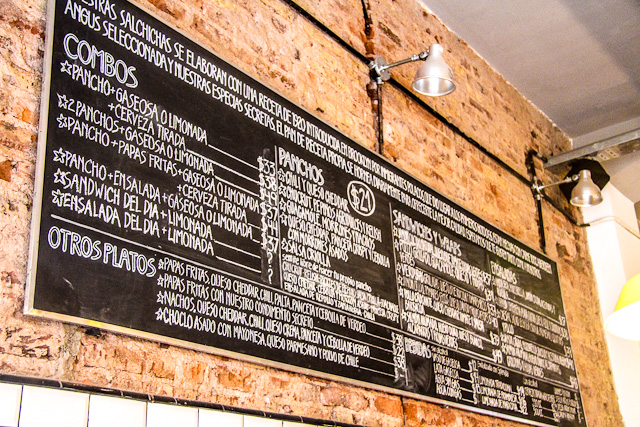 DOGG joins the club of affordable fast food spots con onda (21 pesos for a pancho!)with a limited menu focusing on a few different dishes: sandwiches, wraps, salads, sides (including cheddar fries and Café Habana style grilled corn) and, of course, PANCHOS. Obviously it's obligatory to order at least one hot dog. And easily plausible to order two.
These dogs don't see the dirty bath water like so many of its kind, instead it's placed on the grill, sizzling away, where it gets a charred crispy outside. Once you order your pancho, you then get to have the hot dog masters dress it up. The menu includes a handful of recommended flavor combinations, but there are over 11 different toppings for you to make your dream machine dog.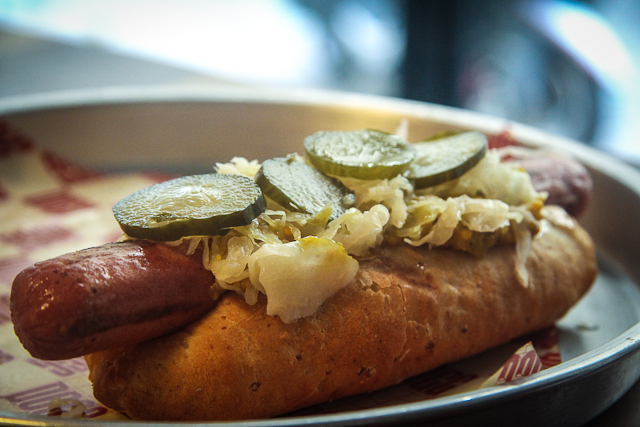 My number one choice came with the love trio of sauerkraut, pickles and relish – acidic, sweet, beefy and with all the right texture crunches to make the ideal bite. It's served on a super fresh soft bun, the kind you'd like to buy by the dozen and use it for all your bread needs.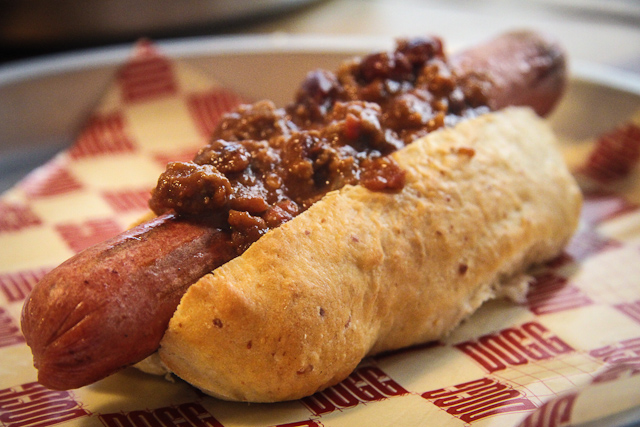 I would feel like a bad Amurrrrican if I went to a hot dog shop and did not order a chili dog. Ground beef, smokey chili sauce and loaded with red kidney beans, watch out Buenos Aires Chili Cook Off, you may have a new fierce contender for next year's competition.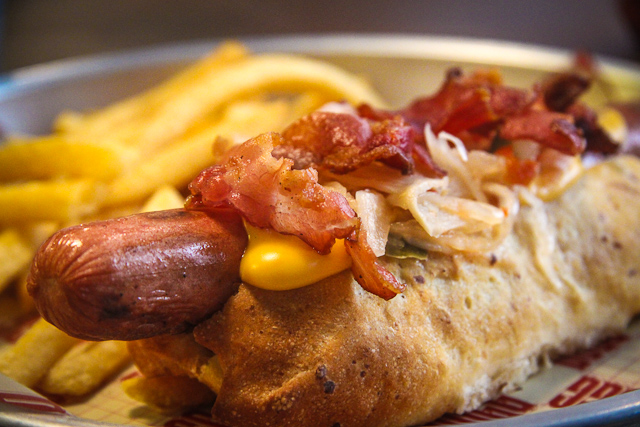 Next up, the cheddar cheese hot dog showered with squiggly bits of panceta. If I closed my eyes, it was like I was transported back to somewhere in the Midwest, scarfing down a cheese dog with that processed bright orange queso sauce that comes out of a magical pump. The cheese tastes just like dispenser cheese should taste: fake, warm, smooth and delicious – all in the best (and worst) possible ways. You can tell the panceta, a fine quality oinker, was once porky and crispy, but unfortunately it succumbed to the soggy and sad dark side after probably sitting in a prep container too long.  Still, not a deal breaker.
OH MY SAUCE we stand before the holy motherload of all sauce walls! Sriracha, French's mustard, Frank's Red Hot, and Trader Joes BBQ Sauce all represented. While I wonder how long these imported sauces on this glorious treasure shelf will actually last, we should all take advantage while full in stock.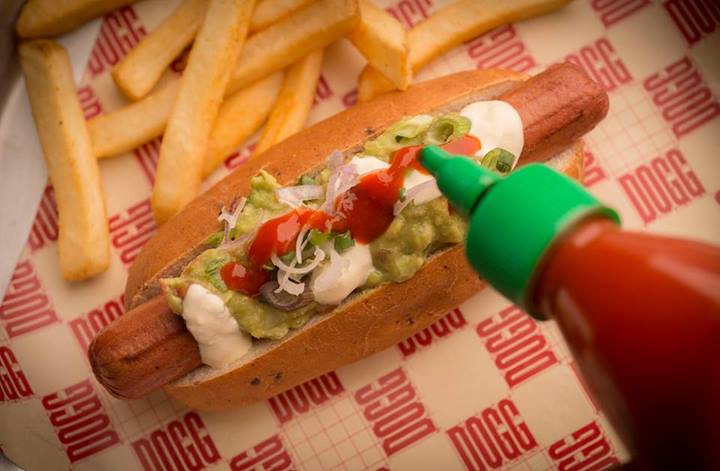 And generously douse a hot dog in guacamole and Sriracha. (Photo credit Sriracha: DOGG).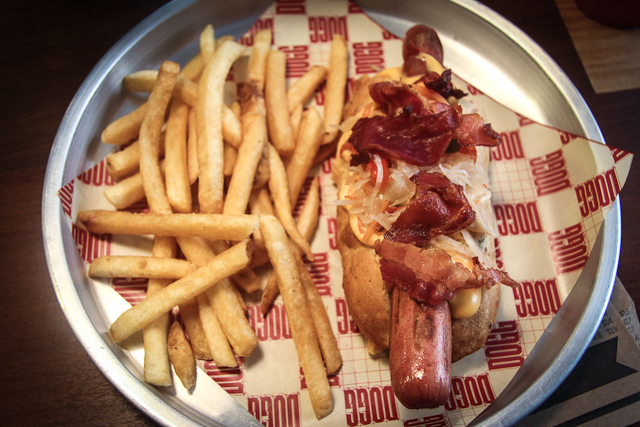 You can add fries to the panchos for just a few pesos more, and while they are needed to fully take advantage of prime sauce dippage, I definitely missed out with a fresh batch — these tasted as if they had been sitting under a heat lamp for a bit too long.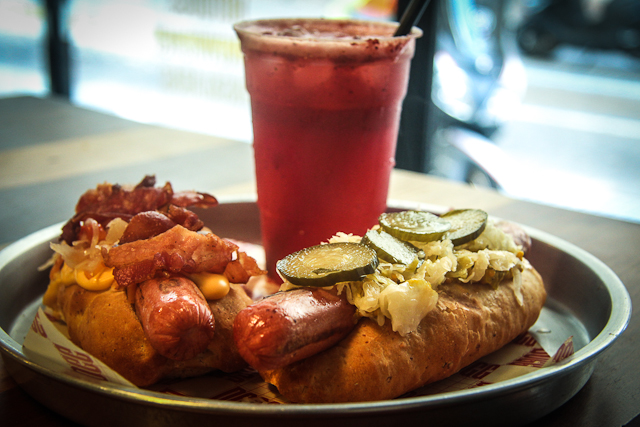 I'm already planning my next visit in which I design my own pancho to honor my hot dog loving hometown with a take on a Chicago style wiener: yellow mustard, chopped onions, tomatoes, pickles, sweet relish, sport pepper and celery salt.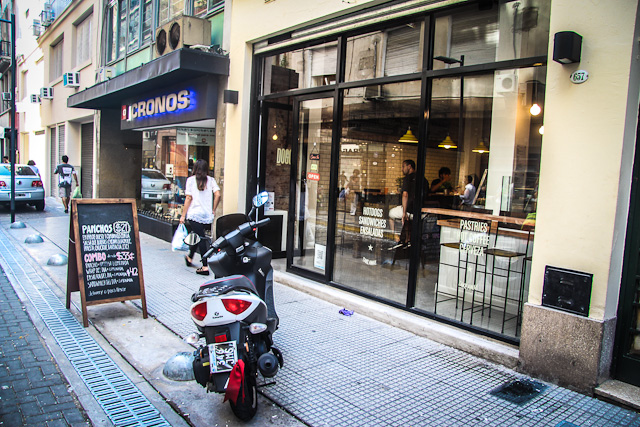 DOGG reinvents and redefines what panchos should taste like, bringing high quality class and flavor to show a whole new world of hot dogs. I wouldn't be surprised if the DOGG house opens up locations all across the city.
RIP regular panchos. You will not be missed.
DOGG
San Martin 657 (y Viamonte), Microcentro
Tel. 4313-9735
Hours: Monday – Friday, 10am – 5pm
Average price: AR$45
Comments