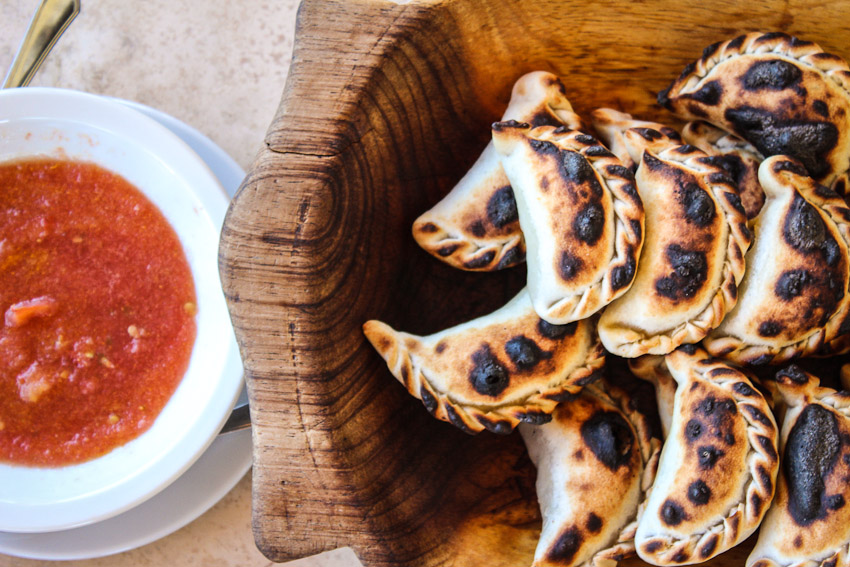 Argentina is all about the empanada. You won't walk a block without encountering some sort of establishment that sells the coveted handheld pocket of love. But after living in Buenos Aires for many years, you learn one thing quickly: not all empanadas are created equal.
Empanada making is an art form, with some important facts to keep in mind.
The masa (dough) consists of a simple blend of lard or butter (or both), wheat flour, salt and water.
Empanadas can be stuffed with endless filling options. Empanada shops in Buenos Aires most commonly will sell: carne (ground beef), carne picante (spicy ground beef that's not really spicy, but has some cumin), carne cortada con cuchillo (chopped steak), ham & cheese, cheese & onion, caprese (tomato, cheese, and basil), humita (sweet corn-like mush), and vegetable (mostly swiss chard in a white sauce). Nowadays, there has been a more modern twist on empanada fillings with insides like braised meats drenched in sauces.
Every region trademarks its own empanada: salteña from Salta, tucumana from Tucumán, mendocina from Mendoza, boliviana (or salteña) from our Bolivian neighbors up north, etc.
No respectable empanada maker would ignore a proper folding. It's critical to honor the methodically shapely seal (shout out to my main girl, repulgue).
Each type of empanada usually has a characteristic fold. This is the most common way one can distinguish empanada flavors, especially when ordering empanadas for delivery.
Most empanadas are baked in a conventional oven or fried in a deep fryer, but some regions of Argentina still bake empanadas in a clay oven and fry in a large disco (a deep cast iron pan over an open flame).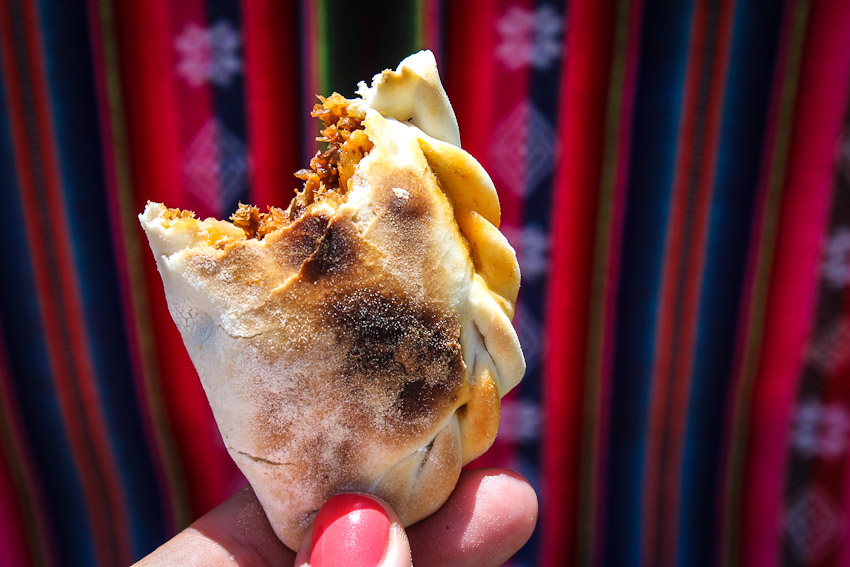 So to distinguish the exceptional from the mediocre, I scoured food shacks, holes in the wall, and old man eating clubs for my dreamiest three-bites of meat or cheese wonder. I'm sure you're incredibly psyched to come along on this exhilarating virtual empanada journey to find out exactly where to get down with empanadas in Buenos Aires. 
LA COCINA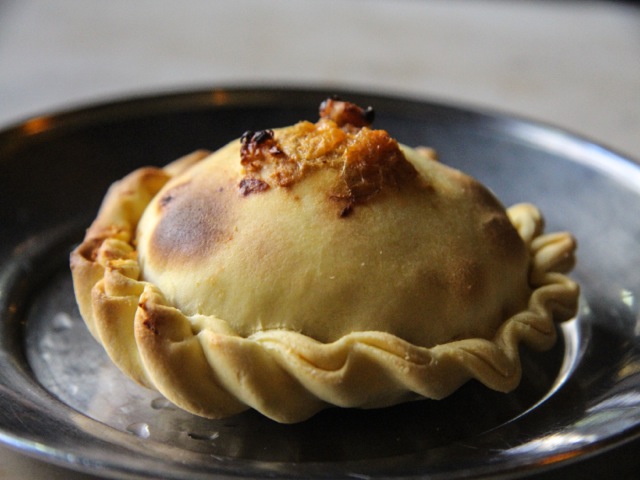 This empanada dive in Recoleta seems to be always packed with old Argentine men getting heavy with wonderful baked empanadas from Catamarca. The signature empanada is the one to take home at night: the Pikachu, loaded with cheese, onions and a mild spicy sauce. There's also a second location underneath Galeria Boston on Florida 142 in the microcentro. Pueyrredón 1508, Recoleta. Tel. 4326-2641
CON SABOR ARGENTINO – LA FERIA DE MATADEROS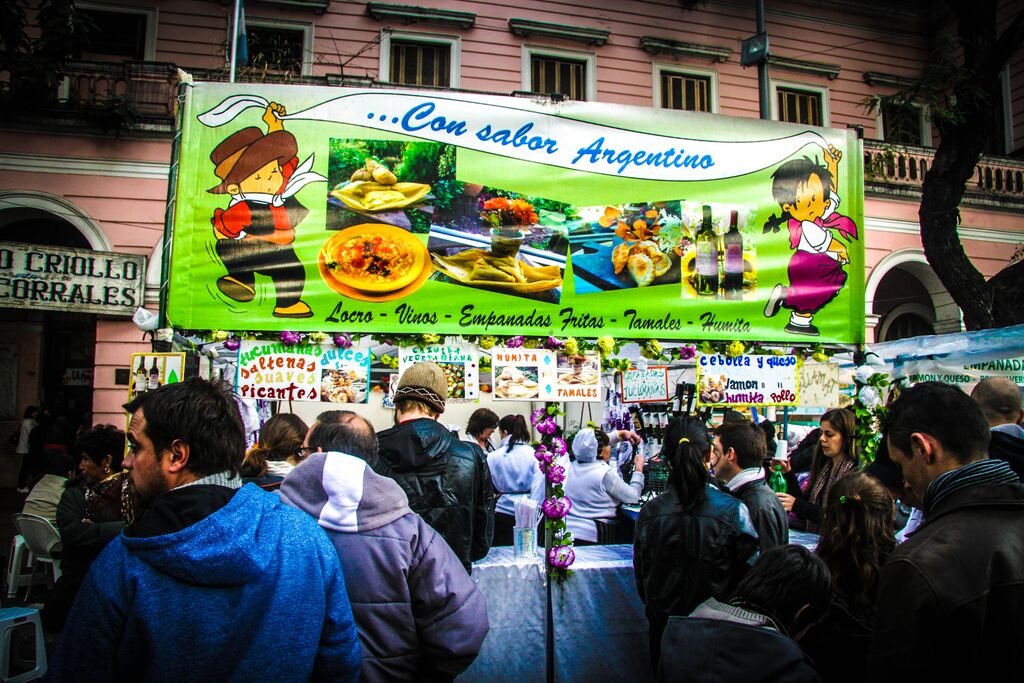 Head to just about any plaza or park on a Sunday, and there will most likely be a festival happening. Head to the Feria de Mataderos on a Sunday, and you're in for the ultimate street food fest and artisan craft fair. It's known as the gaucho fair, where locals partake in folklore singing, dancing and eating regional food. But I go straight to the food stall buz, and jump into the empanada action at Con Sabor Argentino for some of the more perfect fried beef empanadas that exist. Av. Lisandro de la Torre y Avenida de los Corrales, Mataderos. 
ÑA SERAPIA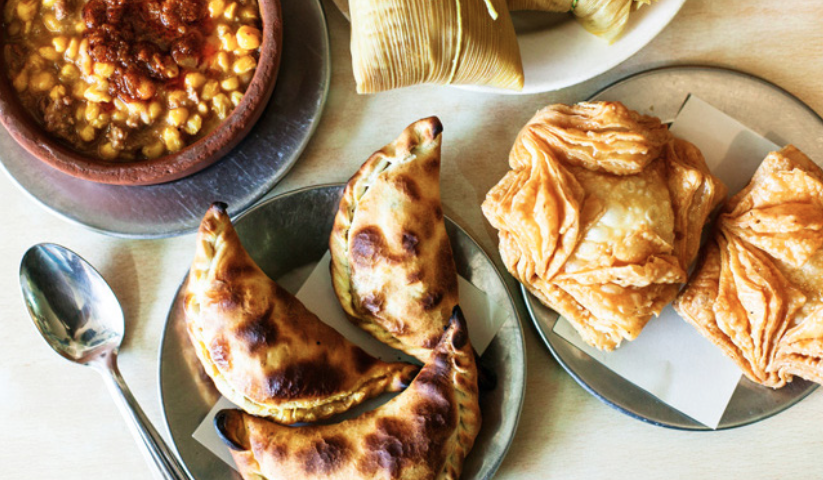 You probably would walk right past this this gritty hole-in-the-wall that specializes in regional food from northern Argentina if you didn't have the address. With only about 10 tables (ridiculously close together), this spot fills up for lunch and dinner with locals munching on empanadas by the dozens. It's impossible to eat less than three of the empanadas salteñas, made with perfectly flakey dough and baked in the oven. Hot tip: the owner is somewhat of a local celebrity, where he claimed his fame while modeling for this painting that hangs in Milion Bar. (Photo – The Latin Kitchen) Las Heras 3357, Palermo. Tel. 4801-5307
LA PACEÑA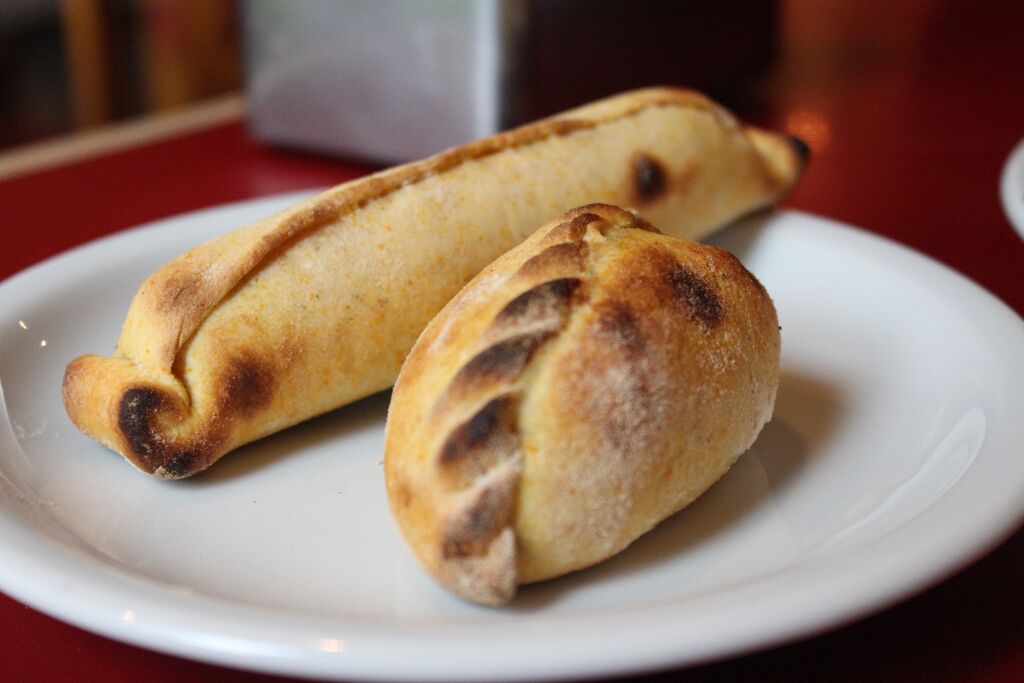 This family-run Belgrano empanada joint specializes in Bolivian empanadas, larger in size with a thicker, sweeter crust, and packed with a stew-like filling. La Paceña is one of the only spots where the empanada actually packs some heat – try the spicy beef, puka-kapa or the al-to-ke, filled with albahaca (basil), tomato and queso (cheese). Echeverría 2570, Belgrano. Tel. 4788-2282
LA AGUADA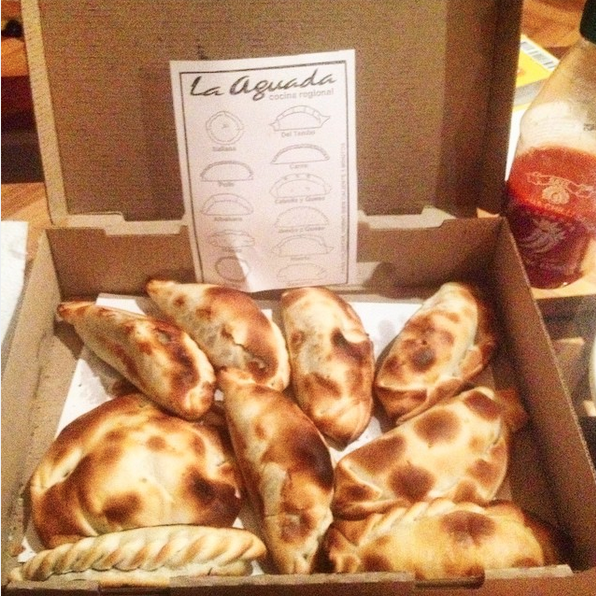 These typical tucumana-style empanadas have been the cause of serious addictions in the Alto Palermo barrio. Call to order and within the half an hour lovely plump empanadas will be delivered right to your door. I'm all about the Tambo – packed with seven types of cheeses, including a sharp Roquefort. Billinghurst 1862, Alto Palermo. Tel. 4827-9477
EL HORNO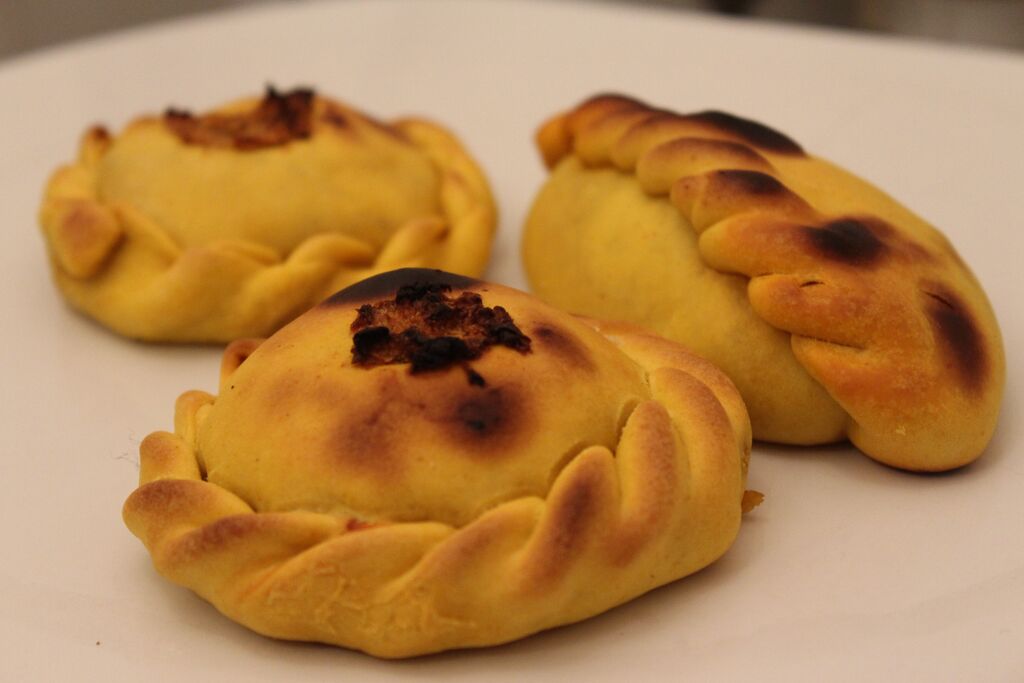 El Horno won't win any design awards, it may even be shut down soon by health inspectors, but this barrio favorite has pleased clientele with their Bolivian-style empanadas for more than 20 years. Try the Puka-kapa, filled with onion, cheese and Bolivian crushed peppers, or the spicy chopped steak, which swims in a delicious meaty sauce. Güemes 4689, Palermo Soho. Tel. 4775-8562
LA CARBONERA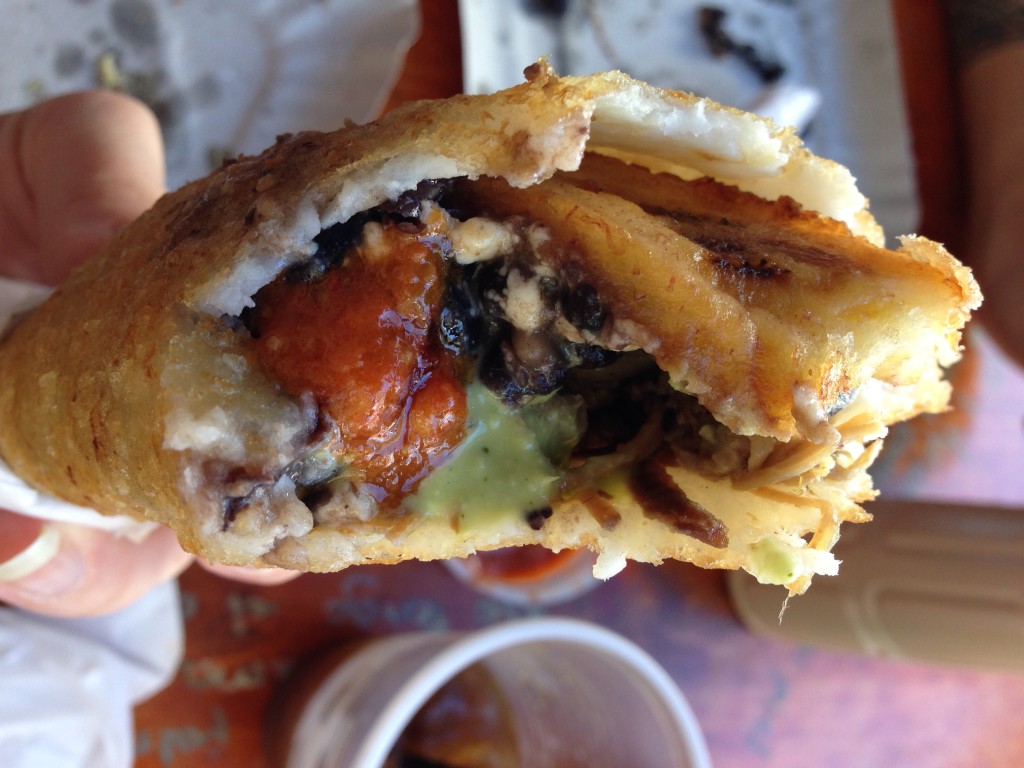 Perhaps one of my favorite empanadas in the entire city, this Venezuelan empanada is made from a fried corn masa and stuffed with traditional Venezuelan flavors like pabellón (fried plantains, shredded beef, queso fresco, and black beans). Squirt guasacaca (avocado sauce), and salsa picante generously inside. El Salvador 4401, Palermo
EL PERÓN PERÓN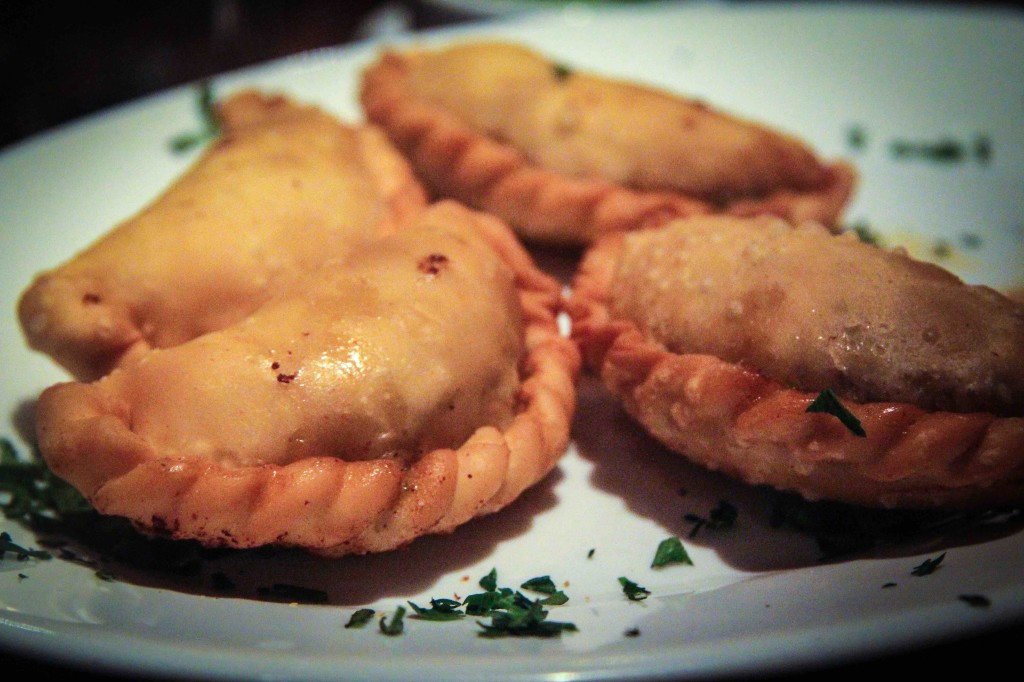 It's not often you hear about an empanada that develops a crazy cult following, and Perón Perón's version has managed to cause somewhat of an unhealthy addiction in its fanatics. This sit-down restaurant, which honors Argentina's beloved political figures Juan and Evita Perón, might seem like an unassuming spot for making one of the best empanadas in the city: stuffed with braised ossobuco and then deep-fried. Carranza 2225, Palermo Hollywood. Tel. 4777-6194
EL TEJANO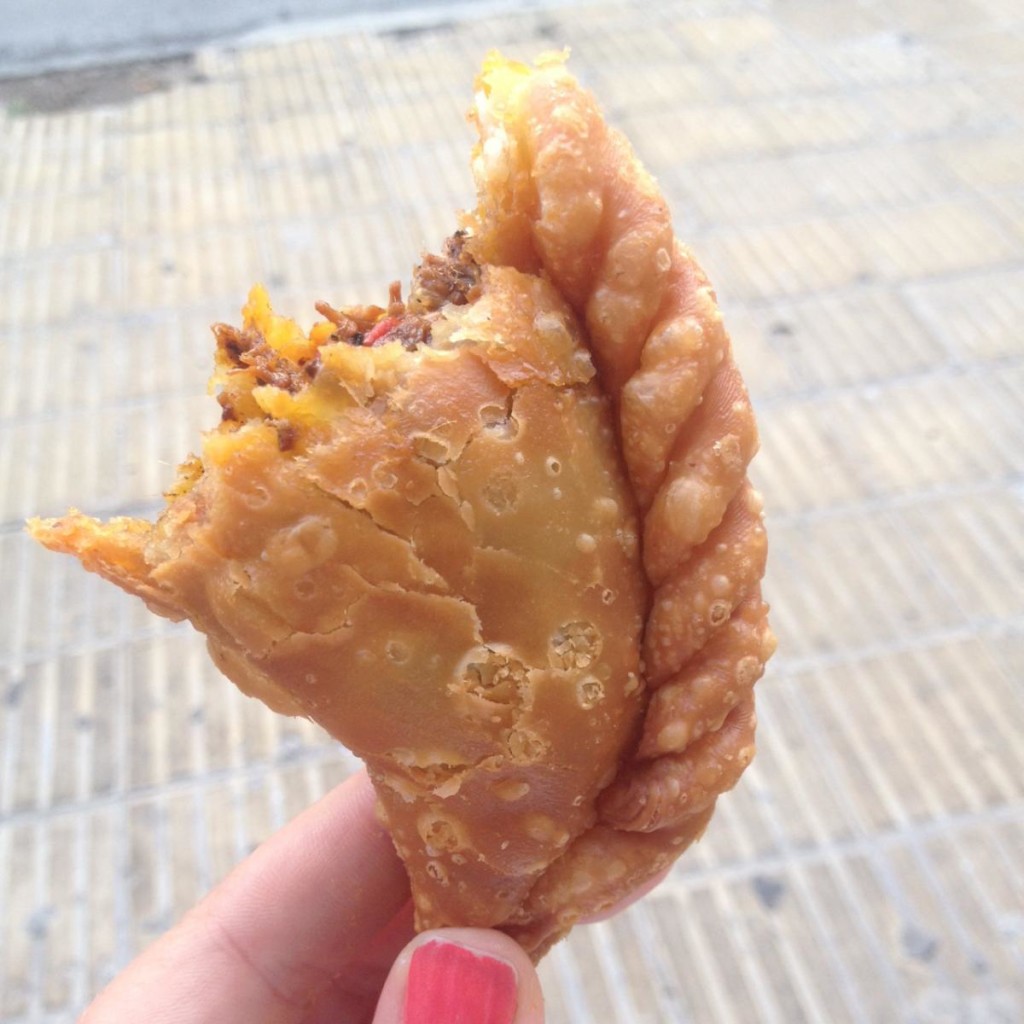 Take a beautiful piece of perfectly smoked brisket, pack it inside an empanada, seal it shut and deep fry that bad boy. Expat Larry Rogers pays tribute to his beloved Texas barbecue and his adopted country with this miraculous American-Argentine fusion empanada. It's pretty much a bite of absolute genius. Uruguay 1175, Recoleta. (Inside the Alamo Bar)
PARRILLA PEÑA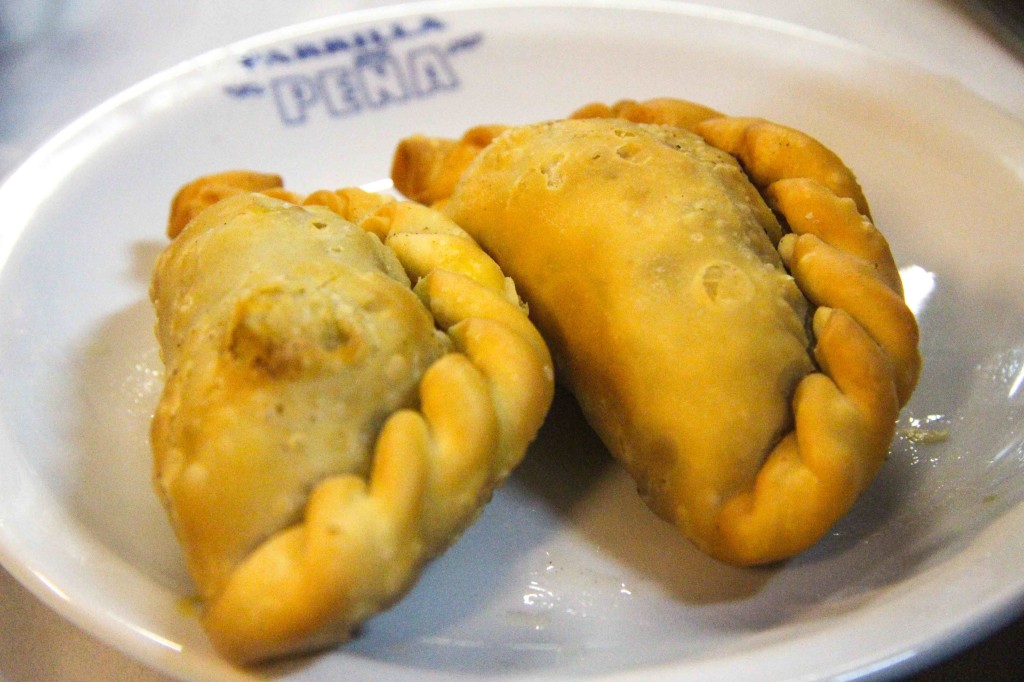 Far from the city's overly trendy restaurants, Parrilla Peña remains one of the last standing authentic bodegones in Buenos Aires. It's not a place to be seen, nor should you go if you are looking for a chic atmosphere. It's a steakhouse for meat lovers who want to be transported back to the good ole days with waiters decked out in classic crisp white shirts and dapper bow ties.  When you arrive, you'll be served an empanada that dreams are made of — flavored beef stuffed inside perfectly fried dough. Rodríguez Pena 682, Recoleta. Tel. 4371-5643
EL BANCO ROJO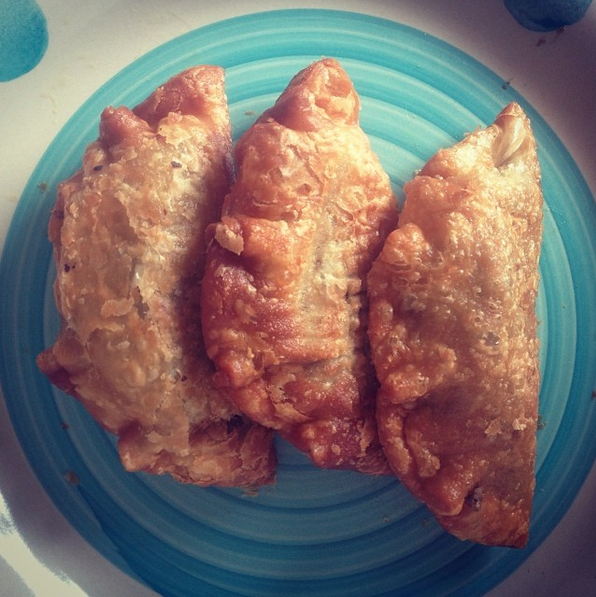 Spice + dough + lamb + deep fry could only have one magnificent outcome. If it was legal to marry an empanada, I'd like to have a civil union with El Banco Rojo's lamb beauty. When I found this ultra-picante version, it was love at first taste. Spicy ground lamb meat is stuffed inside an empanada wrapper and deep-fried until golden brown. Bolívar 914, San Telmo. Tel. 4362-3177 
PEKÍN
I once wrote a love letter to Pekin's lamb empanada, which has saved me on numerous drunken occasions in the need for 4 a.m. Palermo munchies. Here's an excerpt, since you don't need to know much more than that: "I took a bite and my jaw locked, teeth began to sweat, stomach gasmed with delight — big chunks, perfectly seasoned, braised for what seemed to be for days in a flavorful cumin, onion and spice-infused mix, and served in an open-faced triangle — so I could subtly peek at your overwhelming sex appeal. From that day forward, I knew we were meant to be." Honduras 5303, Palermo Soho. Tel. 4554-2442 // Elcano 3194, Colegiales Tel. 4833-9600
EL FEDERAL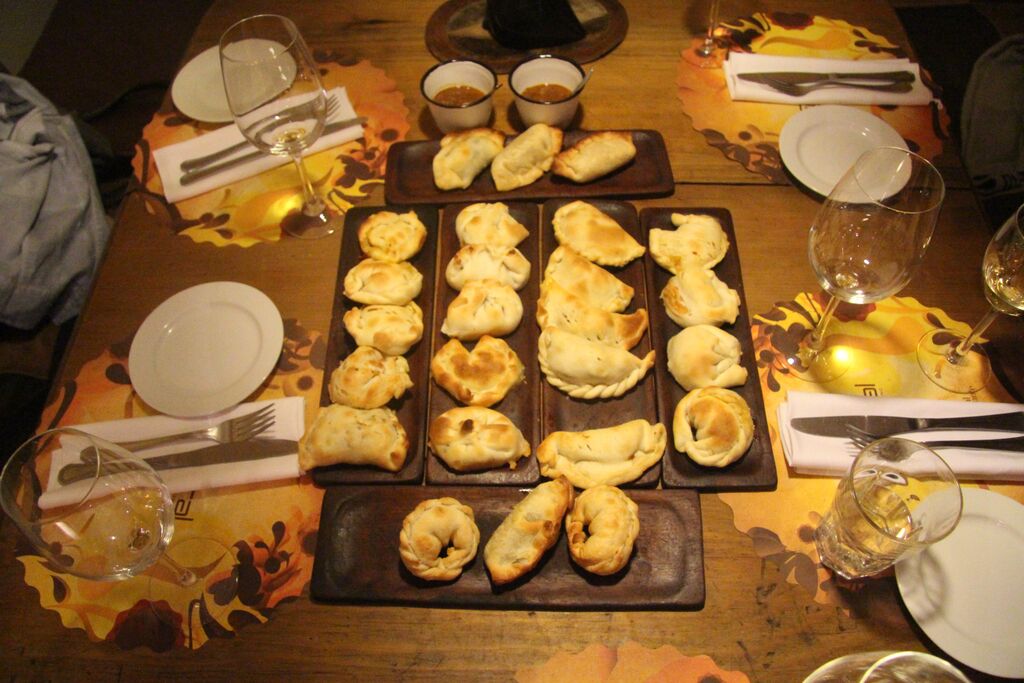 El Federal's kitchen travels virtually across the country to cook regional Argentine specialties. Chef Paula Comparatore does empanadas right, especially the humita, which shares the same name as the popular northern corn dish. The empanadas are stuffed with sweet corn and spices, then baked until golden brown. Fun for tourists, she also runs a cooking class. San Martín 1015, Retiro. Tel. 4313-1324
LA FACHADA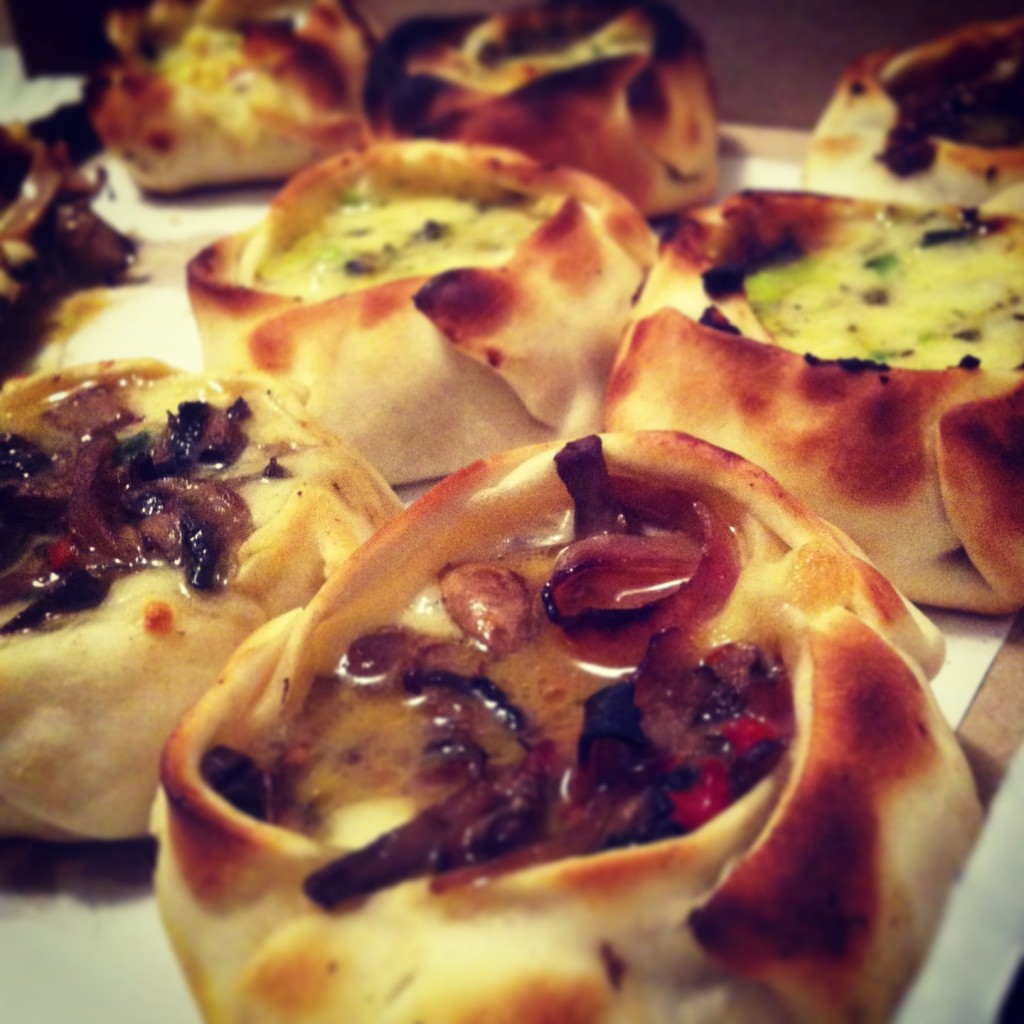 La Fachada is an empanada shop, mostly on demand for delivery, with one of the largest selections of empanada flavors in the city. It is known for both the traditional and open-faced baked styles. Try flavor combinations like mendocina (spiced beef); pancetta and plum; sun-dried tomatoes, Parmesan and arugula; rand oasted leek and cheese. (Photo: NOLAchef) Aráoz 1283, Palermo Viejo. Tel 4774-6535  // Freire 1100, Colegiales. Tel. 4553-4748
BONUS: Empanadas Salteñas (Bolivian empanadas) from the Mercado Andino de Liniers.
The absolute empanada of my dreams? Carmen's in Salta from Bodega El Porvenir.
This original Essential Guide to Empanadas in Buenos Aires can be found on FoodieHub. 
Comments