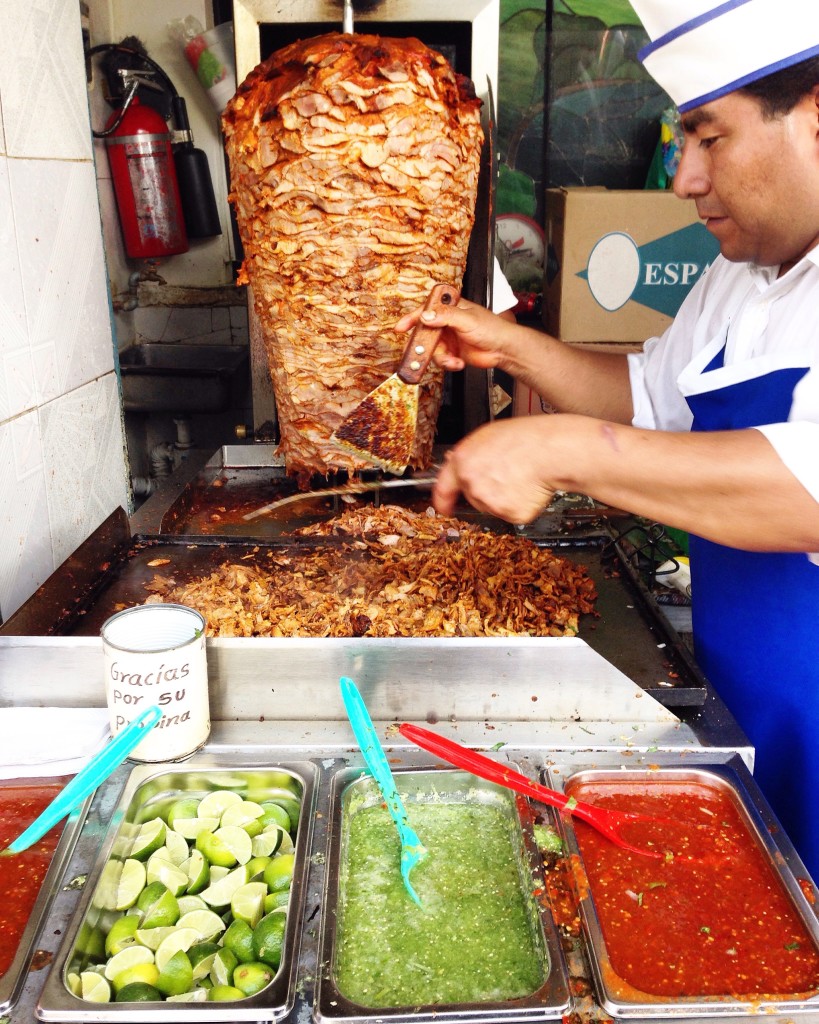 Mexico is one of the most food-centric cities I've ever been to. Everywhere you look, at any time of night or day, there's a food stall, great restaurant, incredible market, fonda-in-the-wall, or killer street cart just waiting for you to consume delicious edibles.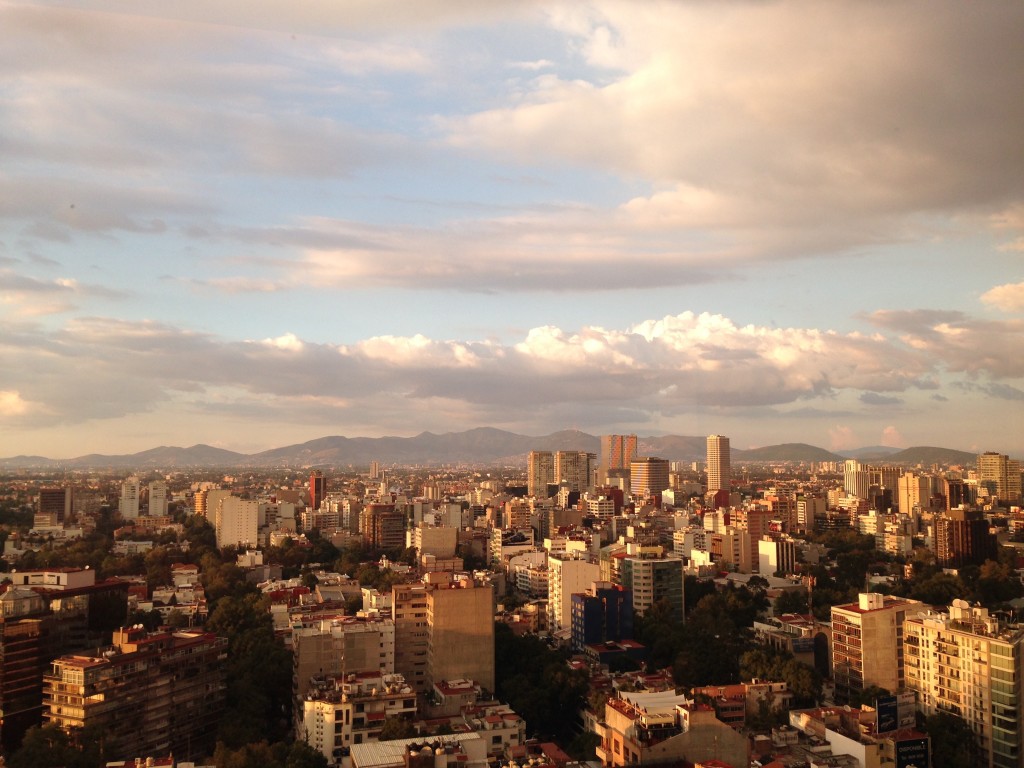 I keep having intense flashbacks about the food: tacos, elotes, tamales, tortas, carnitas, gorditas, flautas, chicharrones. Erotic dreams of the markets, the restaurants, the moles, the mezcals, the tequilas, the ass burning chiles, the bugs, and all those distinctly Mexican tastes and smells. After three weeks of food touring through Mexico City, I realized that I never had a bad meal. And these are the spots that I urgently need to go back for seconds. 
1. NICOS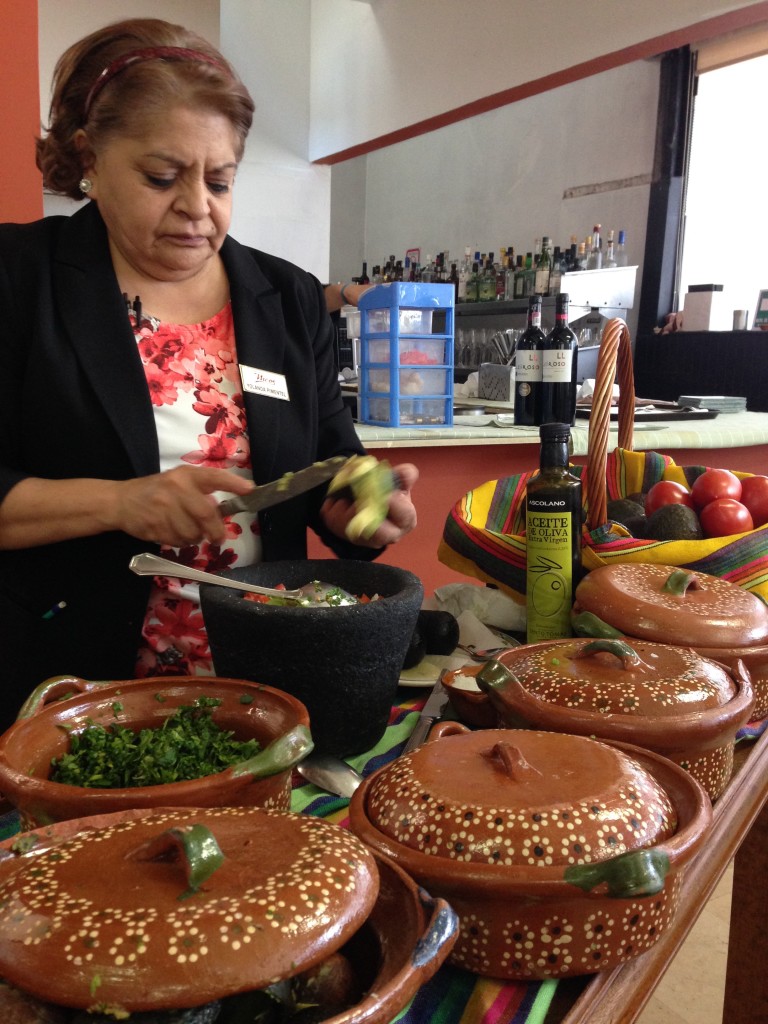 If I had to choose one restaurant in Mexico City, I'd go with Nicos. It's the quintessential neighborhood Mexican restaurant, the type of place you'd travel to from afar, or be a regular if it was in your 'hood. This comida lunch spot in Azcapotzalco, a hike from popular barrios like Roma, Condesa and Polanco, has been around since 1957 honoring Mexican cooking traditions. Today, famed chef Gerardo Vázquez Lugo is in the kitchen whipping up downright delicious homestyle dishes and flavors.
What to order: You can't really go wrong with anything on the menu but the guacamole en molcajete served table-side is a must, and don't ignore the mezcal cart when it rolls by your table.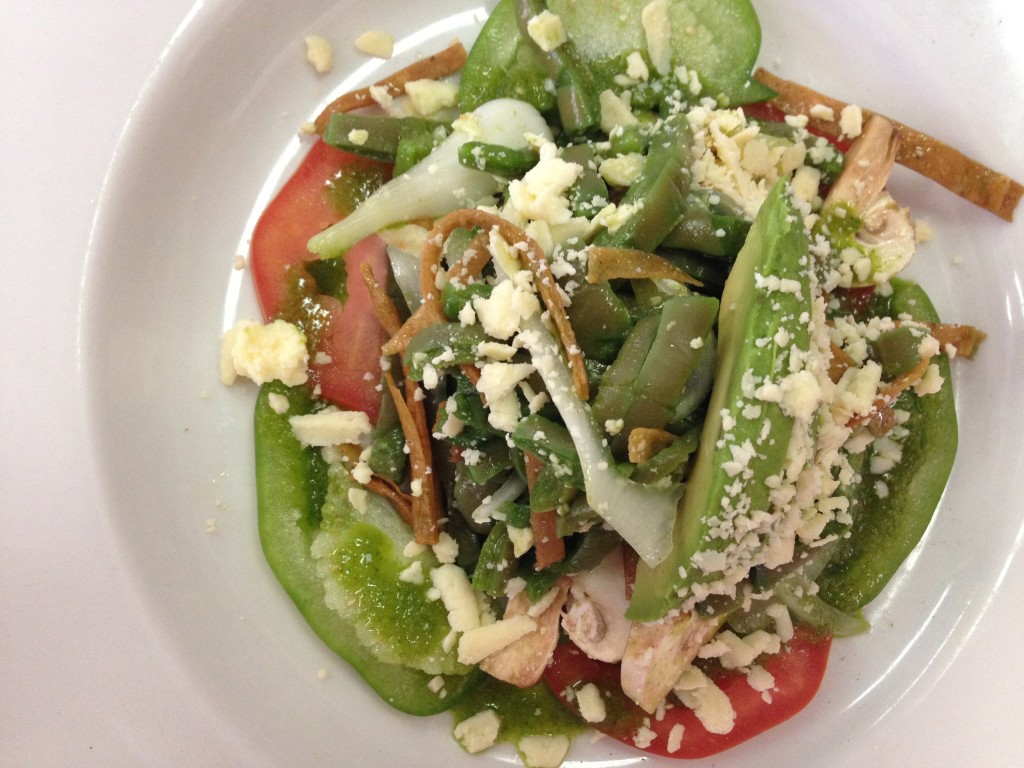 Ensalada de nopales is essential to start.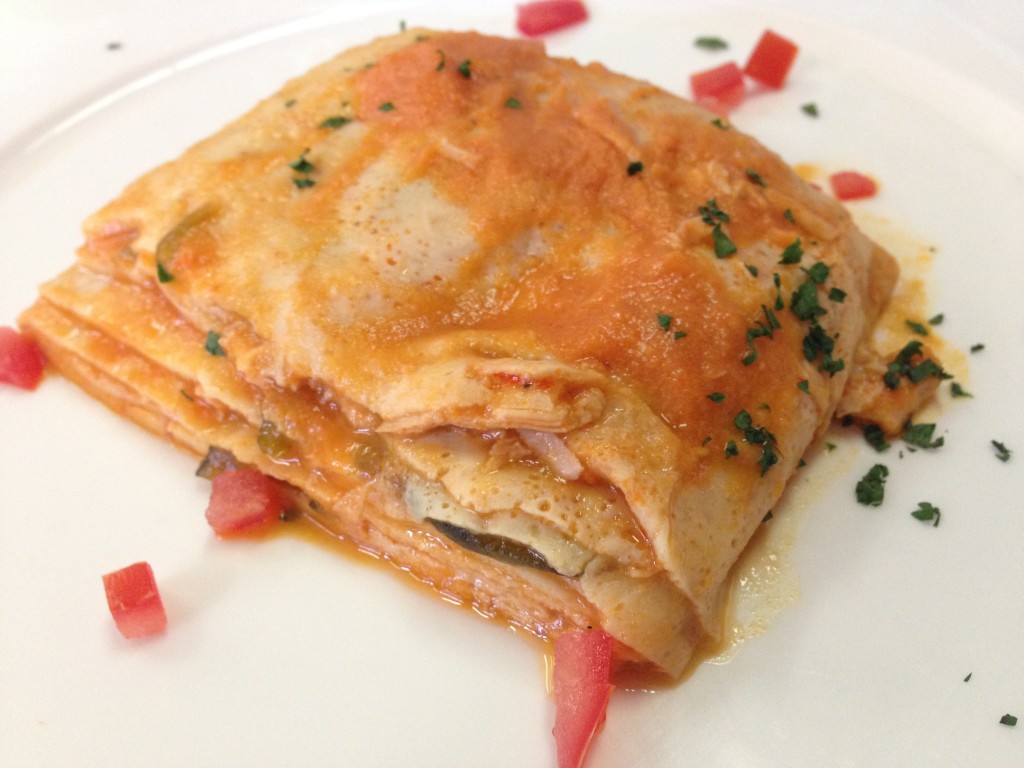 The sopa seca de natas = crepes + salsa poblana + love + the bestness.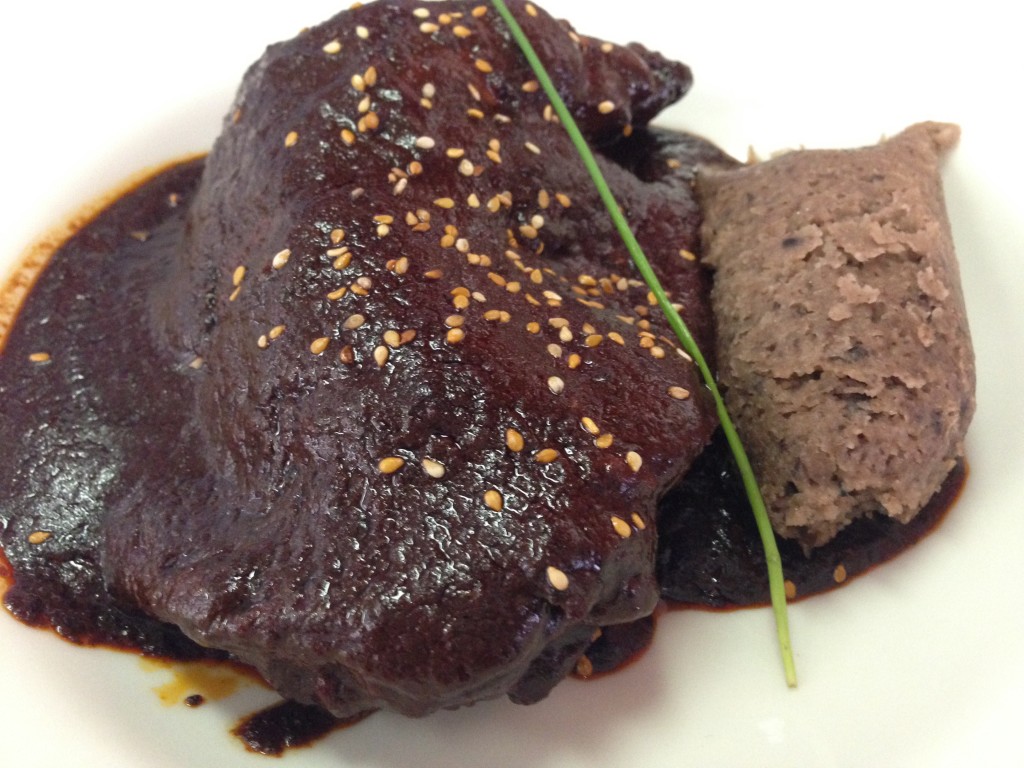 Turkey mole. Gobble gobble you up.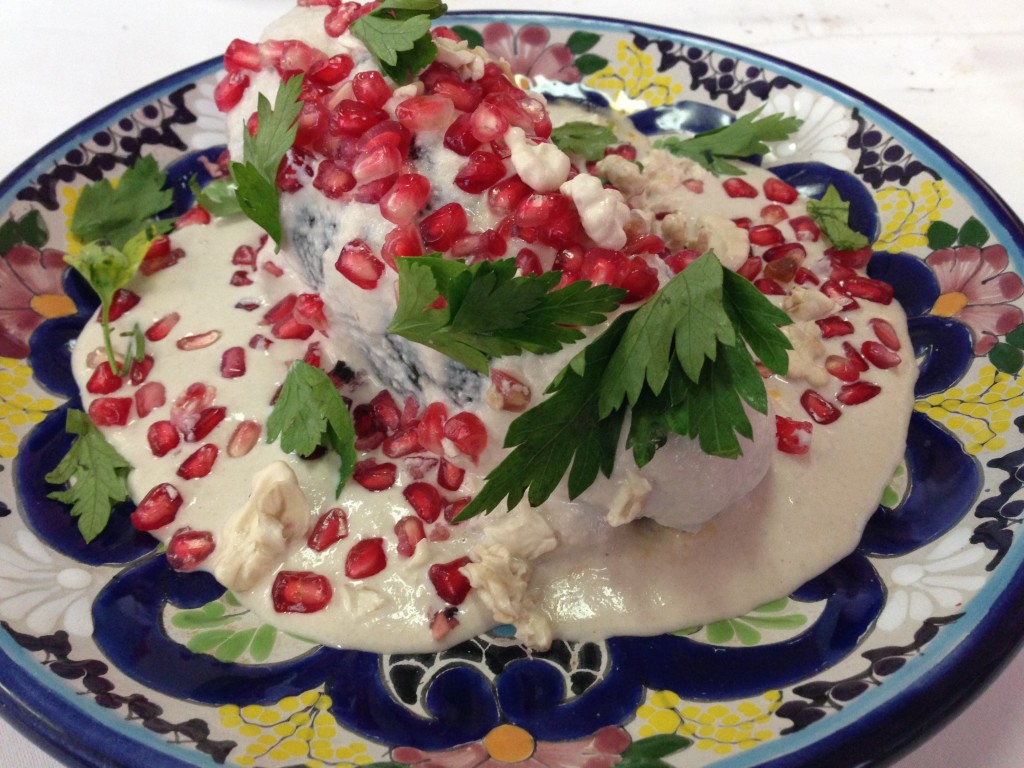 I obsessed over trying chiles en nogada my entire stay in Mexico. A friend told me that popping my nogada cherry must be at a good place, so finally, for my last comida, at Nicos, I got a taste: poblano chile stuffed with meat, fruit and spices, topped with a walnut-based cream sauce and pomegranate seeds. Total luxury.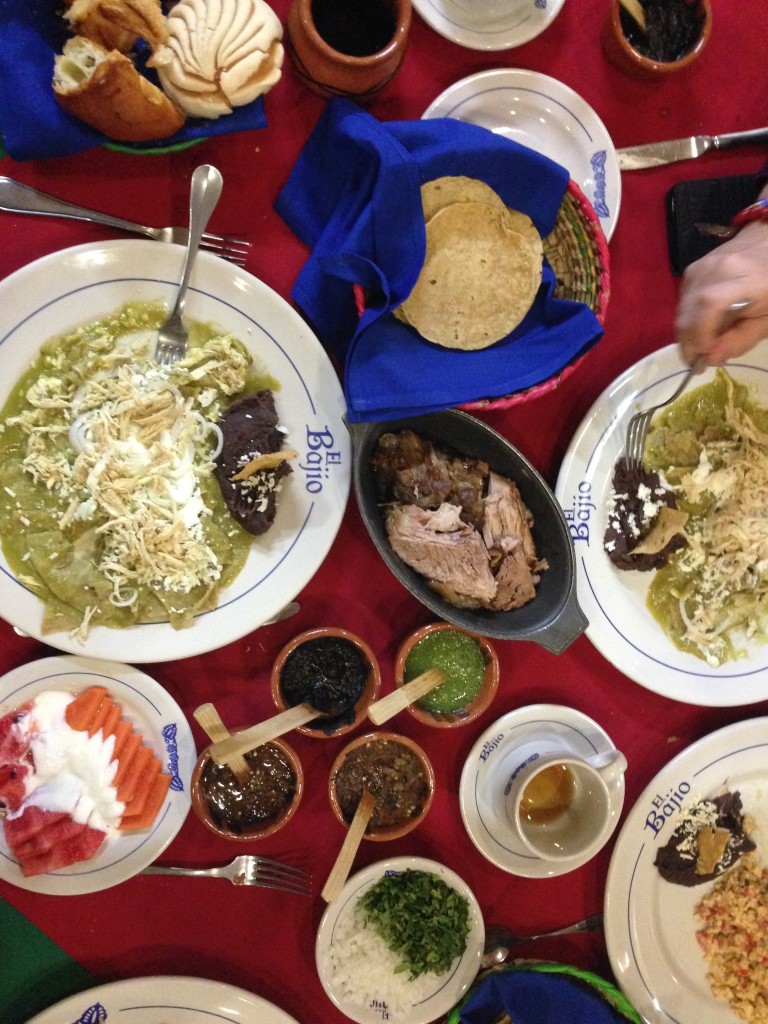 To maximize the trip to Azcapotzalco, it's essential to plan the eating schedule accordingly and head across the street to El Bajio for breakfast or barbacoa.
2. PUJOL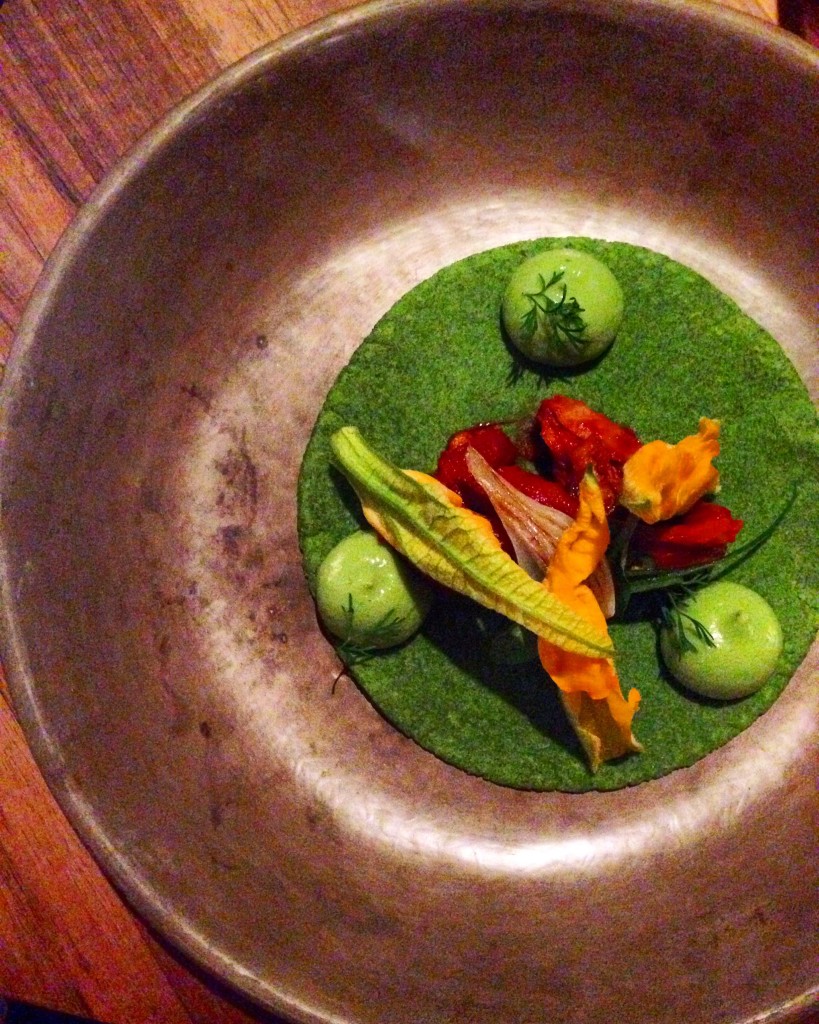 Enrique Olvera, a leader in reinventing contemporary Mexican cuisine, is one of Mexico's most famous chefs. And his flagship restaurant, Pujol, certainly lives up to all the hype. The 7-course tasting menu recreated timeless local dishes in an exciting way, using native ingredients and familiar flavors with a total twist.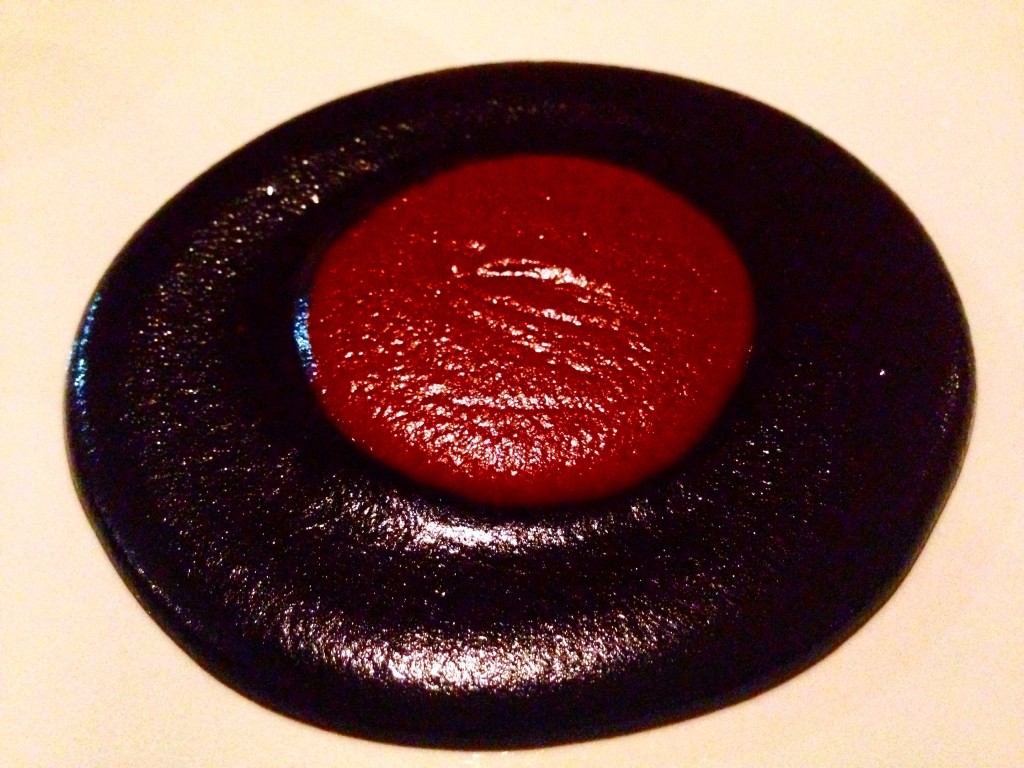 Sometimes all you really need on the plate is a perfect sauce and a carb on the side to slop it all up. The mole madre is the clear star of a menu filled with more stars. On the outside ring, the mole madre, which came from a starter that was 769 days old (the age changes every day), and on the inside, the new mole. The mole is served with fresh tortillas in a basket and paired with Koch El Mezcal Wild Agave. I couldn't stop thinking about this dish days later, the intense and complex flavors tattooed on my tongue. The mole madre transported me to my fictitious Mexican grandmother's kitchen — I could picture my fake abuela making Mexican wonders out of the same pot passed down for generations. It's a truly special dish, and you should read all about the mole madre on Lucky Peach.
3. MAXIMO BISTROT / LALO!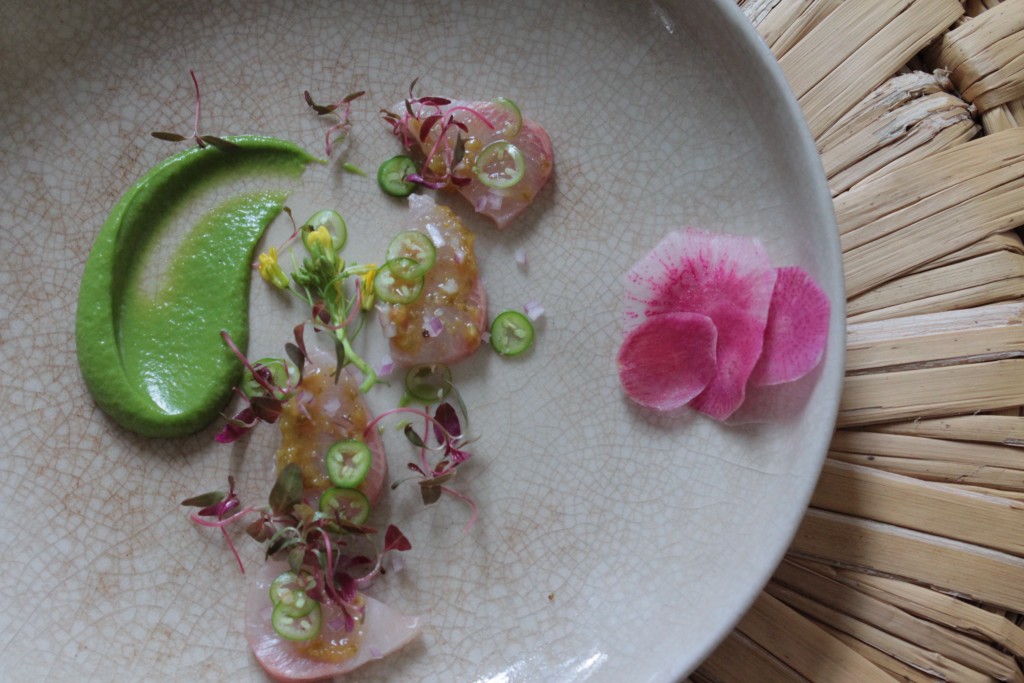 Lalo and Máximo Bistrot are two very different restaurants, but both are owned by chef Eduardo "Lalo" García. Máximo Bistrot is considered to be part of the modern Mexican movement, applying classic French technique to Mexican ingredients. The menu changes all the time depending on the freshest in the market, but always uses some of the best goods Mexico's got. I even joined my friends from FoodieHub and Good Food Mexico City to make a video on Máximo's story. And if you look closely, you may notice my cameo.
Across the street at Lalo!, you'll find the communal table packed with happy customers going down on casual daytime meals. The total hotness: go for breakfast, order chilaquiles, and you will not be disappointed. (Photo by Lalo!)
4. MERCADO DE LA MERCED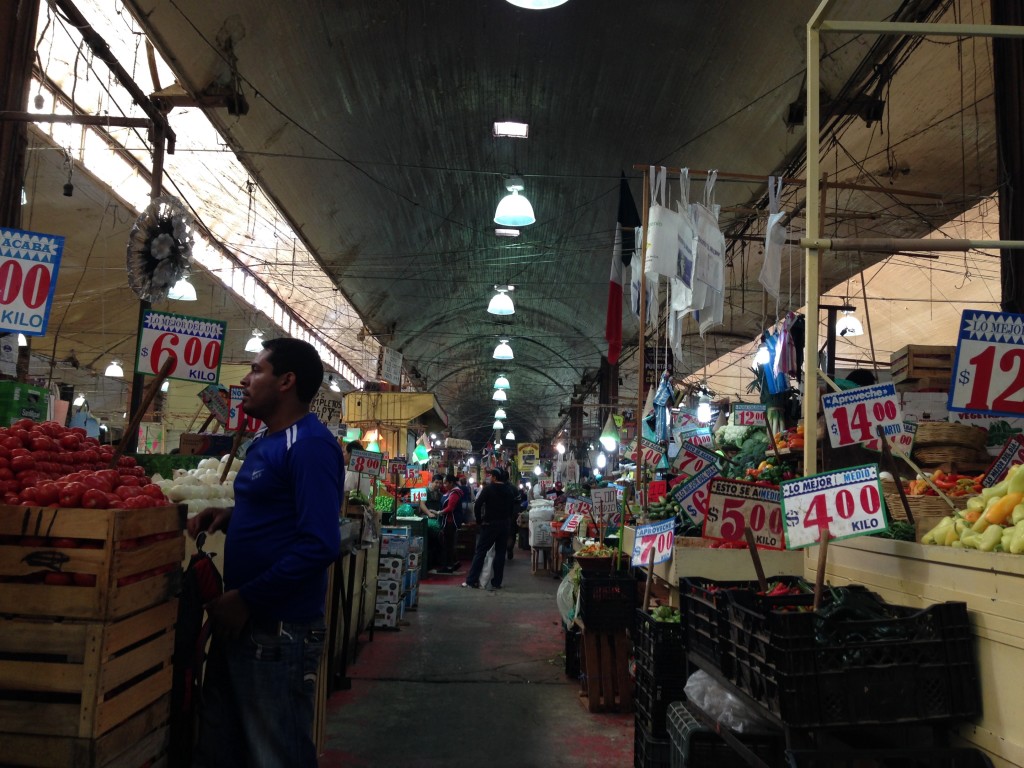 Mercado de la Merced is my fucking Disney World. I could get lost for hours inside this massive market. And, in fact, I did get lost, multiple times, because it's so damn huge. Every turn and bend is filled with ingredient heaven and Mexican food delights.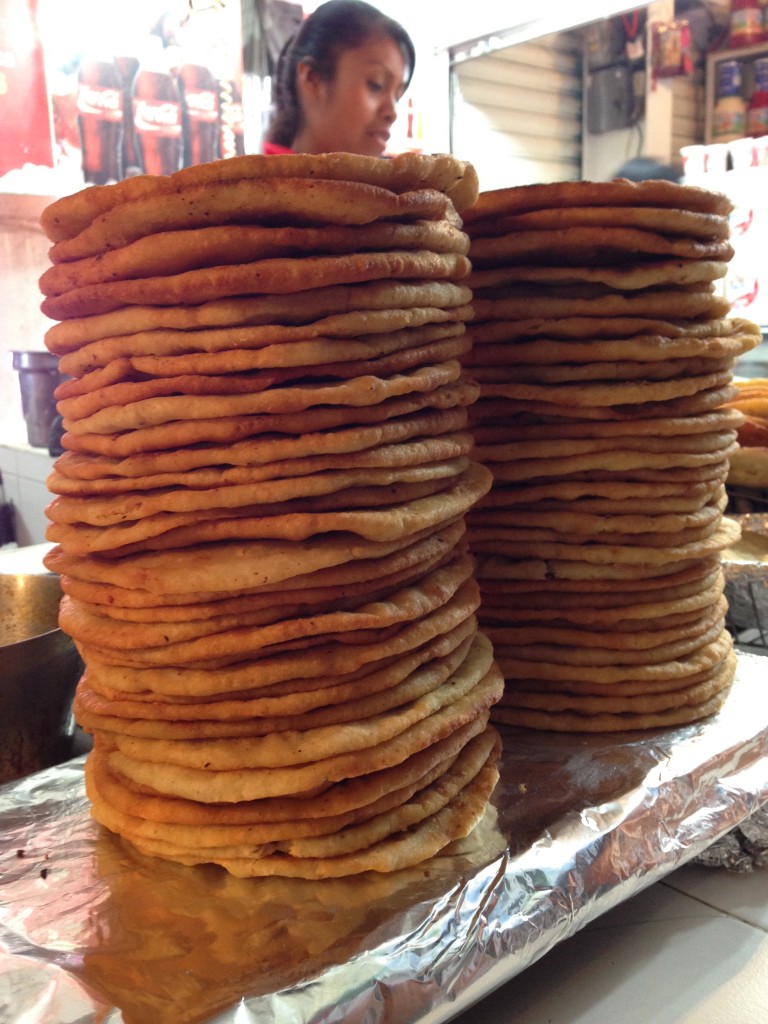 Gordita for a gordita.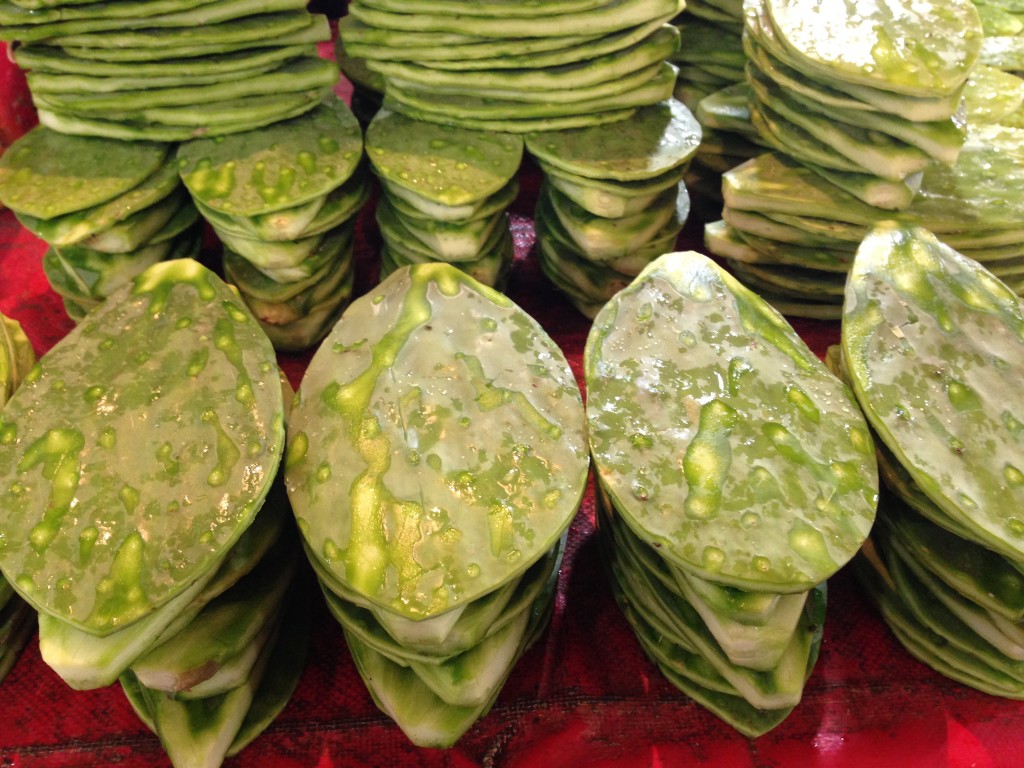 Nopales for ever.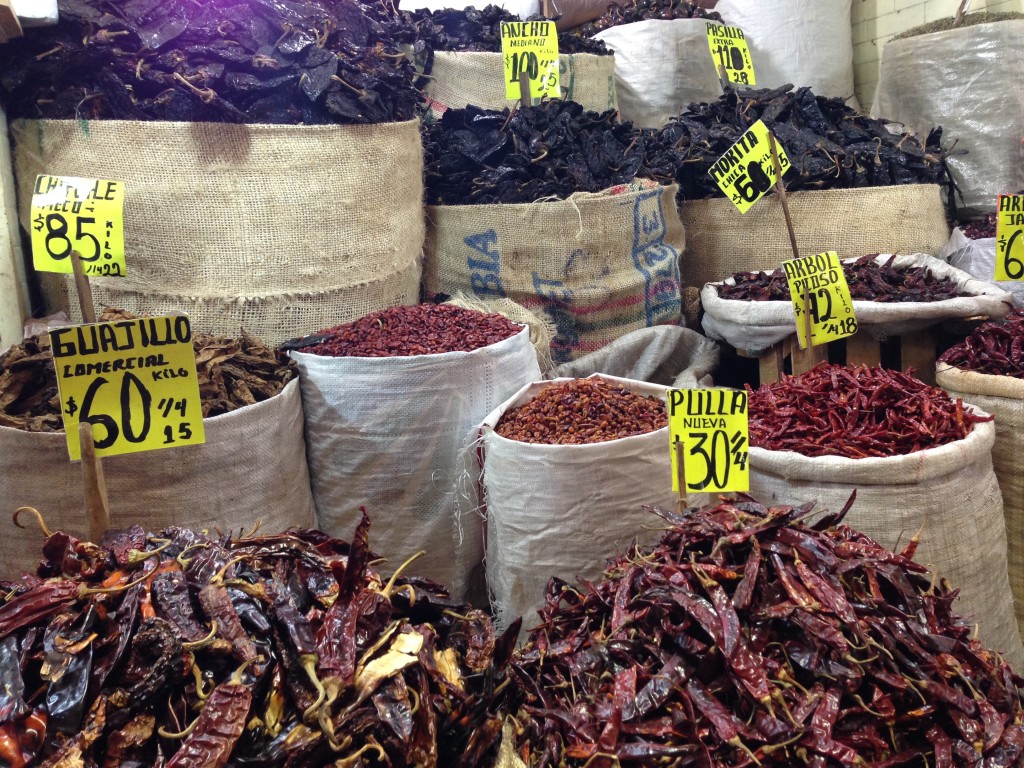 Chile peppers for days: guajillo, ancho, chipotle, pasilla, habanero, jalapeño.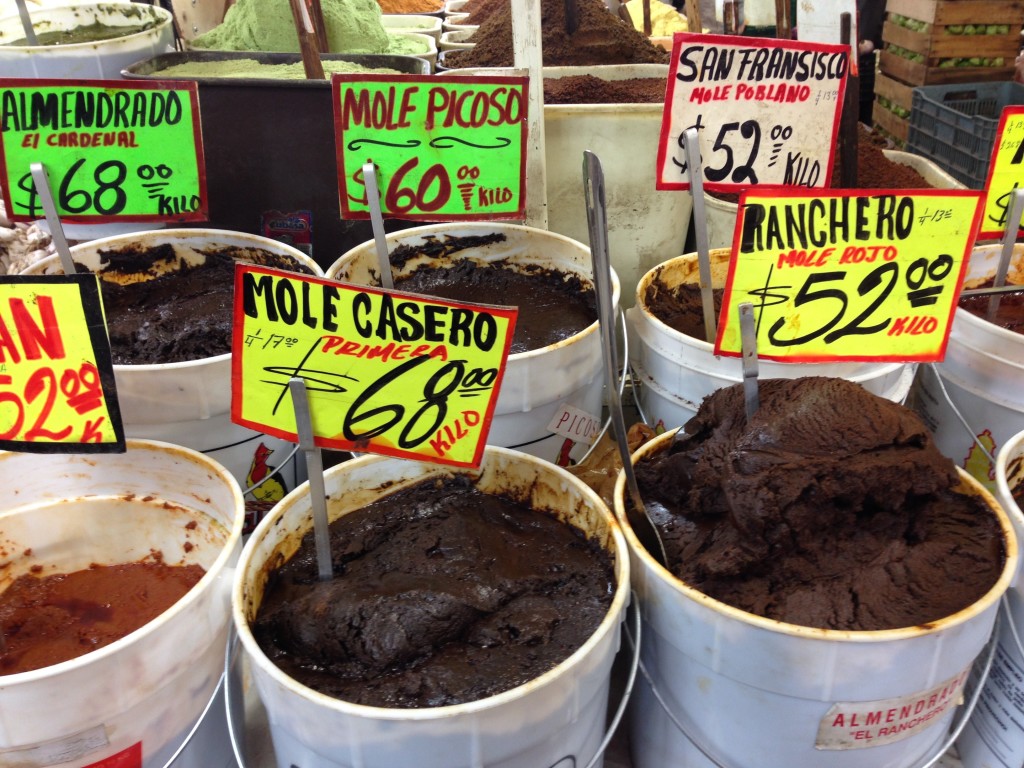 Mole for eternity.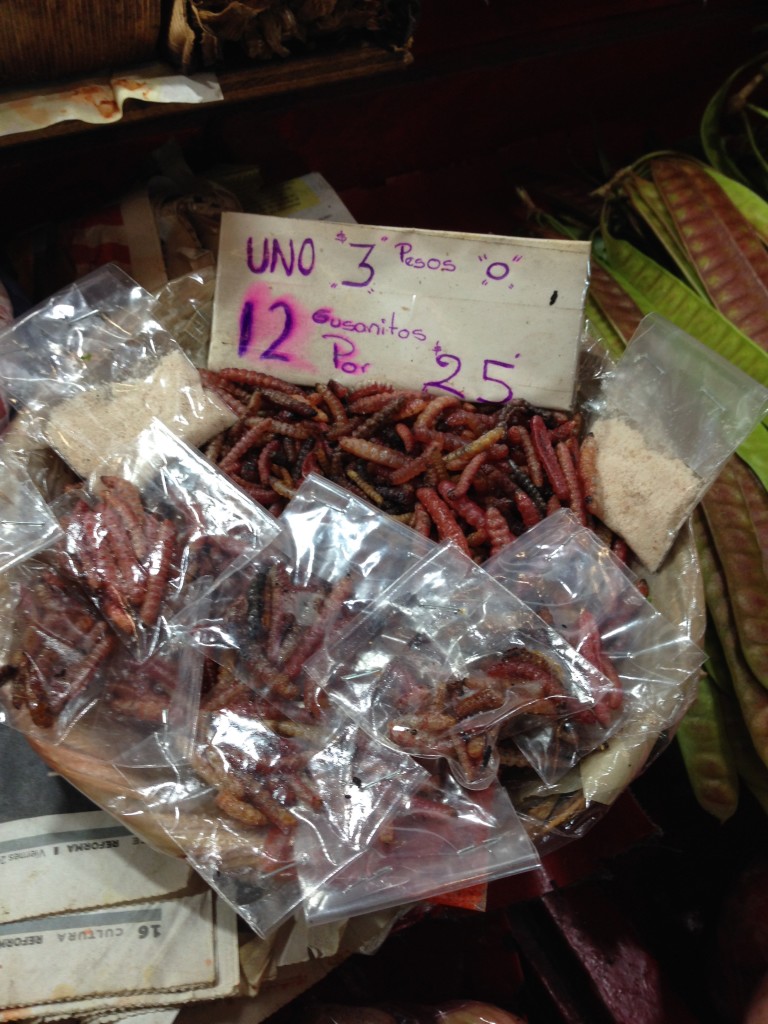 Gusanos de Maguey. Protein.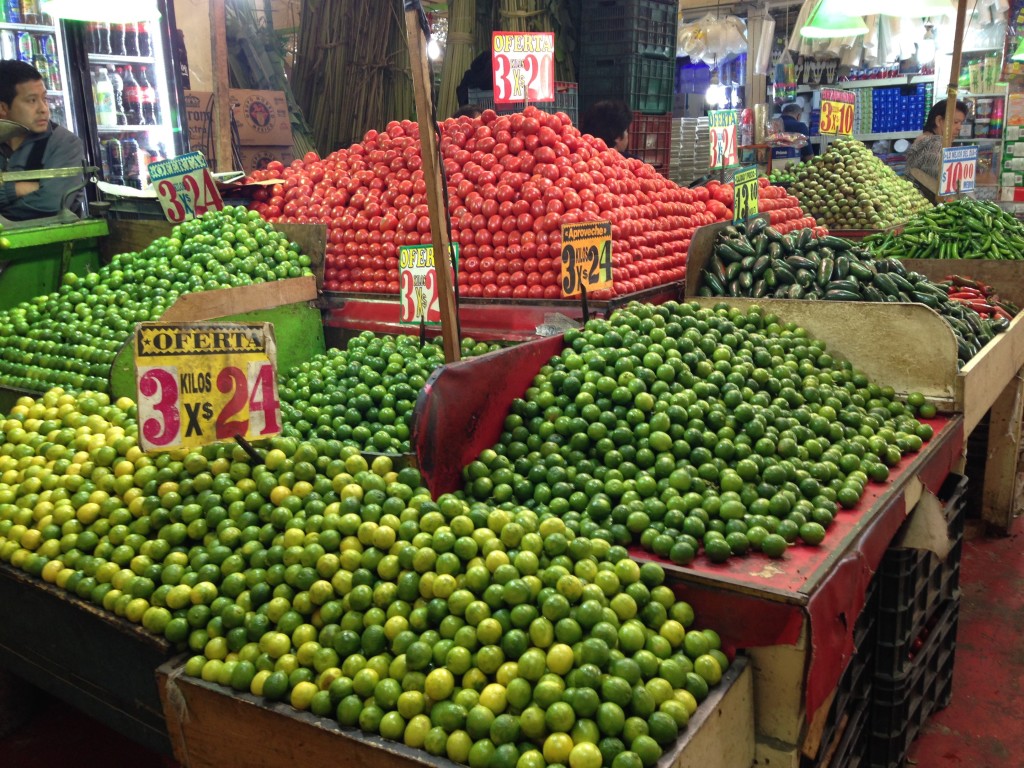 Lemon, lime, avocado, tomato, jalapeños. The staples. Note the prices: 1 USD = 17.50 Mexican Peso.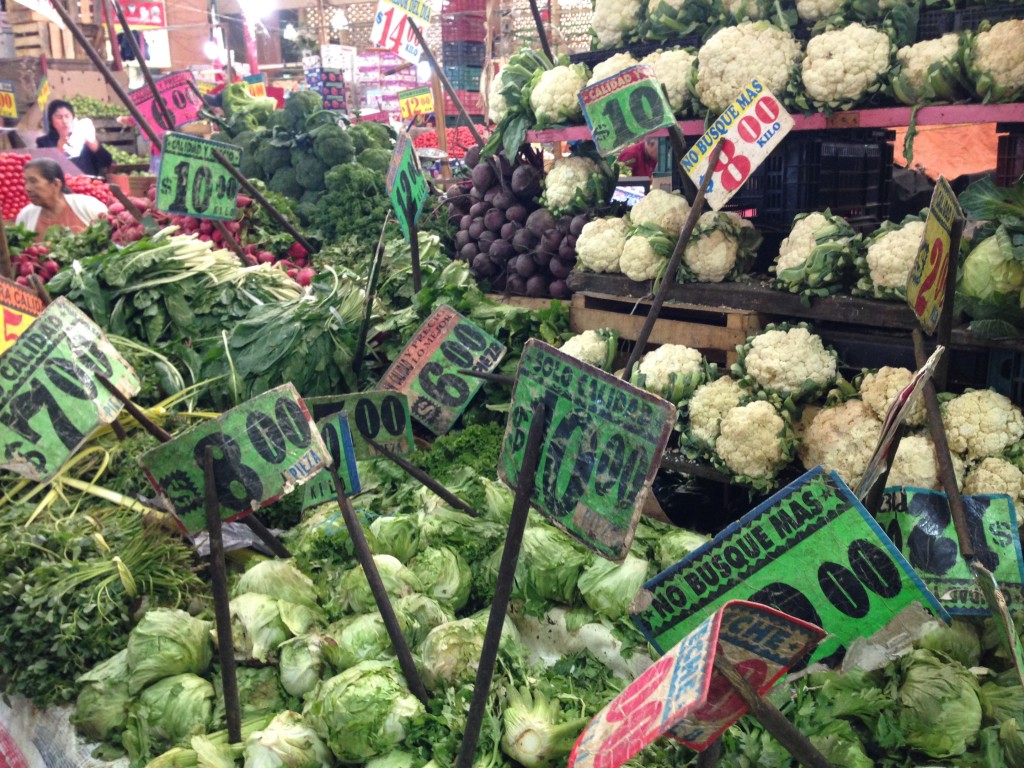 Gives great head.
 I'd like to go back to the comedor at eat at every single stand.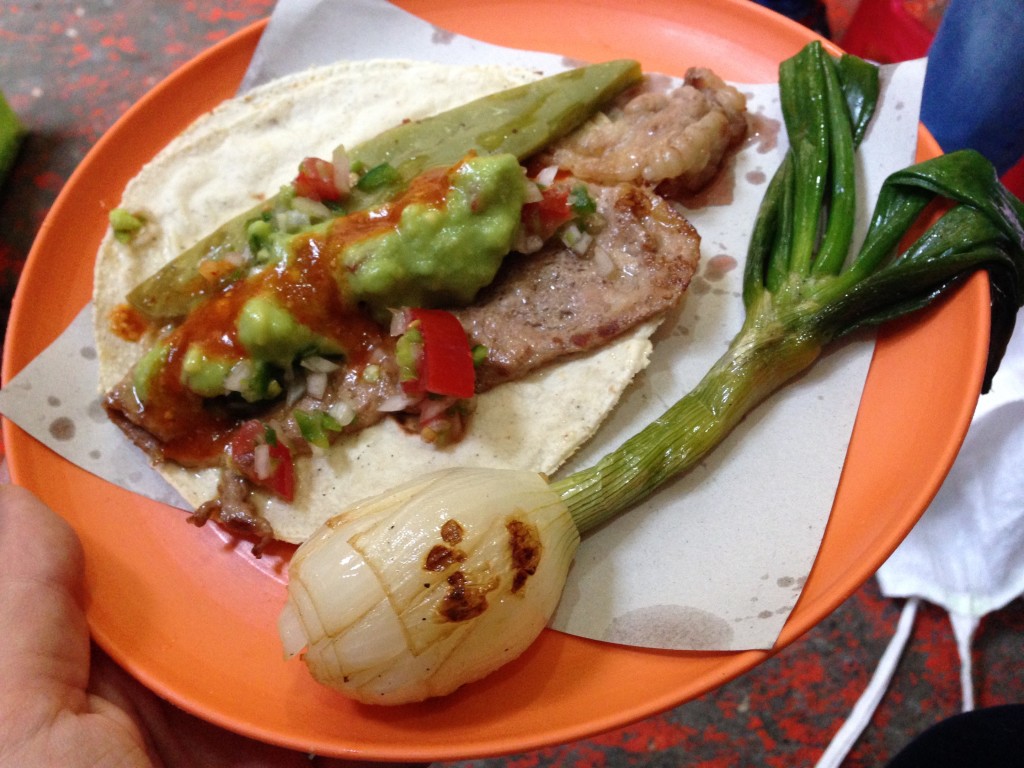 My friend food writer friend Nicholas Gilman of Good Food Mexico City has lived in CDMX for years and showed me around to taste and see the real DF. He took my through Merced knew exactly which vendors sold the good stuff, like this bisteca with nopales plate above at Tacos La Pasadita.
Other great mercados to visit: Mercado de Coyoacan, Mercado San Juan, and for beautiful house décor, Mercado de Artesanías y Curiosidades Mexicanas de San Juan.
5. THE STREET FOOD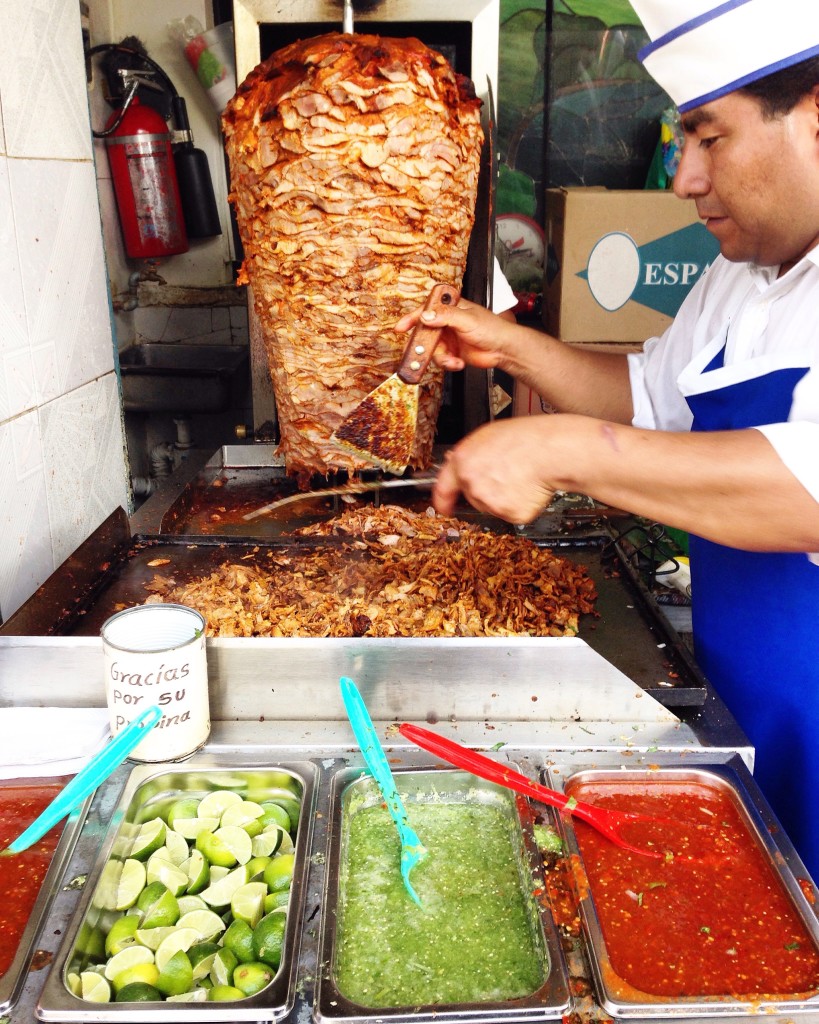 My favorite part about Mexico is the street food. Walk down any avenue and you'll instantly notice all the food carts that fill the streets: vendors work furiously tending to their meat covered grills, tortillas stacked a mile high and tables overflow with vats of guacamole, salsas, limes and accompanying vegetable toppings. It's easy and affordable to eat a strictly street food diet in DF.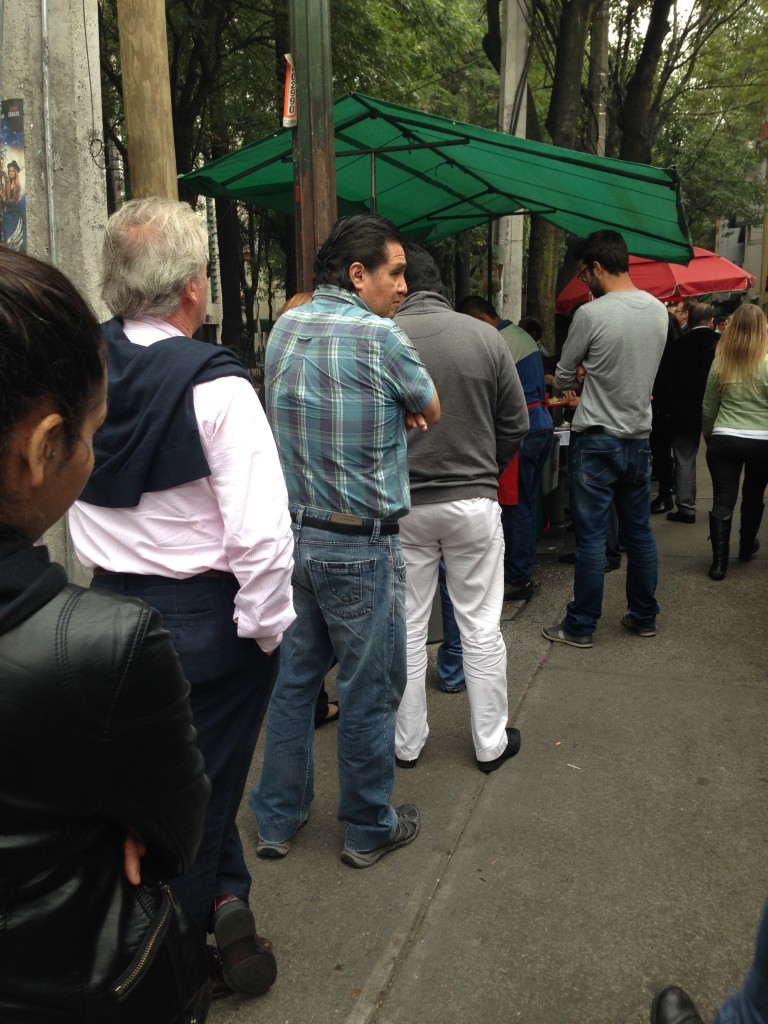 When one is hungry, and sees a crowd of people shoveling meaty tortilla wonders into their mouths, and a food line rolling 8 people deep, it's probably a good idea to queue up. It didn't matter if I was starving or I'd already eaten, when I locked eyes with a promising taquería, I had to have me a taste of that taco crack.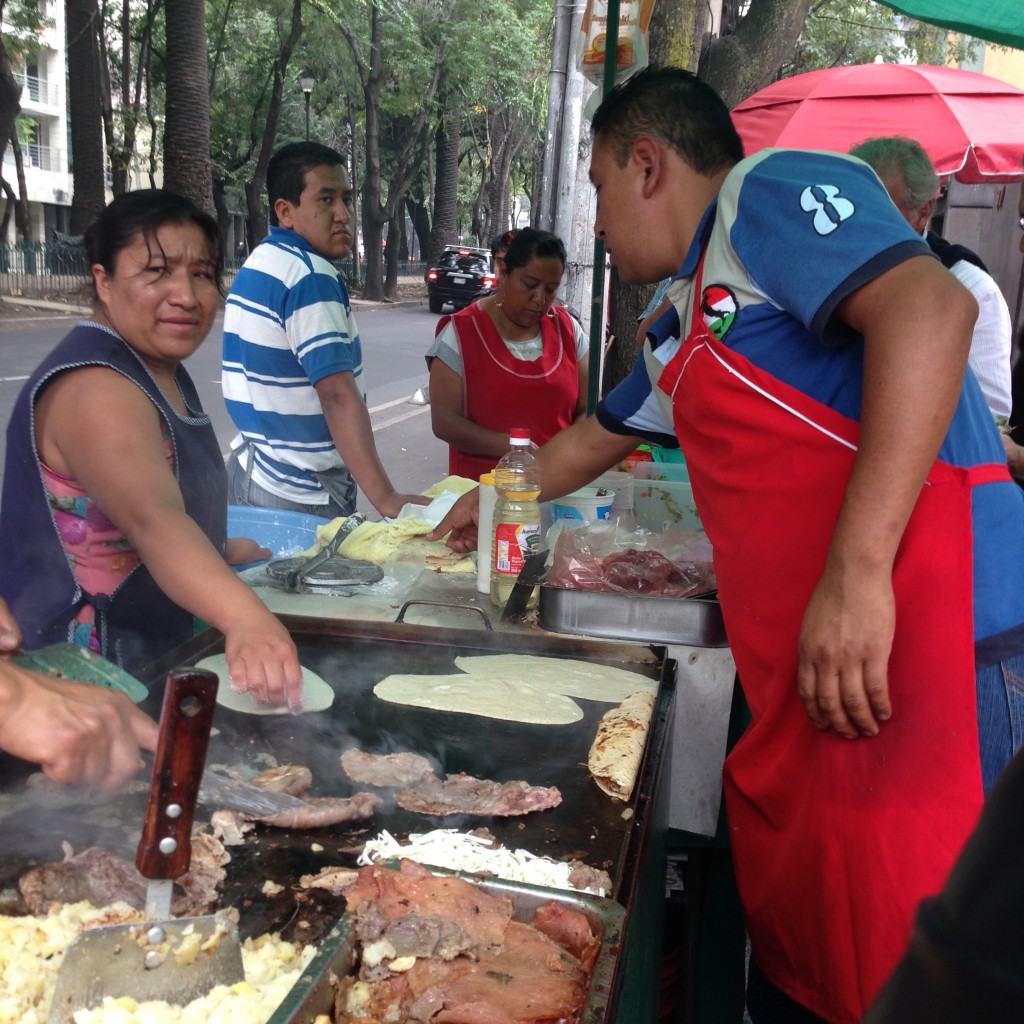 Normally I'm strongly against waiting in line for food, but I'm also a strong hypocrite. It didn't matter if I was unaware about the food I was lining up for, I'd just follow the lead from the person in front of me (I make sure they look like a serious eater), and suddenly had fabulous street food art creation in front of me. Tip: always order conservatively first, and if it's really good, get another.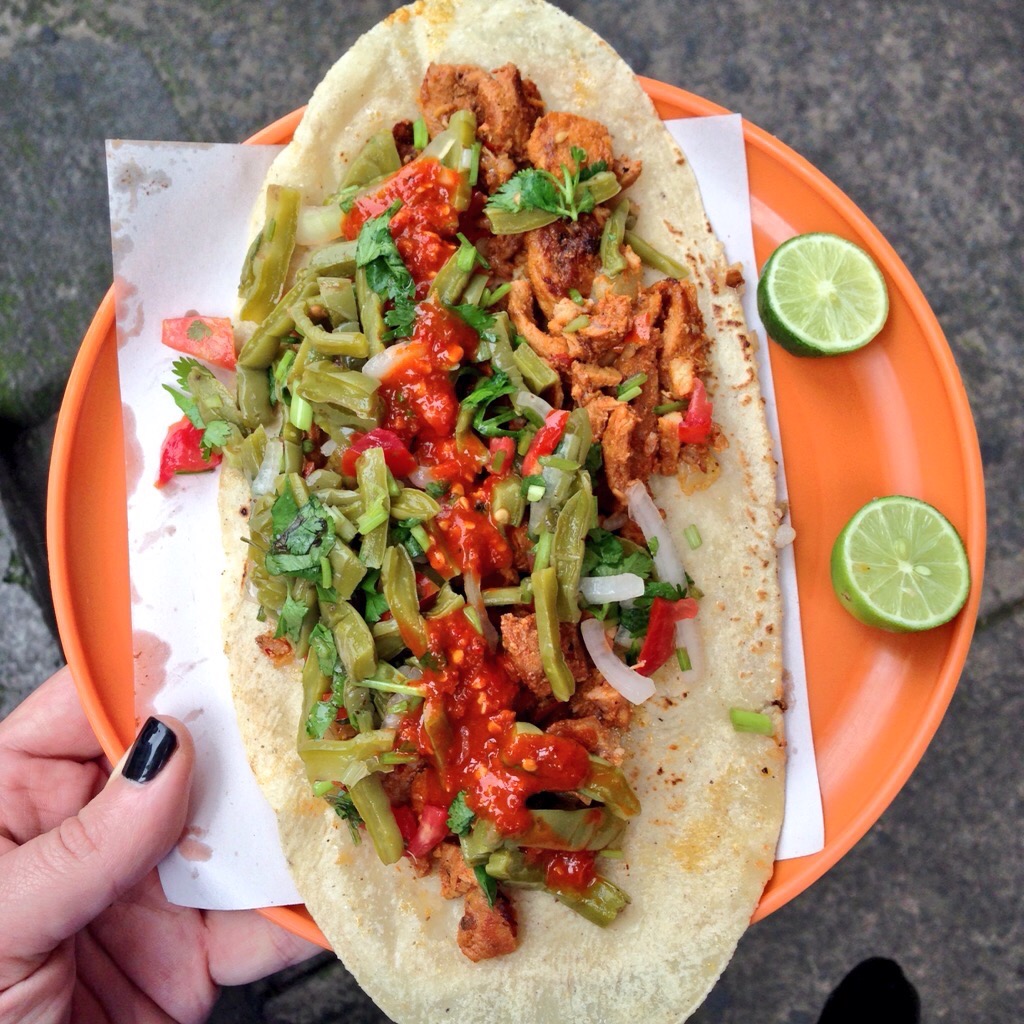 Hello beautiful: huarache, on the corner of Michoacan and Nuevo Leon in Condesa, smothered with pico de gallo, nopales and salsa roja.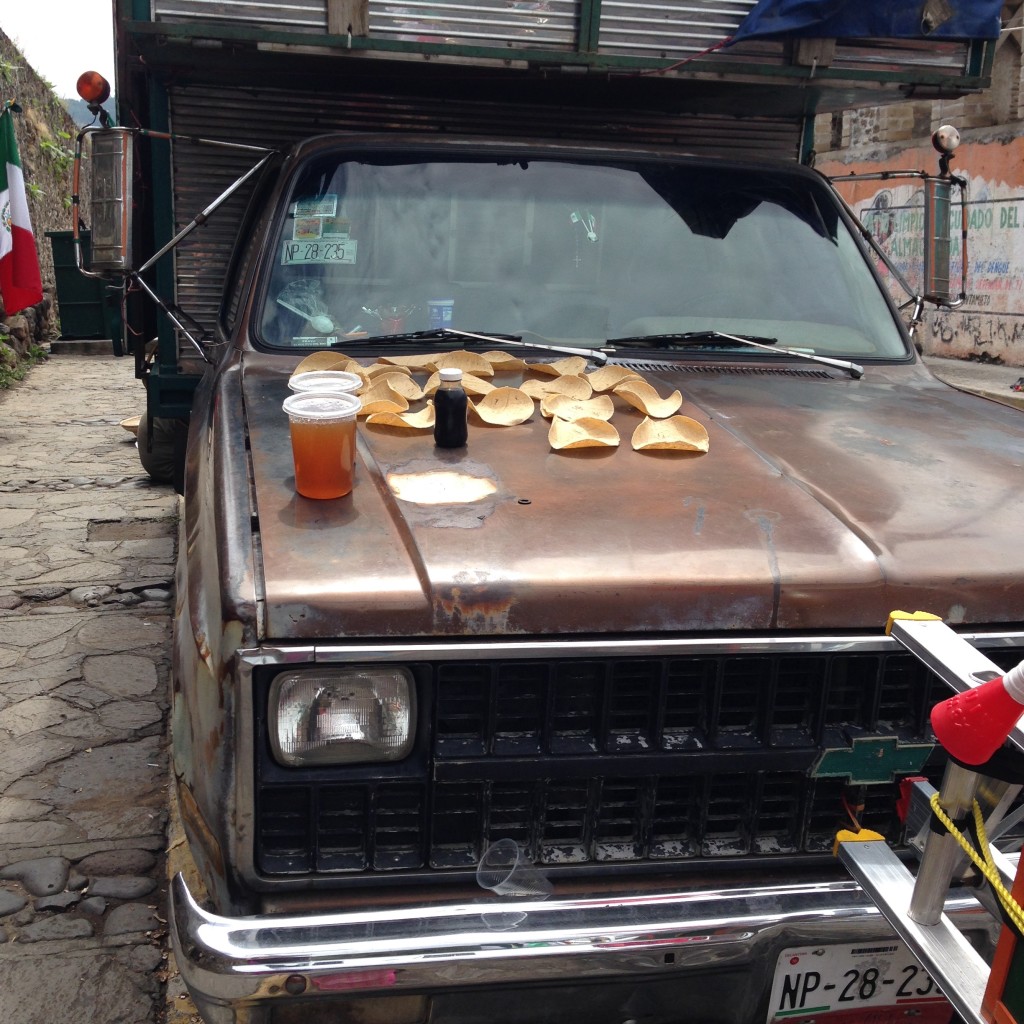 Food trucks in Mexico taken to a whole new literal level.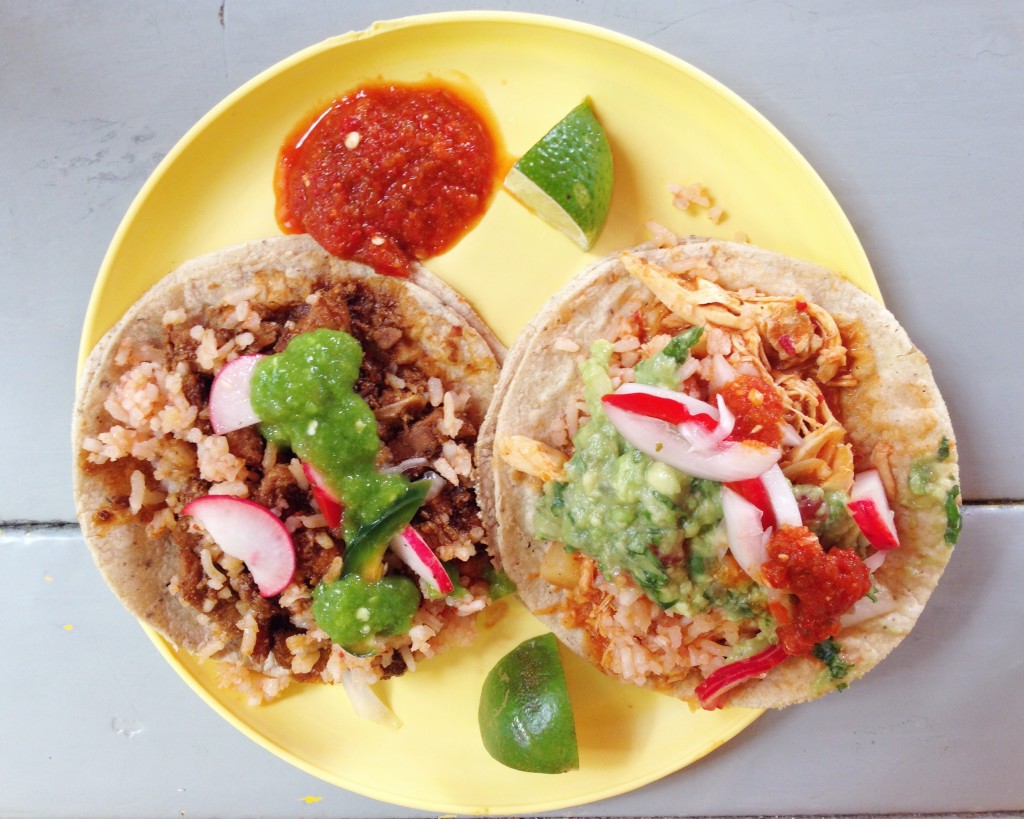 Tacos de guisado at Taco Hola / El Güero (Amsterdam 135, Condesa).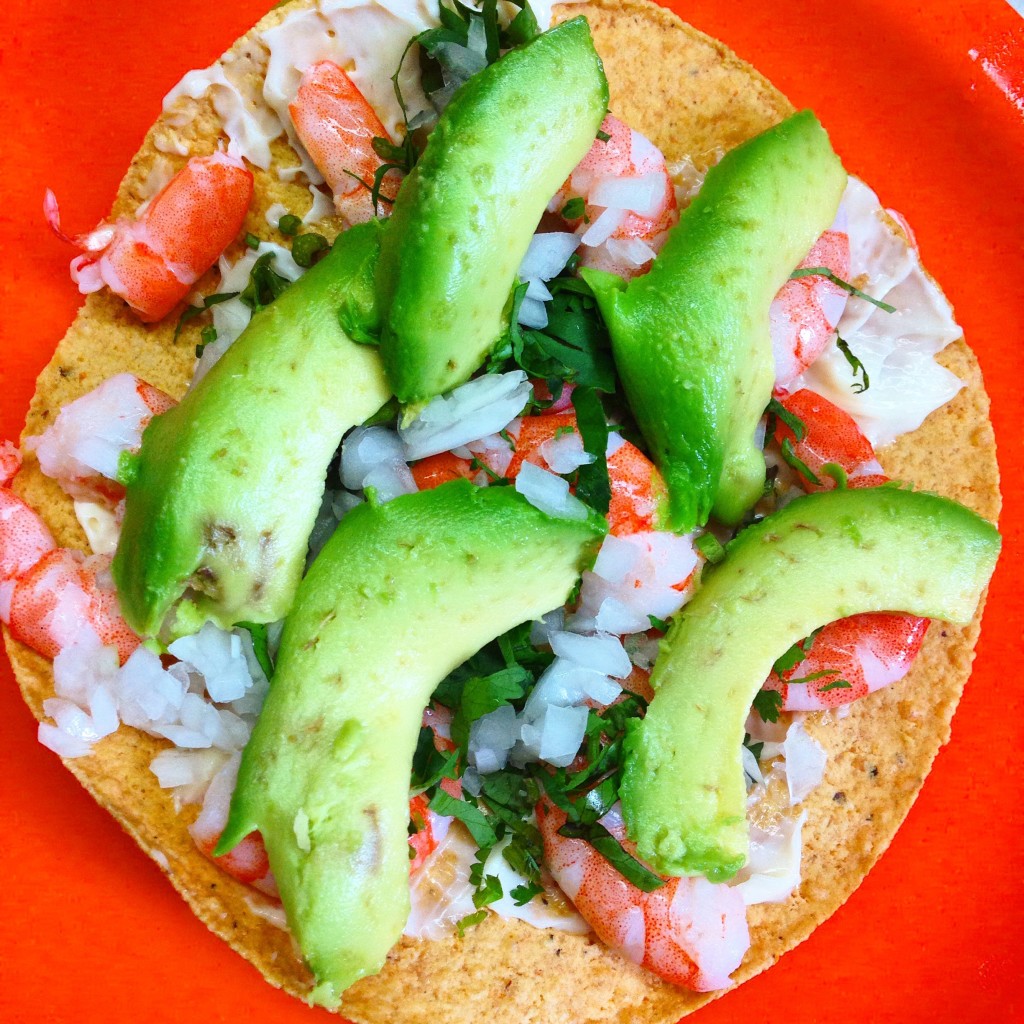 El Caguamo (Ayuntamiento, between López and Aranda, Centro Sur) serves a top notch tostada with shrimp, avocado and mayo.
Looking for that late night taco binge? Taqueria Los Parados (Monterrey 333, Roma Sur) is open 24/7 with their al carbon grilled tacos oozing with cheese.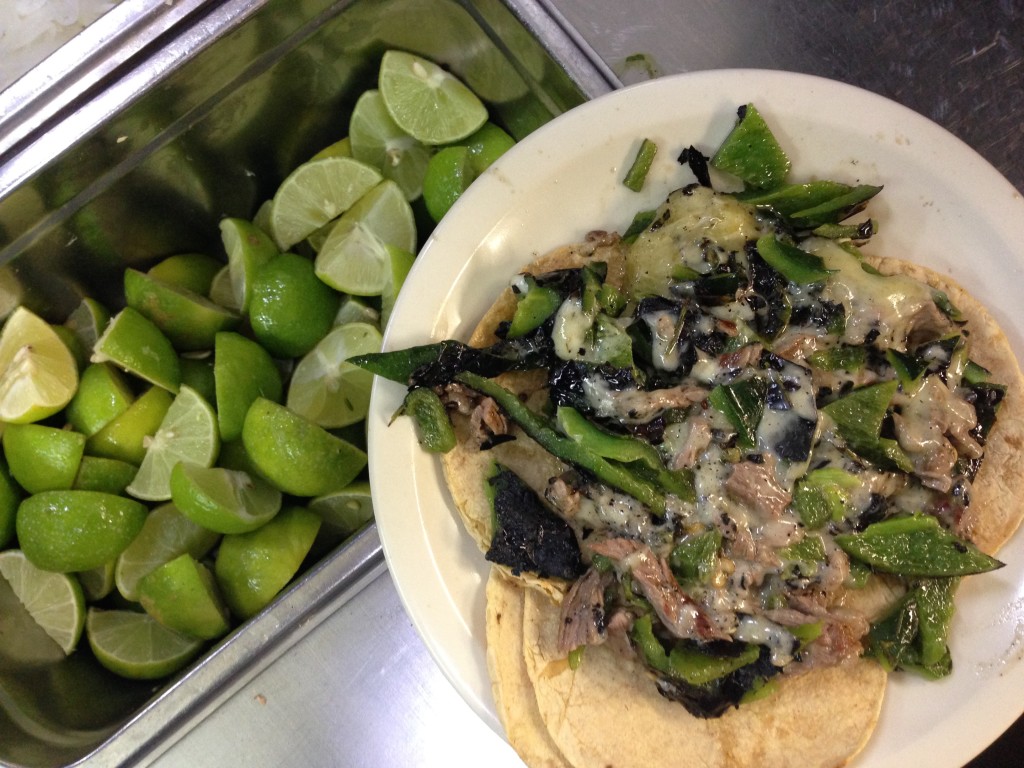 I promise this tastes amazing, especially all drunkity at 4am.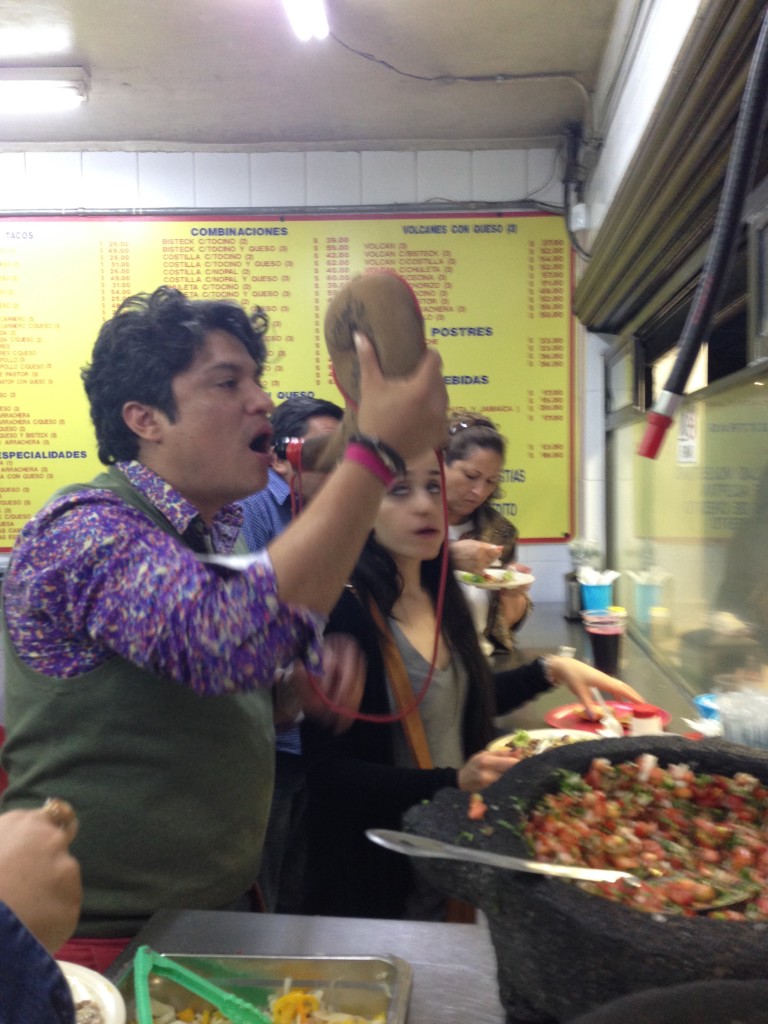 Look, this dude brought his own porrón to the taquería. I want to be his purple floral shirt when I grow up.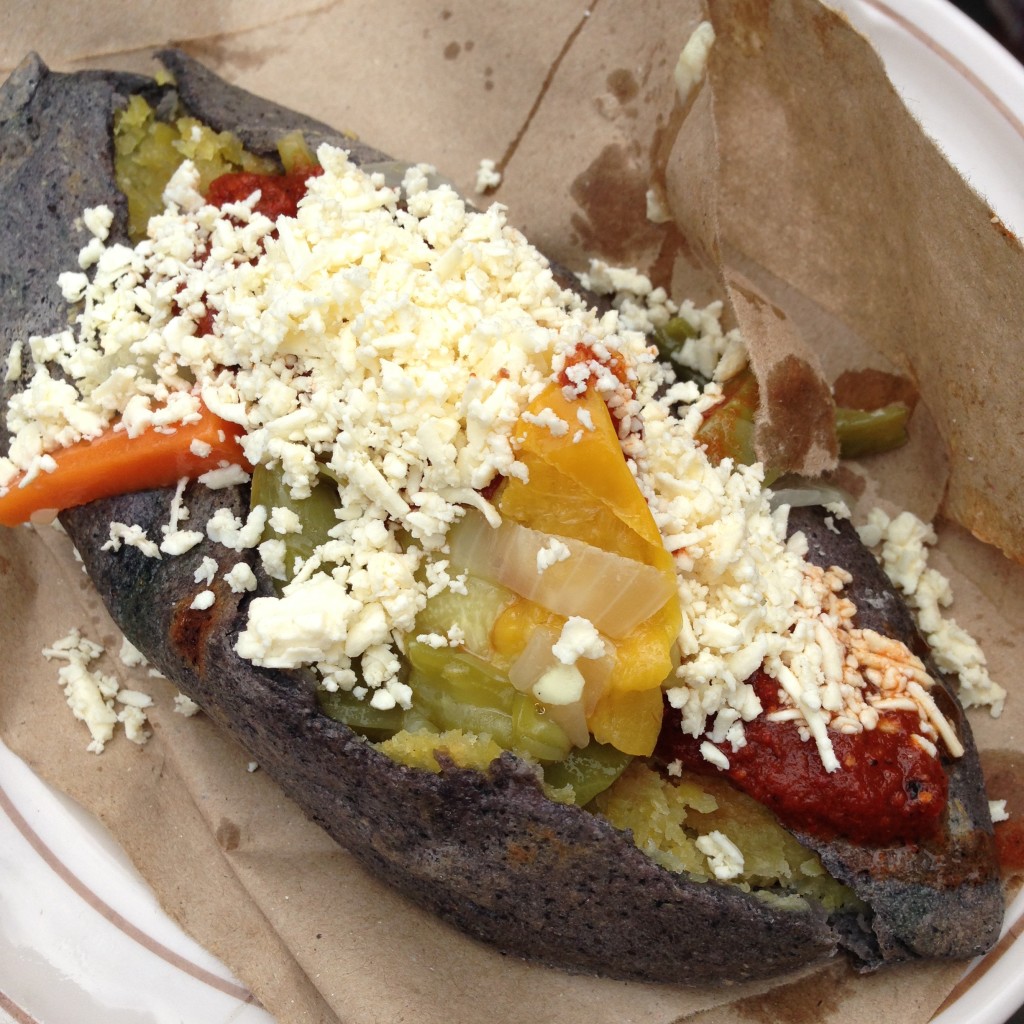 A blue corn tlacoyo on the street in Malinalco.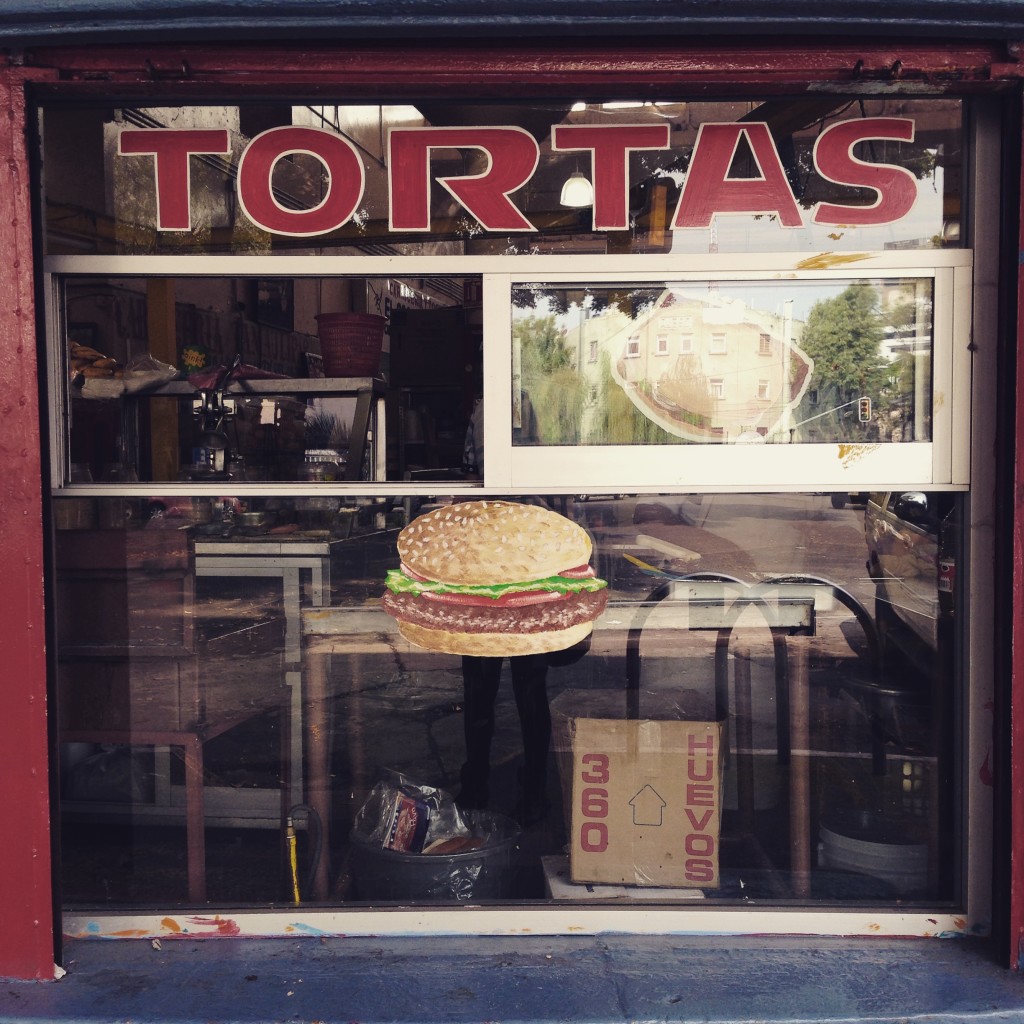 Tortas, tortas every where! I fell in love with this Mexican sandwich on bolillo bread, especially the turkey with avocado.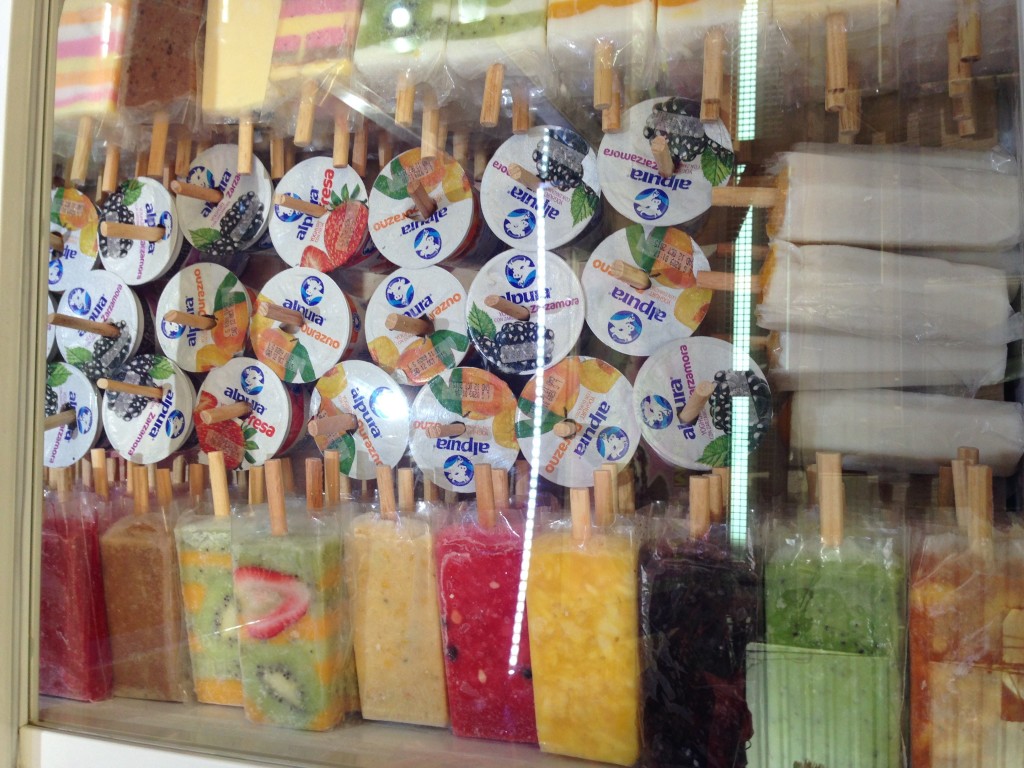 MORE PALETAS PLEASE!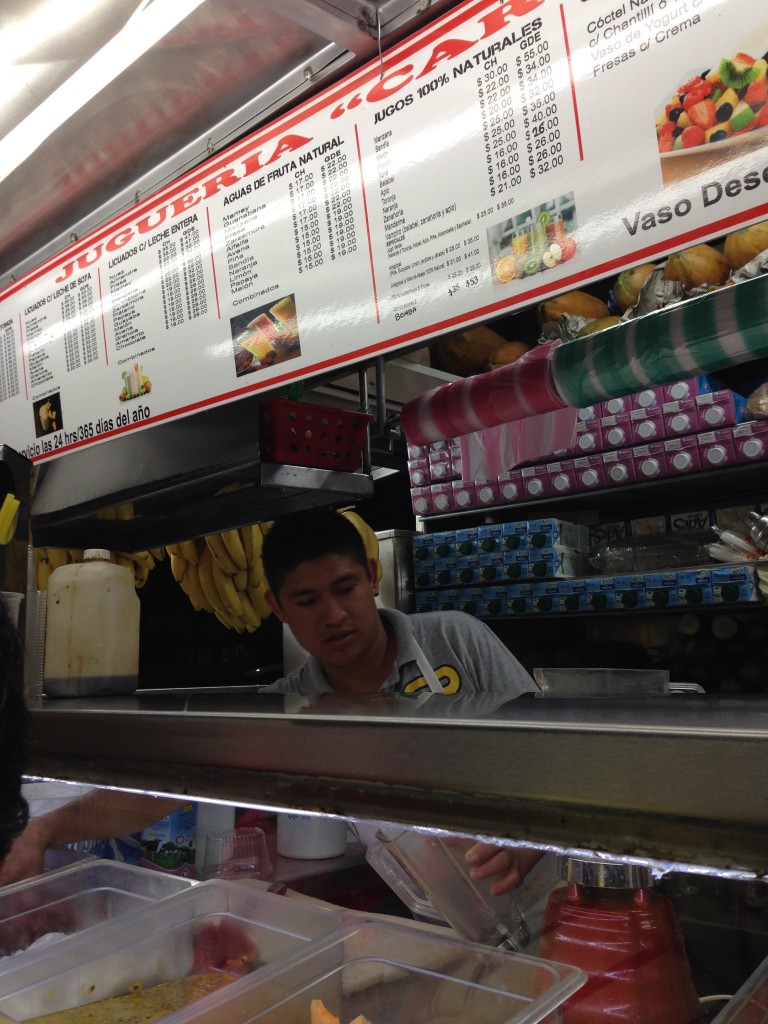 Dear Juice Stand on Sonora and Amsterdam, you saved my life with your fresh juice squirt of vitamin C.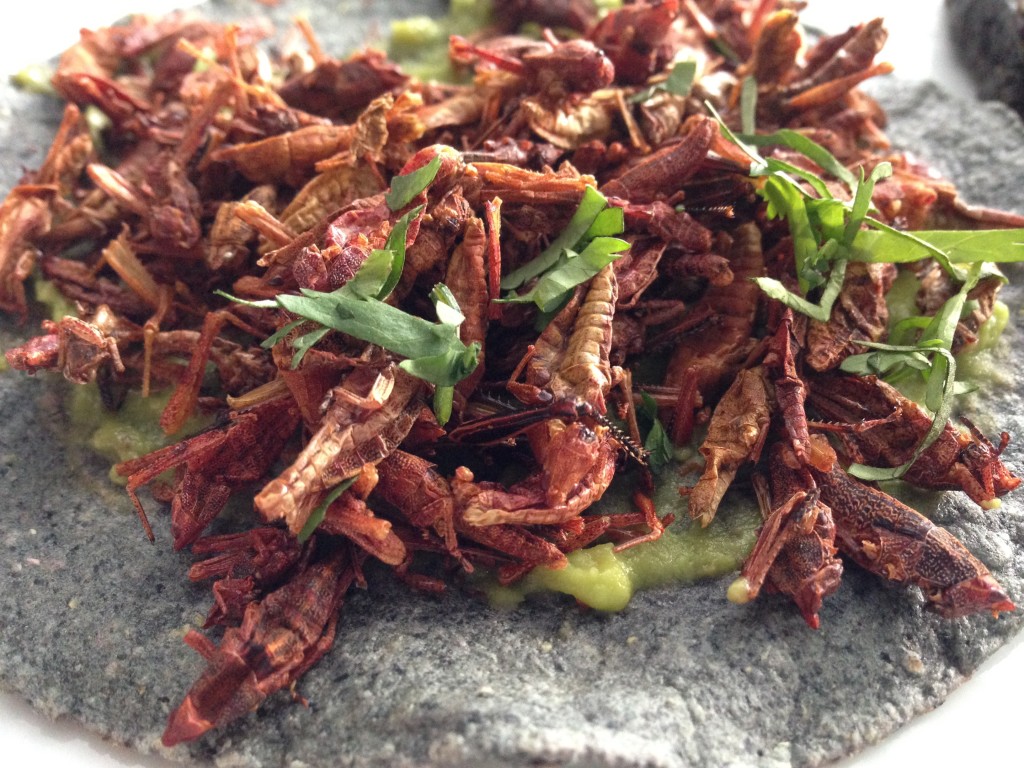 And a shout out to grasshopper tacos! If you close your eyes, and don't know what's inside, the chapulines just taste like a crunchy, salty, fried snack.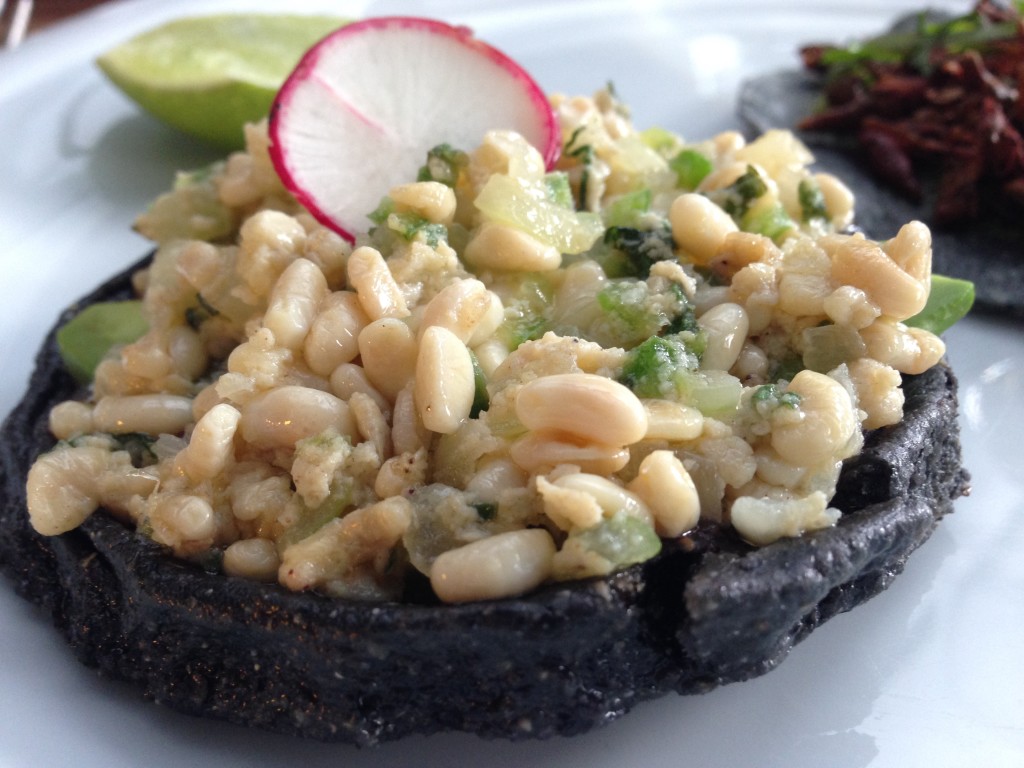 Creamy and nutty escamoles are a delicacy in Mexico. Caviar is a thing, so why not ant larvae?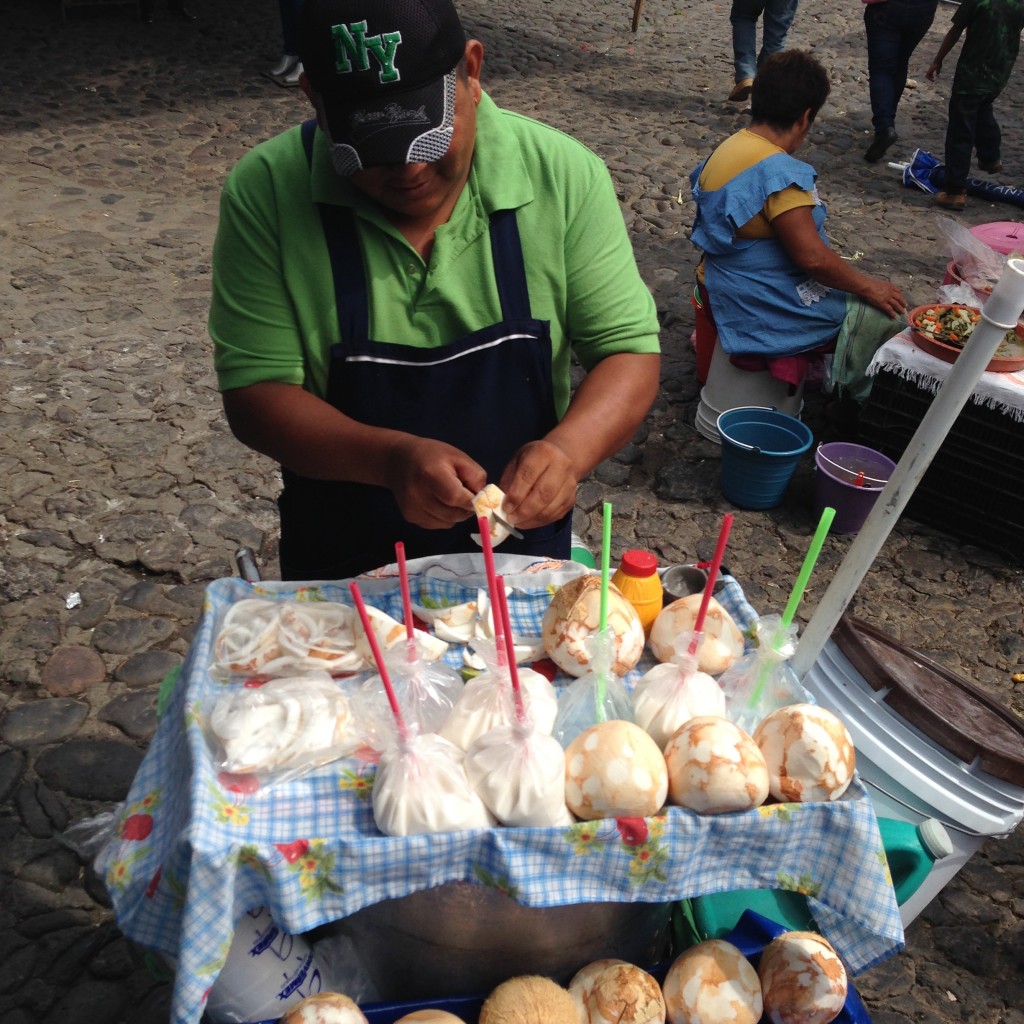 Coconut juice in a bag, of course.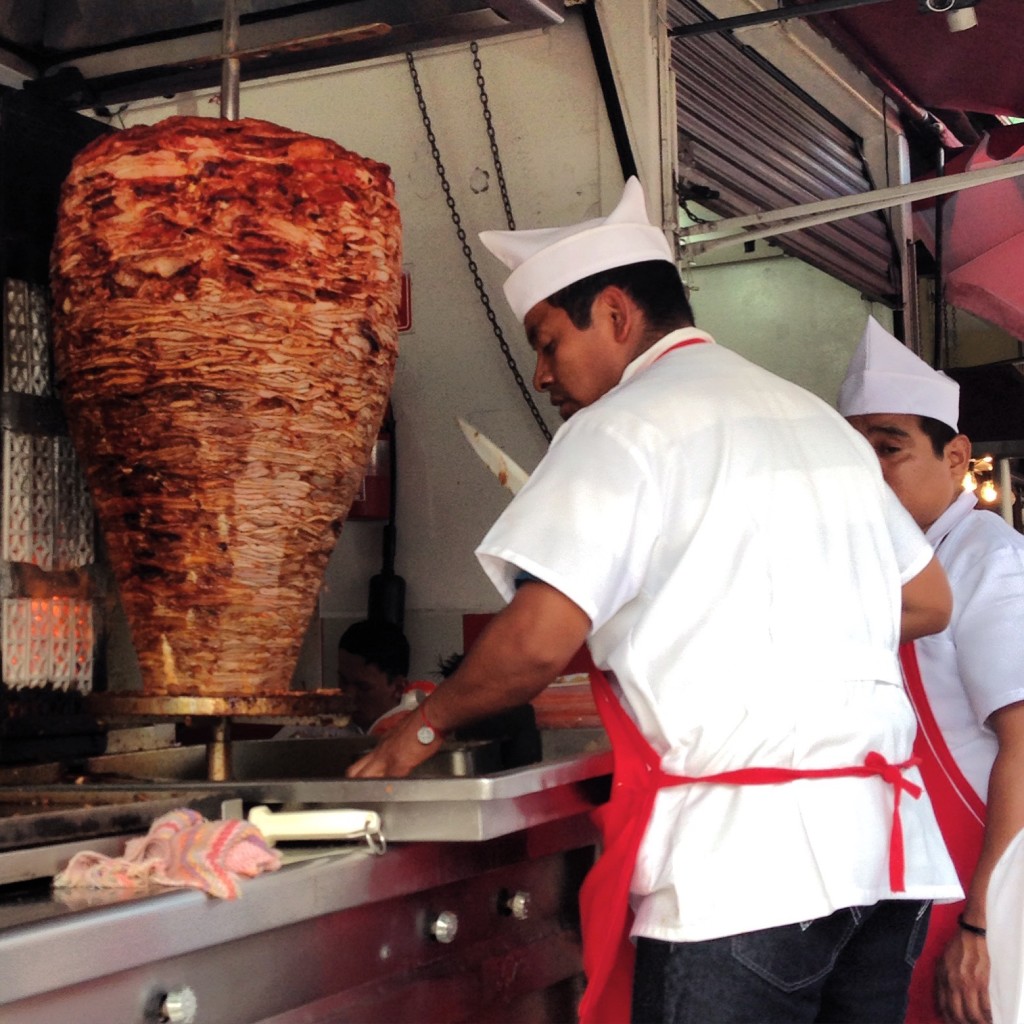 It's not acceptable to visit DF without a taco al pastor crawl. I started with the delicious El Huequito and almost ended with El Huequito.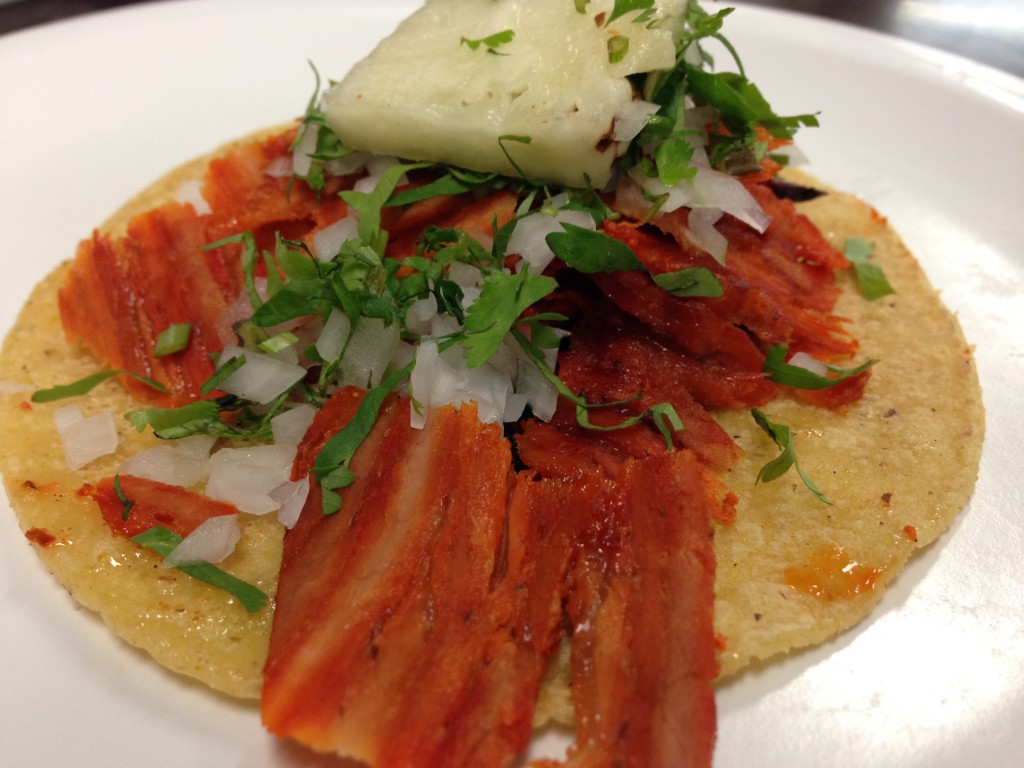 I'll tell you a secret: this taco is vegan. When I first heard about a vegan taquería my eyes rolled back into my head — then I tried it and can attest to its greatest.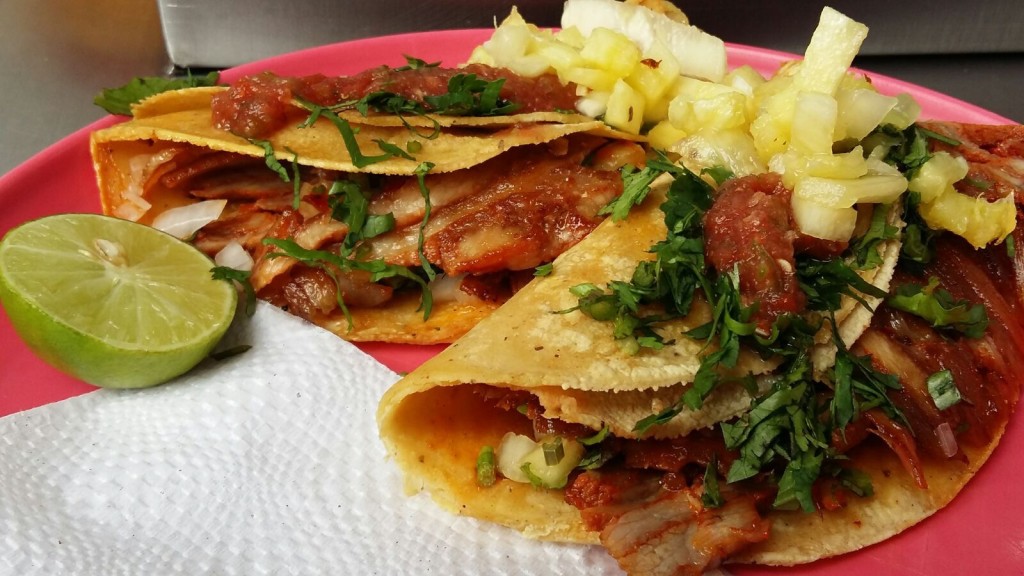 El Tizoncito had the perfect porky flavor – pineapple combo.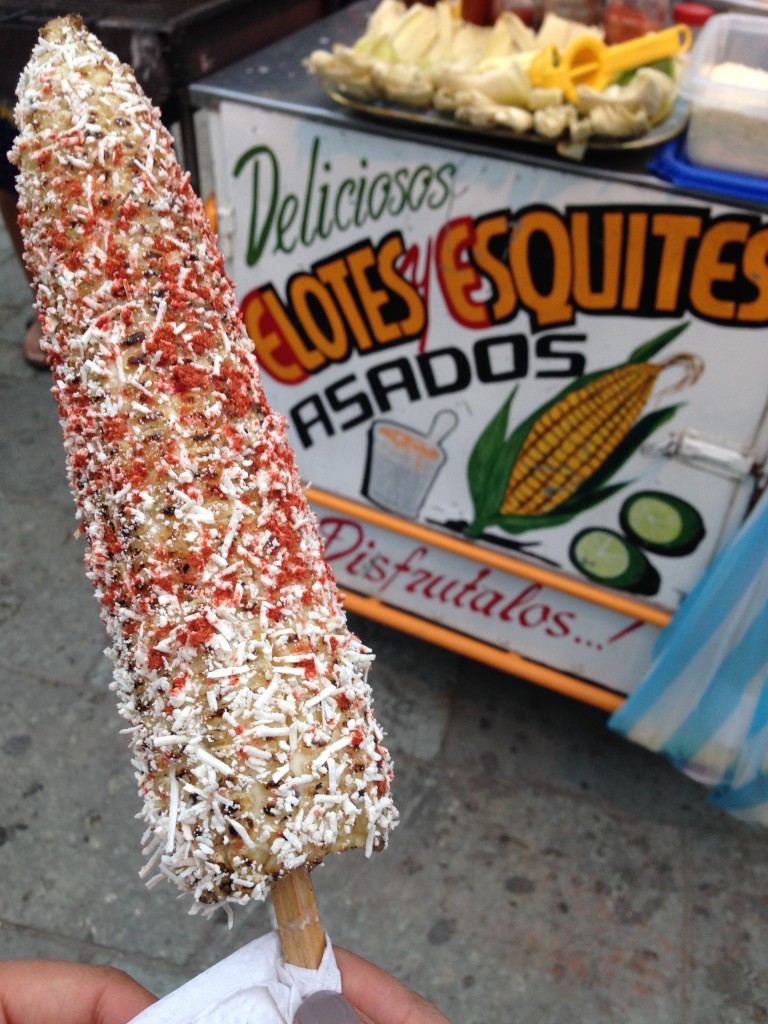 Elotes, covered in limey mayo, cotija cheese and spice. I finally met my better half.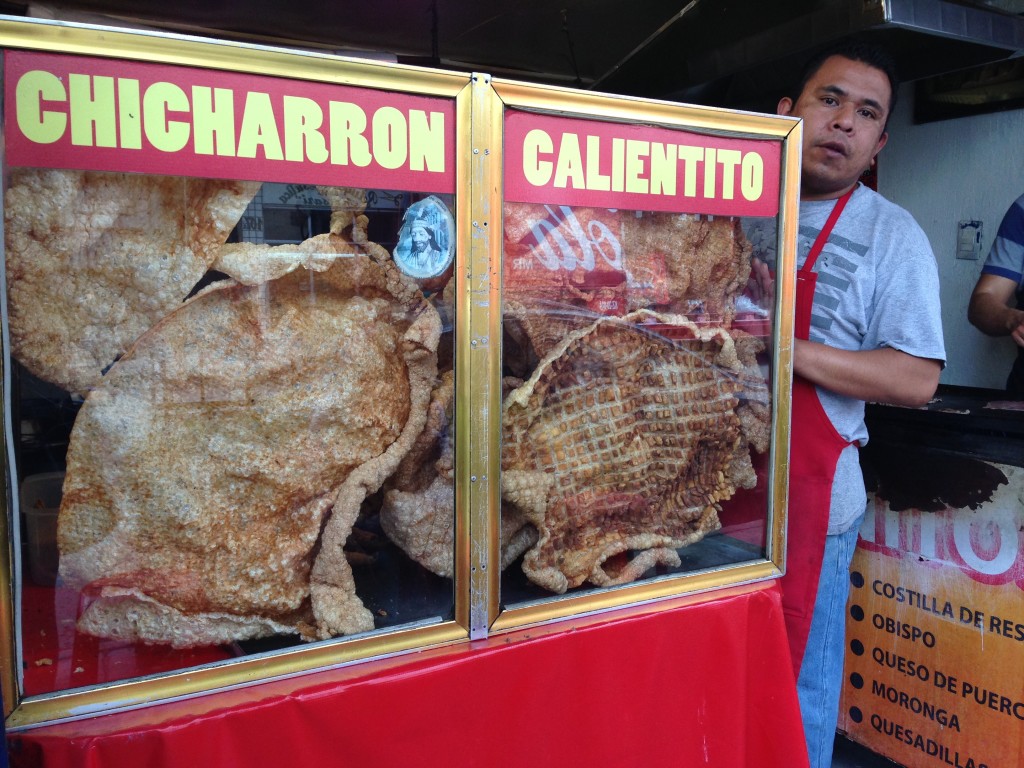 Because who doesn't walk down the street with a massive fried pork rind in their hands?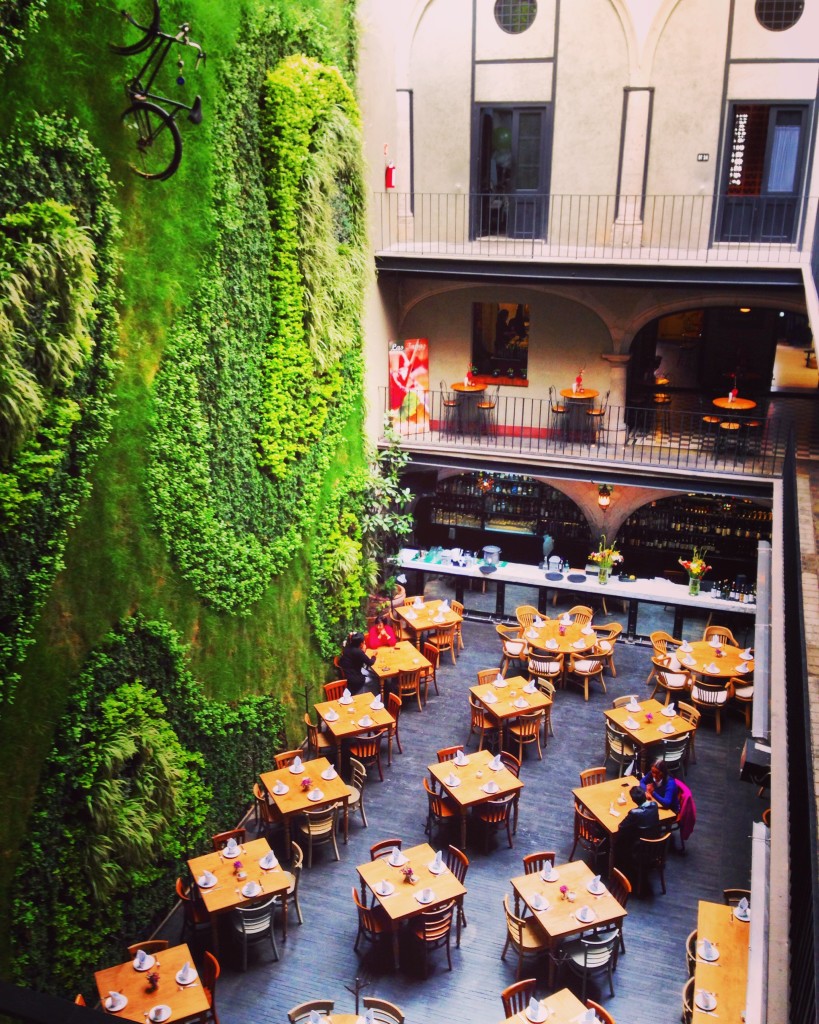 BONUS HOTEL: DOWNTOWN in the centro is one of the coolest hotels ever. It's located in a 17th century building just minutes from the Zócalo and main square. It has a bomb rooftop pool and bar, plus this incredible urban greenery wall.
I realize that I listed a lot more than five places, but it's just too difficult to give a few mentions, when there's at least a hundred more spots worthy of a spot. Luckily, this extensive food report on CDMX will guide you: Eater's Ultimate Guide to Mexico City.
Also, a BIG shout out to Nicholas Gilman from Good Food Mexico City for being such a great host and showing me around. Nick's website and book are the go-to resources for eating in Mexico City.
Coming soon…. The best things I ate in Oaxaca and a Guide to the Best Markets in Meixco City.
Comments