If you've ever ventured into unknown Porteño food waters and stepped inside a random Buenos Aires bodegón-parrilla-restaurant-resto-bar-restobar-café-cybercafé-etc., you probably had some trouble deciphering the menu. It most likely resembled an encyclopedia, except with scratched off prices and grease stained paper tucked inside plastic binder sleeves, serving anything (and everything) from pizza to pasta to sweetbreads to steak. Don't you wish you had a trusty checklist that guided you through all of Argentina's most popular foods and dishes? You're in luck! Next time you embark into an unfamiliar gastro realm, take along this Argentine food glossary to find out exactly what you should (and shouldn't) be eating in Argentina.
*Note: Argentina is a country of immigrants, and its food is influenced by cuisines across the world, especially Italy and Spain. Many of these dishes listed may not originate in Argentina, but they are still quite popular and part of the local diet.
ALFAJORES


What is it: An alfajor is so much more than just a cookie. In Argentina, it's a way of life. Traditional homemade types are similar to a biscuit sandwich made from cornstarch, stuffed with dulce de leche, and dusted in coconut flakes. Every kiosco sells multiple brands and every Argie you meet will have an opinion which kind reigns supreme. *Ahem* a bad alfajor is like eating dulce de leche on chalk.
Where to eat it: Havanna alfajores are probably the most famous store-bought brands worldwide, but then there's Cachafaz, Aguila, Jorgito, and a bazillion more. Cafés and bakeries, like Los Galgos and Oui Oui, will serve MEGA alfajores, comically filled with more dulce de leche that can actually fit in your mouth. You'll probably say that the alfajor oreo is technically not a true alfajor, but it's my personal favorite.
ASADO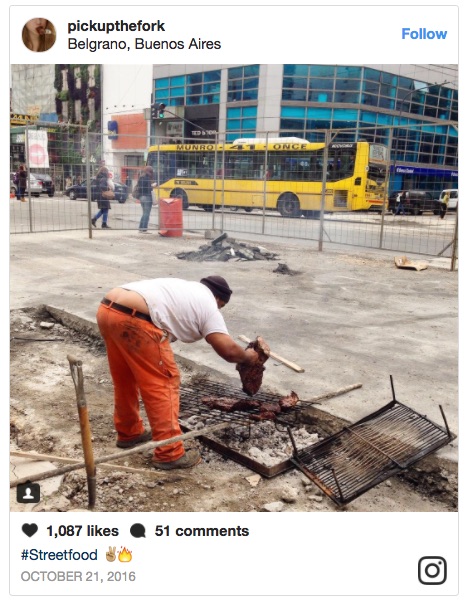 What is it: Repeat it with me: AH-SAH-DOH. You really need to learn this word, it's very important. Asado refers to a general barbecue, but more specifically will be code for all sorts of meat cuts and entrails like chorizo (sausage), morcilla (blood sausage), mollejas (sweetbreads), chinchulines (chitlins), bife de chorizo (sirloin), ojo de bife (rib eye), entraña (skirt steak), etc. Just memorize this guide to eating steak in Argentina and you'll probably be alright. (Note: on a menu, asado refers to a cut of beef, the rib.)
Where to eat it: At any steakhouse, duh! Whether you are looking for some place fancy, or a barrio hole in the wall, let this meat map guide you on a parrilla tour of the best steaks in Buenos Aires. Of course, the ideal way is to make friends with a local and invite yourself over to their Sunday asado.
BONARDA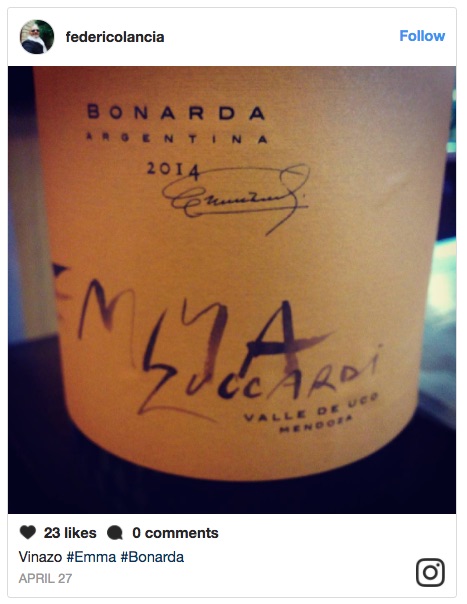 What is it: A grape that has made its home in Argentina. If you love wine, look beyond malbec and try some bonarda.
Where to drink it: Pain et Vin, M Salumeria, JA!, or any other wine shop/bar near you.
BONDIOLA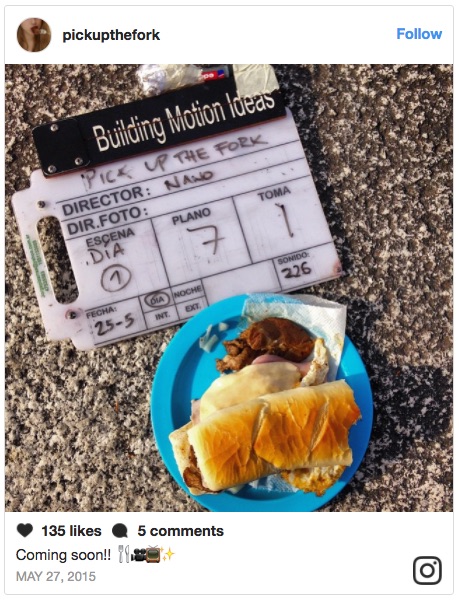 What is it: Pork shoulder, most typically served as a sandwich on a mobile grill cart. Order it completo a caballo and you get it pimped out with ham, cheese and a fried egg.
Where to eat it: Parrilla El Litoral, La Esquina de Sucre y Miñones, Costanera Sur/Norte
CHOCOTORTA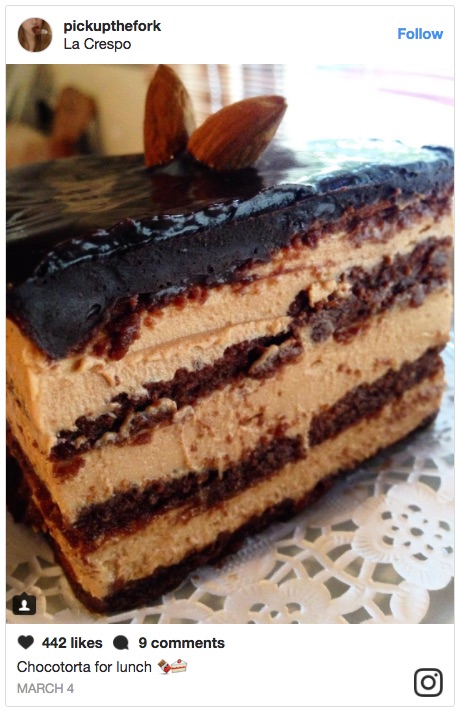 What is it: It sometimes gets a bad rap for its simplicity, but chocotorta is the cake of all chocolate cakes. The no-bake chilled one pan wonder consists of Chocolinas cookies, soaked quickly in coffee or Kahlúa, and topped with a mixture of dulce de leche and queso crema (when sour cream + cream cheese unites). Layer of cookies, layer of DDL+quesocrema, layer of cookies, layer of DDL+quesocrema, and so on, and so on until it creates a leaning tower of torta.
Where to eat it: La Crespo, Oui Oui, PL Deli Café, Loreto Garden Bar and Scarlett. LadoBueno also makes a delicious chocotorta ice cream flavor, suspiro de dulce de leche. Ñam.
CHIMICHURRI + SALSA CRIOLLA + SALSA PROVENZAL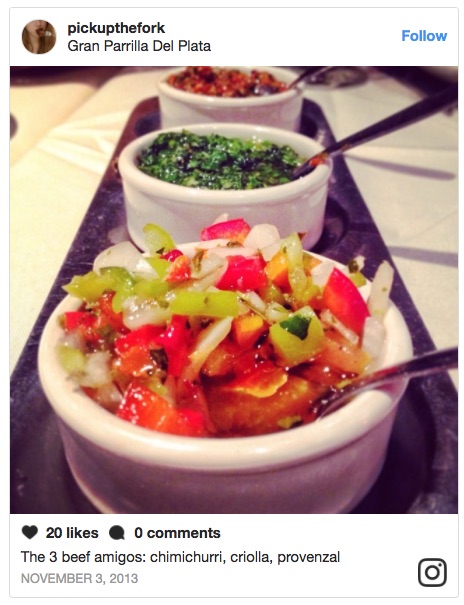 What is it: Forget steak sauce or ketchup, because in Argentina the only acceptable beef condiments are chimichurri, salsa criolla, provenzal, and the bloody meat juices dripping from the insides of a steak. Chimichurri can be made many different ways, but generally consists of dried parsley, oregano, ají molido (non spicy red pepper flakes), oil and vinegar. Salsa criolla is similar to a pico de gallo, a fresh medley of chopped onions, tomato, pepper, vinegar and oil. Salsa provenzal contains chopped garlic, parsley, and oil and especially delicious on top of french fries.
Where to eat it: Just about every parrilla will serve chimi and criolla, but I have yet to find a version that I want to seriously bottle up, take home, draw a hot bath, light some candles, and turn on Enya to set the mood.
CHORIPÁN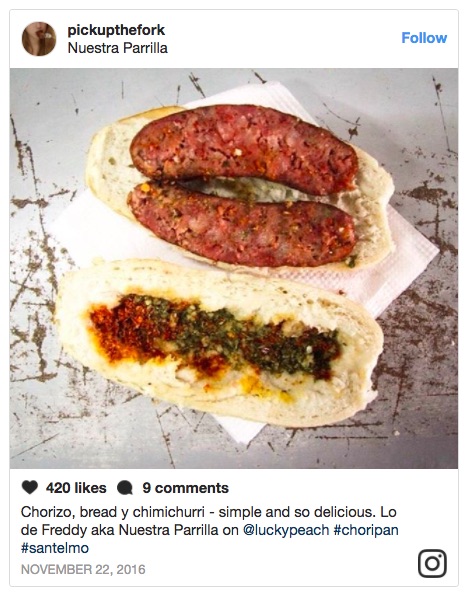 What is it: A genius combination of sausage (chorizo) and bread (pan), and chimichurri. Simple yet perfection. My one true love.
Where to eat it: I've had my fair share of chorizos in my day (insert inappropriate dick joke here). I was even a judge in the National Choripán Competition, so I consider myself somewhat of an Argentine sausage connoisseur. A choripán is so much more than a juicy chorizo sandwich… too many choris fail with cartilage-y chorizos, stale bread and vats of insipid chimichurri. Instead, you gotta eat up the holy chori trinity: juicy sausage, fresh crusty roll, and chimichurri.  My faves in BA: Lo de Freddy/Nuestra Parrilla, street food cart on the Costanera Sur, Don Niceto, and Chori for cheto choripán lovers.
CHURROS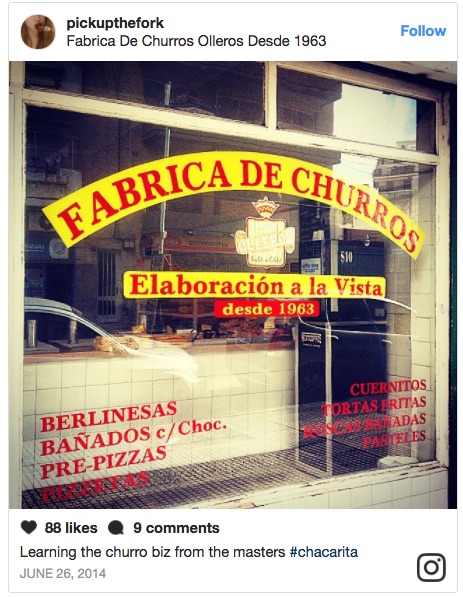 What is it: Churros in Argentina are a little different than their Mexican or Spanish cousins. Here, the fried dough pastry tends to be served in finger long cylinders and stuffed with dulce de leche and/or dipped in chocolate and showered in sugar.
Where to eat it: El Topo, Fábrica de Churros, and La Giralda.
CORDERO A LA CRUZ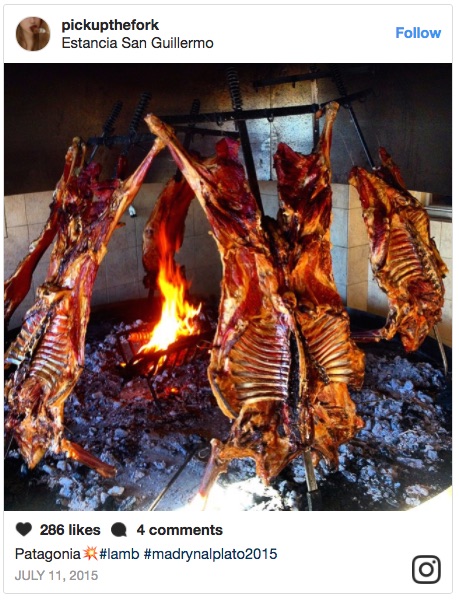 What is it: Crucified lamb.
Where to eat it: All across Patagonia, especially at food festivals like Madryn Al Plato.
CORTADO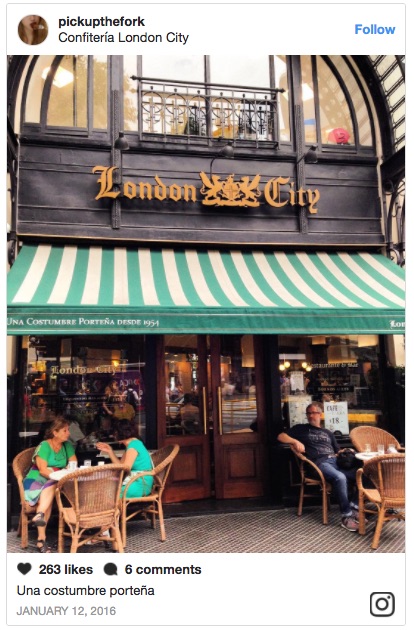 What is it: Coffee with a dash of milk.
Where to drink it: Any café. One of these spots are your best bet for quality coffee, while old school cafés notables are ideal to sit for hours and soak up BA café culture.
CREMONA (PAN)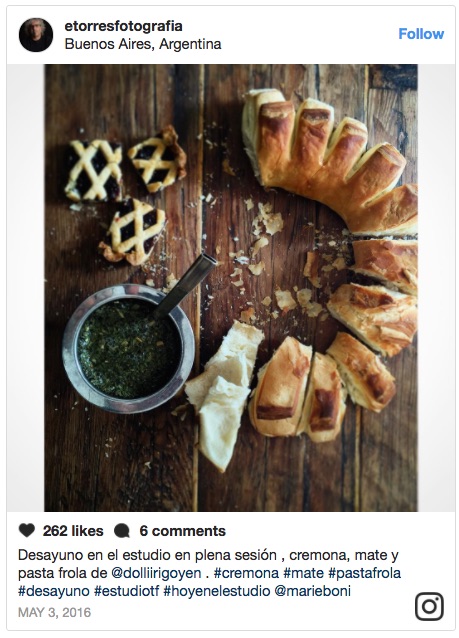 What is it: A gear shaped puff pastry cracker/bread with Italian origins.
Where to eat it: Any traditional BA bakery, like Recoleta's Confitería Norte. French restaurant Mirazur serves cremona as a bread course, accompanying it with Pablo Neruda's poem "Oda al pan" and explaining that the petal-shaped bread is meant to be pulled apart equally to share.
DULCE DE LECHE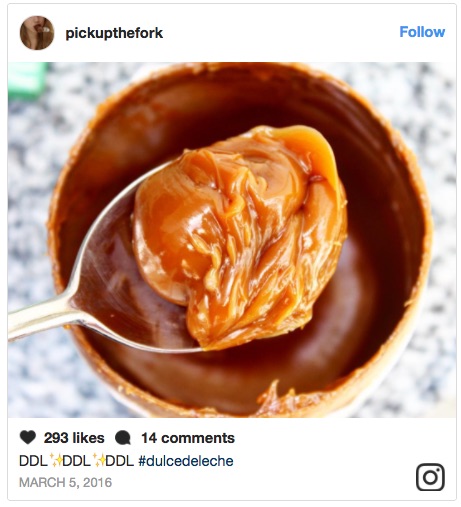 What is it: A dessert isn't really a dessert if there's not an exorbitant amount of dulce de leche involed. The thick, sometimes sickly sweet, caramel sauce is usually made with milk and sugar, or by slowly heating sweetened condensed milk.
Where to eat it: The best brands to look out for: Las Quinas, Chimbote, Don Atilio, La Serenísima Estilo Colonial, Campo Quijano, Mayol, San Bernardo.
EMPANADAS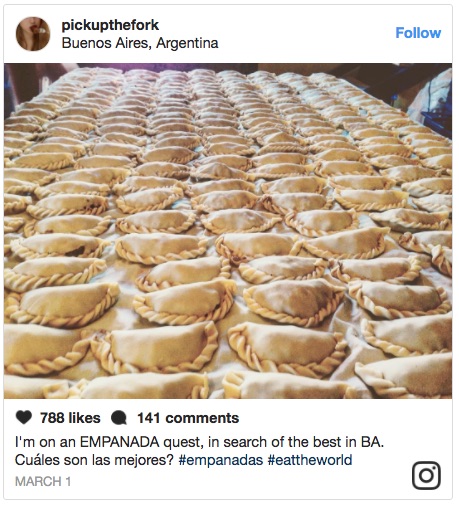 What is it: A doughy pocket of love filled with all your hopes and dreams. This hand held pillow can be baked or fried and stuffed with all sorts of fixings, from traditional flavors like beef, spicy beef that's actually not spicy, humita, onion and cheese, ham and cheese, and not to mention all of the regional varieties. In recent years it's more common to find adventurous empanada creations like blood sausage with apples.
Where to eat it: Not all empanadas are created equal. I've gone on an endless quest to find the best empanada in Buenos Aires. So far, these are my findings.
ENSALADA RUSA


What is it: This potato salad, which is called Russian salad in Argentina and Olivier in Russia, is loaded with mayo. If you're lucky, it will contain fresh peas and carrots, instead of the metallic garden mix from a can.
Where to eat it: Can't help ya with this one.
ESCABECHE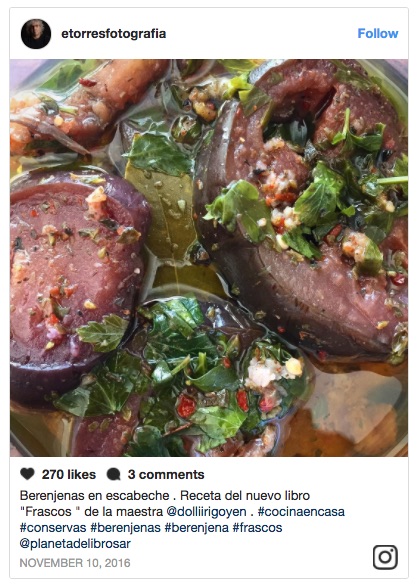 What is it: All you pickling fools will love escabeche, which is basically anything marinated in a lot of vinegar, canned, and packed in oil. The popular preparation can be found across the Mediterranean and Latin America, although in Argentina it's most common to find escabeches in the form of berenjena (eggplant), pollo (chicken), conejo (rabbit), lengua (tongue), and vizcacha (chinchilla, the rodent).
Where to eat it: If you have an Argentine grandmother, she probably has a room dedicated to jarred escabeche. Otherwise, check out Café San Juan, El Refuerzo, and Preferido de Palermo. 
FACTURAS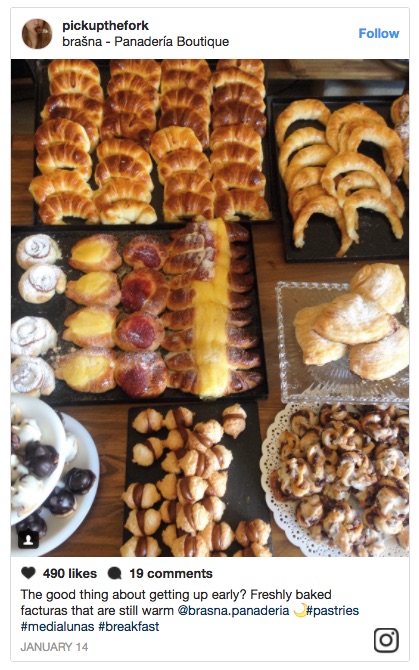 What is it: Facturas are many different types of pastries that often include some sort of pastry cream, dulce de leche or quince jam situation. Usually at a confitería (bakery) all of the pastries are lined up on display trays next to bowls and tongs so customers can choose their own sweet poison. A lot of the pastries have fun names like bolas de fraile (monk's balls), vigilantes, and suspiro de monja (nun's sigh). 
Where to eat it: Even though there are thousands of bakeries in BA, very few make perfect facturas. Some places to start: Brasna and Dos Escudos. I'm all ears to hear about other spots that make great facturas. 
FERNET WITH COKE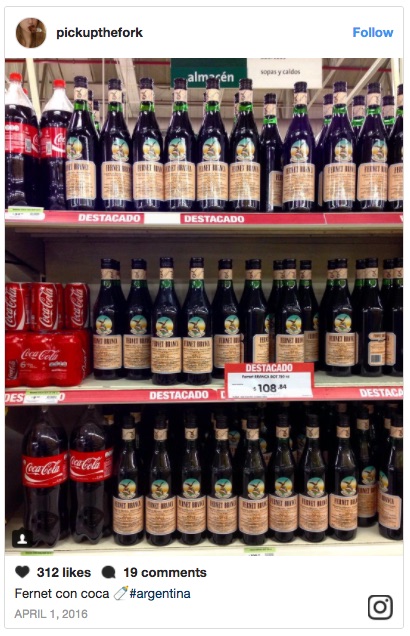 What is it: Fernet (the Italian bitter) with coca cola. Drink of the gods.
Where to drink it: Any bar near you.
FLAN MIXTO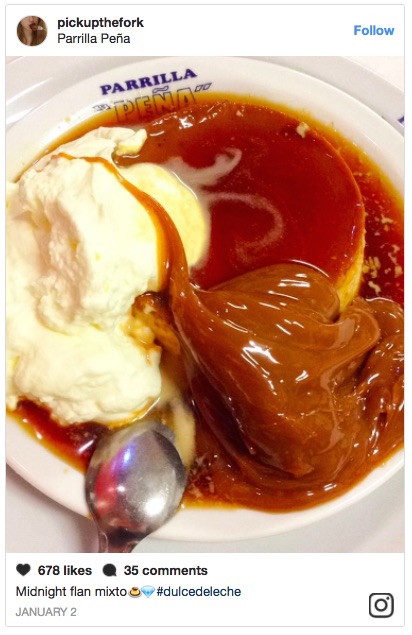 What is it: I'm sure you've had FLAN before. That fun jiggly dessert made from sweet condensed milk. But you have tried FLAN MIXTO? This Argentine flan comes with a generous dollop of dulce de leche and whipped cream, because a dessert isn't a dessert unless a huge spoonful of dulce de leche is involved.
Where to eat it: Parrilla Peña for traditional flan, Proper for fancy flan.
FUGAZZETA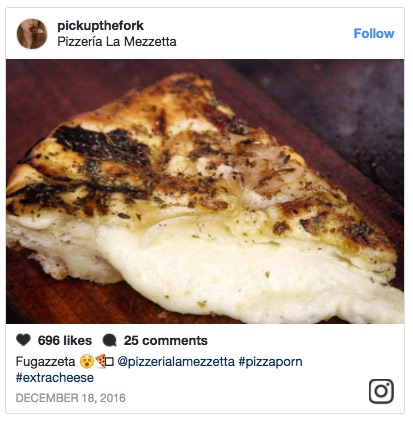 What is it: Fugazzeta is holy pizza. Think thick crust pizza, without sauce, and loaded with an obscene amount of cheese and onions. Sometimes, there will even be a slice of ham in the mix.
Where to eat it: Most Porteños will passionately proclaim that their favorite pizza place is the best pizza place in the world, and how dare you not agree. I'm not trying to start any Buenos Aires pizza wars over here, but to truly understand what fugazzeta is all about, it's obligatory to participate in the La Mezzetta experience.
HELADO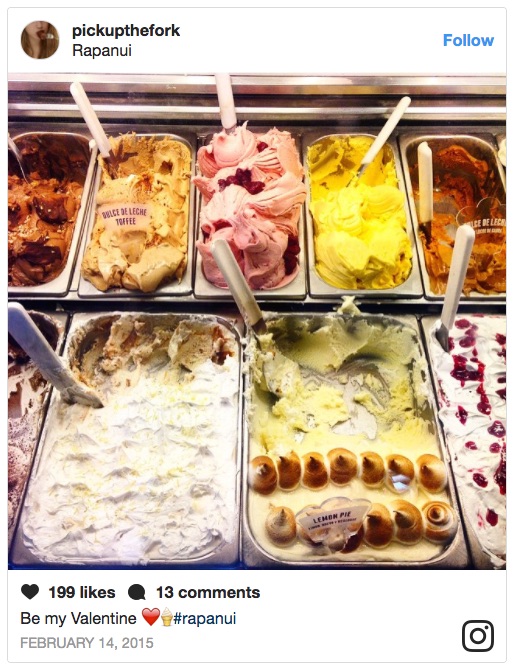 What is it: I'd like to think if you are reading this food blog you already know what ice cream is. But if you've never been to Argentina before, you probably don't know how helado in Buenos Aires reigns SUPREME. It's a national obsession, favorite pastime, and insanely superior to most other gelatos in the world.
Where to eat it: Save this Buenos Aires ice cream map and have it available at all times.
HUMITA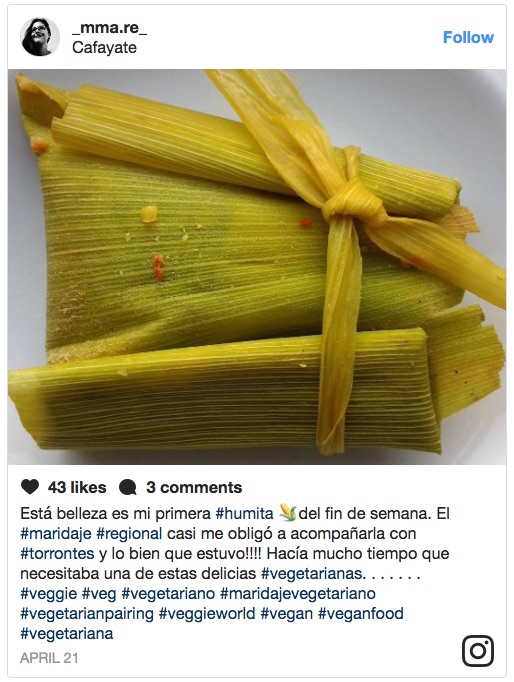 What is it: A dish associated with patriotic holidays (25 de mayo & 9 de julio). Humita en chala = ground fresh corn stuffed with cheese, wrapped inside a corn husk and steamed. Humita empanadas = sweet corn empanadas.
Where to eat it: Ña Serapia, La Feria de Mataderos. And in provincias like Salta. 
LENGUA A LA VINAGRETA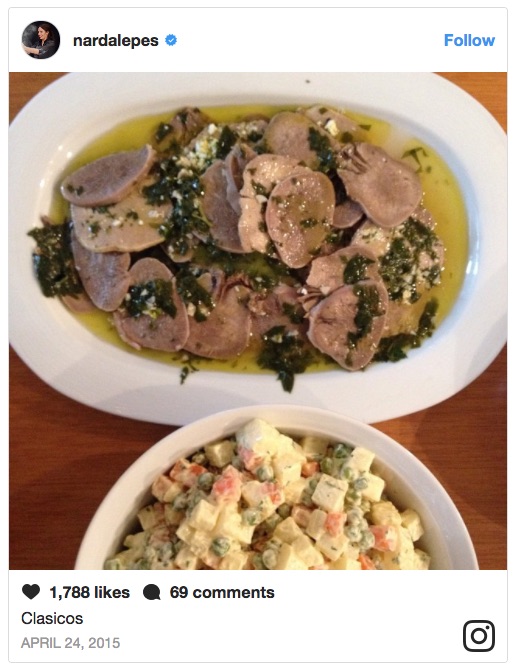 What is it: TONGUE! Marinated in vinagre and oil, covered in garlic and parsley. After you are done eating it make sure to mandar someone you love a wet beso con extra lengua. 
Where to eat it: ?¿?
LENTEJAS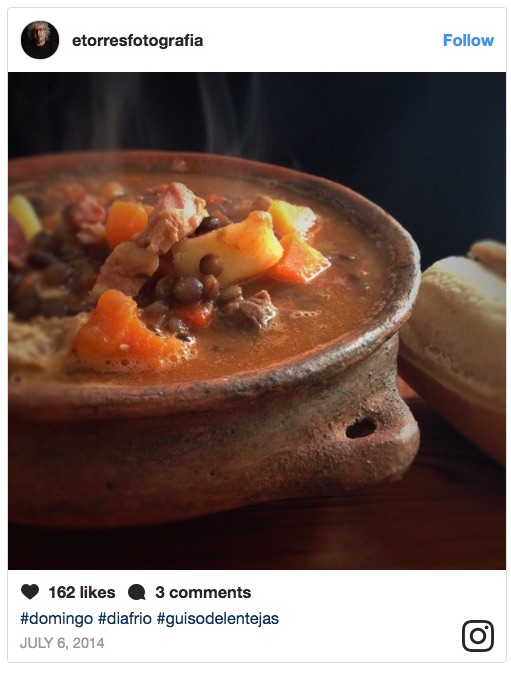 What is it: This lentil stew is associated with wintery patriotic holidays (25 de mayo & 9 de julio), and usually is mixed with chorizo and seasonal vegetables.
Where to eat it: La Feria de Mataderos, La Morada. 
LOCRO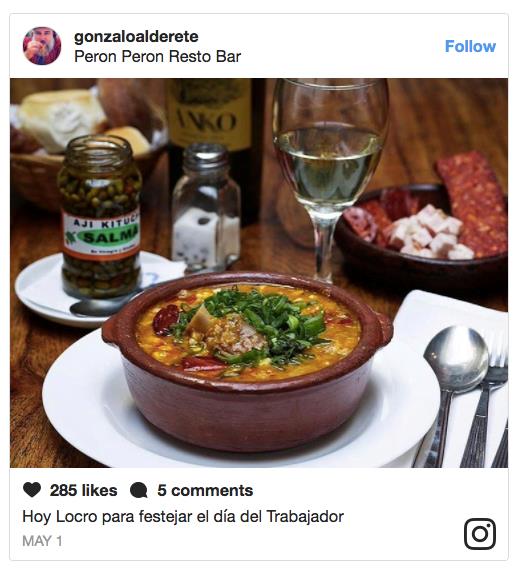 What is it: A stew customarily eaten during the winter, especially on 25 de mayo & 9 de julio holidays. Every locro recipe is a bit different, but it generally consists of hominy, potato, pumpkin, beans, chorizo and a bunch of random meat cuts.
Where to eat it: La Feria de Mataderos, La Morada, El Sanjuanino, Ña Serapia, 1810 Cocina Regional, Peron Peron.
LOMITO
What is it: While this steak sandwich is a popular street food found at the carts on the Costanera, some cafés and fast food grills also serve it with cheese, ham, lettuce and tomato.
Where to eat it: La Rambla for a bourgie Recoleta lomito, Lomo Feroz for a 4am lomito, or take it to the Costanera Sur streets at Alameda.
MALBEC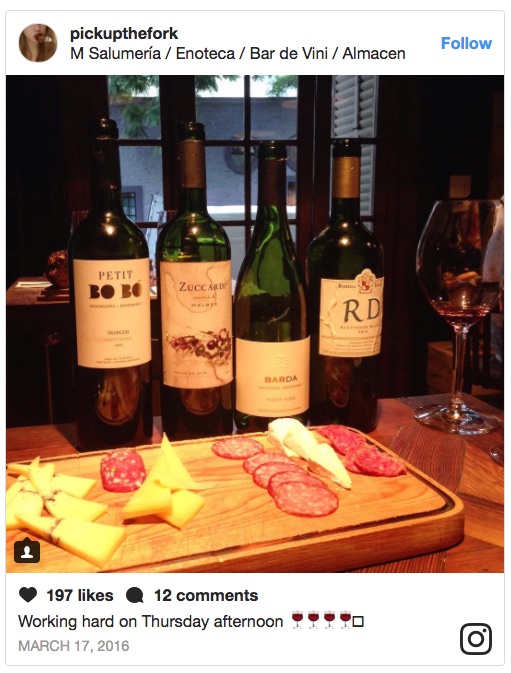 What is it: Argentina's flagship red grape.
Where to drink it: Anywhere, anytime.
MARROC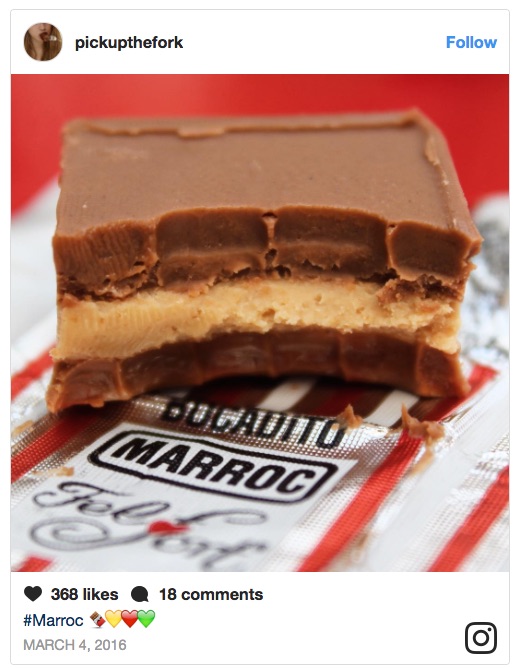 What is it: Argentine candy that I once wrote a tribute to. It has chocolate and peanut butter and is a bite of love.
Where to eat it: Any kiosco. PL Deli makes a delicious mini marroc cake, and ice cream shops like Tufic serve marroc-flavored helado.
MATAMBRE


What is it: Killing hunger pains with this thin flank steak stuffed and rolled with all sorts of vegetables, herbs, seasonings, and often times a hard-boiled egg (blech). Matambre can be served cold, although some like it hot. Think of it as a distant relative of porchetta, except made with beef (traditional) or sometimes pork flank.
Where to eat it: Where's the best matambre?
MATE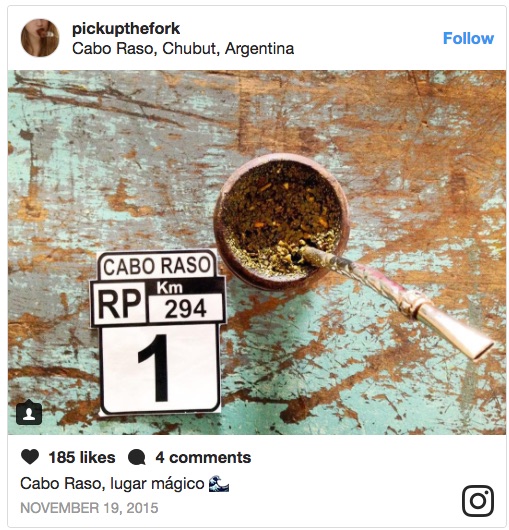 What is it: Basically yerba mate is Argentina's national drink. The loose-leaf and twig mate herbs are poured in a gourd, topped with hot water, and slurped with a straw. During the summertime you can drink tereré, a Guaraní drink that replaces hot with cold water (or sometimes cold fruit juice).
Where to drink it: It's a social drink you'd share at a friends house or in the park, and not typically offered at cafés. You can find it, however, at spots like Pulperia Quilapán and Las Cabras. 
MEDIALUNAS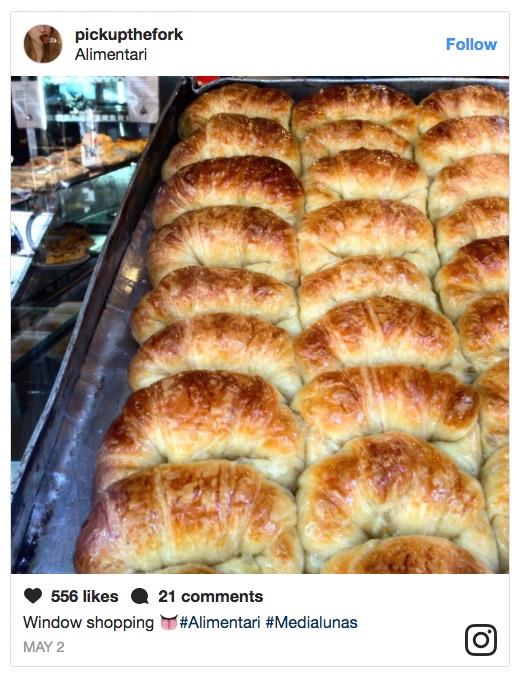 What is it: It's like a croissant, but smaller, and shaped like a half moon (media = half, luna = moon). Medialunas de manteca are made with butter and generally have a sugary glaze on top, while medialunas de grasa are smaller, saltier, and made with lard. It's what Argies eat for breakfast and merienda (tea time).
Where to eat it: Lucio's FO LIFE. Alimentari locations are also on point.
MIGA SANDWICHES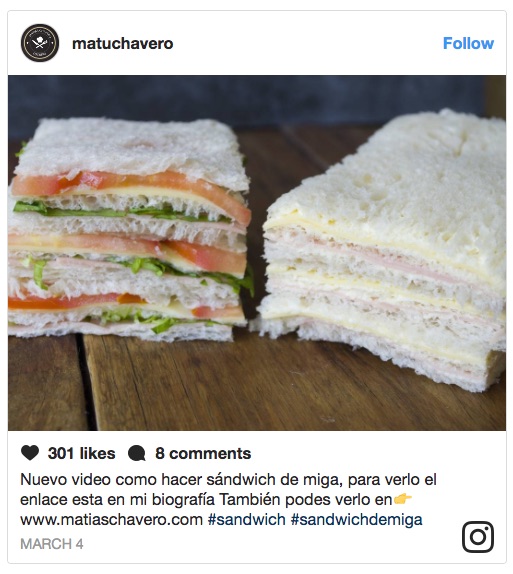 What is it: I never understood why people love miga sandwiches. It's pretty much a tea sandwich, sheets of white crustless bread filled with all sorts of soggy fillings: ham+cheese+mayo, tuna+mayo, ham+palmitos+salsagolf, chopped egg+ham+cheese, cheese+tomatoes+basil. You'll most likely find sandwiches de miga at a sad office gathering or child/adult birthday party.
Where to eat it: I strongly dislike migas because it has the texture of processed bread that fell into a wet sink. For that reason, I have no recommendations of where to try it. If you are curious, pop into any bakery and I wish you luck, sir. Maybe you'll think it's the best thing since sliced bread.
MILANESA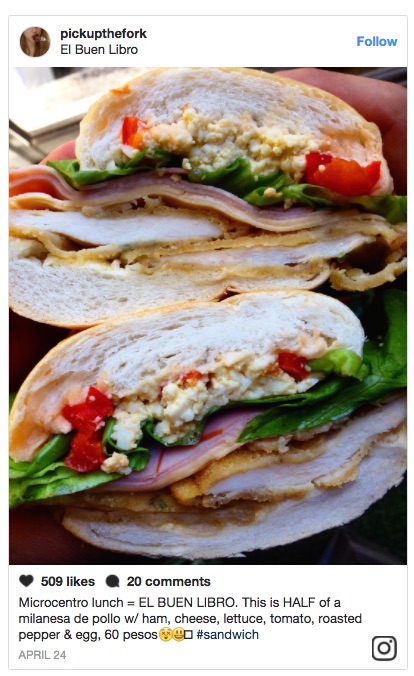 What is it: Milanesa is basically schnitzel. Veal or chicken is pounded, battered, deep fried and dressed with a plethora of toppings. The most common milanesa, napolitana, honors Argentina's Italian roots and is covered with tomato sauce, cheese, and (sometimes) ham. Milanesas are almost always served with a side of mashed potatoes or french fries. If you are really feeling scandalous, order it a caballo with an egg on top. Ternera = veal, suprema = chicken bread, sandwich = milanesa sandwich, milanga = slang for milanesa, milanesa de soja = just no.
Where to eat it: Skip Club de Milanesa and visit the Almagro milanesa king, Don Ignacio. Most bodegones, like Obrero, La Mamma Rosa, Bar Norte, and Parrilla Peña also serve a juicy fried milanga. Looking for milanesa in sandwich form? El Buen Libro or Café Paulin have you covered.
MONDONGO


What is it: Tripe soup mixed with vegetables.
Where to eat it: I'm not an avid mondongo lover, so recommendations are open to those who have found the best tripe soup in BA.
MORCILLA


What is it: In some countries, babies eat carrot or apple purée as their first food. In Argentina, they eat morcilla AKA blood sausage AKA black pudding AKA congealed and seasoned blood. Here, the blood sausage is mixed with spices like nutmeg and cinnamon, and stuffed inside a casing, and finished off on the grill as an asado appetizer. If you are with a squeamish eater, feed them morcilla, don't tell them what it is, and I they will *probably* love it. Morcipán = morcilla on bread and is a fast food sandwich.
Where to eat it: Lo de Freddy, Don Julio, La Carnicería, Chori. 
ÑOQUI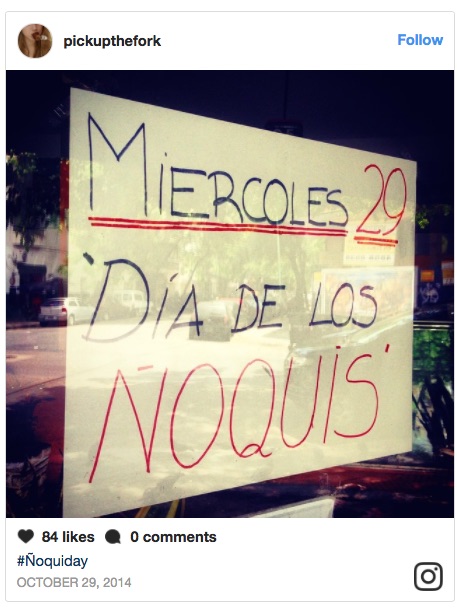 What is it: You've probably seen it as gnocchi, but we are in Argentina so it's spelled phonetically. (AHEM, CHAU). The potato pasta is so popular that the 29th of every month is dedicated to eating ñoqui. The word also has another meaning.
Where to eat it: La Alacena does a fancy gnudi version. Salgado Alimentos, Pierino, and La Juvenil pasta shops make it nice, too. Lots of barrio spots will offer ñoqui specials on the 29th.
PANCHO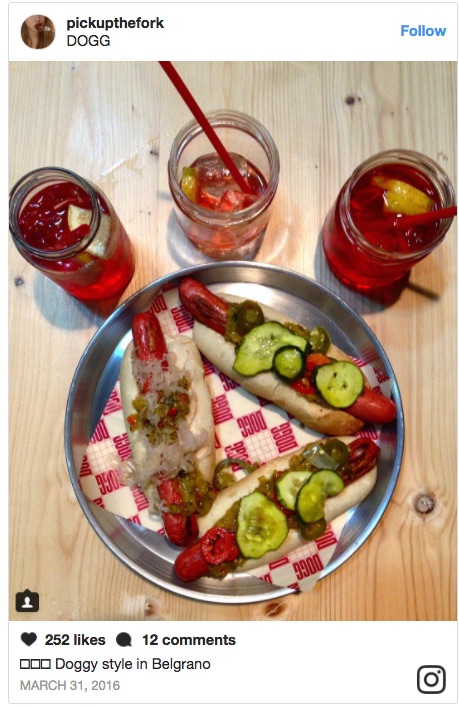 What is it: Dirty water hot dog, acceptable to eat at 5am after a long night of boliche-ing.
Where to eat it: At a drunk kiosco near you. For delicious when sober panchos, head to Dogg.
PANQUEQUES DE DULCE DE LECHE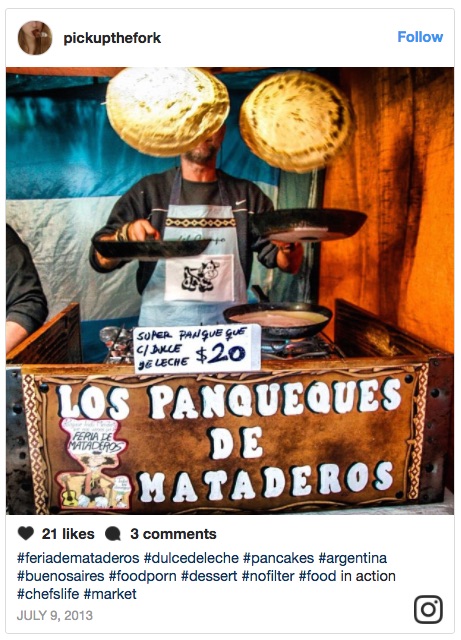 What is it: Pancakes and panqueques are two different entities, so don't get confused. Here, panqueques refer to a crepe-like dessert (pancrepe?) that is filled with a heavy hand of dulce de leche, and/or fruit.
Where to eat it: La Feria de Mataderos, although it's on pretty much every restaurant dessert menu.
PASTA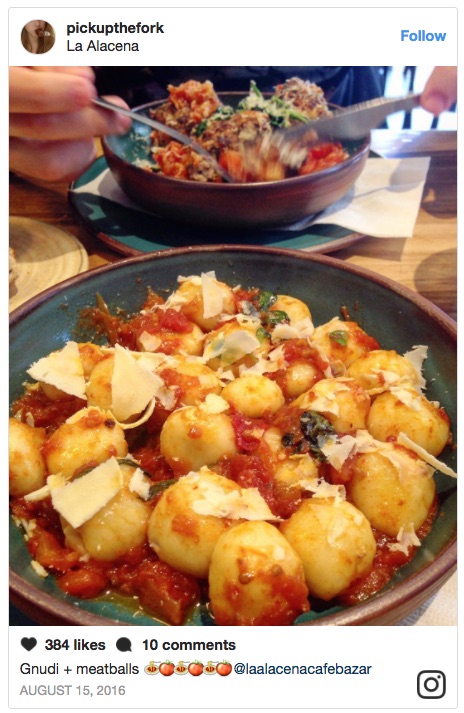 What is it: Pastas are usually on the menu at most steakhouses and cantinas in BA. Why? Argentina has one of the highest populations of Italian descendants in the world. When you order pasta at a restaurant, first you choose your dry or fresh pasta type, with options like sorrentinos, ravioles, and fettuccine. Then, you'd pick your sauce separately, like tuco (tomato sauce), bolognesa, pesto, estofado (beef stew), and something creamy like mushrooms and leeks. Some places even charge two separate prices for the pasta and the sauce.
Where to eat it: La Locanda, Cucina Paradiso, Pierino, La Alacena, and Core for fast food pasta. 
PASTA FROLA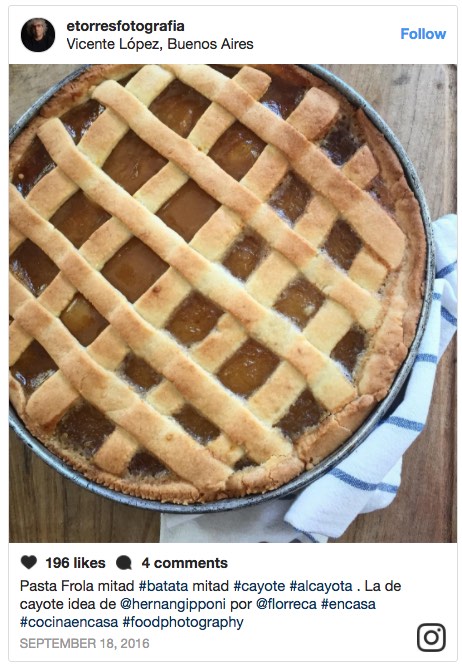 What is it: A sweet/pie tart filled with quince or sweet potato jam.
Where to eat it: I never found a slice to take home and meet the parents, but I'd imagine that Confitería La Pasta Frola serves a good one.
PASTELITOS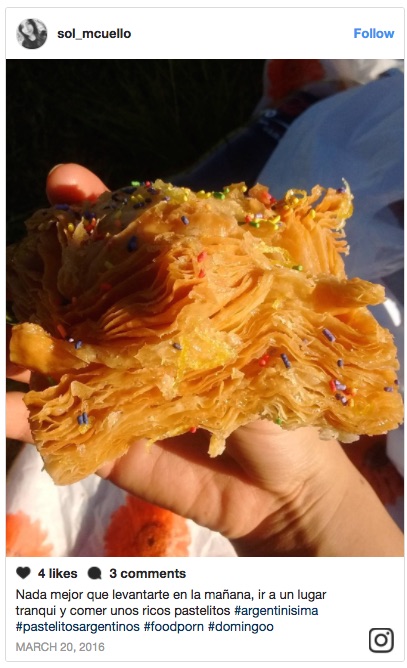 What is it: Unlike pastelitos in other parts of Latin America, these fried pastry pinwheels are stuffed with dulce de membrillo (quince) and dulce de batata (sweet potato). You'll especially see pastelitos on holidays like 25 de mayo. Some shower it with a lluvia of sprinkles to be extra festive.
Where to eat it: Tell me, please.
PATY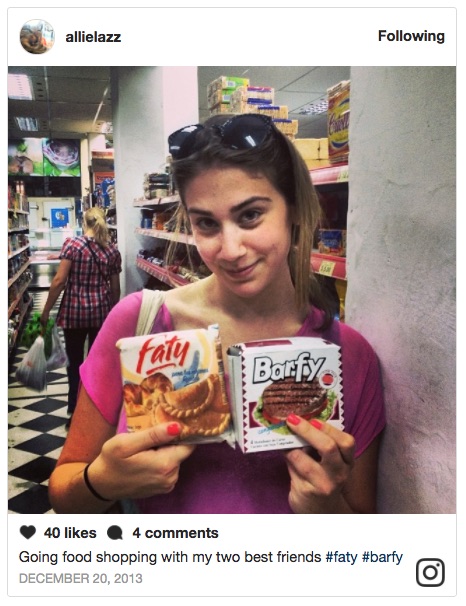 What is it: This is slang for a burger. Paty = hamburger patty, usually a frozen supermarket brand like the ever-popular BARFY. Yes, you read that correctly. Argentina has a famous burger brand is called BARFY, and no, they are not being ironic. There's also a brand of LARD called FATY, and a lice treatment called ASSY.
Where to eat it: Nowhere. Just don't do it, you'll regret it later. On a separate rant: I personally think BA should chill it with the whole "burguer" obsession — 100+ burger joints in one year is too many. But if you want a great burger, try one of these.
PICADA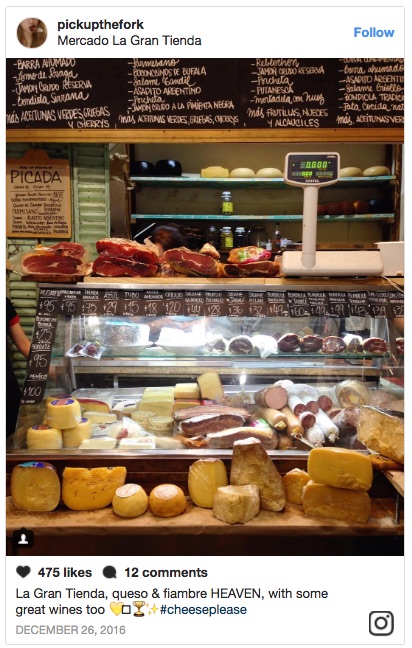 Where to eat it: The best picada is one you make yourself. Head to La Gran Tienda or Il Posto Mercato for all your cured meat treats, especially if Las Dinas salami and smoked pork make an appearance. Pain et Vin and El Refuerzo have nice picada + wine/aperitivo actions.
PIONONO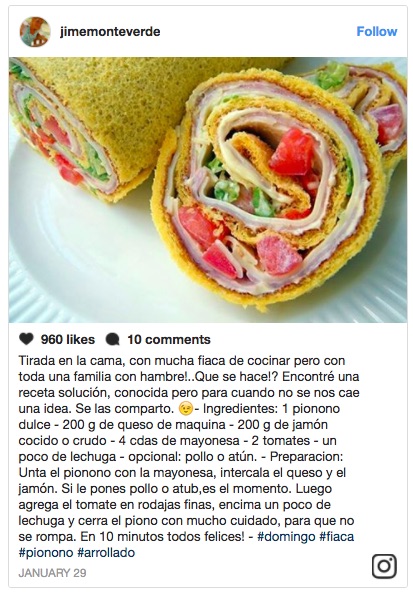 What is it: Especially popular during Christmas, this Swiss roll can be served sweet or savory. Sweet: loaded with dulce de leche or whipped cream. Savory: ham, cheese, tuna, and/or hardboiled egg.
Where to eat it: I feel the same way about pionono as I do about miga sandwiches. Why do I want to eat sweet sponge cake rolled up with cold tuna and egg salad? PIO-NO-NO GRACIAS.
PIZZA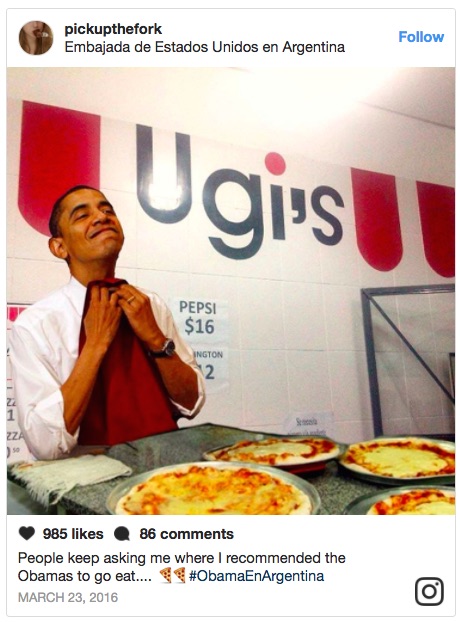 What is it: Argentine style pizza isn't like regular pizza. Here, pizza is not considered pizza unless it has a crazy amount of cheese on top.
Where to eat it: This guide will show you the best pizza Buenos Aires has to offer.
PROVOLETA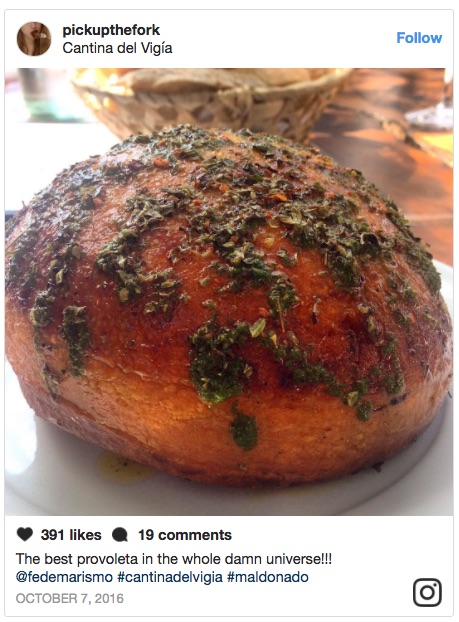 What is it: You know when you're making a grilled cheese sandwich and the extra cheesy bits fall onto the pan and form a crisp layer? (AKA the best part of a grilled cheese sandwich.) Well, this is what the provoleta consists of. It's all cheese, all the time, and also happens to be the only vegetarian-friendly part of the Argentine barbecue. This hard wheel of pure cheese, which isn't necessarily provolone, is placed on the grill until it forms a crispy shell while still oozing with cheesy wonders. The secret to ordering provoleta? Always ask for it crocante.
Where to eat it: I'll never forget the untraditional but insanely delicious inflatable provoleta at Cantina del Vigia in Uruguay. Call me cheta, but I'm also a fan of La Carnicería's smoked provoleta with pears, and Proper's wood-fired halloumi provo. For traditionalists, El Ferroviario and El Pobre Luis. 
What is it: A stew filled with all sorts of largely cut vegetables like onion, potato, corn, celery, leeks, and squash. Often times there's meat or chicken on the bone, and sometimes, all of the vegetables and meats are served separately from the soup, or perhaps the soup isn't even served at all. An essential winter dish.
Where to eat it: Food for the soul, make it at home. Or go to El Globo.
REVUELTO GRAMAJO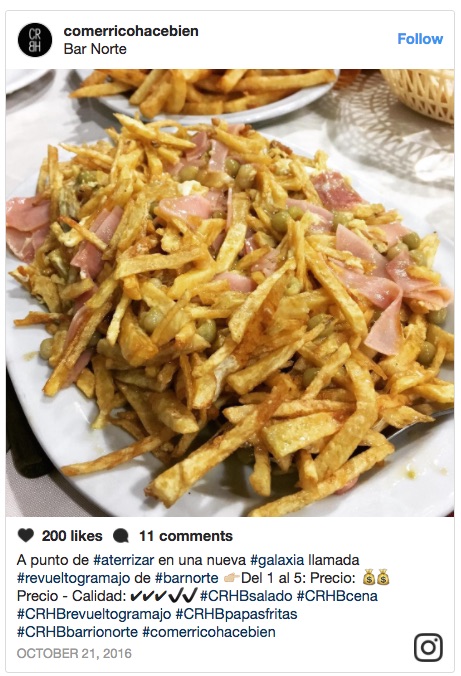 What is it: Argentines think it's weird and "too heavy" to eat eggs for breakfast. (Because eating croissants with dulce de leche, ham and cheese sandwiches, and coffee is totally cool). Instead, they eat eggs for lunch or dinner in dishes like revuelto gramajo: creamy scrambled eggs mixed with some sort of fried potato, ham, and peas. Looks like a hot mess, but it's totally delicious. If Argentines weren't so against eating eggs in the morning, I'd say this would be the perfect Argie brunch dish.
Where to eat it: Bar Norte, 878, Los Galgos. Chila also served a delicious rendition on its tasting menu.
SALSA GOLF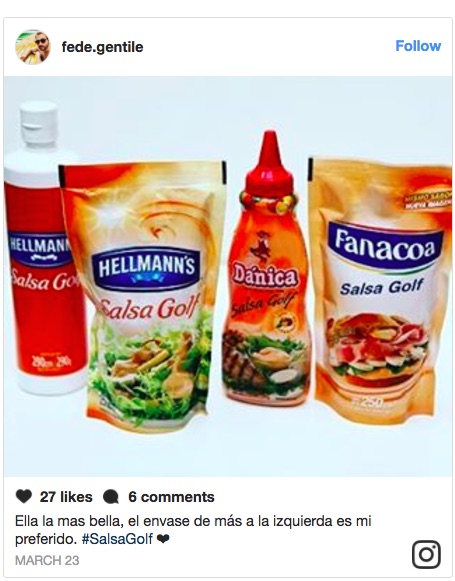 What is it: A condiment that causes great controversy. Salsa golf is basically Thousand Island dressing, or just ketchup and mayo mixed together. It's seen on top of pizzas, sandwiches, and my personal favorite use, for french fries. I can't tell you why, but many will say that salsa golf goes with hearts of palm.
Where to eat it: Make it yourself or buy it from the supermarket. Just please, don't use it as salad dressing or atop a pizza.
TARTA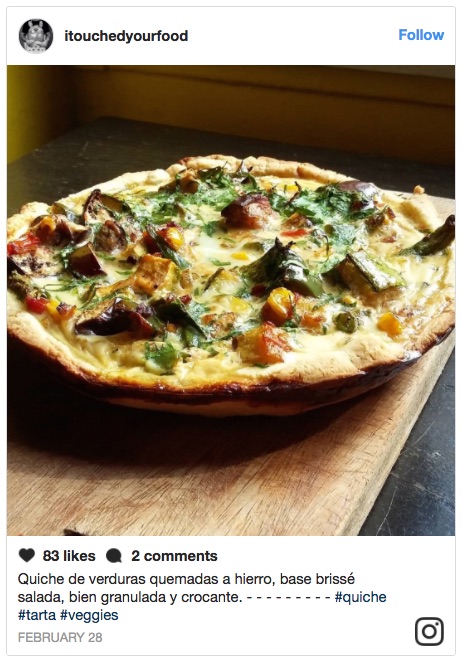 What is it: Savory pie. Kind of like a quiche, except there may or may not be egg involved. This is probably the most frequently seen lunch dish and common fillings include butternut squash, pumpkin, broccoli, ham and cheese, vegetables etc. Pascualina is a kind of tarta made from swiss chard (or spinach), ricotta cheese and hard boiled egg.
Where to eat it: Most bakeries, cafés and fast food lunch spots will serve tartas. Who does the best version?
TORRONTÉS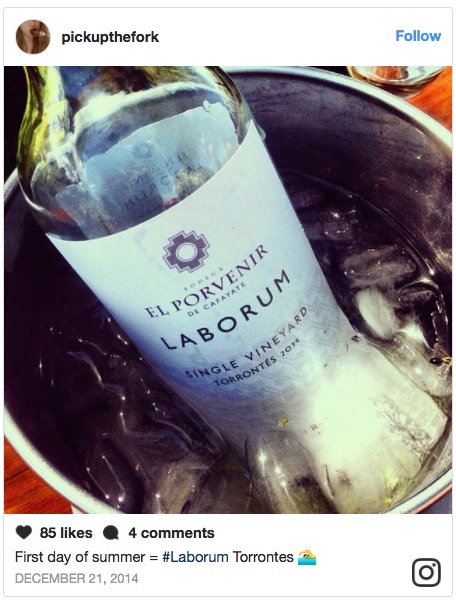 What is it: White wine grape that thrives in high altitudes of the Salta region, like Cafayate. Tricks your senses because it's not as "sweet" as it smells.
Where to drink it: Sitting poolside in the summer. 
TORTA FRITA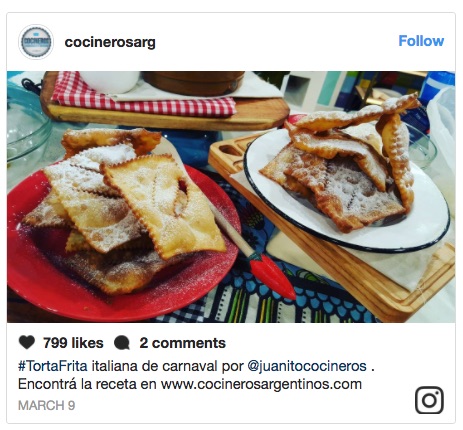 What is it: FRIED BREAD! Most often consumed during patriotic holidays.
Where to eat it: Feria de Mataderos or any roadside fryer.
TOSTADOS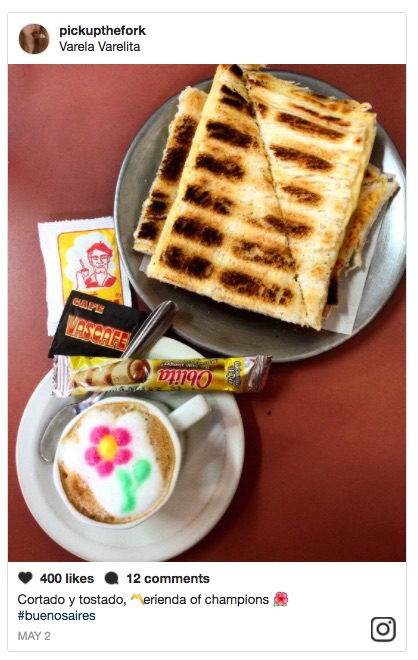 What is it: Besides medialunas, this grilled cheese sandwich is what Argentines eat for breakfast. Often comes with ham and cheese on white bread with the crusts cut off, but if you're lucky you can get it on pebete (soft oval bun), pan francés ("French" bread), or pan árabe ("Arab" bread, similar to pita).
Where to eat it: Go old school to classic BA cafés, like Bar San Martin and Varela Varelita for the true Porteño experience.
VIGILANTE / QUESO Y DULCE / MARTIN FIERRO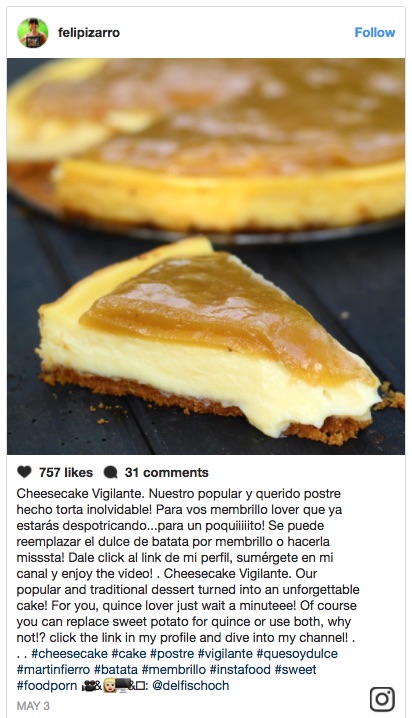 What is it: In France, there's a cheese course for dessert, and in Buenos Aires, they do queso y dulce: cheese with either gelled dulce de batata (sweet potato paste) or dulce de membrillo (quince paste). If you're lucky, you'll be able to find dulce de guayaba (guava).
Where to eat it: Mirror mirror on the wall, which queso y dulce is best of them all?
VITEL TONÉ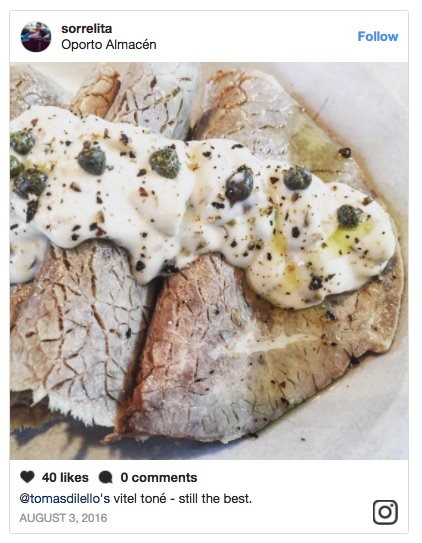 What is it: We have the Italians to blame for this beloved Argentine Christmas tradition. Cold slices of veal are covered in a mayo sauce flavored with canned tuna, capers, and anchovies.
Where to eat it: Tuna, capers, and anchovies on cold beef? Not for me. But if you're into that bite of bad breath, Oporto serves a delicious rendition that even almost won me over.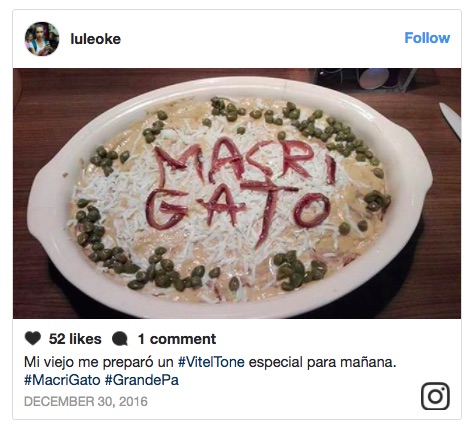 Did I miss your favorite Argentine food? Let me know and I'll add it to the list!
Comments